Happy Monday fellow collectors of the decorating kind! 1000 pts if you get the subliminal message in today's… dun dun dun…. scene of the day! 
Don't you love it when the pieces 'speak' for themselves?
Anywhoserwhatsers… JIAN oh Jian, their latest for FaMESHed has got those little hairs on the back of my neck raised like craycrayyy, because because, snakes though! Naw, for real, it is a great addiction, ADDITION.. I mean, to whatever reptile collection you currently have.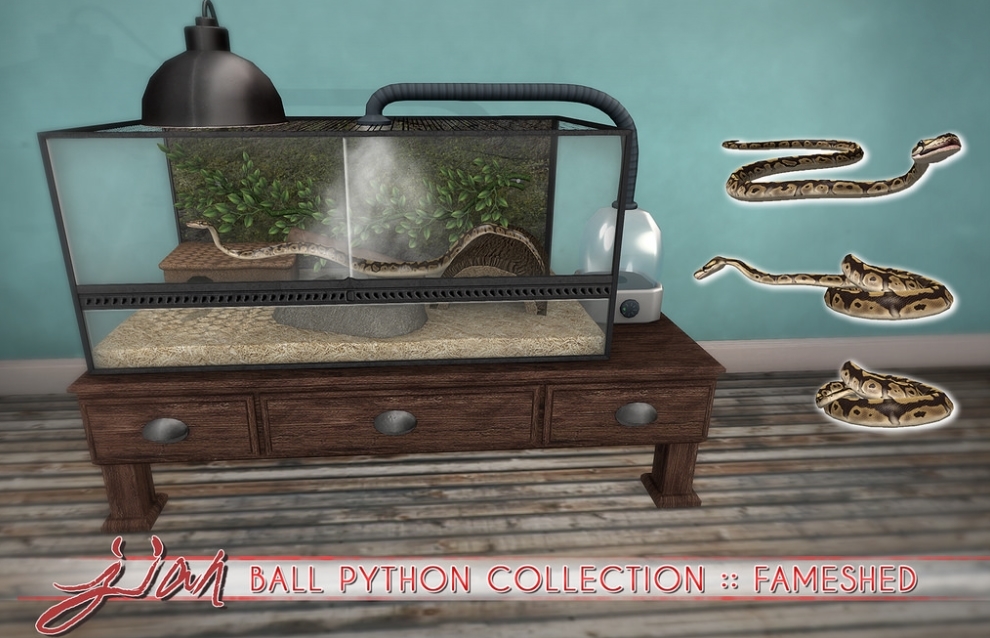 All hail the mighty monty Ball Python! Heh.. heh. Sorry the sunshine outside has got my brain all discombobulated. I try my joke, and only I laugh 😀 Don't forget to check out the rest of the details in that crunchy credit roll and feel free to ping me in world if you have any questions. Even funny ones.
---
BIGBULLY Stair Backdrops Vol. 1 – Black | Shiny Shabby
JIAN Ball Python Habitat (w/snake) | FaMESHed
Newchurch :: N :: Lancaster Worklights | ULTRA
Newchurch :: N :: Lancaster Worktable  | ULTRA
taikou / laundromat cart | Kustom9
taikou / machine pipe B  | Kustom9
[ zerkalo ] Bunker Bar – Stool PG | Kustom9
[ zerkalo ] Bunker Bar Gacha – Bunker Door (RARE) | Kustom9
PLAAKA HangingBambooSieve | Uber
[ keke ] potted herb – parsley | FaMESHed
[ keke ] potted herb – coriander
[ keke ] potted herb – chives
[ keke ] potted herb – basil
[ keke ] potted herb – sage
[ keke ] metal step ladder – black
[ keke ] watering can – grey
[ keke ] wall candle – silver
[Kres] Y2K Panic Sign | Rewind Y2k
[Kres] Y2K The End Sign | Rewind Y2k
---
Soy. Exhaust Fan
Seven Emporium 7 – Do Not Feed Alligators
Seven Emporium 7 – 25 Cent Shots
[ zerkalo ] Billiards Z – Gear Lamp