Greetings and salivating salutations fellow decor enthusiasts! Its our BLOG-A-VERSARY! And to celebrate, we're giving thanks, to you!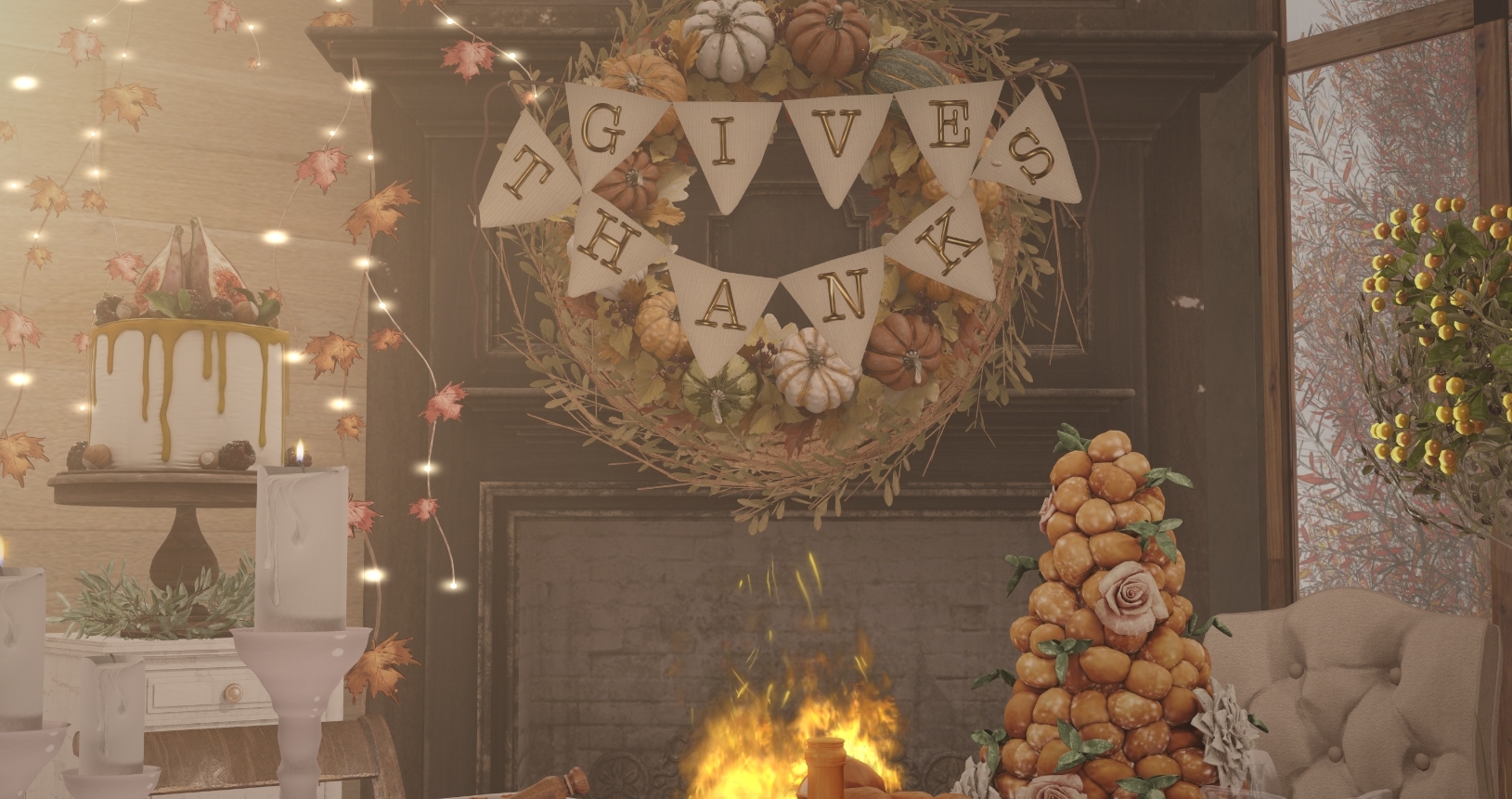 This year marks my 5th year blogging Second Life™, and what started as a humble blip on the blogosphere, CozeySL has grown into the mature deco-fest it is today thanks to you fine, fellow, lurkers, pals, residents of the virtual kind.
And because I have the honor of calling her such, I asked my SL daughter if she could help a mother out and design/create our first ever Blog-A-Gift (its a thing soon!), in conjunction with a new in-world subscriber that will now correlate with our published posts. June Fallon (Dahlia Inc.) has just floored me with her amazing talent, so it is with a grateful heart that I thank her for creating the Give Thanks Banner. So if ya'll are interested in subscribing (or just want the giftie!) feel free to take this limo right here click here. I'll have this up for about a month or so before the next one comes shootin' along.
With that said, again...THANK YOU from the bottom of my pineapple-y heart for continuing to visit us here at CozeySL.com. And I will continue to serve you dollops of decor goodness from your favorite Second Life™ creators of the furnishing kind. Now on to the smorgasbord:
The week of loosened beltlines, dirty aprons, and flying roller pins. Yes I am describing the kitchen, what on earth? This is a PG blog thank you! (I, so, kid.)
Dust Bunny has got your holiday feasting covered this season, with their latest Harvest Feast release, so do stop by at this month's Collabor88 event to get your copy at event prices. Also included Newchurch's latest release for TCF, the Fiona hutch is super versatile and can be used for just about everything and anything, like a beverage bar… see how its still PG?
Any questions, comments, any trouble getting your subscriber goody feel free to ping me in world anytime! And again, from all of us (just me), to all of you, Happy Thanksgiving and blessings to you and yours ❤
---
Dust Bunny Harvest Feast Available @ Collabor88
dust bunny . harvest feast . dining table
dust bunny . harvest feast . dining chair
dust bunny . harvest feast . dining table bench
dust bunny . harvest feast . turkey
dust bunny . harvest feast . dinner rolls
dust bunny . harvest feast . cranberry punch pitcher
dust bunny . harvest feast . cranberry punch glass
dust bunny . harvest feast . filling
dust bunny . harvest feast . green beans
dust bunny . harvest feast . sweet potato casserole
dust bunny . harvest feast . cranberry sauce
dust bunny . harvest feast . pumpkin pie
dust bunny . harvest feast . pumpkin slice
dust bunny . harvest feast . plate of food
dust bunny . harvest feast . gravy boat
dust bunny . harvest feast . mashed potatoes
*Give Thanks Banner* CozeySL Anniversary Gift!
Limited Time! Nov. 20th-30th 
Newchurch :: N :: Fiona Buffet and Hutch, White | TCF
Ariskea[LuxeBox] Scandivanian Cabin | Luxebox
---
Apple Fall Pumpkin Harvest Wreath
Apple Fall Period Fireplace
Apple Fall Fig & Blackberry Cake
Apple Fall Pyracantha Berries in Glazed Pot
Apple Fall Olive Tree, Small
Apple Fall Enamel Teapot – Brushed Nickel
Apple Fall Autumn Preserves
Apple Fall Pumpkin Clonch (Colours)
Apple Fall Storybook Woven Table Runner
Ariskea[Florist] Soft Wheat
Ariskea[Sage] Wood Stump Decor
Dahlia – Parisian Pumpkins – Candles
*LODE* Decor – Pretty Things [three plums pot set]
*LODE* Head Accessory – Eden Wreath [brown]
*LODE* Head Accessory – Dahlia Cranberry Wreath
*LODE* Decor – Dahlia Can [blueberries full]
*LODE* Decor – Dahlia Can [cranberries full]
*LODE* Decor – Philadelphus Vase
*LODE* Head Accessory – Vines [red] 5
tarte. lemonade stand RARE
[-BLUE SKY-] "Wine Bottle – Vino"
[-BLUE SKY-] "Wine Bottle – Pinot Noir"
Nutmeg. Duncan Chair
O.M.E.N – Messy Baking – Scattered Blackberries
dust bunny . storybook living . choux pastry tower
dust bunny . wanderlust . bread basket
+Half-Deer+ Metal Leaf Vines
[Tia] Valarie Silverleaf Wreath
Plastik :[P]:- Gothike Champagne Stem
Plastik :[P]:- Gothike Burgundy Wineglass
Stockholm&Lima: Brussel Sprouts (RARE)
{what next} Colonna Cookie Jar
{what next} Colonna Mug Stand
{what next} Hot Chocolate Jar Dispenser
{what next} Colonna Candy Canes
{what next} Colonna Syrup Bottles
{what next} Hot Apple Cider Jar Dispenser -with apples
{what next} Colonna Muffins Decor