Winding down this afternoon, my snacks around me, chick flick starts soon!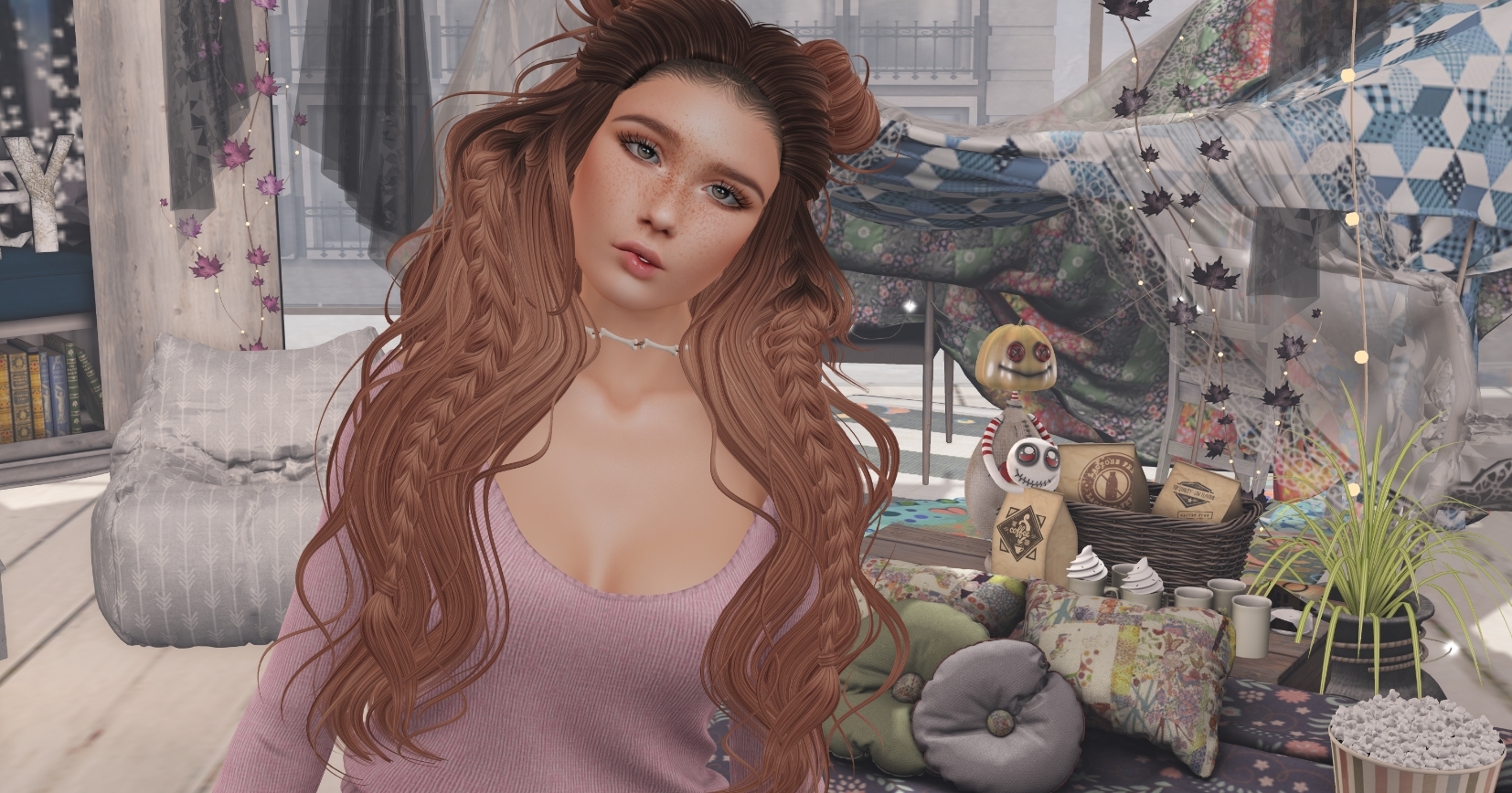 Seriously, I've got them all lined up all the best ones! But first, fun errands, yay.
Cheeky Pea has a few releases out worth checking out, especially if you love entertaining at home, the Movie Fort collection is really cool and loads of animations/poses in the pieces to make for a fun get -together! Do peruse the creditos and feel free to ping me with any questions!
---
Wearing-
*Besom~ Claire Hair | LuxeBox October
fri. – Velvet Janes (Coal) Shoes | Uber
JustBECAUSE~KaylahJeans | Uber
Ama. : Dem Bones Choker V2 | Liaison  Collaborative
!APHORISM! Ashley Sweater Candy | Kustom9
Skin- Pumec Stella
---
Cheeky Pea :CP: Movie Fort Patchwork Bed | Epiphany
Cheeky Pea :CP: Movie Fort Patchwork Blankets
Cheeky Pea :CP: Movie Fort Hot Cocoa Basket
Cheeky Pea :CP: Movie Fort Crate
Cheeky Pea :CP: Movie Fort Candle 2
Cheeky Pea :CP: Movie Fort Candle 5
Cheeky Pea :CP: Movie Fort Candle 3
Cheeky Pea :CP: Movie Fort Candle 4
Cheeky Pea :CP: Movie Fort Candle 1
Cheeky Pea :CP: Movie Fort Screen Exclusive
Cheeky Pea :CP: Movie Fort Pastel Pouffe
Cheeky Pea :CP: Movie Fort Patchwork Pouffe
Cheeky Pea :CP: Movie Fort Popcorn
Cheeky Pea :CP: Movie Fort Sweetie Jars
Cheeky Pea :CP: Dreams Come True Armoire  (PG) | N21
* Mister Pumpkins * Red Cuddle Doll | Liaison  Collaborative
+Half-Deer+ Metal Leaf Vines – All – Vertical | Collabor88
DISORDERLY. / Autumn Breakfast / Donut / Plate | Season's Story
DISORDERLY. / Autumn Breakfast / Oatmeal | Season's Story
---
+Half-Deer+ Dreary Bears – Panda
+Half-Deer+ Heart Glitter – Silver A
+Half-Deer+ Twinkle Stringlights –
Vertical – Med
+Half-Deer+ Lazypuff Bunny – Just Woke Up
Cheeky Pea :CP: Industrial Letters
Cheeky Pea :CP: Herman Hanging Bulb
Cheeky Pea :CP: Herman SL Clock
Cheeky Pea :CP: Modern Industrial Planter
Cheeky Pea :CP: Carol Fan Lamp Plum Rust
Cheeky Pea :CP: Modern Industrial Rug
Build- [Toiz] 9. white attic house