"I'm proud of who I am, no more monsters, I can breathe again. Thank you for how strong I have become."
Today's scene of the day features some very important pieces that are up for donation right now at ForMax. ForMax is an event in support of fellow resident Maxwell Graf of Rustica, who recently has come under some pretty harsh RL challenges, and designers all over the grid have come together to support and uplift him.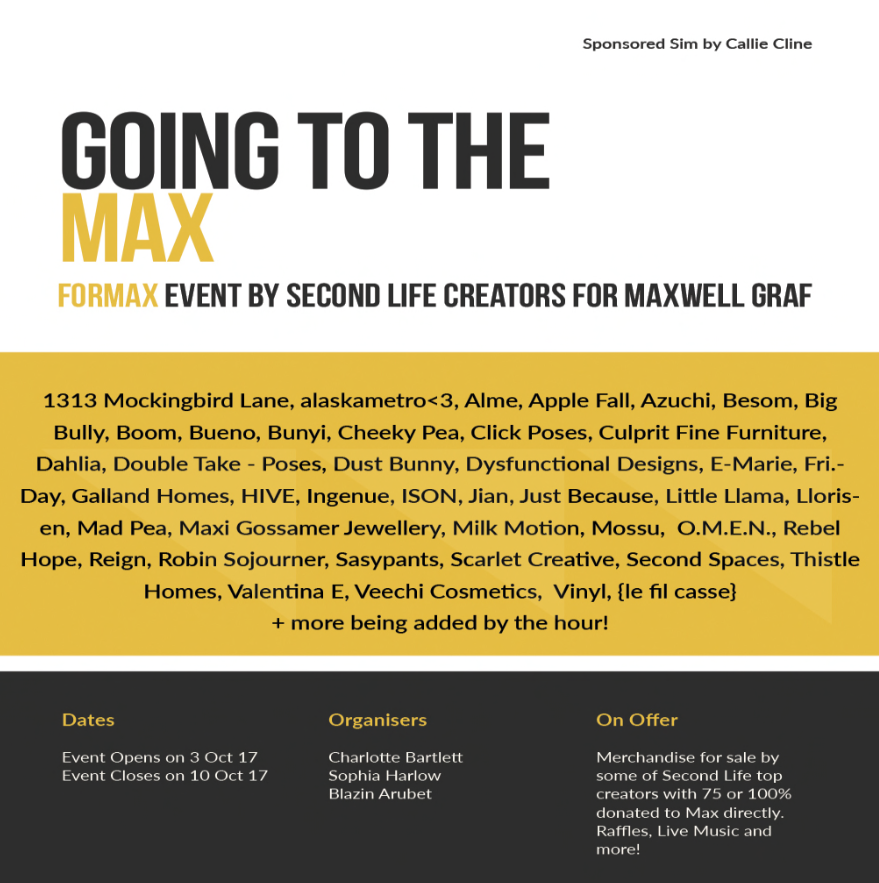 Please be sure to read through the credits for whatever you need info wise as I've included more than one designer featured here today. Many of these items are set to 100% donation and so will be going directly to the cause. For more information do visit the links below.
Related Articles:
https://modemworld.me/2017/10/03/for-max-and-lyyric-second-life-creators-and-artists-unite/
https://strawberrysingh.com/2017/10/04/formax-event/
---
The following items can be found at #ForMax
Kaerri Orchid & Lily Vase
Kaerri Pink Bowl Arrangement
Kaerri Autumn Sunflower Arrangement
Kaerri Glam Orchid Arrangement
Kaerri Palette Arrangement
Kaerri Pink Arrangement
Kaerri Butterfly Poppies
..::THOR::.. Vintage DIY Entryway
..::THOR::.. Vintage DIY Drawers
..::THOR::.. Vintage Ride On Toy
Flair – Rustic Screen – Single Panel C
[ kunst ] – Rain boots / yellow
[ kunst ] – Rain boots / pink
.trinket. woodland animal clock – smokey
[DDD] Max's Magic Potted Fern
---
[ zerkalo ] Heart Box – Colorful | Click here for SLURL
[ zerkalo ] Heart Box – Pink
Granola. Nona's Succulent Pink | New @ Mainstore
Granola. Nona's Chair Dark Pack
Granola. Nona's Succulent Orange
Granola. Nona's Succulent Blue
Granola. Nona's Succulent White
---
..::THOR::..Flea Market Table
..::THOR::.. watering can
..::THOR::.. clay bottle with flower
..::THOR::.. Rusted Libra
..::THOR::.. Scales Weights
..::THOR::.. Soil Burlap Sacks
..::THOR::.. Cordonnerie Old Sign
..::THOR::.. Recycled Paper Bags
..::THOR::.. Paper Bag + Sheets + feather
[ zerkalo ] Antique Memories – Wreath
Elysium – pebblestones_small
+Half-Deer+ Lazypuff Bunny – Bushy Broccoli
+Half-Deer+ Lazypuff Bunny – Princess Pinkberry
+Half-Deer+ Lazypuff Bunny – Majestic Unicorn RARE
{what next} White Plant Stand
::Knick Knacks:: Lace straight curtains