What knocks the door, a hallow squeal, of pure delight and zealous zeal. So sweetly begins the darkest of nights, for the trickster's well known boggles of fright!
I am making 'ze wee wee little rhymes this season, non?! Well, at least it all sounds mysterious, but I digress… synonyms are a writer's sweet intoxication, I mean sweet spot. Thing.
Happy days are coming near, for Salem opens toooonight! You'll be inundated with gobs and gobs of Halloweeney fun for sure! There are bookoo finds galore for whatever your tastes and I am hoping to cover it as much as our sweet teethies can handle. (Its a lot!)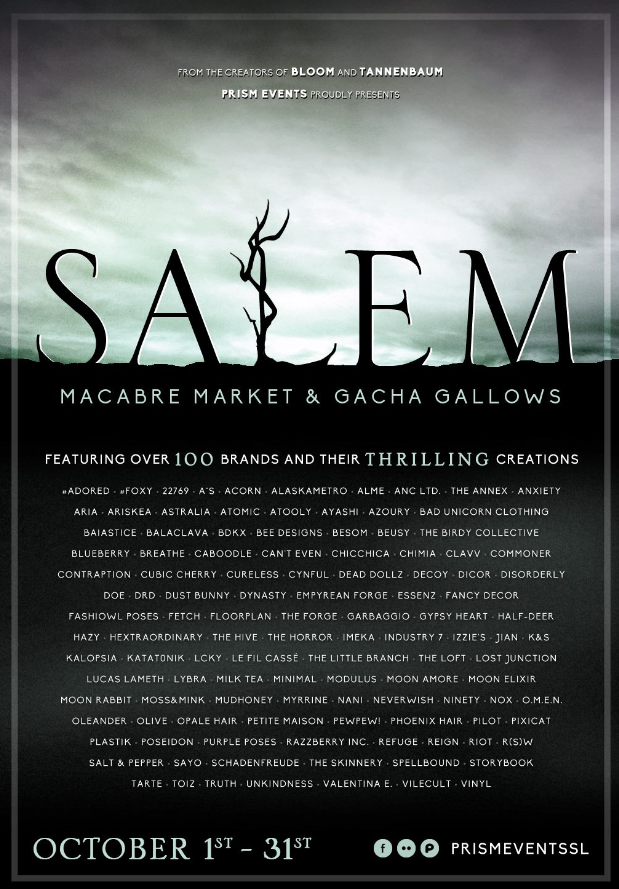 Also the Arcade Gacha Event ends officially tonight so do be sure to stop in and get your last minute prizes and Birthday Gifts!
Feel free to ping me in world if you have any questions or need a trick or treat partner, I have a really cool costume this year.
---
The following Items/Prizes will be available @ Salem! October 1st-31st!
R(S)W Pumpkin Candy Bowl
R(S)W Halloween Cupcake Plate
R(S)W Apple Harvest Bushel – Mixed
R(S)W Wooden BOO! Sign
R(S)W Halloween '17 Bunting
[Commoner] Trick-or-Treat Bucket / "…The Boos"
[Commoner] Trick-or-Treat Bucket / "…Creeping It Real"
floorplan. neon little ghost
7mad;Ravens Seasonal Art 2
03. Garbaggio // Precious Gummies
04. Garbaggio // Evil Inc. Sign
05. Garbaggio // Sweet Safe
08. Garbaggio // Pile Of Candy
BALACLAVA!! Jacqueline Sinister
---
1. PILOT – Candycorn [Zombie] | Arcade September Closes Tonight!
6. PILOT – Candycorn [Balloon]
7. PILOT – Candycorn [Scared]
2. PILOT – Candycorn [Scary]
4. PILOT – Candycorn [Popcorn] RARE
5. PILOT – Candycorn [Ghost] RARE
R(S)W Corn Dolly B – Lucy Swing RARE
R(S)W Corn Dolly B – Florence Lantern RARE
R(S)W Corn Dolly B – Sophie Balloon
Schadenfreude Devil Hedgie Costume
–ANHELO-G02_18-178GA :: TV
Remarkable Oblivion RO – Danse Macabre – Chandelier
---
BALACLAVA!! Fiona Coffee Table (Black)
PILOT – Trick or Treat Ghost
NOMAD // Scattered Leaves B // Yellow Reds
+Half-Deer+ Twinkle Stringlights – Vertical – Med
hive // the secret shack RARE
hive // crescent moons [silver]
MudHoney Corn Husk Wreath
[DDD] Lil' Garden Plot – Corn