Working from home? Stay ahead of the game with the ultimate in office decor! The Dover Collection is out now for play at The Arcade..details after le jump!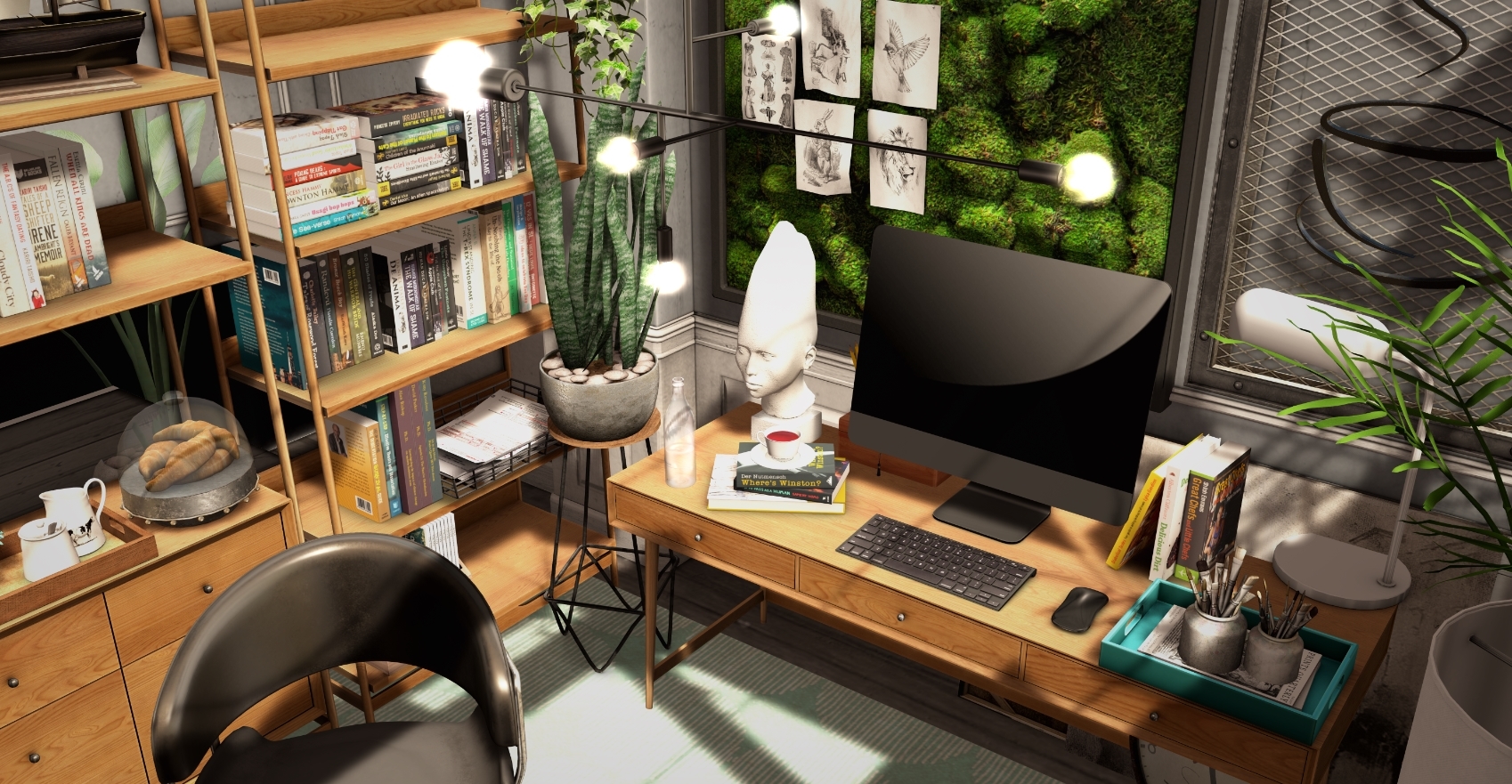 I had oodles of fun setting up today's scene. Here IRL, I can only dream of owning a separate area for to work in, ay even to relax in! No, unfortunately, I have the most mobile-i-est, workspace known to all mother kind. My pencil holder is filled with cooking utensils, and my mouse pad on off days, is an ovenmit.
And so, thank you Jake, for creating a wonderfully welcoming series to fulfill my atelier-esque moods and I just wanted to say… dayummm what a slick PC though!
The Arcade Gacha Event is just 2 weeks away from ending for this part of the quarter, so if you haven't tried a hand yet, I implore you to hop in the taxi's provided. Until then fellow lurker, blogger, picture takerer, or decorator extraordinare, have a terrific rest of the weekend!
---
01 Fancy Decor: Designer Computer RARE | Arcade September
02 Fancy Decor: Dover Desk Chair RARE
03 Fancy Decor: Dover Desk
04 Fancy Decor: Dover Shelf with Cabinet
05 Fancy Decor: Dover Shelf
06 Fancy Decor: Dover Console
07 Fancy Decor: Document Tray
08 Fancy Decor: Dover Lamp
09 Fancy Decor: Whale Tail Book Stack
10 Fancy Decor: Dover Desk Lamp
11 Fancy Decor: Art Group
12 Fancy Decor: Dover Rug
13 Fancy Decor: Cube Sculpture
Ariskea[September] Moss Frames | New September Group Gift!
Fancy Decor: Lock Box | Collabor88
---
ARIA – Ava Book Pile
ARIA – Ava Pouf
ARIA – Ava Sculpture
ARIA – Anemone Pottted Fern
ARIA – Anemone Potted Palm
ARIA – Anemone Potted Sansevieria
ARIA – Anemone Potted Strelitzia Reginae
ARIA- Dido Two Books Pile
Fancy Decor: Bonham Chandelier (black)
Fancy Decor: Mail Basket
Fancy Decor: Pencil Holder
Fancy Decor: Teacup w/ tea
Fancy Decor: Letter Opener & Mail
Fancy Decor: Industrial Mirror
09 Fancy Decor: Carpet Hide Rug
Fancy Decor: Wood Magazine Holders
The Loft & ARIA – Oberlin Potted Caladium
The Loft & ARIA – Oberlin Brioche Stand
The Loft & Aria – Oberlin Coffee Tray
The Loft & ARIA – Oberlin Coffee Machine – Black
The Loft & Aria – Oberlin Coffee Decal
PLAAKA SKYPLANTER Ivy
BALACLAVA!! Paperbacks
[ keke ] bottle of spring water
:HAIKEI: All I wanna do gacha / RARE
:HAIKEI: All I wanna do gacha / {5}
:HAIKEI: All I wanna do gacha / {4}
:HAIKEI: Container Plan Gacha / {5}
:HAIKEI: Container Plan Gacha / {4}
7 – The Filmore Factory Clock