Guess who fell asleep on a sugary cloud of glorious gorgeousness? We greet your Thursday bloggidy-scroll with finds from Ariskea, Tarte, and unKindness!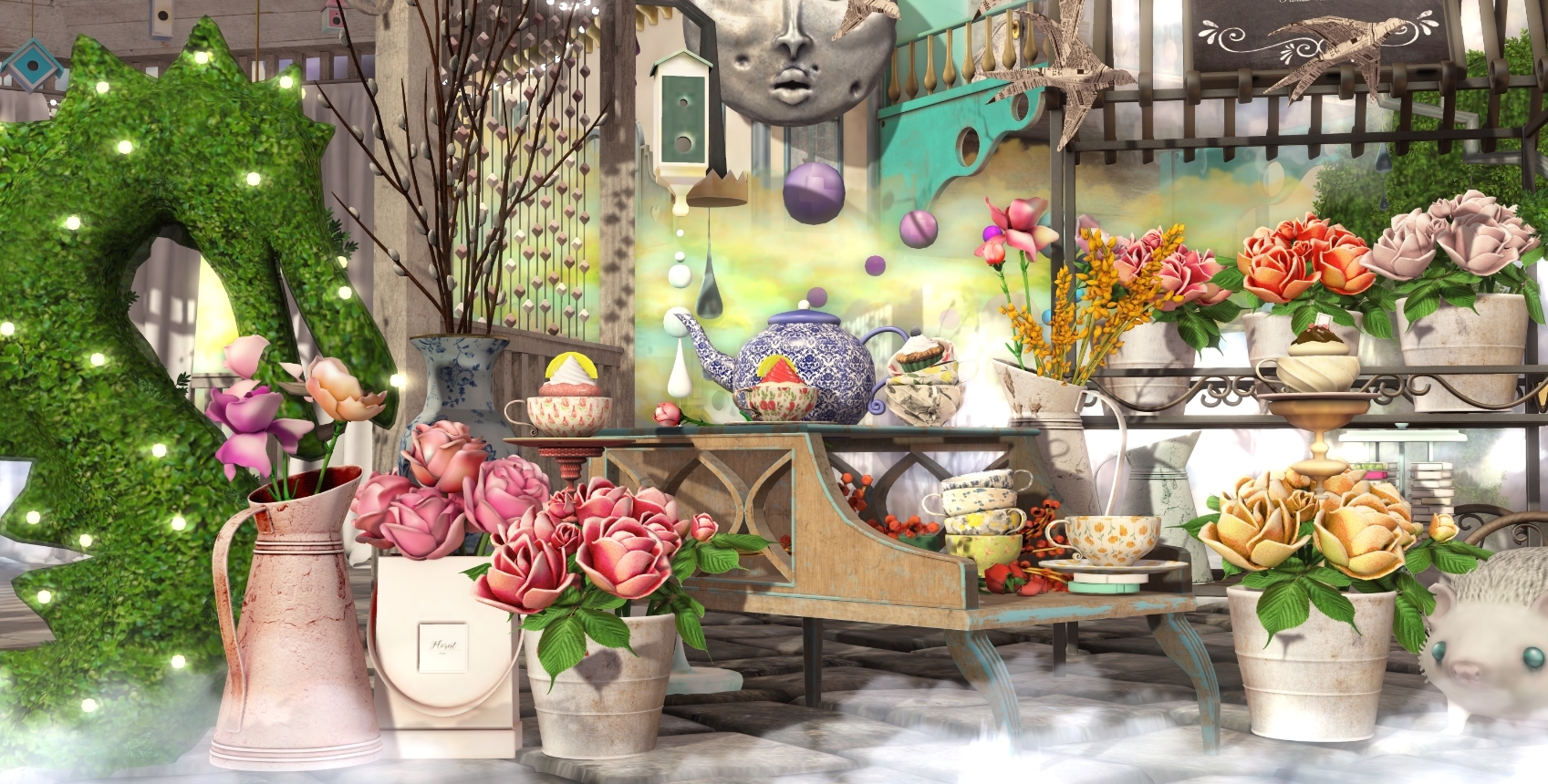 Always time for a spot of tea no matter how or where you 'wake' up to 🙂 Pretty happy with this scene more so than usual because of the whimsy of it, and yes there is a LOT going on here (I'm so so sorry).
There are about 3 gacha collections spread throughout in the scene so I'll leave those to the credits for info bearing, however just quickly, unKindness Tea Time Delights are available to play at Whimsical till Sept. 18th..the Victorian Dreamscape collection is also available to play at unKindness' main store location. 
Ariskea's Florist Collection will of course be available to play in less than 12 hours at the Arcade Gacha Event's 5th Birthday round.
Do peruse the shopping guide for this round like the good shopper you are, and as always thank you for stopping by on your daily blogscroll.
---
Ariskea[Florist] Flower Trolley RARE | Coming soon to the Arcade September Event!
Ariskea[Florist] Bouquet de Roses RARE
Ariskea[Florist] Pink Roses
Ariskea[Florist] Orange Roses
Ariskea[Florist] Soft Roses
Ariskea[Florist] Pink Roses
Ariskea[Florist] Yellow Roses
Ariskea[Florist] Dry Fruit
Ariskea[Florist] Soft Wheat
Ariskea[Florist] Peach iris
Ariskea[Florist] Purple iris
Ariskea[Florist] Rosy iris
Ariskea[Florist] Pink Poppy
Ariskea[Florist] Orange Poppy
Ariskea[Florist] Bout de Rose
Ariskea[Florist] Florist Clutter
Ariskea[Florist] Florist Ruban
Ariskea[Florist] Decay Vase Blue
Ariskea[Florist] Decay Vase Ivory
Schadenfreude Angel Hedgie Costume
Plastik :[P]:- Geowe Hanging
---
tarte. ashley gazebo | LuxeBox August
Calm. Song Vase
Sway's [Animal] Topiary . Dragon with lights RARE | Whimsical
Sway's [Animal] Topiary . Butterfly with lights  | Whimsical
uK – Tea Time Delight Candle Lemon Strawberry RARE  | Whimsical
uK – Tea Time Delight Sunny Days Tea Cup  | Whimsical
uK – Tea Time Delight Cup Stack Blueberries  | Whimsical
uK – Tea Time Delight Stacked Blackberry Vintage Cups  | Whimsical
uK – Tea Time Delight Lemon Vanilla Cake & Cup  | Whimsical
uK – Tea Time Delights Tea Pot Blue China  | Whimsical
uK – Tea Time Delight Candle White Chocolate RARE  | Whimsical
---
uK – Victorian Dreamscape Miss Moon Silver | Available to play at unKindness 
uK – Victorian Dreamscape Birdhouse 1
uK – Victorian Dreamscape Birdhouse 2
uK – Victorian Dreamscape Cloudsies Blue
uK – Victorian Dreamscape Cloudsies Violet
uK – Victorian Dreamscape Tree silver
uK – Victorian Dreamscape House RARE
uK – Old Victorian Sidetable
---
By 3rd Eye Perceptions Winds of Change Paper Birds
Stormwood ~ Cobblestone Floor