Today's scene of the day features a Mid Century Minimal dining experience from BigBully, coming soon to the Arcade Gacha Event, September 1st! Details after le jump!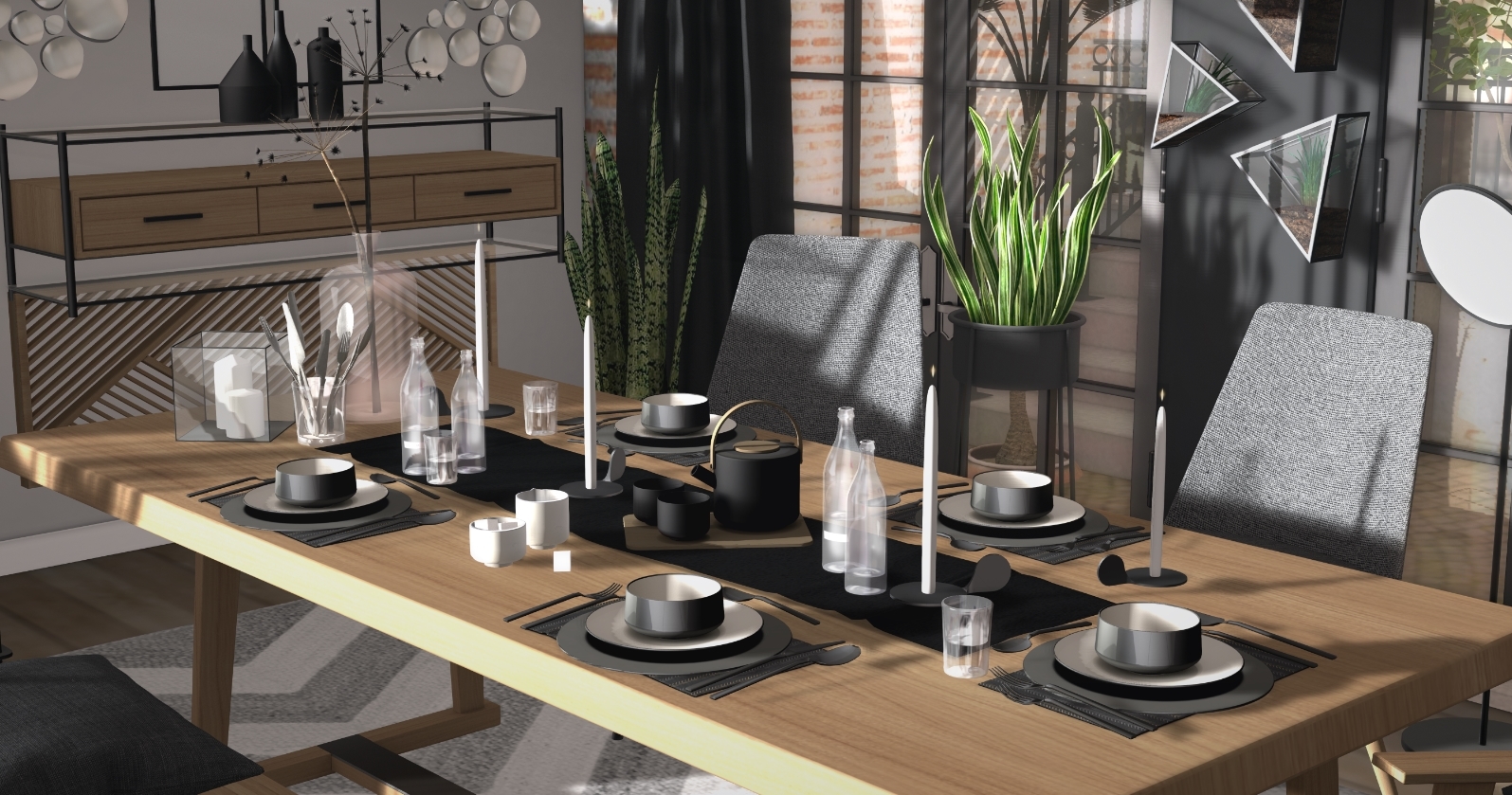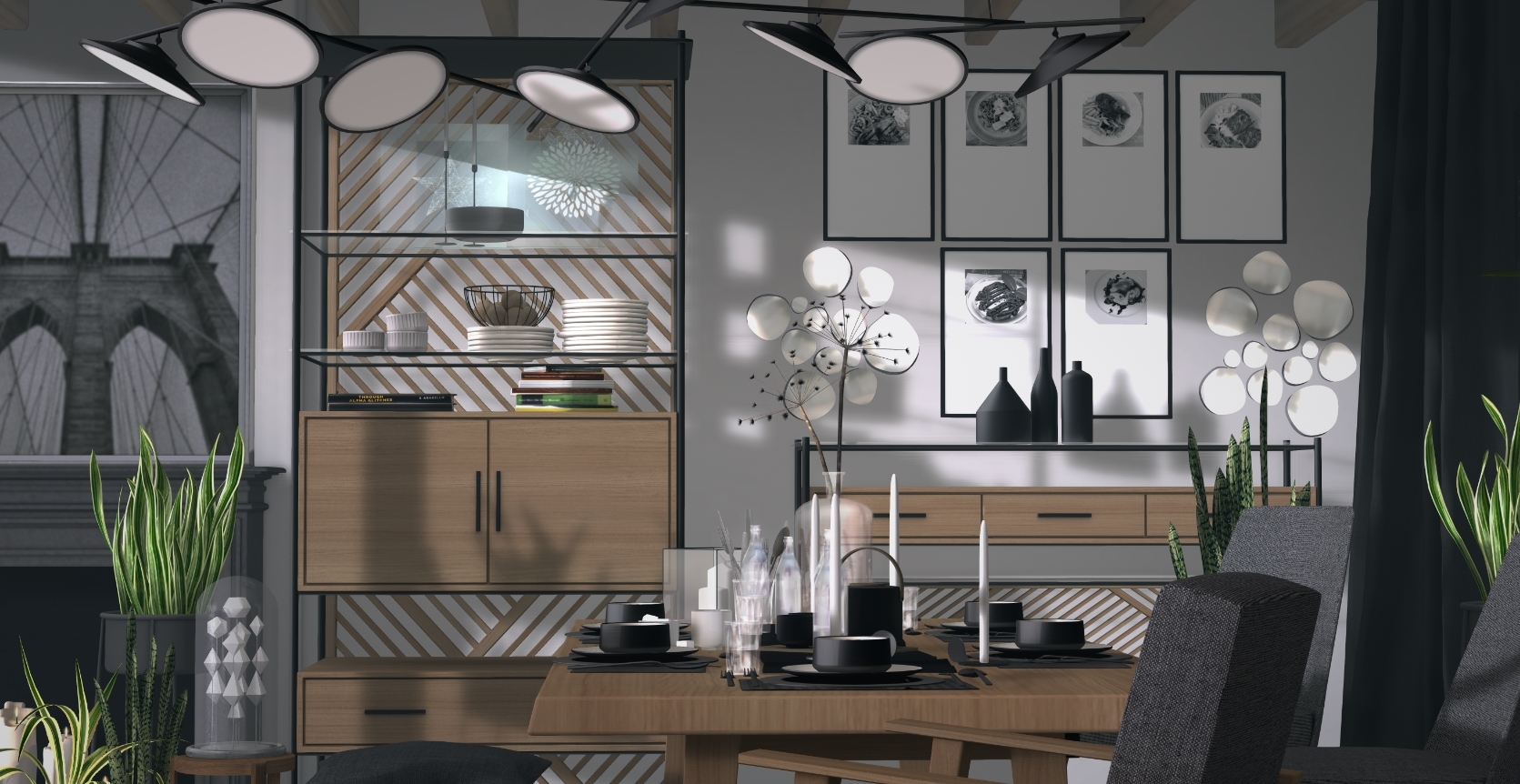 There are 15 prizes including 1 rare armchair and 1 rare dining chair. Each piece is modifiable to your hearts content. I ended up doing an unpacking during a 'live-stream' broadcast a few days ago… fair warning however, it runs about 40 minutes loooonnnngggg…(see why blogging is preferred lol). 
I had planned on doing another 'live-stream' while setting up today's scene, but time really did get away from me.. pesky pesky clock! If you have any questions though, feel free to ping me in world.
Do take a peek at the creditos for more information, also if you haven't had a chance to see, the Arcade Shopping Guide for September's round is up and live! Its also our 5th Birthday so there'll be plenty of presents to fill your shopping needsies.
Thanks for stopping by on your late late mid-week blogscroll!
---
01 BIGBULLY Mid Century Minimal Chandelier RARE | Arcade September 1st
02 BIGBULLY Mid Century Minimal Armchair RARE
03 BIGBULLY Mid Century Minimal Dining Table
04 BIGBULLY Mid Century Minimal Dining Chair
05 BIGBULLY Mid Century Minimal Dining Bench
06 BIGBULLY Mid Century Minimal Shelf
07 BIGBULLY Mid Century Minimal Buffet
08 BIGBULLY Mid Century Minimal Floor Lamp
09 BIGBULLY Mid Century Minimal Wall Sconce
10 BIGBULLY Mid Century Minimal Foodie Gallery
11 BIGBULLY Mid Century Minimal Sculptural Mirrors
12 BIGBULLY Mid Century Minimal Rug
13 BIGBULLY Mid Century Minimal Partition
14 BIGBULLY Mid Century Minimal Place Setting
15 BIGBULLY Mid Century Minimal Candle
Plastik :[P]:- Trianne Planter | Arcade September 1st
Plastik :[P]:- Rory Cloche  | Arcade September 1st
KraftWork NY Basement Loft | Builder's Box
---
BIGBULLY Clive Tea Set
BIGBULLY Freja Tall Planter
BIGBULLY Freja Low Planter
BIGBULLY Candles In A Box – Black
BIGBULLY Bottle Vases
BIGBULLY Soren Table Decor Black
BIGBULLY Modern Living Gacha – Wireframe Bowl – COMMON
BIGBULLY Sven Stool – Walnut
[ keke ] bottle of water
[ keke ] bottle of spring water
[ keke ] hard to find – glass of water
[ keke ] hard to find cream & sugar
[ keke ] hard to find plates stack
[ keke ] hard to find cutlery in glass
[ keke ] simple kitchen clutter . bowls
[ keke ] glass art – grace
[ keke ] hogweed in vase
[ keke ] simple tableware . white (mod)
MudHoney Table Runner
Artisan Fantasy *AF* Houseplant Snake Plant
BALACLAVA!! Conrad Rug (placemats)
BALACLAVA!! Plain Pillow
Wimey: Alpha Glitch Book
Wimey: These Are Not Rigging Bones Book
Bazar Arizona-Books clutter