Come and dine, set out on a taste adventure, but mind the dishes oh ye of little chopsticks!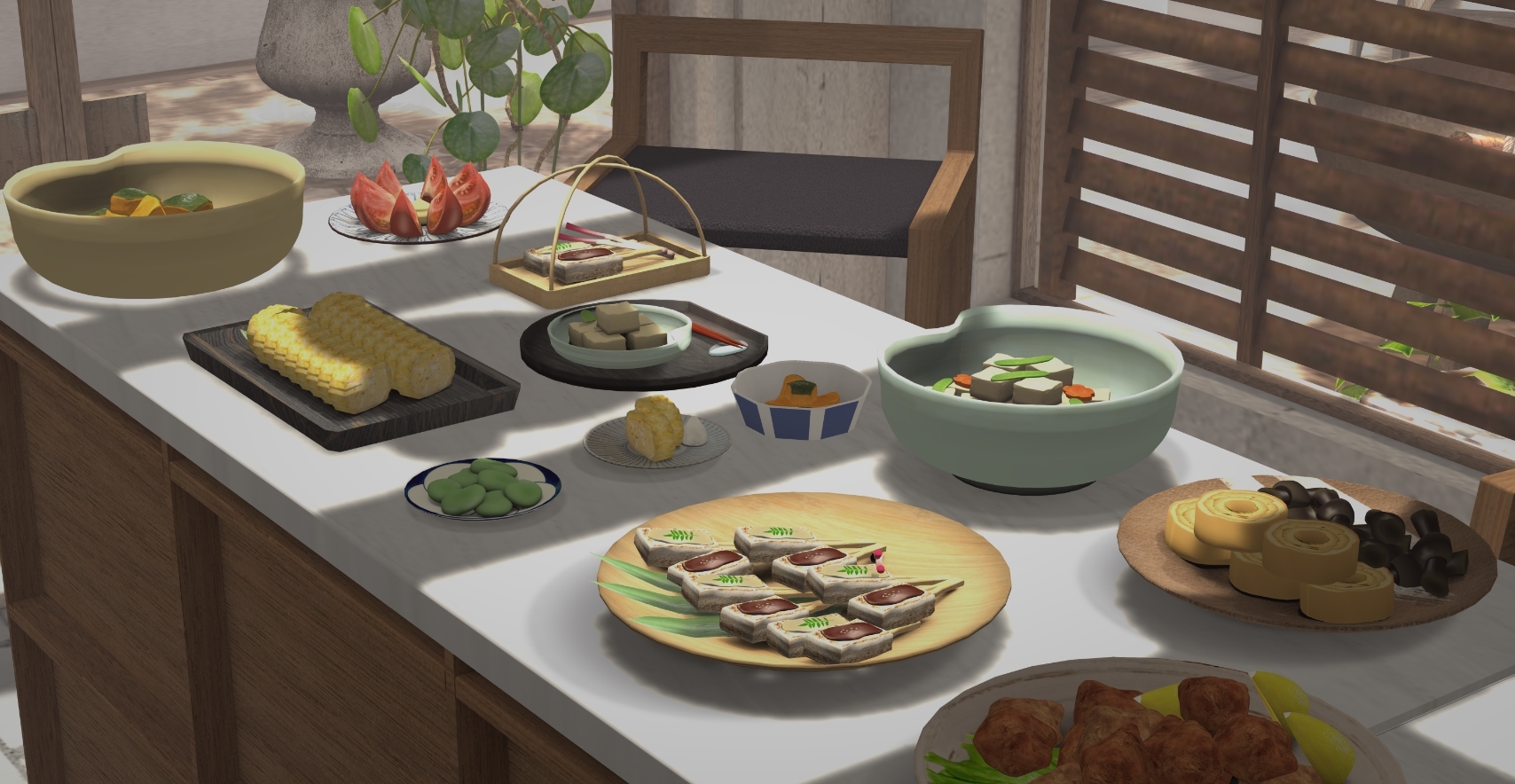 A couple of things to note for today's scene of the day: The Obanzai Food items are by Monkey Banana, and are now available at the main store. It was a past release from Japonica, however, the fatpack is still listed as 50% off which is a steal really.
BigBully is a current participant of Pocket Gacha, the latest phenom to hit the grid! Kai Mannequin has released the Wren Kitchen series, and I went ahead and included the original ad so you can see all the pieces in its entirety.
You can get your very own Pocket Gacha HUD at Big Bully's main store location as well as the Pocket Gacha Headquarters. Silver Shine, a fellow bloggeurette/vlogger has created an in depth tutorial and How-To for Pocket Gacha, so do check it out!
I hope your weekend finds you cooler, calmer, and collected, because Lord knows how quickly that weather'll turn and we will be staring down that winding road to brisk mornings and soggy afternoons.. woooeeee woe woe.. whoa!
But not yet!
---
02 BIGBULLY Wren Kitchen Sink Island – RARE | Pocket Gacha
03 BIGBULLY Wren Kitchen Plain Counter
07 BIGBULLY Wren Kitchen Oven Cabinet
08 BIGBULLY Wren Kitchen Tall Cabinets
09 BIGBULLY Wren Kitchen Cooktop
10 BIGBULLY Wren Kitchen Chair
11 BIGBULLY Wren Kitchen Lamp Black
Monkey Banana Obanzai Set | Available @ Main Store
[MB] OBANZAI -karaage Server – (Fried chicken)
[MB] OBANZAI -Nimono Server- (knoted kelp)
[MB] OBANZAI -Kouya doufu Server- (dried tofu)
[MB] OBANZAI -Dengaku Server- (baked tofu)
[MB] OBANZAI -Kabocha- (pumpkin
[MB] OBANZAI -Tamagoyaki- (omelet)
[MB] OBANZAI -Soramame- (boild beans)
[MB] OBANZAI -Dengaku- (baked tofu)
[MB] OBANZAI -Kabocha Server- (pumpkin)
[MB] OBANZAI -Hiyashi tomato- (tomato)
[MB] OBANZAI -BON- (Serving plate)
Cube Republic heliconia pendula 'Lobster Claw' | Fameshed
{what next} Bellevie Fire Pit | Fifty Linden Friday
{what next} Bellevie Table  | Fifty Linden Friday
{what next} Bellevie Chair 3 (Bento)  | Fifty Linden Friday
Scarlet Creative Moderno House | LuxeBox August
---
unKindness – Little Oasis Curved Falls Brown RARE
floorplan. hello wall hooks
Sari-Sari – Of Cozy – Rug (white print)
PLAAKA EspressoMachine
PLAAKA EspressoCups DripTray
PLAAKA EspressoCups CupTray
PLAAKA BrickPlanterIvy
PLAAKA FicusUmbellata
PLAAKA WallHangingIvy Square
PLAAKA WaterGrass SmallPot
PLAAKA WaterGrass BonsaiPot
PLAAKA WaterBowlBiotope
PLAAKA EucalyptusPolyanthemos
PLAAKA WireMeshIvy
PLAAKA PileaPeperomioides
Compulsion Plant
[ keke ] kitchen knife and board
10 *YS&YS* Memories Plant 03
MudHoney Clio Fridge – Black
MudHoney Clio Range Hood – Black
Soy. Reed Screen [Sudare] Light -Half rolled
Scarlet Creative The Arcade Love Blinds