Happy Friday! We've prepped up a good solid helping of summer treats and yummy delights to welcome the weekend! Details after the jump!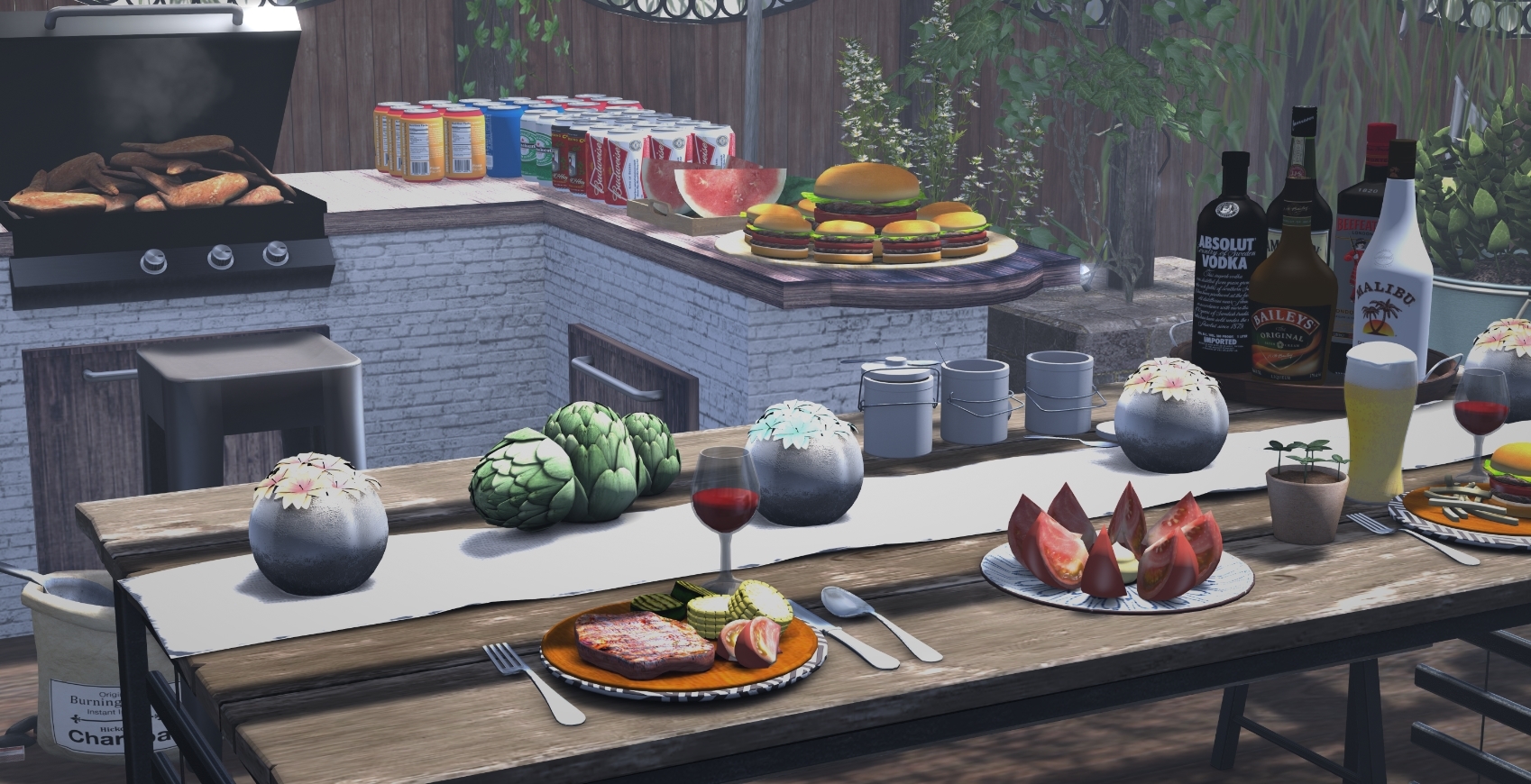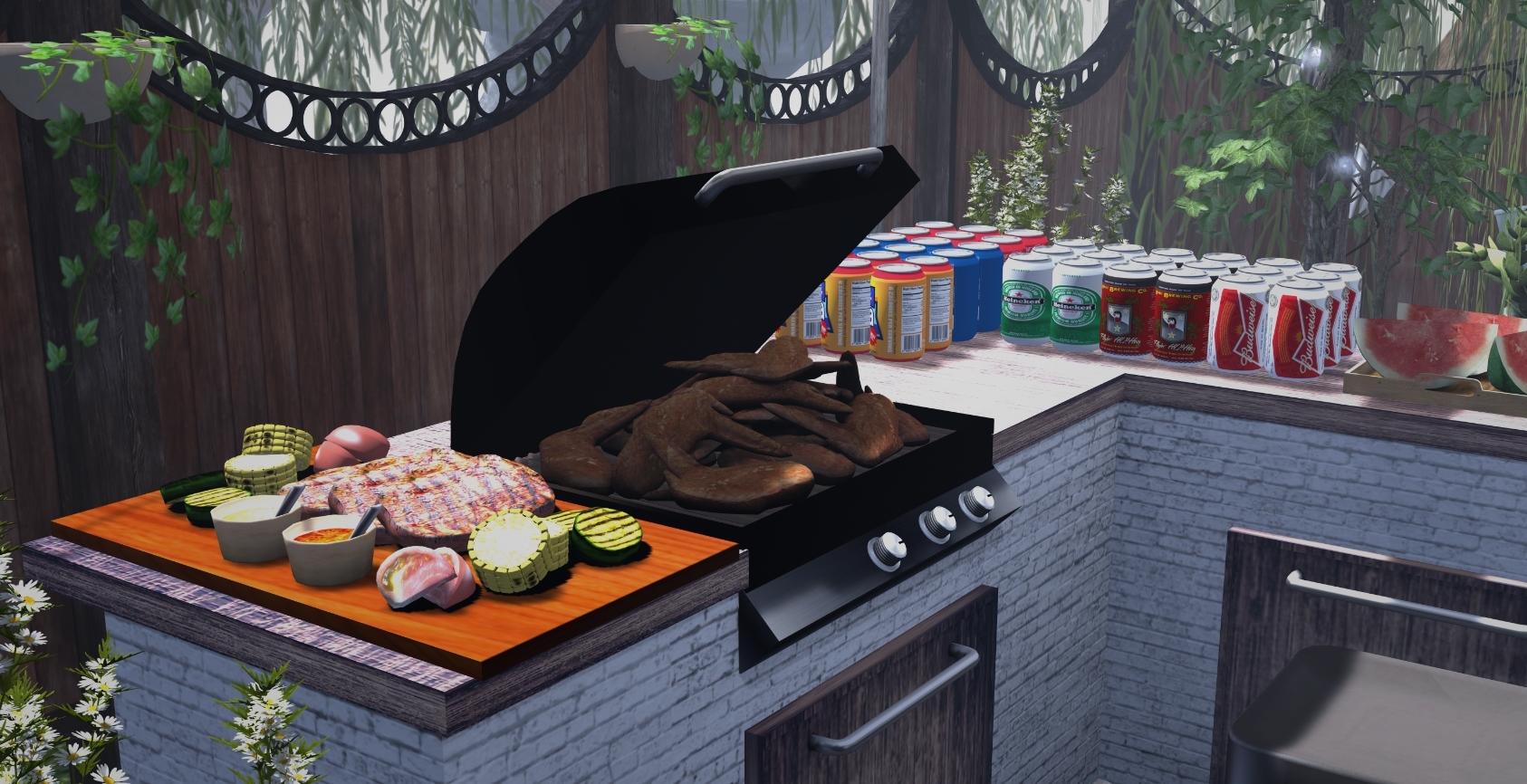 Doesn't it all look scrumptious? Summer hasn't left just yet! Time for one last hurrah and what better way than with a good ole fashion BBQ!
Monkey Banana has released a BBQ gacha collection for Cosmopolitan's 5th anniversary event. You'll want to check it all out in person, because there are tons of food options and props to liven up your outdoor scene or party even.
The pergola, table, and benches are from Silence and out right now at Uber. There are pose animations in the benches and the table runner/flowers are modifiable with optional textures that you can choose from through a menu.
I have a feeling this scene will be up for quite a while yet so if you are at all interested in viewing it in person, feel free to ping me in world! Cheers to the beginning of your weekend and do peruse ye ole credits for all the details!
---
Silence. – Junie Table | Uber
Silence. – Junie Bench  | Uber
Silence. – Junie Pergola  | Uber
Silence. – Junie Hanging Lights  | Uber
Silence. – Junie Table Centerpiece  | Uber
Monkey Banana [MB] BBQ GRILL Counter | Cosmopolitan 5th Anniversary
Monkey Banana [MB] BBQ Steak Server (Touch) RARE
Monkey Banana [MB] BBQ hamburger Server
Monkey Banana [MB] BBQ Soda Server (Touch)
Monkey Banana [MB] BBQ Beer Server (Touch)
Monkey Banana [MB] BBQ Stool -Black-
Monkey Banana [MB] BBQ Steak dish Display
Monkey Banana [MB] BBQ Burger deish Display
Monkey Banana [MB] BBQ tomato Server (GIFT)
Monkey Banana [MB] OBANZAI -Beer- (touch)
Monkey Banana [MB] BBQ Wall Ivy
Cheeky Pea :CP: Isobel Summer Plant Sage | Epiphany
Cheeky Pea :CP: Isobel Summer Plant Grey  | Epiphany
Cheeky Pea :CP: Isobel Flags  | Epiphany
---
Sari-Sari – Watermelon Tray
Sari-Sari – BBQ Party – Fruit Stand
Sari-Sari – BBQ Party – BBQ Sauces
Sari-Sari – BBQ Party – Charcoal
6 [[RH]] AGEMONO-YA -TEBASAKI- (chicken wing) (mod)
Alouette – Basil Seedlings – Single
Tartessos Arts TA Drinks Tray
Apple Fall AF Decorative Artichokes
Stockholm&Lima:Alderaan Park Street Lamp
Stockholm&Lima:Alderaan Park Privacy Fence
Stockholm&Lima:Alderaan Park Path