Some really great decor finds from ARIA and The Loft to accessorize your scene of the day! Also a glorious Blossom Cake from Fancy Decor to celebrate another successful year!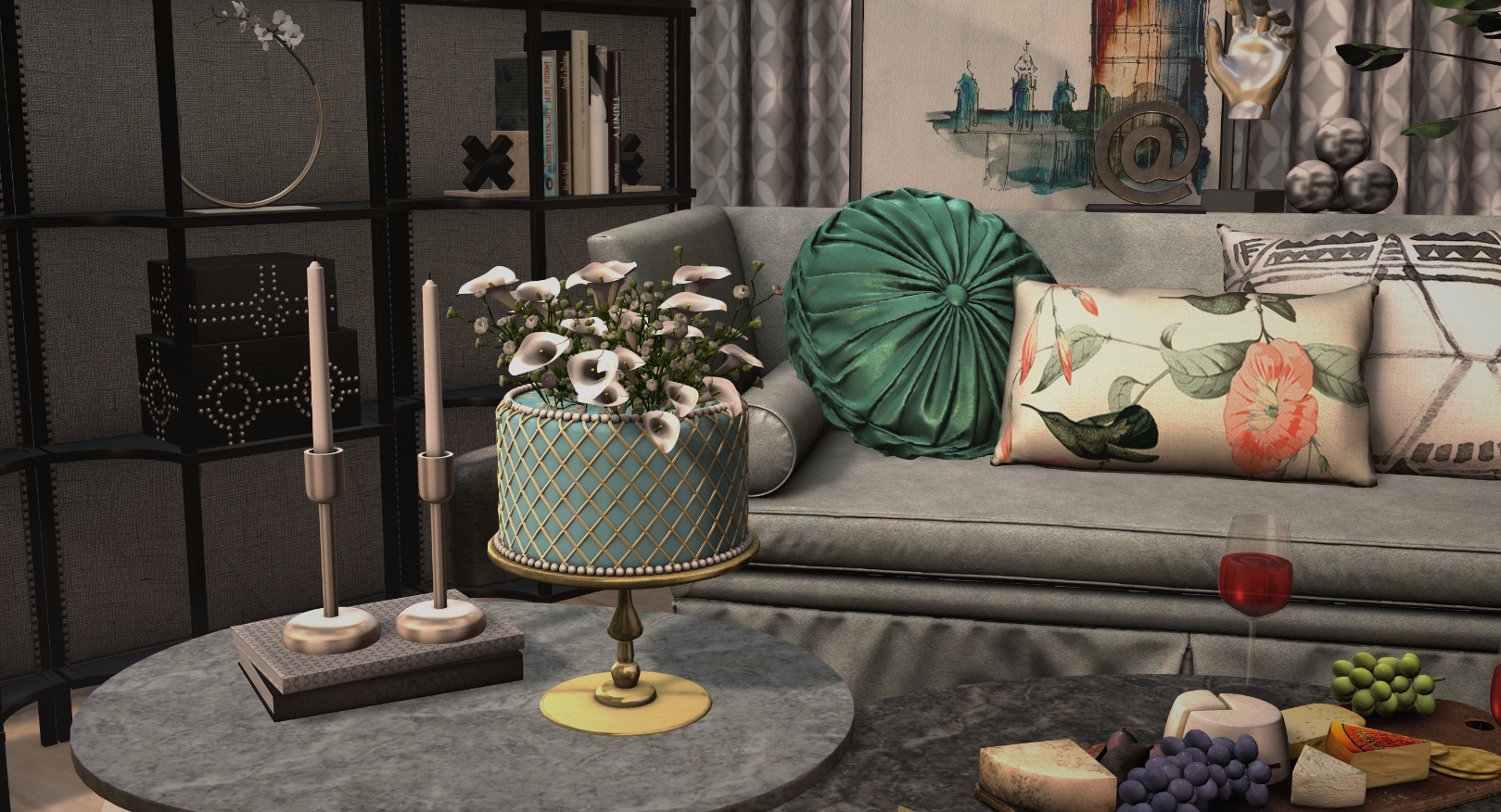 Ayeee don't hang me for butchering the cake! I mean, haven't you had fresh flowers to top your cake before? So therein lies my excuse, although I still think it turned out really pretty.
Sometimes you just have to take risks in your pretty scene or set up. But don't calculate 'em too much, this is supposed to be fun remember?
Have a lovely Wednesday fellow lurker and feel free to ping me with questions, comments, and maybe, you'll get a slice too.
---
ARIA- Dido Sofa (PG) | Uber
ARIA- Dido Coffee Table Short | Uber
ARIA- Dido Coffee Table Tall | Uber
ARIA- Dido Two Books Pile | Uber
ARIA- Dido Wine Glass | Uber
ARIA- Dido Cheese Platter | Uber
ARIA- Dido Decorative Bowl Geometric | Uber
ARIA- Dido Pendant Light | Uber
ARIA- Dido Vase with Lillies (modified) | Uber
The Loft – Nelson Picture Frame | Uber
The Loft – Nelson Vase | Uber
The Loft – Nelson Book End | Uber
The Loft – Nelson Half Circle | Uber
The Loft – Nelson Bodega Box | Uber
The Loft – Nelson Duarte Bottle | Uber
The Loft – Ampersand | Uber
The Loft – Nelson Bookstack 1 | Uber
The Loft – Nelson Candlestick | Uber
The Loft & Aria – Rue Cactus | Uber
The Loft – Nelson Vases With Poppies | Uber
The Loft – Nelson Metal Bowl | Uber
The Loft – Nelson Frame Standing | Uber
The Loft – Nelson Frame Leaning | Uber
The Loft – Nelson Etagere | Uber
The Loft – Hand Sculpture | Uber
The Loft – Atmark | Uber
Fancy Decor: Blossom Cake | Anniversary GIFT!
Soy. Building [WienKan] | Kustom9
---
ARIA – Serendipity Potted Monstera Deliciosa
ARIA – Serendipity Side Table
ARIA – Serendipity Print
ARIA – Sunday Morning Decorative Throw Pillows
Fancy Decor: Sphere Art Sculpture (silver)
MudHoney Drapes