Welcome fellow lurkers to Cozey's Sunday Sevensies series, where we jabber on about weekly happenings around the grid in world, and around the SL Blogosphere!
It has been more than a year since the last Sunday Sevensies article and I thought it was high time we brought back some dialogue around these parts. The happy happenings around our virtual world hasn't slowed down even though its summer. Aside from Summerfest and The Home Show, there was another non shopping annual event that did take place today: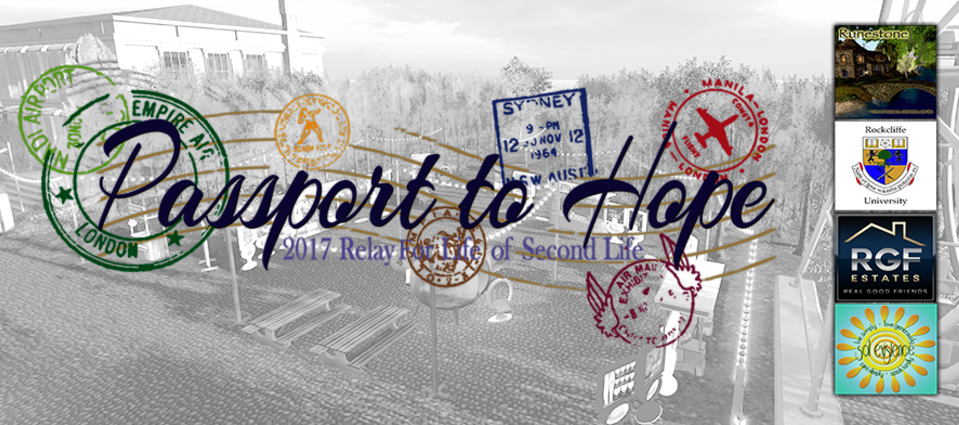 Relay For Life of Second Life held its annual Relay Weekend yesterday, with closing ceremonies scheduled for today, July 16th, Sunday at 10amSLT. I was able to go to a few sims and catch a concert before treatment (more on that later), but it never fails to amaze me how encouraging everyone is and how well organized these events are. You can find real-time updates through the RFL Second Life Facebook Page here, and if you have a chance to get in world, here's the taxi to the sims.. sometimes just showing up makes a difference.
---
Summerfest '17 ends this Thursday, July 20th!  Truly this month has flown by and we aren't even  fully into the third week yet. Seriously, who fast forwarded the calendar?! Clicking on the poster will get you there and visiting the Summerfest '17 Flickr page will yield you additional information.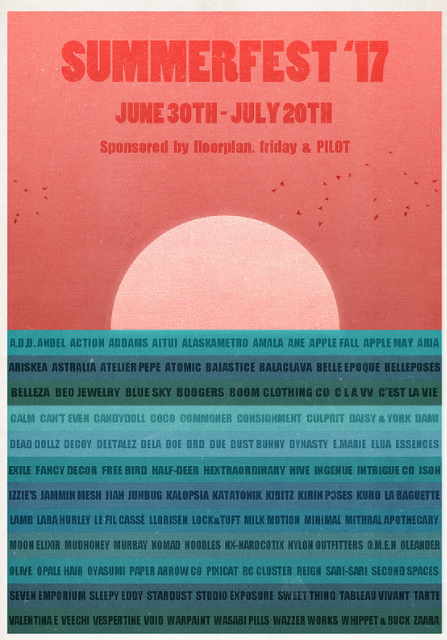 ---
I am always on the look out for Second Life™ good reads and usually share my top three of the week. The following articles are from new subscriptions that I have been diligently reading. They're always fun and interesting, but more so, the insight to these bloggers lives and how they weave it into their images and story, is what keeps me coming back for more. I hope you enjoy them as well!
Jaded Panther – Some journeys lead  you down roads never expected
Kess Crystal – Workplace Mishaps
Peep Sideshow – Two Favourites, Squared
---
Last two things! Yay you've made it all the way down here lol! 10,000 points for you!
Second Life™ Vlogging has already been a 'thing', and I have finally seen the light. If there were ever a time to jump on the proverbial bandwagon now is the time. I took up Strawberry Singh's Vlog Challenge as part of her Monday Memes (you can watch mine here), and since then have attempted to streamline the process of.. well everything.
Its a bit jarring still, to think that 6 hours of production time will go into 30 seconds of playback time, and then fight a gadgillion other videos for ranking, likes and views. No joke, it is mind boggling, butttt I am seeing the results of residents who have been vlogging for years and how their perseverance is paving the way for all of us. Its exciting, its sometimes overwhelming, and it is here to stay. If you're interested, fellow lurker, I've included 2 (as a start!) Second Life™ Vlogger's Youtube channels from fellow residents.
Silver Shine – Check out her latest vlog!
annddd Lexy Nexen's channel with her latest vlog, "What to do in Second Life this summer?"
Second Life™ vlogging.. its gonna be HUGE! (Wendz it already is, get a grip.) 
Riiighhhttt. Did I say dialogue? My gosh we've passed the 500 word count! SO PROUD of us right now, thank you for reading all the way through you brave reader you. Before we let the credits roll, I wanted to personally thank Bri Lockhearst and Silver Shine, for keeping me company yesterday during dialysis. Poor things had to listen to my machine alarm, docs and nurses jabber away because Wendz forgot to mute. They really helped me get through the treatment smoothly just keeping company. Mahalo you two, it meant the world to me.
Do peruse that crunchy credit roll, and if you're inclined, leave a message in the box below! The good, the bad, the ugly, and the notorious!
---
Fancy Decor: Too Glam Art (silver) | The Home Show (ends 7/29)
Fancy Decor: Glam Table (silver) | The Home Show (ends 7/29)
Fancy Decor: Ring Lamp (silver) | The Home Show (ends 7/29)
Fancy Decor: Bonham Chandelier (silver) | FaMESHed
Fancy Decor: Bonham Rug | FaMESHed
Newchurch :: N :: Emmy Curio Cabinet, White-Painted | The Chapter Four
---
Fancy Decor: Wire Sofa
03 Fancy Decor: Worlidge Coffee Table
09 Fancy Decor: Worlidge Box (white)
Fancy Decor: Sphere Art Sculpture (silver)
Fancy Decor: Triangle Candle (silver)
Fancy Decor: Entry Lantern (silver)
Fancy Decor: Carriage Clock (silver)
Fancy Decor: Books & Bookends (white)
ARIA – Haven Faux Sheepskin Rug
ARIA – Anemone Pottted Fern
ARIA – Ava Book Pile
ARIA – Pescara Side Table
ARIA – Pescara Potted Strelitzia Reginae
ARIA – Palermo Decorative Books
ARIA – Bridal Parlour – Screen Mirror – Silver
The Loft & ARIA – Odeletta Potted Amaryllis
The Loft & ARIA – Odeletta Potted Sansevieria
The Loft & ARIA – Odeletta Privacy Screen
The Loft – Claryon Curtains White
Trompe Loeil – Eloise Conservatory