This ever growing and sunshine loving jungle of a plant has taken over the grid and has made its way to Fancy Decor and we are infatuated!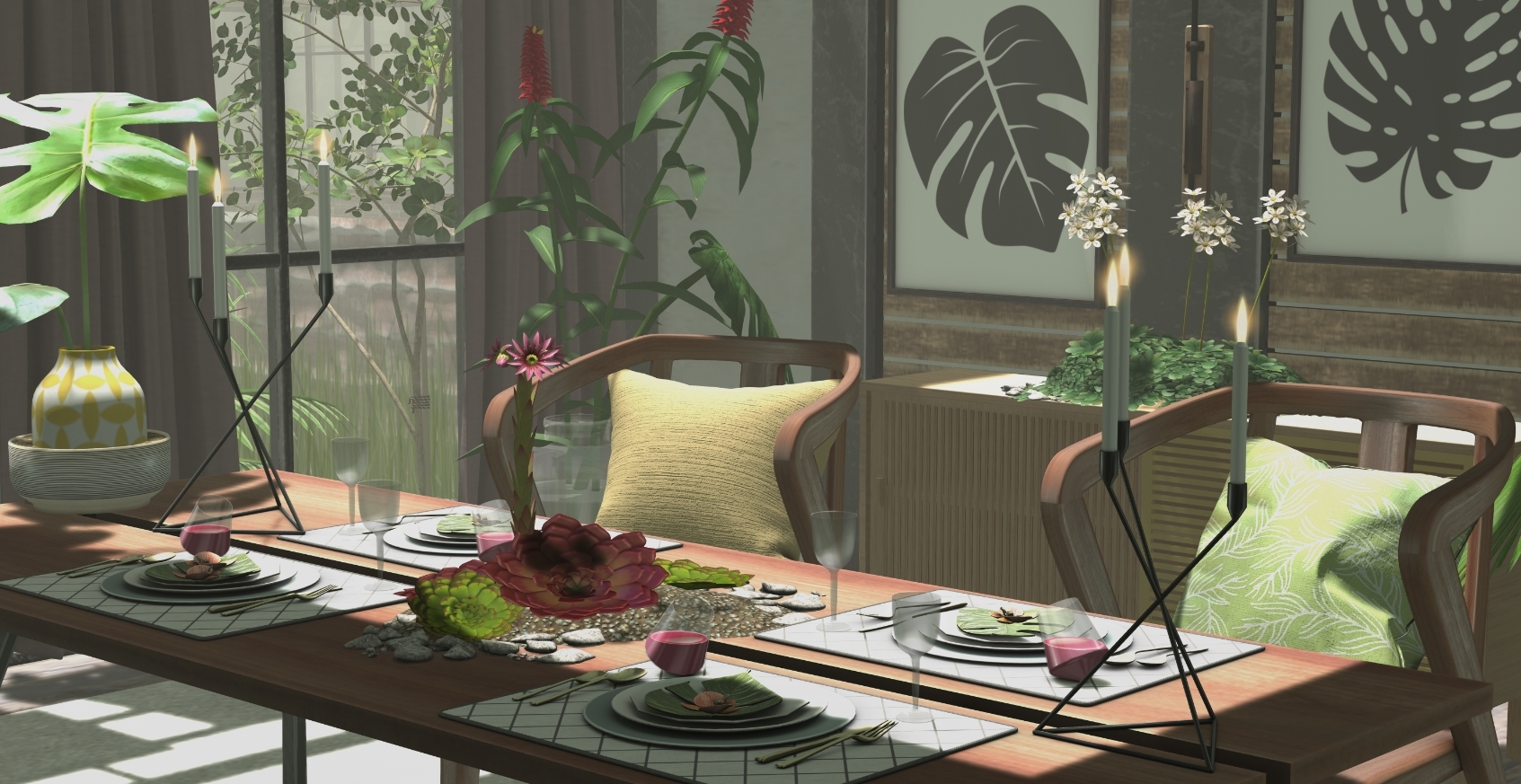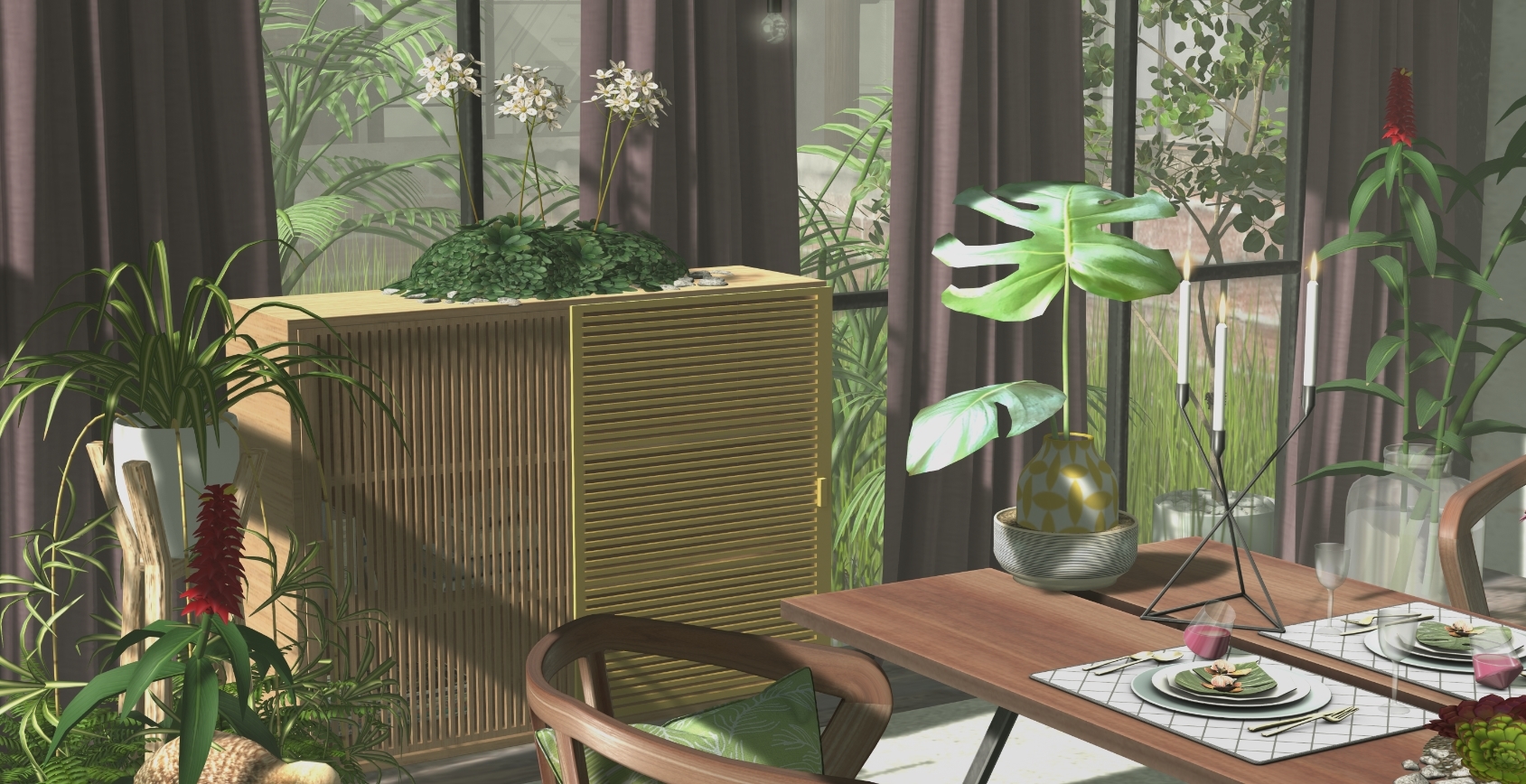 Monstera plants in general are fun to have around the house. My mom was a huge fan and had quite a nursery back in the day. I jokingly said once that they remind me of the all the afternoons I came home from school to water the 'monsters'. Yeah, island kids right?
I will be the first to admit that today's scene of the day was a challenge. The reason why there is a lack of dining or kitchen rooms here at Cozey, is solely because I am really really awful at setting them up. However.. one must always rise to the challenge and occasion. And what an occasion! The Bonham Dining Collection from Fancy Decor has got it all; place setting, placemats, decorative prints, furnishings you name it. Pieces that are perfect for a contemporary setting. It is available now at Fameshed so be sure to check it out!
The Shoji sideboard and consoles are by Big Bully and available at Souled Out; and last but certainly not least we have Cube Republic's latest for the Season's Story which opens today. The Alpine Plants series is chock full of a variety of plants and he is a stickler for proper names so do visit the event and see these beauties up close and personal like… learn their names and all.
Later this week, I am hoping to restart the weekly give-aways as we are smack dab in the middle of summer, and sales are coming at us from every which way.
Stay in touch and as always, thank you fellow lurker for returning, or if you're new around here, welcome welcome.. you are moost welcome 🙂
*leave shoes at door, mahalo!*
---
Fancy Decor: Orchid Blossom  | FaMESHed
Fancy Decor: Bonham Dining Table | FaMESHed
Fancy Decor: Bonham Dining Chair  | FaMESHed
Fancy Decor: Bonham Place Setting (gold)  | FaMESHed
Fancy Decor: Turvy Wine Glass  | FaMESHed
Fancy Decor: Triangle Candle (black)  | FaMESHed
Fancy Decor: Bonham Chandelier (black)  | FaMESHed
Fancy Decor: Bonham Rug  | FaMESHed
Fancy Decor: Geometric Placemat  | FaMESHed
Fancy Decor: Monstera Print B  | FaMESHed
Fancy Decor: Monstera Print A  | FaMESHed
Cheeky Pea :CP: Jolly Chadwick Camp Wineglass | Uber
BIGBULLY Shoji Console – Yellow | Souled Out
BIGBULLY Shoji Sideboard – Yellow  | Souled Out
Calm. Plaza . Vase | Project Se7en
Cube Republic CR Red Tower Ginger 1 Flower | FaMESHed
Cube Republic CR Alpine Plants Sempervivum 13 | Coming soon to Season's Story
Cube Republic CR Alpine Plants Saxifraga 3 | Coming soon to Season's Story
Cube Republic CR C&S Gacha 8 Agave Victoria Reginae | Gacha Guardian
---
ARIA – Ava Vase with Monstera Deliciosa Leaf
ARIA Olympia Pillows (mod)
Cube Republic CR Spider Plant Stand & Pups
MudHoney Throw PIllow – White Canvas
MudHoney Table Runner (mod)
MudHoney Drapes (mod)
Sway's [Agwe] Vase with Monstera leaves
{what next} Oasis Bloom – Succulent Planter (mod)
::no13:: narrow lamp (2LI / iron
Tiki planter with ferns – Virtual nature GIFT
Virtual nature (c) 2014 Sabal
Kaerri Aroha Kiwi Stump Planter
Soy. BKLYNITES LOFT – The Lofty Sky Apartment (mod)
Fancy Decor: Davis Post (mid)
Fancy Decor: Davis Short Panel