We're counting down the last few days of the Arcade Gacha Event which ends this Friday..if you haven't had a chance to play for these prizes, here's a friendly nudge!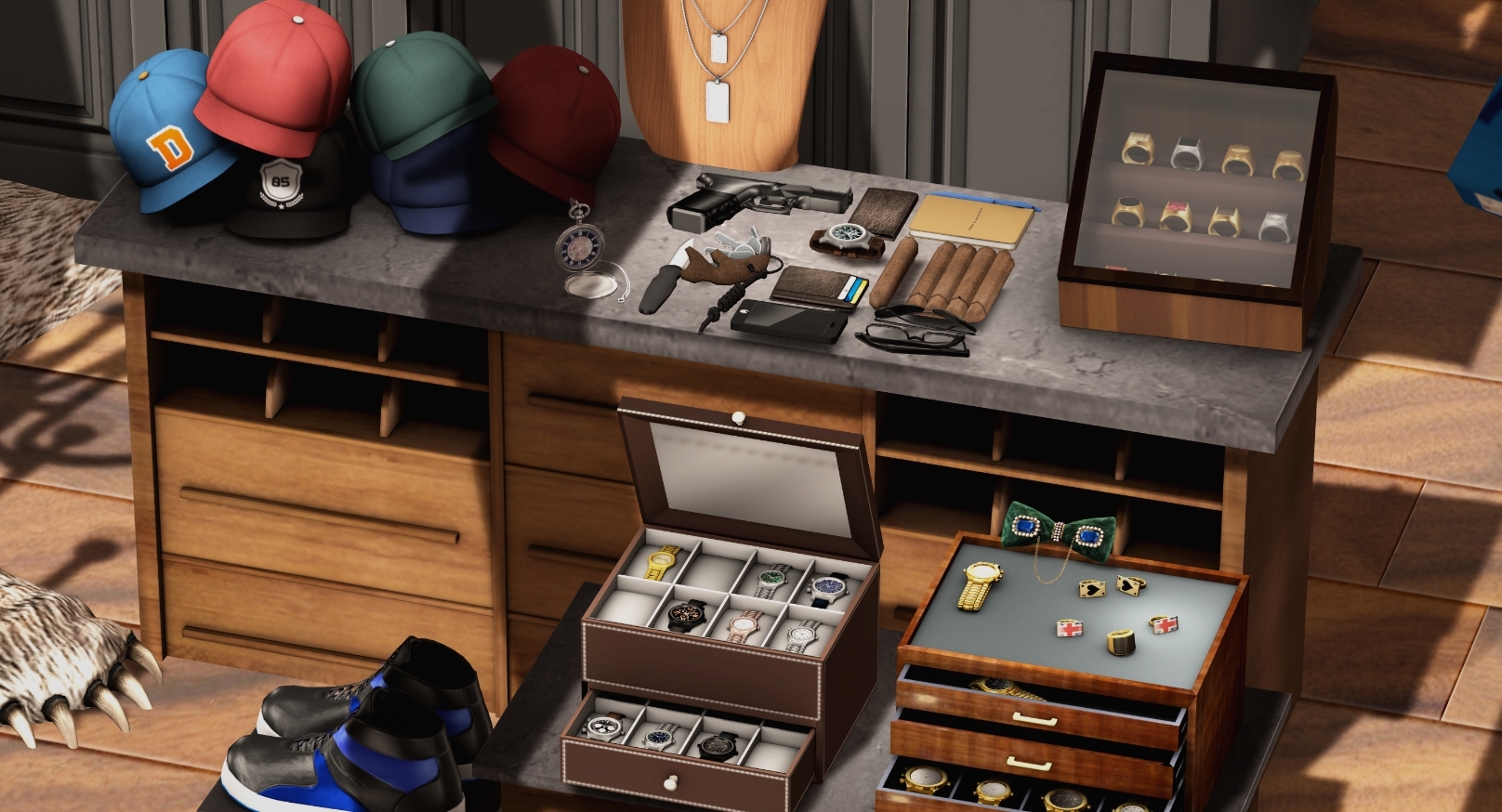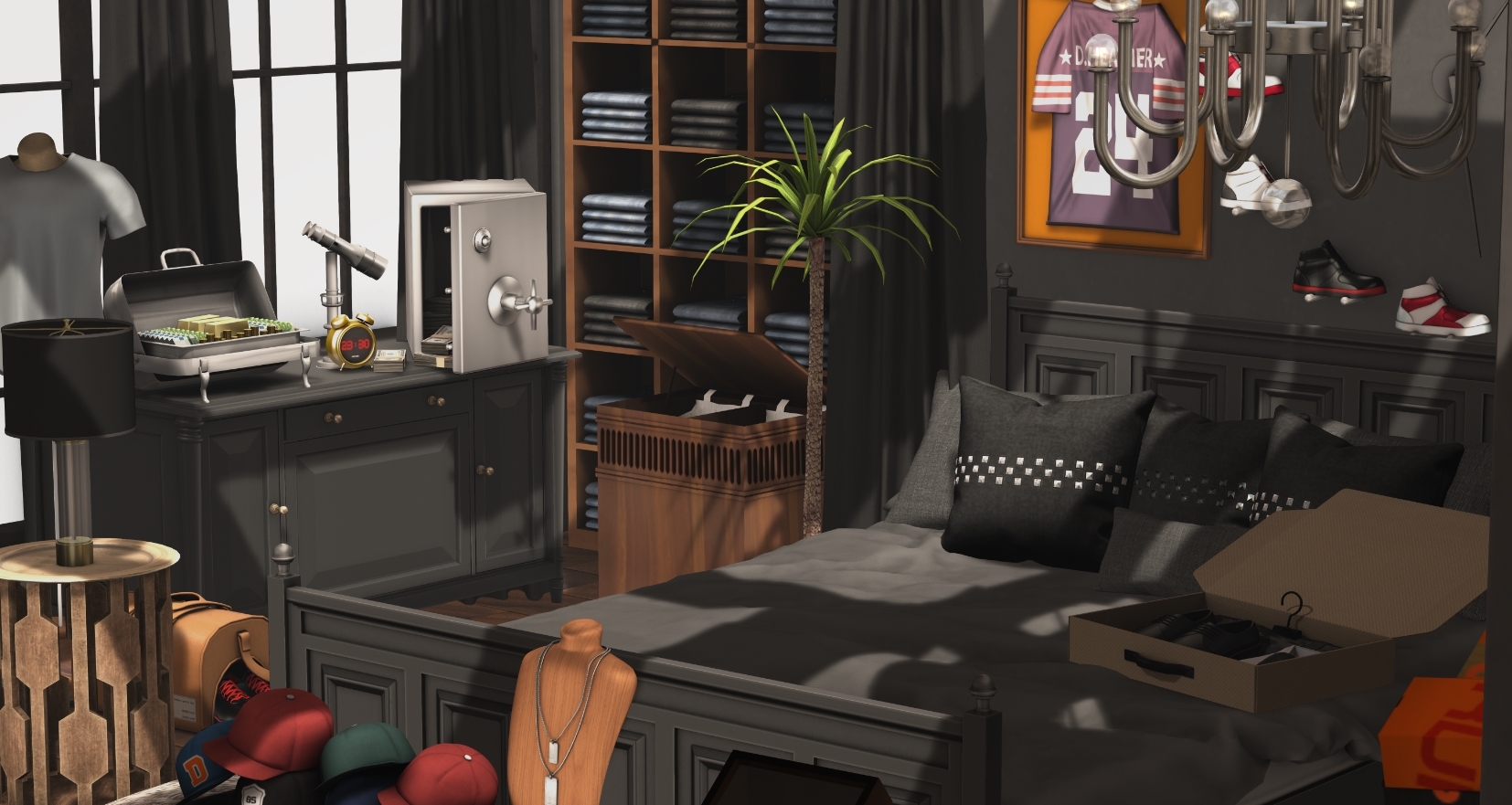 I've included David Heather's 'His Trade Closet' collection and a few more from Fancy Decor's Royce collection in today's scene. This is the kind of room my 16yr old son can only drool over, and yes I did show him my final shot and yes he drooled and then proceeded to 'ask' me for a sneaker clock as well.
Seriously.. you never know how powerful pixels can have an effect on shopping habits. Alright so 1 more week and the Arcade closes for the summer! Hopefully you've all stocked up good this round 🙂 Be sure to peruse ye ole creditos and feel free to ping me inworld if there are any questions or comments!
---
Fancy Decor: Blackout Bed (PG) (see ad here)  | Now Available @ Mainstore 
02 Fancy Decor: Stone Fireplace RARE | Arcade June 2017
04 Fancy Decor: Royce Chandelier | Arcade June 2017
11 Fancy Decor: Cylinder Lamp (mod) | Arcade June 2017
12 Fancy Decor: Tray Table | Arcade June 2017
-David Heather-Sneaker Clock RARE  | Arcade June 2017
-David Heather-Jean Shelf RARE  | Arcade June 2017
-David Heather-Framed Jersey  | Arcade June 2017
-David Heather-Laundry Hamper  | Arcade June 2017
-David Heather-Closet Island  | Arcade June 2017
-David Heather-Closet Safe  | Arcade June 2017
-David Heather-Dog Tag Mannequin  | Arcade June 2017
-David Heather-Hat Display 3  | Arcade June 2017
-David Heather-His Accessories  | Arcade June 2017
-David Heather-His Jewelry Box RARE  | Arcade June 2017
-David Heather-Jersey Mannequin 1  | Arcade June 2017
-David Heather-Laundry Hamper  | Arcade June 2017
-David Heather-Ring Case  | Arcade June 2017
-David Heather-Shoe Set  | Arcade June 2017
-David Heather-Sneaker Box Mess  | Arcade June 2017
-David Heather-Sunglass Display  | Arcade June 2017
-David Heather-Watch Box  | Arcade June 2017
-David Heather-Workout Bag  | Arcade June 2017
see full ad here
---
[Tia] Bear Head Rug
BALACLAVA!! Plain Pillow
Five Minutes After PALM TREE8
Fancy Decor: Crawford Cabinet (black)
The Loft – Corvus Pillow
[PM]Pixel Mode – Greenwich Apartment
-David Heather-Model Sailboat
-David Heather-Royal Assets Tray
-David Heather-Binocular Lamp
-David Heather-Alarm Clock
-David Heather-The Last Suit
-David Heather-Left Shoe Collection