Its one hot mammah jammah of an afternoon today so we're taking inspiration from the latest releases from Concept, Hive, What Next and Toro for some major summer respite!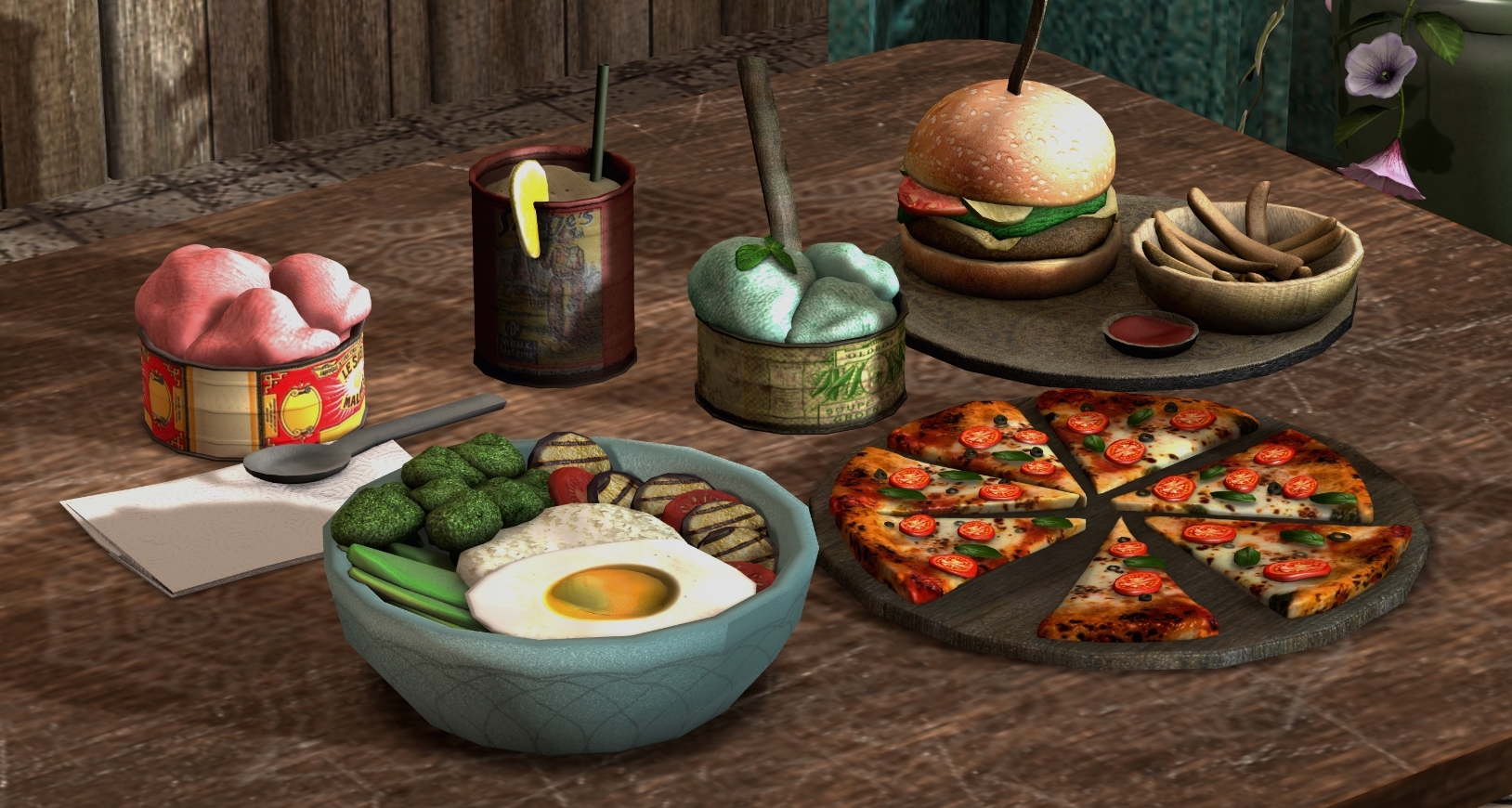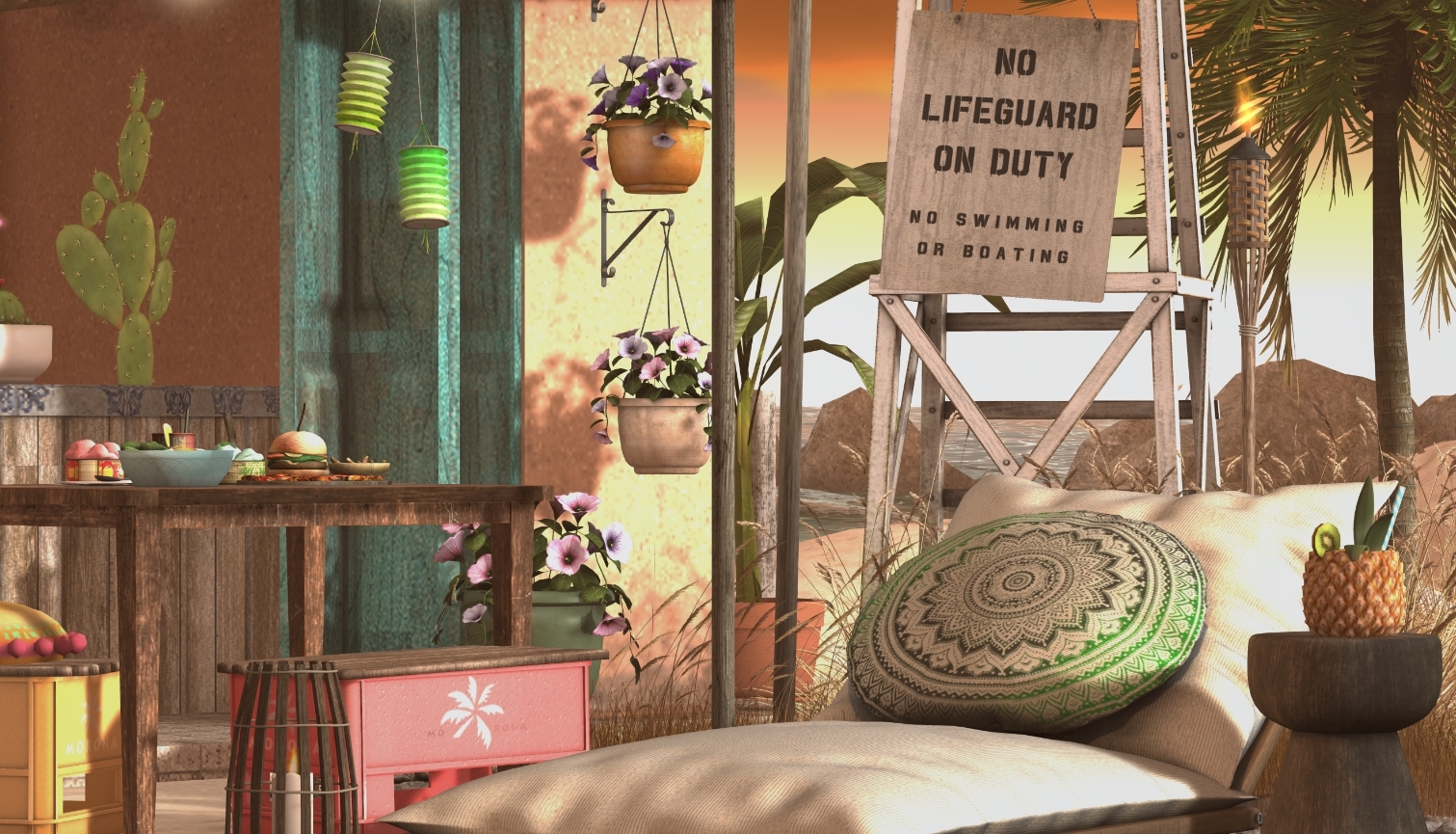 Oh the colors, oh the brilliancy, I am super pleased with this shot today only because the orangey hue of the windlight didn't totally wash out everything else. This is Annan Adored's Noble Goes Dutch II from her 2014 series (click here to DL!) that I just love for summer photography. Try it out for yourself 😀
So we are roaring straight into the summer months here in the states and I'm finally on vacation from work. My honorary job title for the summer will be 'taxi driver' however, as I haul teenagers to and from activities and their jobs. I plan on growing a variety of succulents in the back seat of my car just to pass the time. (hah)
Hopefully you'll be able to get some inspiration from todays's scene. Hit me up in world if you have any questions or comments!
---
Concept} KENYA HAMMOCK.Green. | Shiny Shabby
Concept} Kenya Table  | Shiny Shabby
hive // abandoned lifeguard chair | Past FLF
{what next} Summer Garden Hanging Planter | Past FLF
{what next} Summer Garden Planter  | Past FLF
{what next} 'Flamingo' Neon Light | Collabor88
{what next} 'Cocktails' Neon Light (lt blue) | Collabor88
Toro. Tulum Small Beach Shack RARE | Kustom9
Toro. Tulum Restaurant Table  | Kustom9
Toro. Shack Counter  | Kustom9
Toro. Tulum Restaurant Table  | Kustom9
Toro. Crate chair {Yellow}  | Kustom9
Toro. Crate chair {Red}  | Kustom9
Toro. Buddha Bowl  | Kustom9
Toro. Pizza Vegetariano  | Kustom9
Toro. Tulum Burger + Fries  | Kustom9
Toro. Icream in tin can {Mint}  | Kustom9
Toro. Smoothie in tincan {Lemon}  | Kustom9
Toro. Icream in tin can {Strawberry}  | Kustom9
Sway's [on the Beach] Cushion . boho | Arcade June 2017
Sway's [on the Beach] Lantern parallel . leaves  | Arcade June 2017
Sway's [on the Beach] Lantern counterpart . natural  | Arcade June 2017
Sway's [on the Beach] Coconut drink  | Arcade June 2017
Sway's [on the Beach] Pineapple drink  | Arcade June 2017
Sway's [on the Beach] Torch  | Arcade June 2017
Sway's [on the Beach] Candle big  | Arcade June 2017
---
Tartessos Arts TA Summer Palm
:Fanatik Architecture: Palm
[we're CLOSED] party lights
{what next} Oasis Bloom – Tall Cactus Planter
{what next} Oasis Bloom – Succulent Planter
{what next} Swiss Cheese Plant (stand)
{what next} Oasis Bloom – Prickly Pear Cactus Planter
{what next} Palisades Palm Leaf Decor
{what next} Palisades Drinks Tray
Pixel Mode Dune Fences