Gather in, gather near o ye decorators let us cheer! For the weekend is upon us, and there are things to buy, things to collect, finds to find!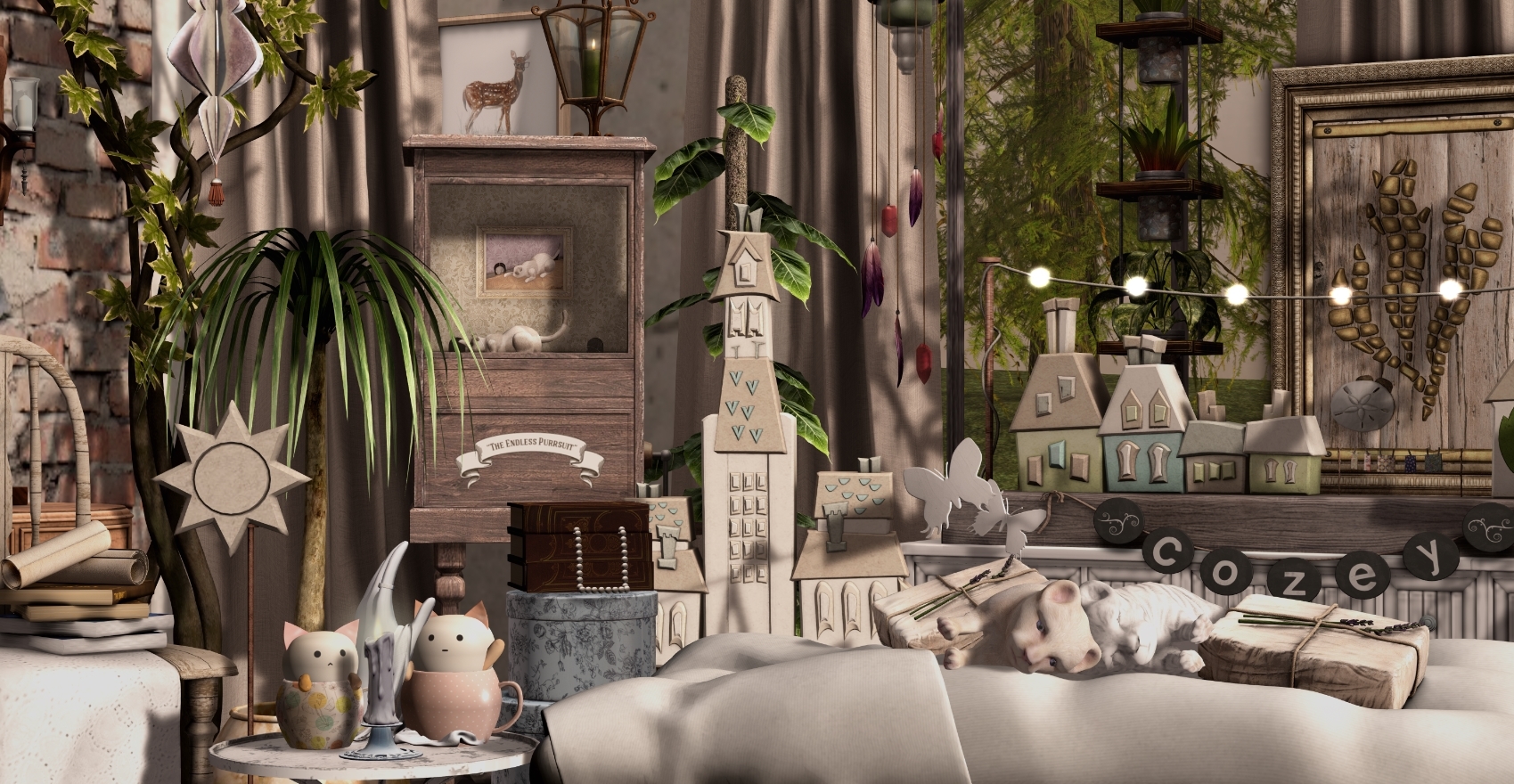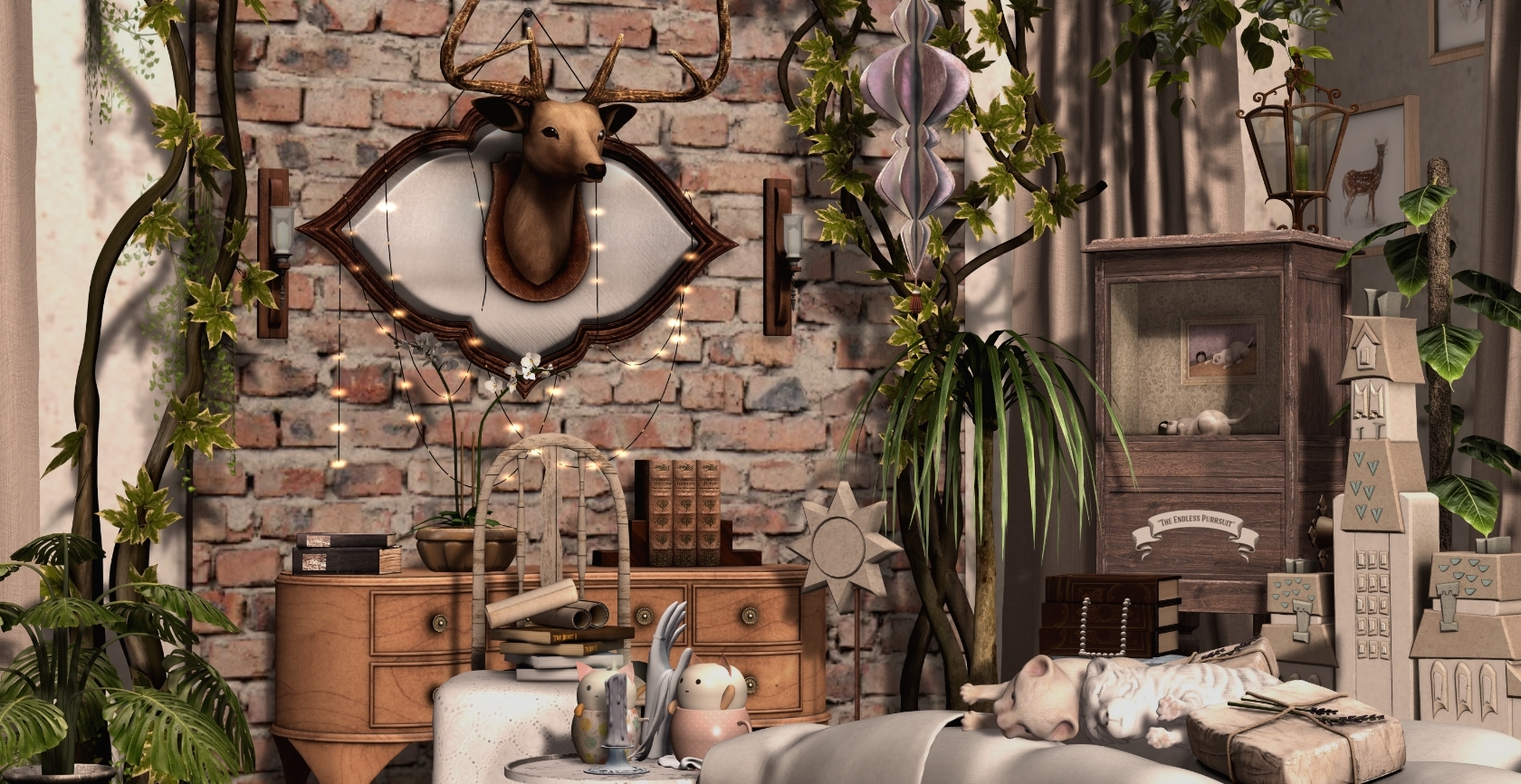 Oh happy day when a body can get back to the normalcy of laptopping lol. I've spent the last week visiting with my baby teenagers as their summer kicks fully into gear. I believe in taking vacations in both realms, and so its always a pleasure to refocus and get back to things. Absence makes the heart grow fonder? or something ruther!
Today's scene of the day, I've gathered together a plethora of latest releases from Cheeky Pea, Kite, Anhelo, Zerkalo and Plastik, many of which are gachas that are available for play right now across the grid.
If you have any questions, comments, free yodeling lessons, I need them! Feel free to leave all in the box below!
---
KITE – The Hexia Hall | Limit 8 Event! 
– Original Mesh| 50Li | Copy/Mod | click for full ad
KITE – Mini Rawrs – Sleeping | click for full ad
Cheeky Pea :CP: Tiny Houses Town Hall RARE |  LootBox
Cheeky Pea :CP: Tiny Houses Scene RARE |  LootBox
Cheeky Pea :CP: Tiny Houses Sunshine |  LootBox
Cheeky Pea :CP: Tiny Houses Tulip Tree |  LootBox
click for full ad

[zerkalo] Vintage Daybed | Liaison Collaborative
[ zerkalo ] Angelique – Hat Boxes | Kustom9
[ zerkalo ] Angelique – Ring Holder – RARE | Kustom9
[ zerkalo ] Angelique – Candle | Kustom9
[ zerkalo ] Traveler's Treasures – Book Jewelry Box – RARE | Shiny Shabby
[ zerkalo ] Cupcats – 1 – RARE | Shiny Shabby
[ zerkalo ] Cupcats – 5  | Shiny Shabby
Calm. il Mare . Wall art . Seaweed | Cosmopolitan
–ANHELO-M37MC-176GA :: frame | ManCave
–ANHELO-M38MC-176GA :: chest | ManCave
–ANHELO-M36CV-176GA :: deer head | ManCave
OneDecor-Hang Decos Pink   | Shiny Shabby
Nutmeg. Lavender secret package Group Gift  | Shiny Shabby
12. Nutmeg. Historian Paper Rolls  | Shiny Shabby
Plastik :[P]:- Vindeluna – Tiered Planter | Arcade June 2017
Plastik :[P]:- Vindeluna – Victoria Lamp  | Arcade June 2017
Plastik :[P]:- Vindeluna – Quartz Catcher  | Arcade June 2017
NOMAD // "The Endless Purrsuit" Automata  | Arcade June 2017
---
Ariskea[California Vineyard] Vines Corner
Ariskea[California Vineyard] Vines Straight
[Tia] Sylvia Bathroom – Side Table
C L A Vv. Hibernating Time – Ruffle Rug
C L A Vv. Hibernating Time – My Artwork
C L A Vv. Hibernating Time – Chair with Books
Calm. Tracery Candle Set . Brown
Compulsion Gold vase
Compulsion Plants
Cheeky Pea :CP: NorthHaven Night Table
22769 – Hanging Plant – Style One
The Loft – Napa Entryway Orchid
Second Spaces Banner (mod)
Soy. Windmill [Rusty White Paint] for small size
[ zerkalo ] Wooden Butterflies