Welcome to the beginning of a brand new week and a casual courtyard setting just for you! Featuring Apple Fall's latest release for FaMESHed! Read more for details!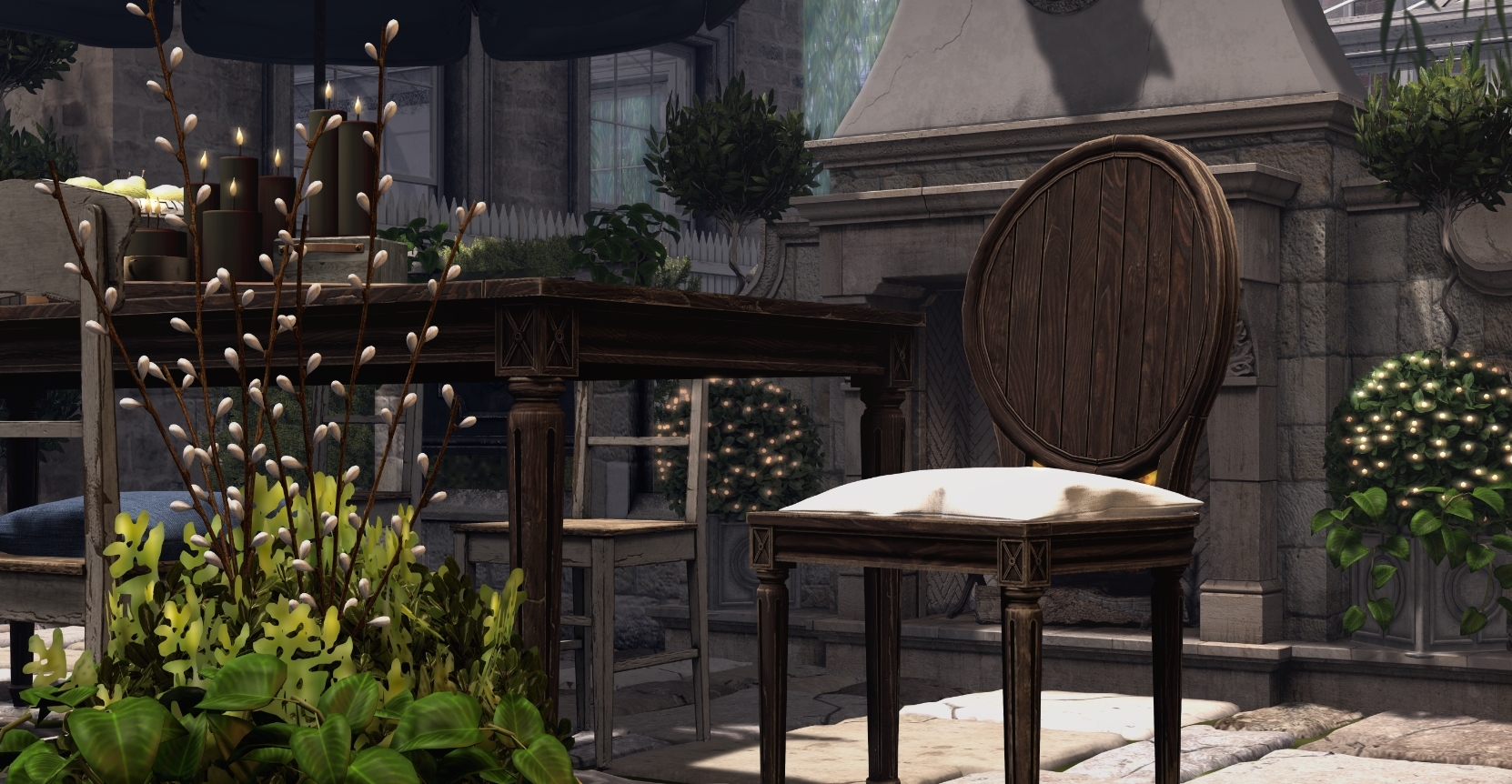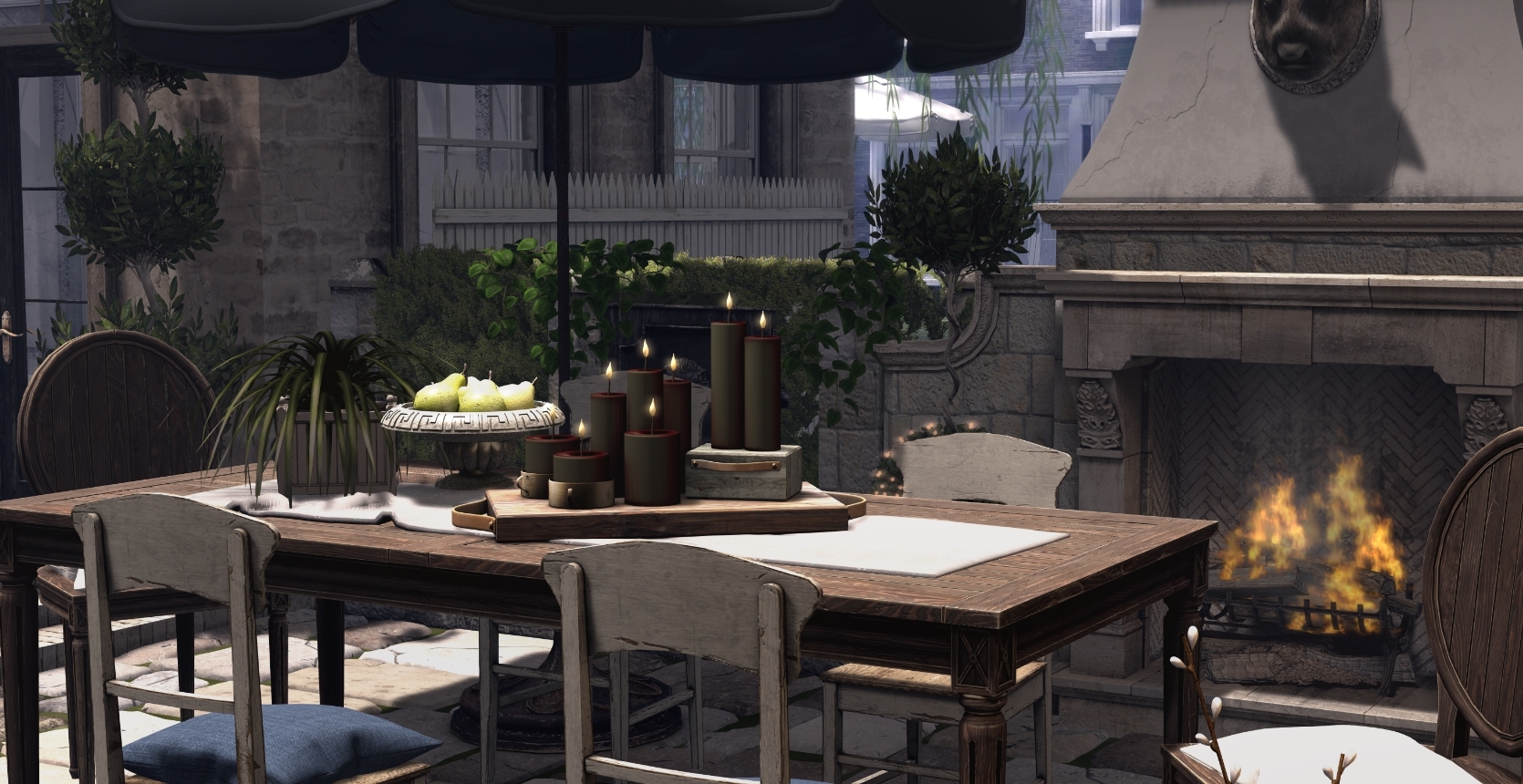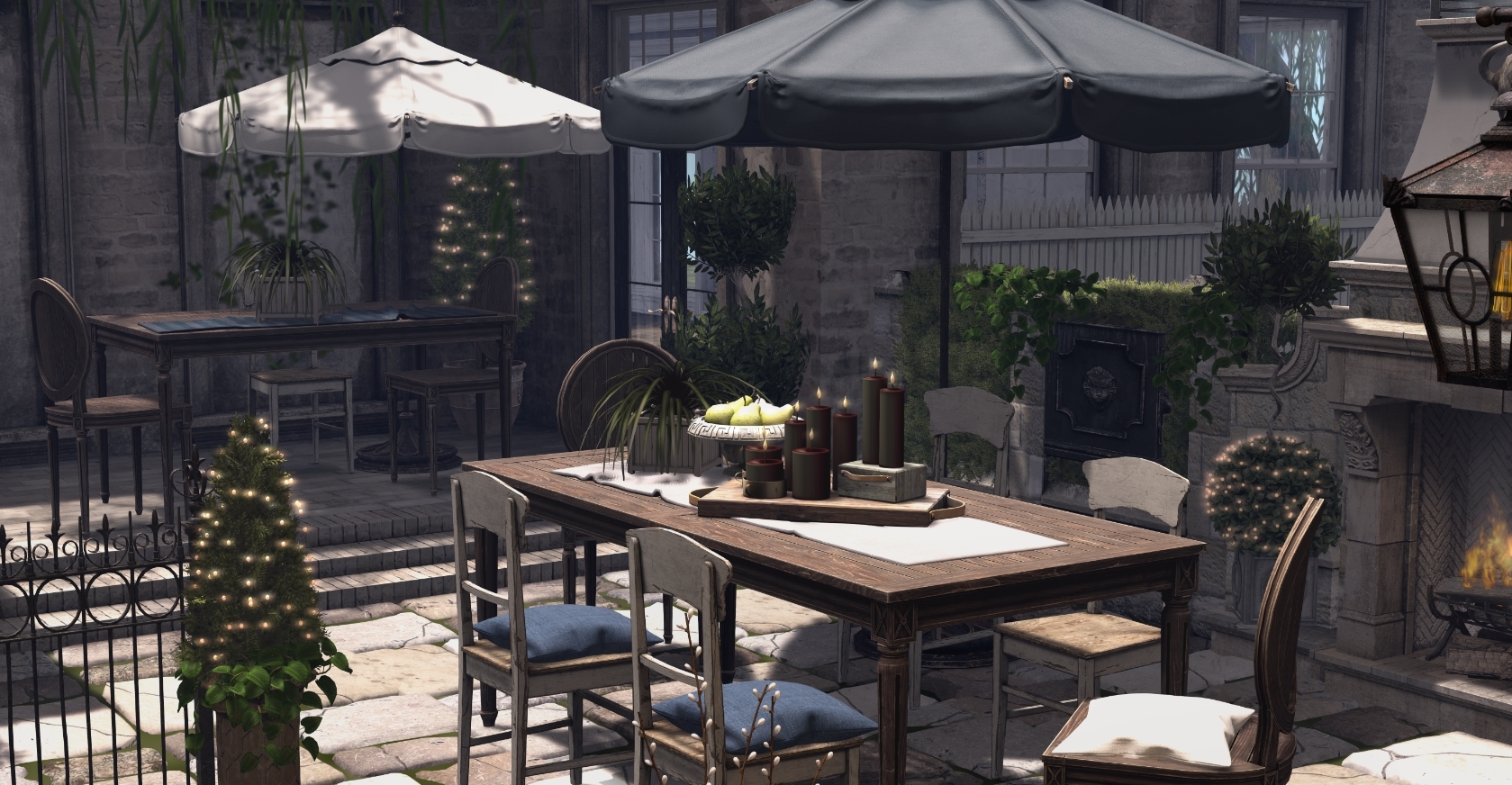 So I had fun playing matchy matchy with the new summer parasols and whatever optional decor I had in inventory.. I knew I wanted to keep the umbrella part solid so I could add more 'leafy' things to compliment the set. Sometimes my choice of patterns and textures get wayyy out of hand.. oh you didn't know? hah.
What's great is that each of the pieces in the Apple Fall Al Fresco Dining set, includes its own texture HUD with several prints, solids, woods and metal options. And of course, why stop there, its an Apple Fall-paloooza ladies and gents! Do be sure to peruse ye ole credits, and if you have any questions, comments, random weekend musings, feel free to leave them in the box below. I insist!
---
Apple Fall Chester Outdoor Dining Table | FaMESHed
Apple Fall Chester Outdoor Dining Chair  | FaMESHed
Apple Fall Hampton Outdoor Fireplace | FaMESHed
Apple Fall Summer Parasol | FaMESHed
Pixel Mode – Amelia – Pussy Willows | Arcade June 2017
---
You can find more Apple Fall at the in world store location or Marketplace!
Apple Fall Steadfast Dining Chair – Off-White
Apple Fall Old Church Gate (modified)
Apple Fall Orsett Wall Lantern
Apple Fall Orsett Double Lantern
Apple Fall Whitehall Pathway
Apple Fall Cranfield Fence
Apple Fall Bushmead Railing Gate, short, post
Apple Fall Square Lead Planter w/ Lion Head
Apple Fall Shield Terracotta Pot
Apple Fall Victorian Chimney Planter
Apple Fall Square Wood Planter
Apple Fall Juniper Topiary
Apple Fall Juniper Hedge
Apple Fall Bay Leaf Topiary, 3-Tier
Apple Fall Bay Leaf Topiary, Small
Apple Fall Oxeye Daisy Patch
Apple Fall Bistro Planter
Apple Fall Privet Ball (Variegated)
Apple Fall Flagstones
Apple Fall Buffalo Taxidermy
Apple Fall Hardwick Manor
Apple Fall: Chelsea Townhouse
Apple Fall Country Hall
Apple Fall Charlotte's Pears
---
9 [[RH]] HOLIDAY CAFE-Candles
BALACLAVA!! Conrad Rug
Compulsion Plants
{what next} Pothos Plant (small) (modified)
Pixel Mode Outdoor Lights
BALACLAVA!! Plain Pillow