For the darling daughter who's eyes never waver and whose determination to see the world; I pray the light surround you and your dream sustain you, uplift you, and strengthen your resolve.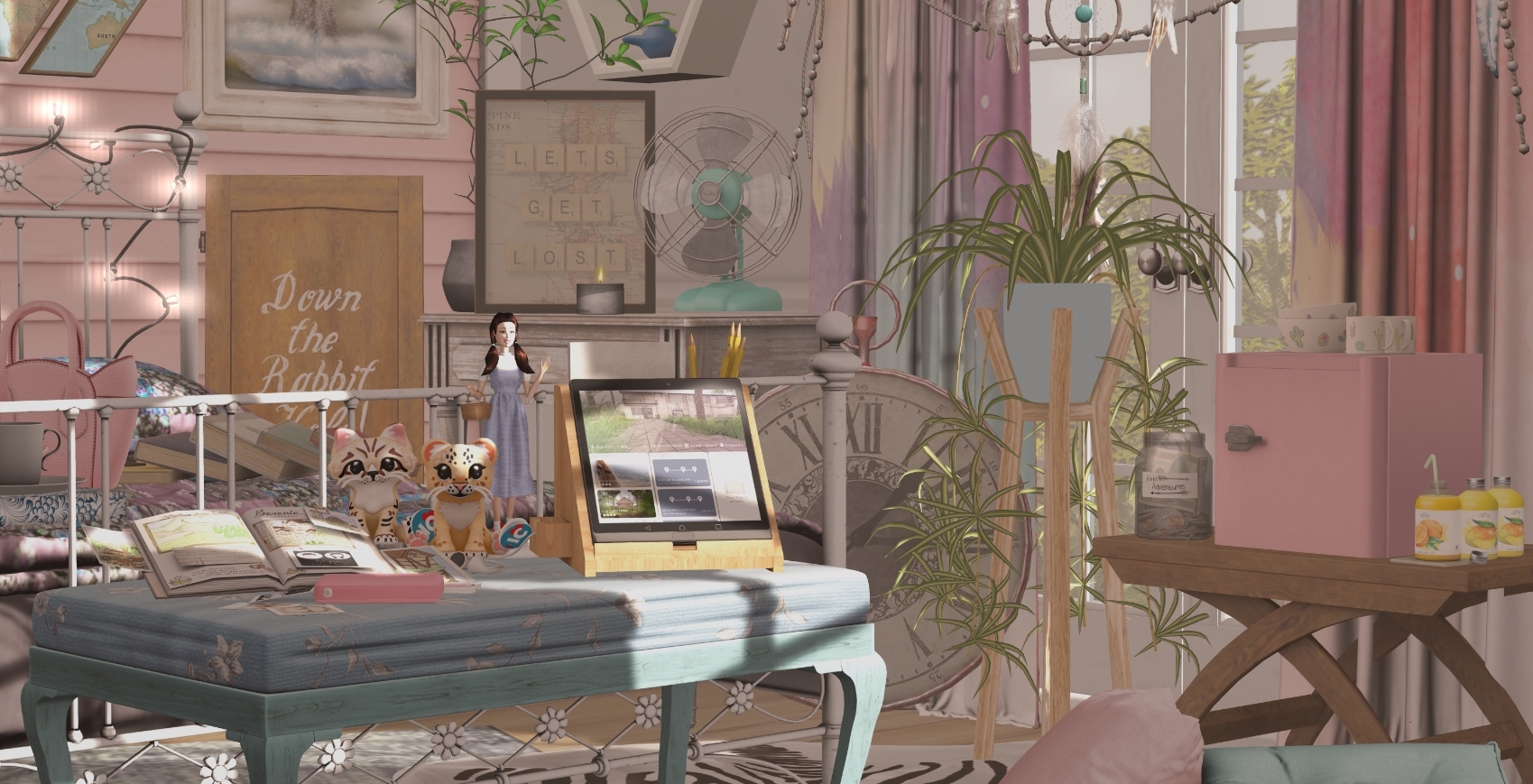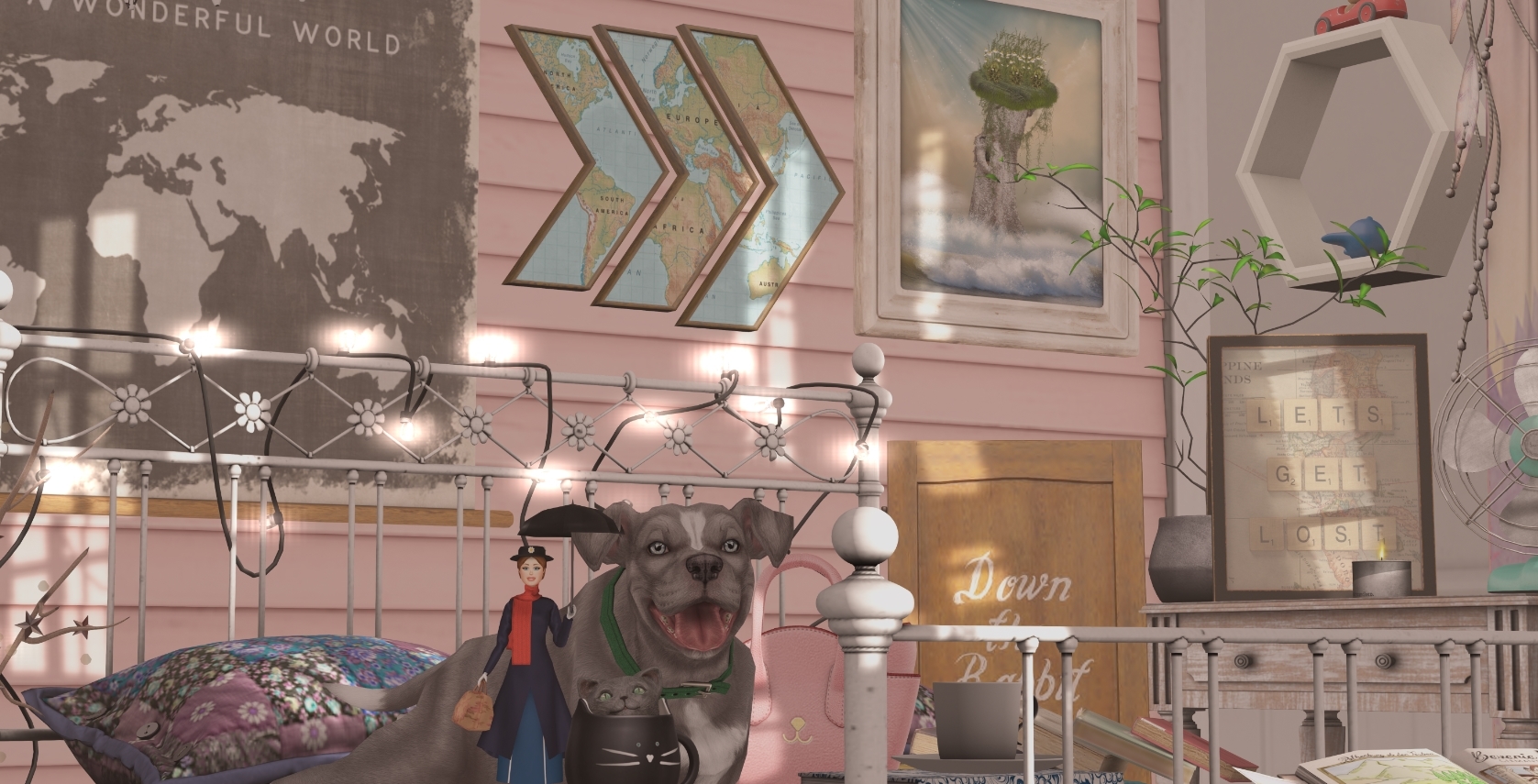 I was in the middle of inventory sorting when I had heard the news on the radio about London, so I quickly put together this room in hopes of distracting my mind. Because anger and disillusionment isn't really healthy, and this is a dialysis night.
As a partial empty nester, and mother of three bumbling baby/adult teenagers, I cannot wrap my head around the state of the world and the fact that they will eventually leave and be in it. They were raised to dream big, fly far, experience life to its fullest.  And we know how to deal with fear. We face it every time I walk out the door and into this clinic. They face it like champs, strong on the outside, and tender hearted on the inside.
They carry the Light, and this determination to share it and its goodness, well, that gives me the confidence, the assurance, to let them Fly. I put this room together with memorable items from this virtual world we residents call "Second Life™". And there is Light here.
---
Cheeky Pea :CP: Dreamer Bed (PG) (see ad here) | FaMESHed
Cheeky Pea :CP: Dreamer Art
Cheeky Pea :CP: Dreamer Book & Tea
Cheeky Pea :CP: Dreamer Night Table
Cheeky Pea :CP: Dreamer Web
---
These prizes can be won at The Arcade Gacha Event, June 1st -30th
Sari-Sari – A Vacation Dream – Scroll Map
Sari-Sari – A Vacation Dream – Wooden Arrow Map
Sari-Sari – A Vacation Dream – Let's Get Lost Frame
Sari-Sari – A Vacation Dream – Retro Fan (Teal)
Sari-Sari – A Vacation Dream – Travel Wall Shelf RARE
Sari-Sari – A Vacation Dream – Mini Fridge (Pink)
Sari-Sari – A Vacation Dream – Orange Juice
Sari-Sari – A Vacation Dream – Mango Juice
Sari-Sari – A Vacation Dream – Savings Jar
Sari-Sari – A Vacation Dream – Instant Printer (Pink)
Sari-Sari – A Vacation Dream – Tablet RARE
Sari-Sari – A Vacation Dream – Journal (Bavaria) RARE
Sari-Sari – A Vacation Dream – Folding Table (Dark)
Intrigue Co. – Plushie Pals: Sandy the Sand Dune Cat – RARE
Intrigue Co. – Plushie Pals: Nova the Lion Cub – RARE
Garbaggio // Going Home RARE
Garbaggio // Merry Nanny RARE
BUENO-Kitty Bag -Pink
BUENO-Pillows Pile -Day
Consignment [Con.] Storage Finds – Cat Cup – Grey
Le Primitif LeP – Thrifty_Rug
Plastik :[P]:- Vindeluna – Quare Planter
JIAN Playful Pibbles 1. Pillow Pibble RARE (mod)
floorplan. summer cottage / pink RARE
---
Concept} 03. Rodas. Bottles | Kustom9
Cube Republic CR Spider Plant  Stand & Pups | Coming soon to SL14B
---
Cheeky Pea :CP: NorthHaven Candle Tin
Cheeky Pea :CP: NorthHaven Planter
Cheeky Pea :CP: Catherine Piano Duckegg (stool)
Cheeky Pea :CP: Catherine Pennants
Cheeky Pea :CP: Bohemian Curtains Watercolour Splash
Cheeky Pea :CP: Iota Rug
Con.&floorplan. Branch Light+Half-Deer+ Twinkle Stringlights
Sari-Sari – A Bit of Wonderland – Big Vintage Clock RARE
Sari-Sari – A Bit of Wonderland – Repurposed Door
Sari-Sari – A Bit of Wonderland – Book Stack and Keys