Welcome to Barks and Recreation where you and your cuddly wuddlies can peruse, picnic, and fine tune your pet-working skills with pet-tential oppawtunities! What's a matter, cat got your tongue?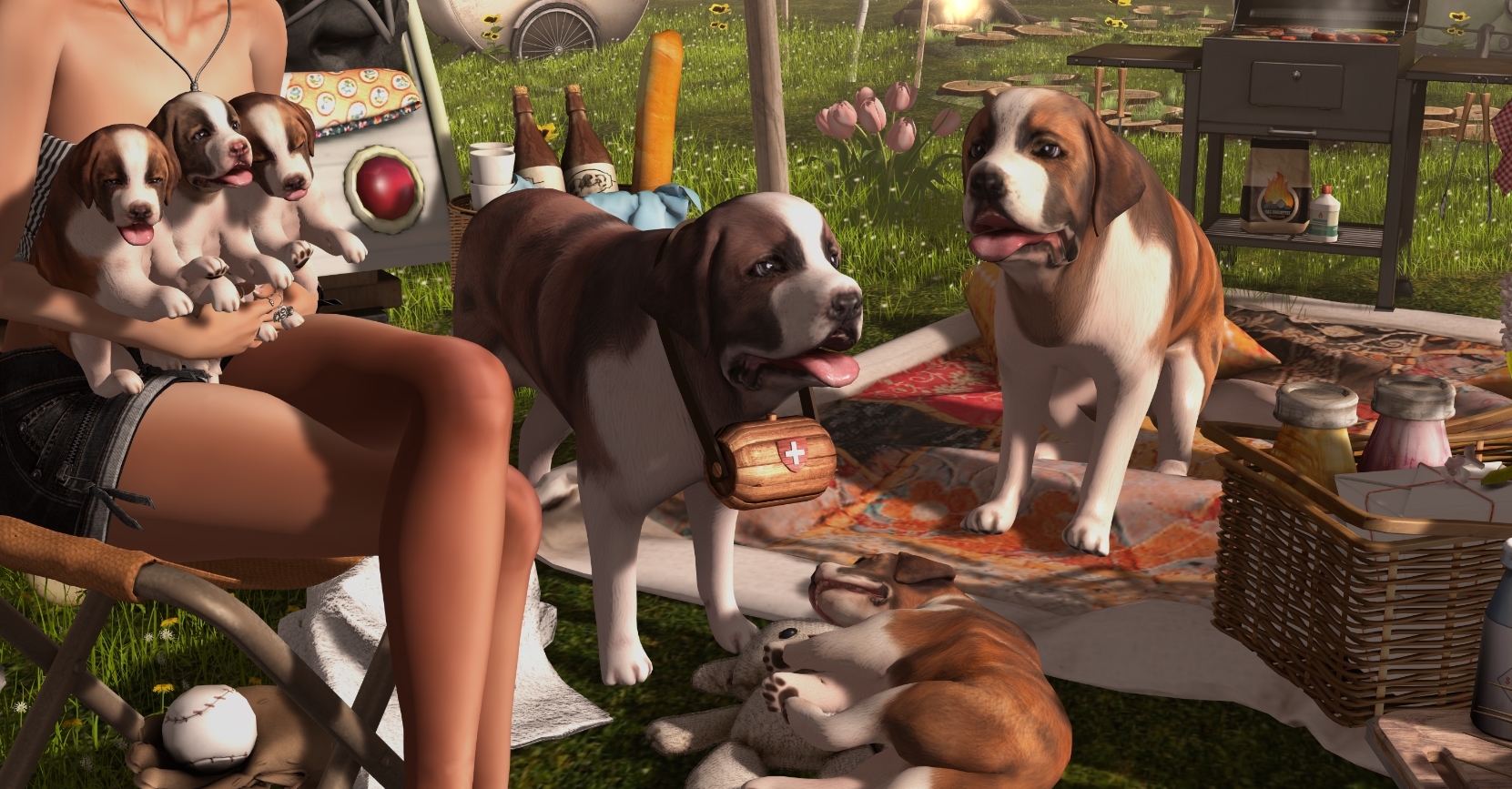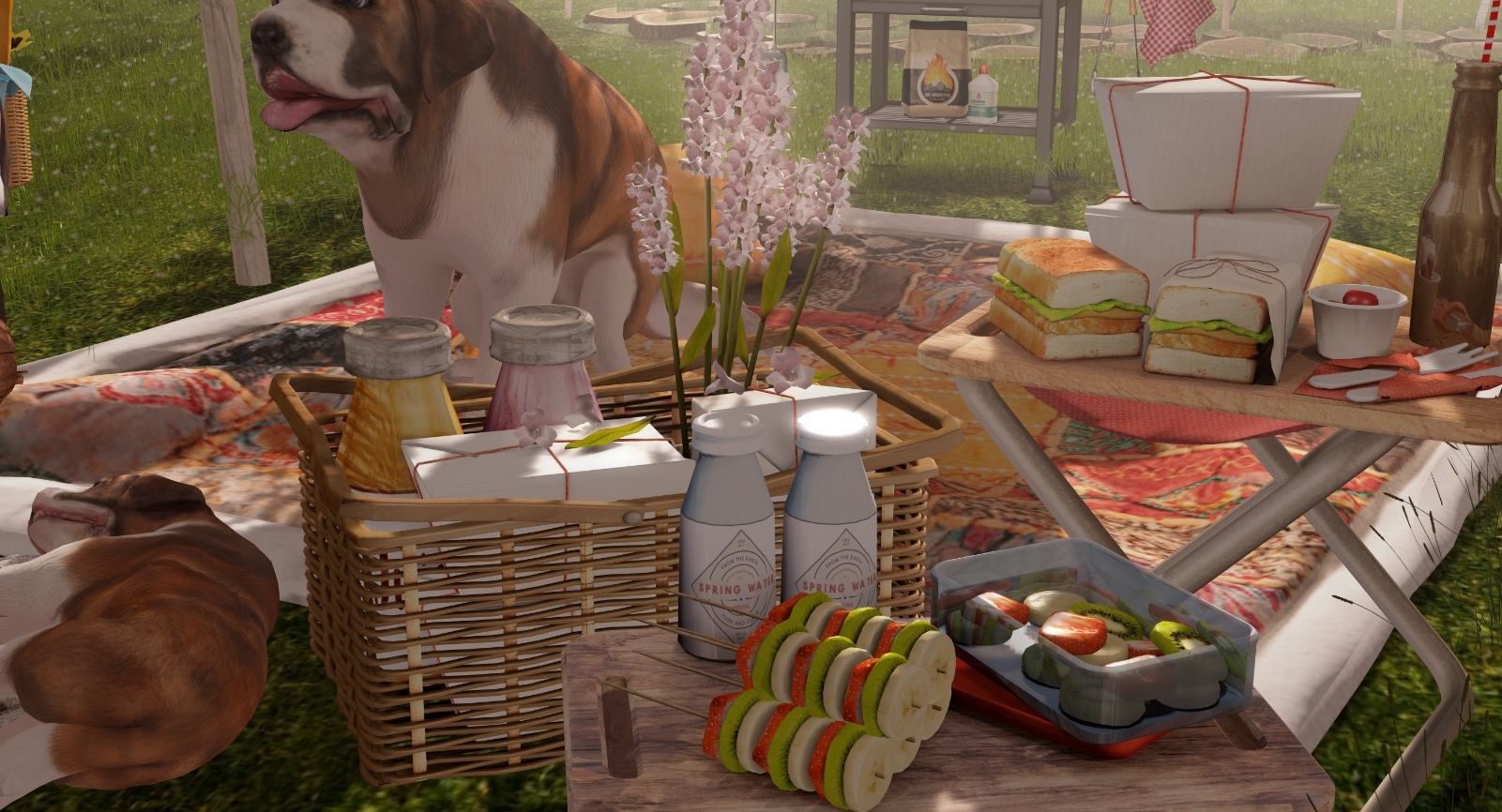 O.M.E.N.? Ohh myyy word with another fabulous collection for the mommy and daddies of the canine kind! So a few things to note about the Dog Park Day Gacha Collection;  it is available to play for in world >click for slurl<; there are 3 rare prizes to collect (The Ladybird Car, Teardrop Trailer, and my fave the Armful of Pups which are animated!). Both vehicles do come with poses and are modifiable.
Proud Papa and Sitting Mama are also animated and can be resized, the picnic chairs also include sit poses as well. And here's something you'll appreciate, play the machine 20 times and win the ittyyy bitty sleeping baby puppy. And just so you know this ohana can't have hooman food, there is a free Fruit Kebabs gifty for us 2-legged folks!
I could go on and on, but we all know why we've made it to the end of this post.. my POTD (pun of the day)! You'll love these guys Fuuurr everr!
---
You can find the Dog Park Day Gacha Collection at Rosendale! 
O.M.E.N – Dog Park Day – Teardrop Trailer RARE
O.M.E.N – Dog Park Day – Ladybird Car RARE
O.M.E.N – Dog Park Day – Fruit Kebabs GIFT
O.M.E.N – Dog Park Day – Armful O' Puppies RARE
O.M.E.N – Dog Park Day – Naptime Pup 20 ROLL REWARD
O.M.E.N – Dog Park Day -12 – Picnic Chair #2
O.M.E.N – Dog Park Day -11 – Picnic Chair #1
O.M.E.N – Dog Park Day – 10 – Parasol
O.M.E.N – Dog Park Day – 9 – Ball & Mitt
O.M.E.N – Dog Park Day – 8 – Picnic Blanket
O.M.E.N – Dog Park Day – 7 – Basket O' Goodies
O.M.E.N – Dog Park Day – 6 – Cassette Player
O.M.E.N – Dog Park Day – 5 – Mr. Moo
O.M.E.N – Dog Park Day – 4 – Lunch Tray
O.M.E.N – Dog Park Day – 1 – Proud Papa
O.M.E.N – Dog Park Day – 2 – Sitting Mama
O.M.E.N – Dog Park Day – 3 – Wine Basket
---
These prizes will be available for play at the Arcade Gacha Event, June 1st- 30th!
hive summer camp gacha // ranger rick's office RARE
hive summer camp gacha // camp cabin RARE
hive summer camp gacha // campfire
hive summer camp gacha // leaning oars
hive summer camp gacha
Kalopsia – Juliette's Trashcan
Kalopsia – Juliette's Juice Cart RARE
Kalopsia – Juliette's Ice Cream Lamp
Tres Blah – Summer Fete – Open Grill RARE
Tres Blah – Summer Fete – Floral Bunting
22769 – The Lake House – RARE
22769 – Lake House Porch Sunshade – COMMON
---
Seven Emporium 7 – Unstrung Classical Guitar
Le Primitif LeP – Workout Gym Bag – RARE
Soy + Toro. Old Foldable Table
Soy. Messy Towel
Stormwood: Timber Tiptoe Path
hive // newly planted birch tree
---
Wearing-
:::ChicChica::: Kade #10 RARE Glasses | Arcade June 2017
fri. – Nellie Sandals (Coal) (maitreya) | Arcade June 2017
Tee*fy Jenna Tube Top – Maitreya | Luxe Box May 2017
/Wasabi Pills/ Dahlia Mesh Hair | Uber
L&B * LARAfit Swear Dita Denim Shorts | Uber
Kunst Unisex Accessories Gacha IV (Leather Necklace) | Arcade June 2017