"One promise that always remains, no matter the price: a promise to survive, persevere and thrive as we've always done."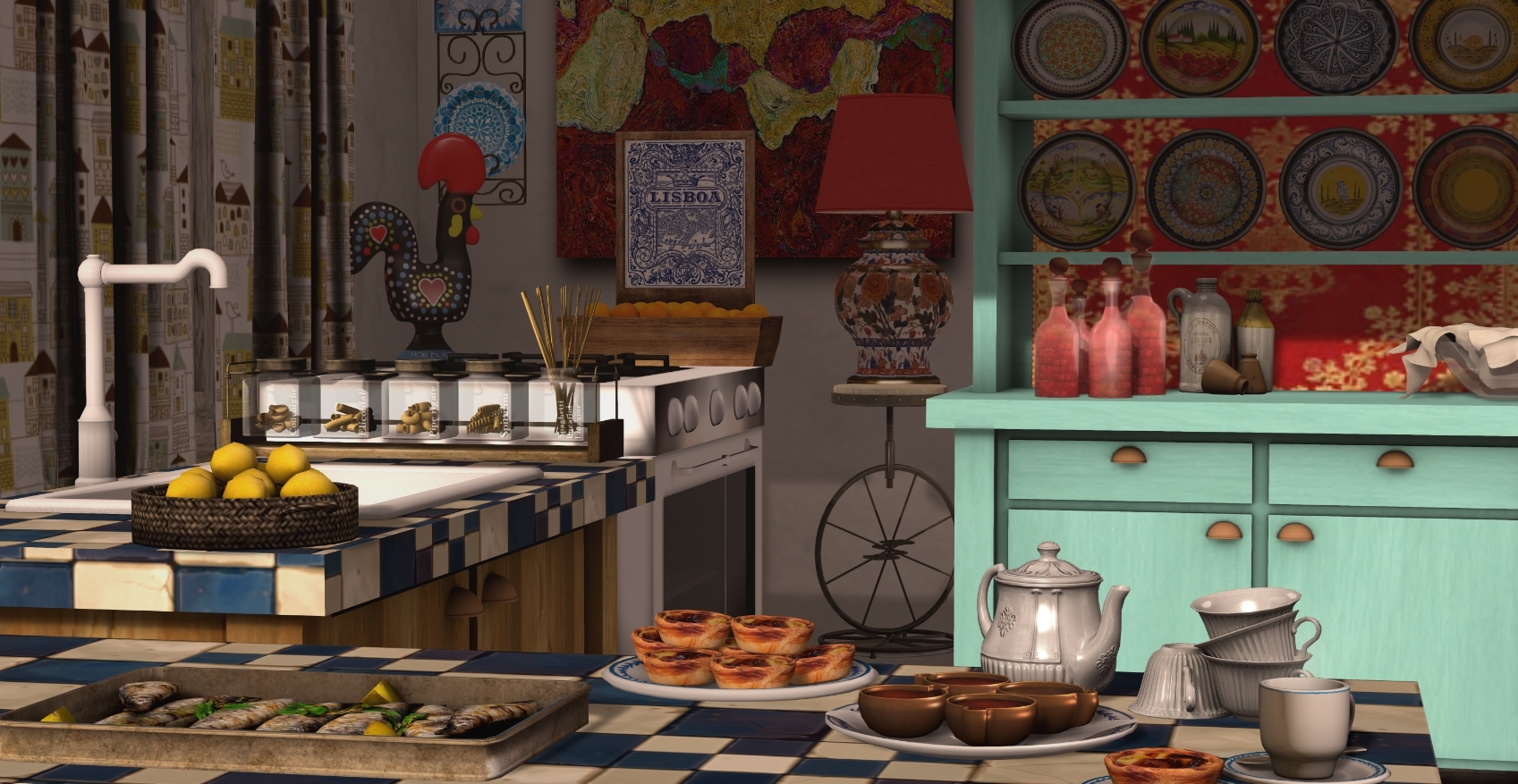 My fellow lurkers another Home Expo is upon us and today I am share-casing (see that's a word!) some great finds from Dench Designs, Theory, and more. The Kitchen (Dench) comes with 5 major pieces, all animated, with rezzable props. See here I even had time to do virtual chores and the cooking and the menu planning.. buuut probably not so much in this outfit lol.
Couple of things to jot down as you make plans to visit: The Expo is now open and will run from May 19th through June 4th. The shopping guide is also currently being added to each day with more goodies for you to peruse and take 'home' so you'll want to grab that link too.
• Home and Garden Expo Website
• Home and Garden Expo Flickr
If you have any questions feel free to ping me in world or leave a message below. Have an awesome Friday and may all your kitchen-y dreams come true.. ha, smirks.
---
*Dench Designs* Fridge | Home Expo 5/19-6/4  (Direct Tp)
*Dench Designs* Welsh Dresser  | Home Expo 5/19-6/4  (Direct Tp)
*Dench Designs* Cooker  | Home Expo 5/19-6/4  (Direct Tp)
*Dench Designs* Butcher Block  | Home Expo 5/19-6/4  (Direct Tp)
*Dench Designs* Kitchen Island  | Home Expo 5/19-6/4  (Direct Tp)
*Dench Designs* Sink Unit  | Home Expo 5/19-6/4  (Direct Tp)
*Original Art by "RED EARTH" – JudiLynn India | Home Expo 5/19-6/4  (Direct Tp)
-Radio Grind/The Dirty Grind | http://www.judilynnart.com
*:: THEORY :: IMARI Lamp with Red Shade  | Home Expo 5/19-6/4  (Direct Tp)
*Cwtch. Potted Spring Flowers | Home Expo 5/19-6/4  
*[Mesh] Wood Tiles – Have Endless Love Hope : by Dekute Dekore | Home Expo 5/19-6/4  (Direct Tp)
---
*[Schultz Bros.] Bordeaux Cottage | Builders Box May 2017
-97LI copy/mod

---
These items are available at 6 Republic till May 20th! Last chance to get you some!
*Schultz Bros. 18. Cycled Bar Stool
*Schultz Bros. 06. Piping Chandelier
*Schultz Bros. 19. Bar Towels
*[Kres] Lembranca De Lisboa – Chourico (10)
*[Kres] Lembranca De Lisboa – Pratos (05)
*[Kres] Lembranca De Lisboa – Sardinha Assada (11)
*[Kres] Lembranca De Lisboa – Ginja (16)
*[Kres] Lembranca De Lisboa – Galo (7)
*[Kres] Lembranca De Lisboa – Tapete (23)
*[Kres] Lembranca De Lisboa – Sardinhas (14)
*[Kres] Lembranca De Lisboa – Guitarra (3) RARE
*[Kres] Lembranca De Lisboa – BBQ (8)
*[Kres] Lembranca De Lisboa – Painel Azuleijo (18)
*[Kres] Lembranca De Lisboa – Prateleira (13)
*[Kres] Lembranca De Lisboa – Pao e Azeitonas (15)
*[Kres] Lembranca De Lisboa – Copos Ginja(21)
*[Kres] Lembranca De Lisboa – Pastel De Nata e Cafe (19)
*[Kres] Lembranca De Lisboa – Pasteis de Nata (20)
*{iD} DecO WindoW DarK (MessagE)
---
*Apple Fall Colander (Blue) & (Red)
*Apple Fall Stoneware Vessels
*Apple Fall Poppy Seed Loaves
*Apple Fall Juliette Tea Cups, Stacked
*Apple Fall Juliette Teapot
*KOPI* Pasta Bottle_A
*Cheeky Pea :CP: Standard Curtains Tiny Houses
HIDEKI – Memos
Bazar Toronto-Lemon basket
Bitter Vanilla b.v Iron wall hanging (black)
Trompe Loeil – Finley Kitchenette Stool