Dear sugary flavor, bring me a certain light. And rid me of this melancholy savor because chocolate heals all wounds, right?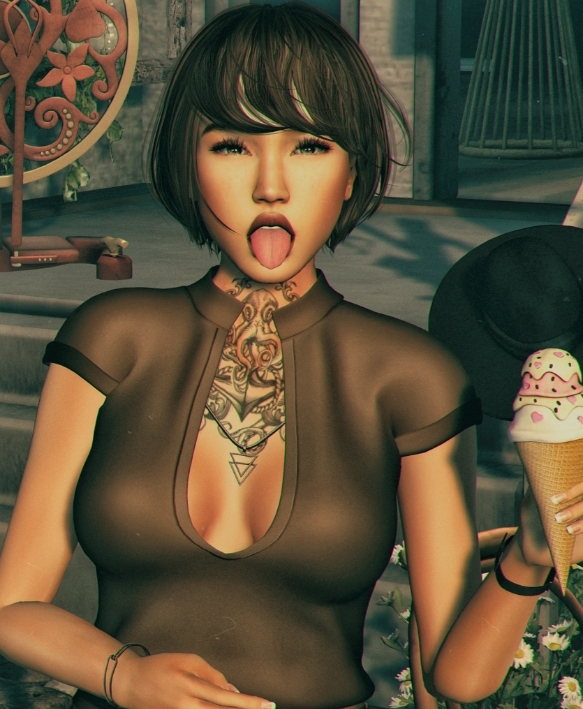 6 Republic ends in just under 4 days so if you haven't had a chance to gallivant across the European continent, wellllsssyy why not? See now here's a limo with an ice cream bar, soft serve, froyo and OH, sprinkles galore..
Don't forget to book mark this post, for a chance to win this week's Cozey Give-away: a 500L$ gift card to Fancy Decor! All you have to do is fill out your SL name and tell me your preferred interior style in the comment box of that article 😀 Random drawing this coming Sunday, May 21st @ 6pmSLT and I'll ping the winner shortly after!
Have a great rest of the day and feel free to ping me in world if you have any questions!
---
*TRIIN – Swiss Cafe – (mod without Bench) | 6 Republic
-303 total LI, copy/mod (some!)
*TRIIN – COFFEE CHAIR | 6 Republic
*TRIIN – COFFEE TABLE (with accessories) | 6 Republic
*Kei's Fiorentino Cafe Stool | 6 Republic
*Kei's Fiorentino Sign | 6 Republic
*Kei's Hamburger Plate | 6 Republic
*Kei's Red Wine Glass' | 6 Republic
*Kei's Fiorentino Cafe | 6 Republic
*..::THOR::.. Old Trellis Lights | 6 Republic
*Schultz Bros. 10. Fermenter Tank | 6 Republic
Artisan Fantasy *AF* Kitchen Pitcher with Hosta | 6 Republic GIFT | 6 Republic
*Calm. Handmaid's Loom | Enchantment Rapunzel
*Calm. Tracery Wall Art . Cherry | Liaison Collaborative
*The Loft & ARIA – Beckett Mirror | Collabor88
*Tentacio Street Food Collection Cookie bag | Kustom9
*Tentacio Street Food Collection Take away bag | Kustom9
---
*Ariskea [ Astronome ] Baril 1
*WhatNext AppleFall Planter Mod
*Apple Fall Heritage Christmas Tree – Spruce Green
*Apple Fall Oxeye Daisy Patch
Apple Fall Bistro Planter
Apple Fall Bushmead Railing
Apple Fall Flagstones
Keke Twinkling Log Lights Modified
floorplan. ivy ampersand
---
Wearing:
*Dead Dollz Vacanze Romane. Opaque Shirt | 6 Republic
*Vacanze Romane. Pants || 6 Republic
*JfL Traveler's Fedora (Venezia V.1) charcoal | 6 Republic
*e.marie // Ice Cream Cone – Lemon | Kustom9
*tram G0419 hair | Uber
*White Widow – MatchPoint Tattoo (Maitreya)| Uber
*[ kunst ] – Evan necklace | Kustom9
*[ kunst ] – Reed bracelet | Kustom9
*Kirin Poses Lilly Series
#EMPIRE – Moonflower – Maitreya
e.marie // 10:10 Watch – Onyx
Avatar Basics Here
Poem by Jennifer @ Hello Poetry