A modern twist quite literally, to the traditional pergola, BigBully's Kai Mannequin adds a whole new level in architecture for outdoor living.
Ahh subscription boxes.. oh you wretched yet delectable new trend you. The Builder's Box is a quarterly boxed event (boxed event??), whose specific demographic are skybox and build collectors alike, because ladies and gentleman of the SL blogdome, we now have something juuuust for us!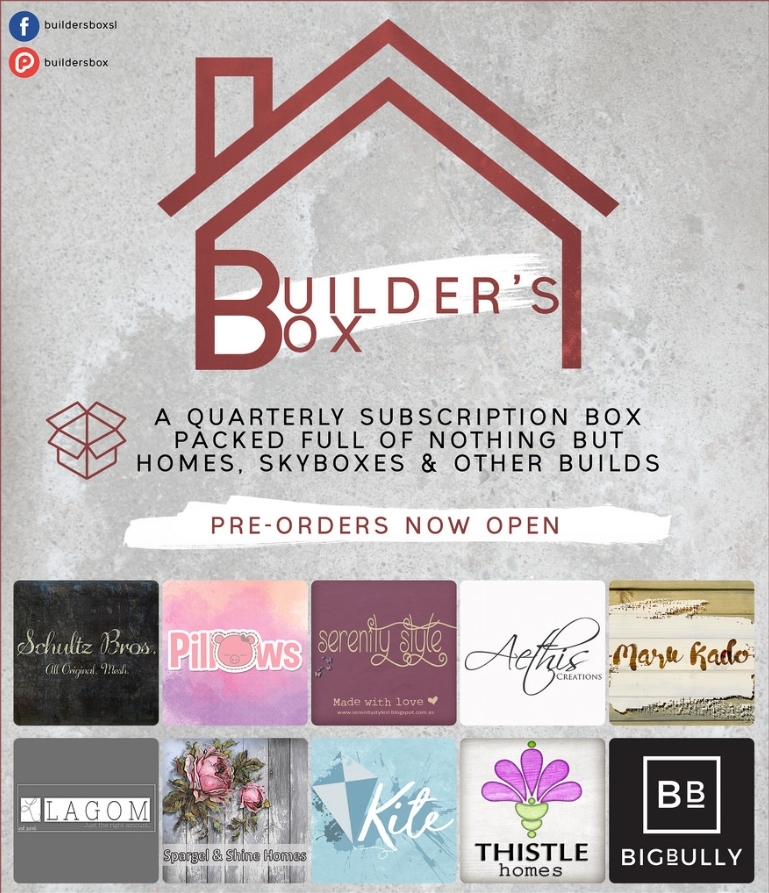 Okay all jesting aside, I am quite impressed with what's in May's box. You can find the full catalog at the Builders' Box Website here, and news of upcoming releases, sneak peeks at the Builder's Box Facebook Page here.
There are a few Builder's Box unboxing (say that 10 times in a row!) vlogs that I've seen on Youtube that'll give you a good idea of what you'll expect.
Alicia Chenaux – https://www.youtube.com/watch?v=O5co6EenT5U
Marijane Herbst – https://www.youtube.com/watch?v=dviK8KlAl00
Since this is a quarterly release, pre-sign ups are already underway for the month of August, so do be sure to read up on the details at their website and join their in world group.
Questions, comments, feel free to nudge me in the other box (free dinner rolls for all!)
---
*BIGBULLY Forest Pavilion | Builder's Box May 2017
*ARIA – Anemone Outdoor Sofa | Uber
*ARIA – Anemone Pottted Fern | Uber
*ARIA – Anemone Potted Cactus | Uber
*ARIA – Anemone Potted Strelitzia Reginae | Uber
*ARIA – Anemone Potted Sansevieria | Uber
*ARIA – Anemone Potted Palm | Uber
*BellEquipe Design Store {BE} Iron Box table | 6 Republic May 2017
*RH Design House [[RH]] Japanese Summer House plant 2 | FaMESHed
*RH Design House [[RH]] [[RH]] Japanese Summer House plant 3 | FaMESHed
*Fancy Decor: Davis Fence Window | FaMESHed
*Fancy Decor: Davis Long Panel | FaMESHed
*Fancy Decor: Concrete Block (thin) | FaMESHed
---
*ARIA – Palermo Armchair
*Sari-Sari – Candle Lantern 1
*The Loft – Sears Outdoor Fireplace
*MudHoney Piper Lantern 3 Cream
*Newchurch :: N :: Succulent Globe Terrarium
*Cube Republic Douglas Fir 1 Small
PLAAKA SKYPLANTER Ivy
PLAAKA TillandsiaAeranthos
PLAAKA TillandsiaStreptophylla
PLAAKA GranitePebbles