Prettying up my Wednesdays here at Cozey enough so it lasts me through the week! Great new finds from Apple Fall and Newchurch, details after the jump!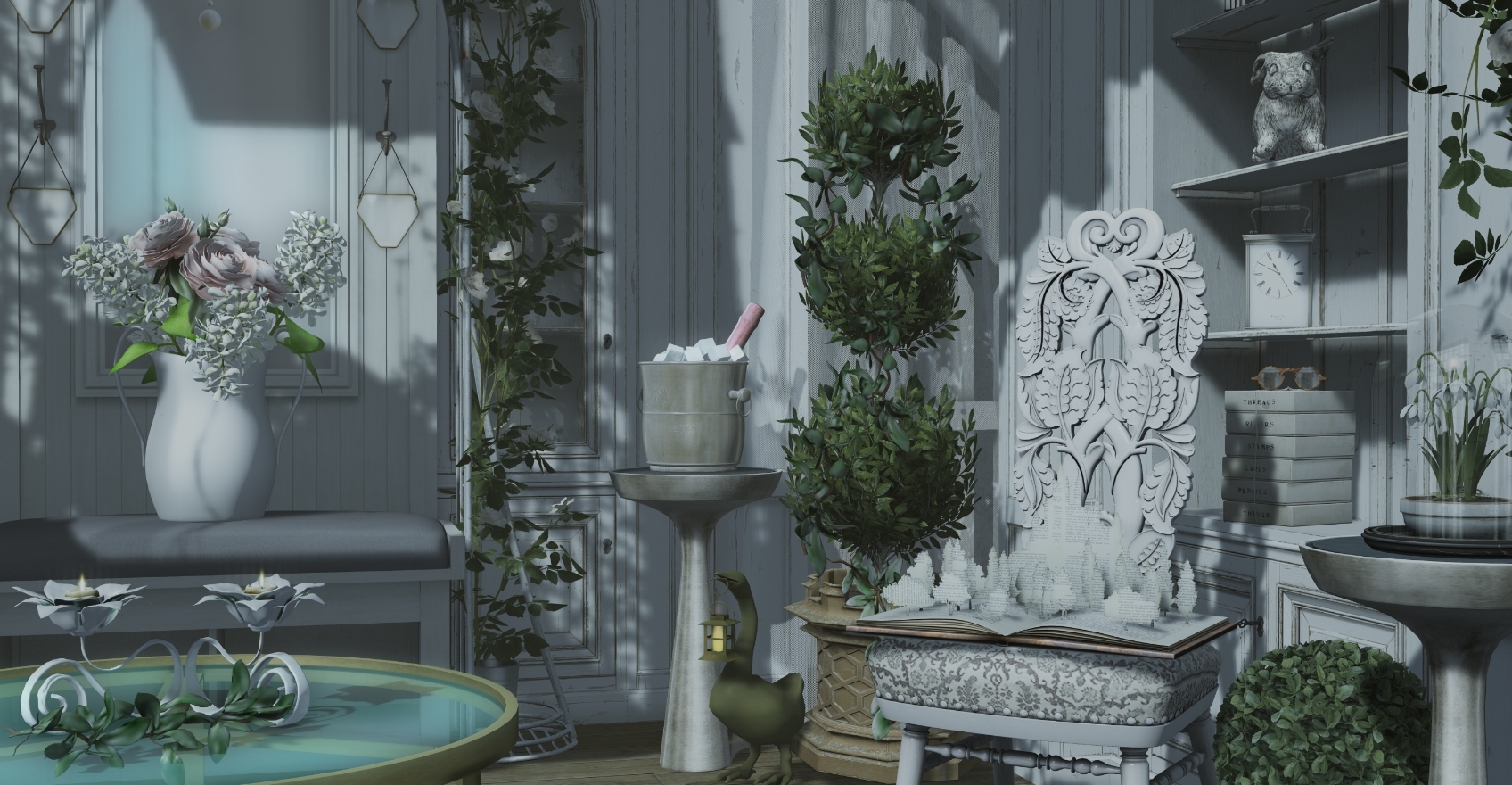 Color me content, for luscious greenery now so prevalent in our virtual world! Spring always brings out the best in Second Life Decor methinks.  Fluff that foliage why don't you?!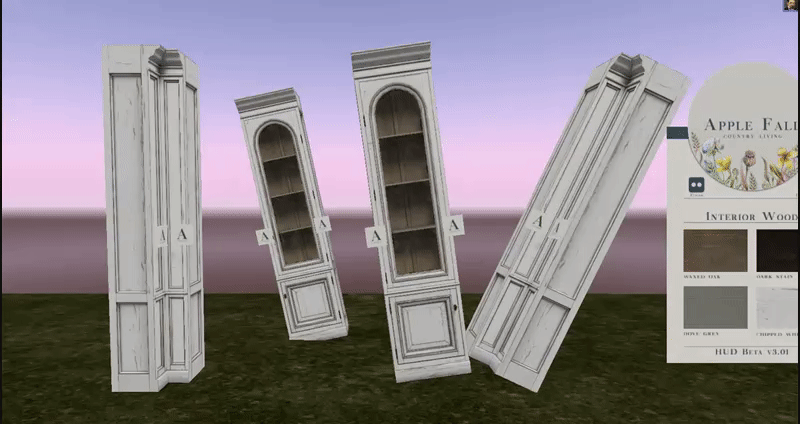 Apple Fall has released a modular Mercantile Bookshelf Kit for FaMESHed, which you can easily align upon rezzing by clicking appropriately placed prims. My GIF doesn't do it much justice, however it was very very easy to figure. Copying or moving each piece will not alter the scripts in any way, and you can hide or show the aligning prim ('A') with a simple '/99 show or /99hide' command in local chat.
 Newchurch has also released the Fiona Hall Tree for the current round of Cosmopolitan; it also includes a decorated version, fully modifiable with texture options for the seating, (click here).
I've taken to listening to Second Life related vlogs and podcasts lately as I set up scenery, I think it helps me stay motivated. The Blogger & Vlogger Network is fairly new to the SL Blogdome and offers loads of support; live panel discussions, guest speakers. Do check out their website and subscribe to their channel : Blogger & Vlogger Network Youtube 
Wednesdays are when I start to feel 'good' again after a weekend without dialysis, so I may again claim my Wednesdays as Wendz' Days (laughs). Ohhh let the puns begin >.> Have a great day fellow lurkers!
---
*Apple Fall Modular Mercantile Bookshelf Kit | FaMESHed Anniversary Event!
-includes double, corner, double w/doors, single, single left & right doors
Bookshelf Kit HUD
*Newchurch :: N :: Fiona Hall Tree, White | The Chapter Four
*.:: ONE GRID ::. Cora Mirror Small | Cosmopolitan
*.:: ONE GRID ::. Aula Table v.1 | Cosmopolitan
---
*Apt B // All wired up – Arch RARE
*Apt B // Creative Outdoors – Books (modified)
*Apple Fall Gatekeepers' Lodge RARE
*Apple Fall Victorian Chimney Planter
*Apple Fall Square Lead Planter w/ Lion Head
*Apple Fall Bay Leaf Topiary, 3-Tier
*Apple Fall Boxed Supplies w/ Spectacles
*Apple Fall Silver Antiqued Rabbit
*Apple Fall Snowdrops in Cloche
*Apple Fall Oxeye Daisy Patch
*Apple Fall Harrogate Grandfather Clock
*Ariskea[Blush] Magnolia Leaf
*ARIA – Bridal Parlour – Pink Champagne On Ice – Silver
*ARIA – Bridal Parlour – Sidetables – Silver
*ARIA – Bridal Parlour – Chandelier – Silver
*ARIA – Bridal Parlour – Dressform- Fancy
*ARIA – Bridal Parlour – Rug
*-David Heather-Bust Lamp/White
**Fancy Decor: Antiquarian Books
*{what next} Pothos Plant (trailing)
*.:: ONE GRID ::. Cloud Pouf
*Trompe Loeil – Arboreal Accent Chair Bale
Apple Fall Bistro Planter
Apple Fall Amelie Magnifiers
Mori. flower candle . toga
PLAAKA SKYPLANTER WhiteOrchid
meadowWorks Goose Tall ~ Bronze Path Light
The Loft and Ariskea Lilac and Nordic Roses (modified)