A bit of a stretch with the staycation bug this weekend and I am house bound.. catching up on a few things from past events as well as more from Kustom9 and Uber. Details after the jump!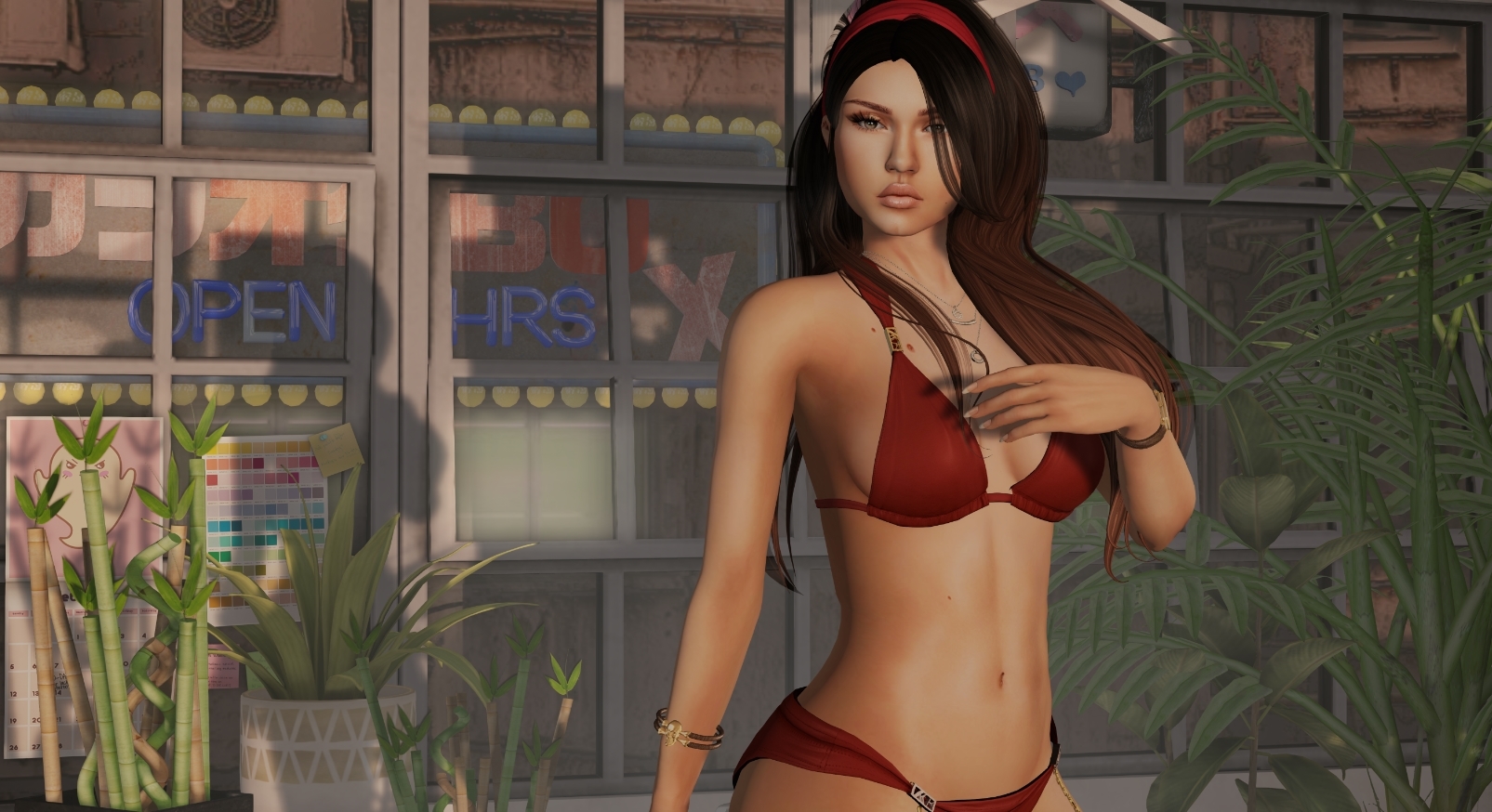 Spirit has released a tantalizing Catwa skin applier, "Esmehun" at Uber for the April round, and I am loving the little clef in her chin, what a character!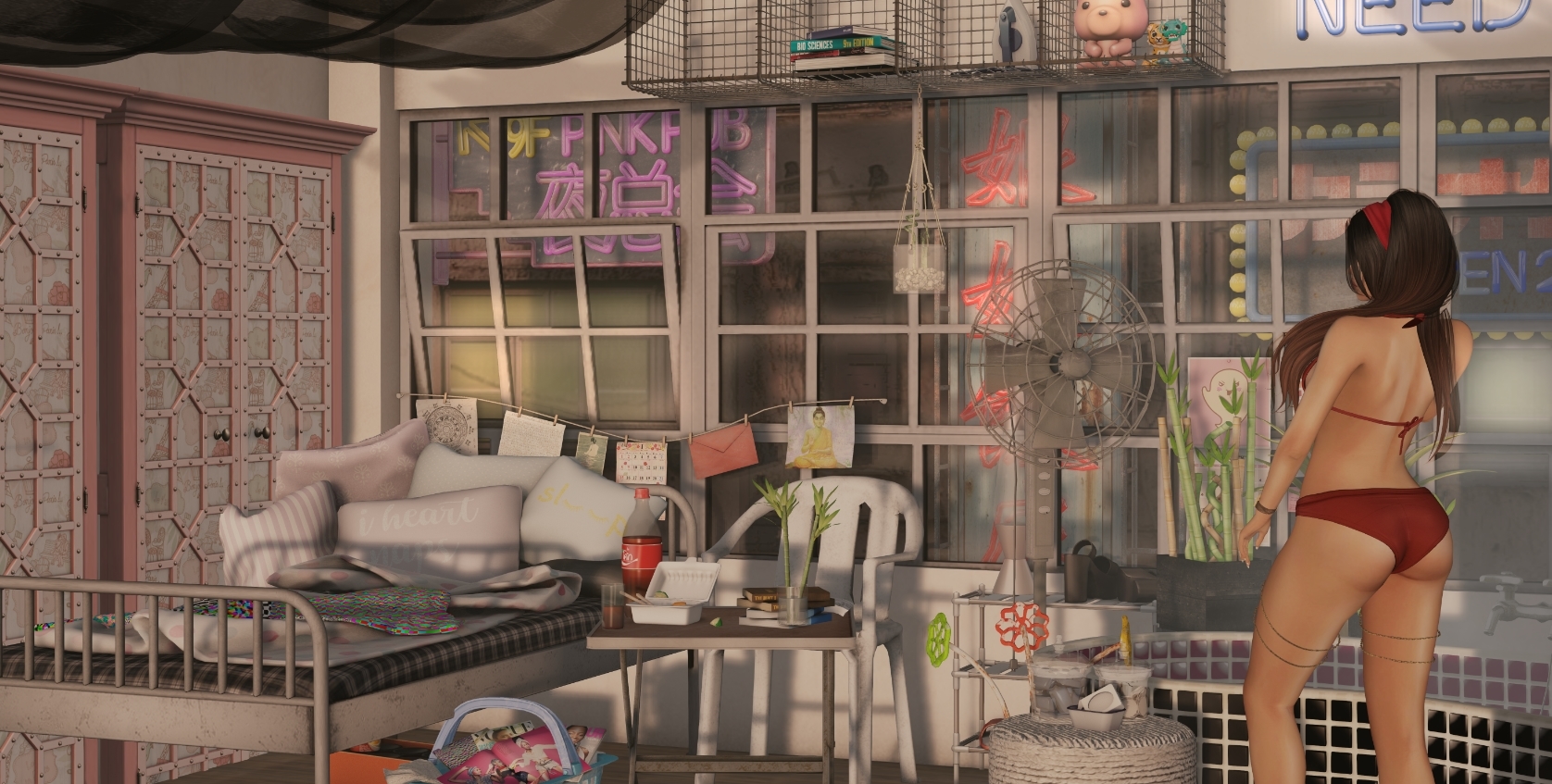 Also wanted to go ahead and share a past gacha collaboration from Soy & Toro.. The Neon Night Apartment Series from March Kustom9. It came complete with city light signs, homey decor, and the little things that give studio loft dwellers that panache aka 'take out Thai Fried Rice' (feed me please)..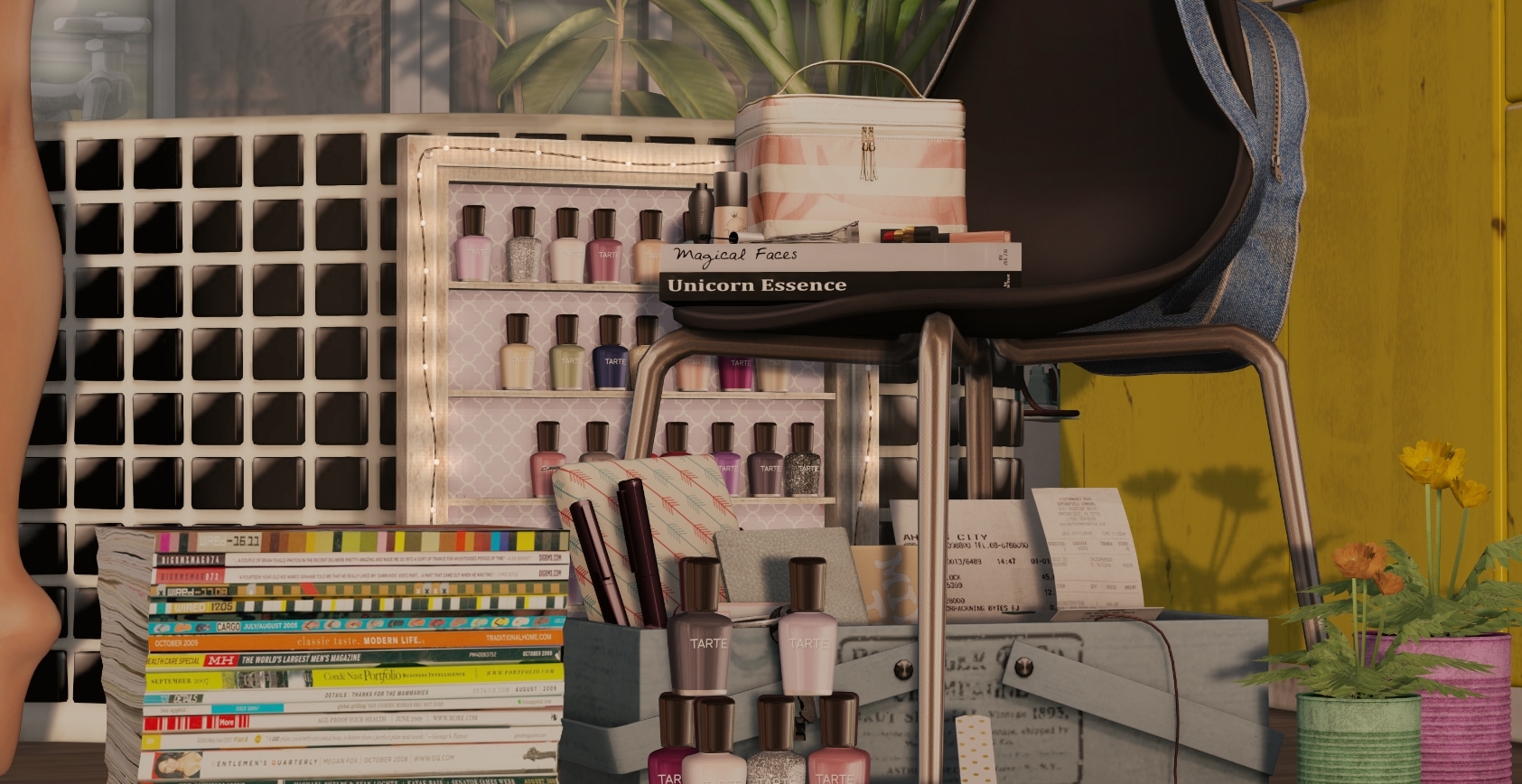 And last but not least, a plethora of health and beauty must haves from Tarte for the Epiphany.. the nail polish racks come in lighted or non lighted versions. Play enough times to get the exclusive gift as well!
The weekend is going by faster than the ice chips in my cup so do peruse the credits for any details I missed and I'll make sure to peruse the grid for more homey finds for your virtual dwelling place ❤
---
*Soy. Tiled Bathtub | Kustom9
*Soy. Storage with hanging basket (mod)| Kustom9
*tarte. nail polish rack – quatrefoil (w lights) | Epiphany
*tarte. nail polish clutter – epiphany exclusive  | Epiphany
*unKindness uK – My Zen Planter Black | Past FaMESHed
*floorplan. neon need me | Kustom9
---
This Gacha Collection is now available at Toro's New Main Store Location!
*Soy + Toro. Neon Night Apartment Skybox RARE | Past Kustom9
*Soy + Toro. Metal Bed
*Soy + Toro. Unplugged Fan
*Soy + Toro. Plastic Chair
*Soy + Toro. Old Foldable Table
*Soy + Toro. Half-eaten Khao Phat
*Soy + Toro. water bamboo
*Soy + Toro. potted butterfly palm
*Soy + Toro. cola set
*Soy + Toro. laundry basket
*Soy + Toro. Hanged Calendars and etc.
*Soy + Toro. mini kitchen sink
*Soy + Toro. neon sign karaoke
*Soy + Toro. neon sign ring-ring house
*Soy + Toro. neon sign pinkpub
*Soy + Toro. neon sign chinese restrant
---
*Cheeky Pea :CP: Mystery Cabinet Paris Rare
*{what next} House Plant – Agave (stand)
*{what next} House Plant – Rubber Tree (stand)
*unKindness uK – Steampunk Vase V2 Light
*C L A Vv. Hibernating Time – Stack of Books
*.random.Matter. – Dorm Life – Wall Art
*.random.Matter. – Dorm Life – Desk Chair [Black]
*.random.Matter. – Dorm Life – Mini Fridge [Black]
*.random.Matter. – Dorm Life – Ramen Stash
*.random.Matter. – Dorm Life – Shoe Rack – RARE
*.random.Matter. – Dorm Life – Night Light [Pink]
*.random.Matter. – Dorm Life – Textbooks
*Mutresse-Lava Lamp-Fancy Lamps RARE
*Mutresse-Dog-Fancy Lamps
*Second Spaces – Laundry Day – old iron
*Second Spaces – Laundry Day – ironing board
*Second Spaces – Laundry Day – drying rack
*Second Spaces – Laundry Day – clothes pins
*Second Spaces – Laundry Day – dryer sheets
*Second Spaces – Laundry Day – old fashioned soaps
*Second Spaces – Lazy Day blankets – Naps Fix Everything
*Second Spaces – Lazy Day pillows – I Heart Naps
*Second Spaces – Cluttered House – by-the-door catch-all
*Intrigue Co. – Plushie Pals: Claws the Tiger – RARE
*Intrigue Co. – Plushie Pals: Drogo the Dragon – RARE
*Kalopsia – Bibi's Can Plant – Pink/Yellow
*Kalopsia – Bibi's Can Plant – Green/Orange
*Kalopsia – Bibi's Rug – Purple
*The Horror!~ Best Friends Forever Collection- Books
Tres Blah – Slumber Party – Makeup Bag
Soy. Stacking towels
OneDecor:: (3)Relax Corner – Stool
Glam Affair 12. GA Home – Jars with soap/cotton
+Half-Deer+ Ceiling Drapes
[PL$H] Magazine Stack – Oprah
[PL$H] Magazines – Set 3
---
Wearing:
*MINIMAL – Ultima Bracelet -LeatherGold | Uber
*.Olive. the Sabrina Hair | Uber
*Vinyl – Psykini Bikini Top & Bottom (Maitreya) | Uber
*Kibitz — Rae — Silver| Kustom9
*SPIRIT Skins – Esmehun skin (Catwa) | Uber
*LUXE. Cici Poses | Kustom9