Its a lot, but its fresh and calorie free-ish. If I had a corner all to myself it'd be so kitsch, you'd need a sugar rush just to sort it all! Let the search begin!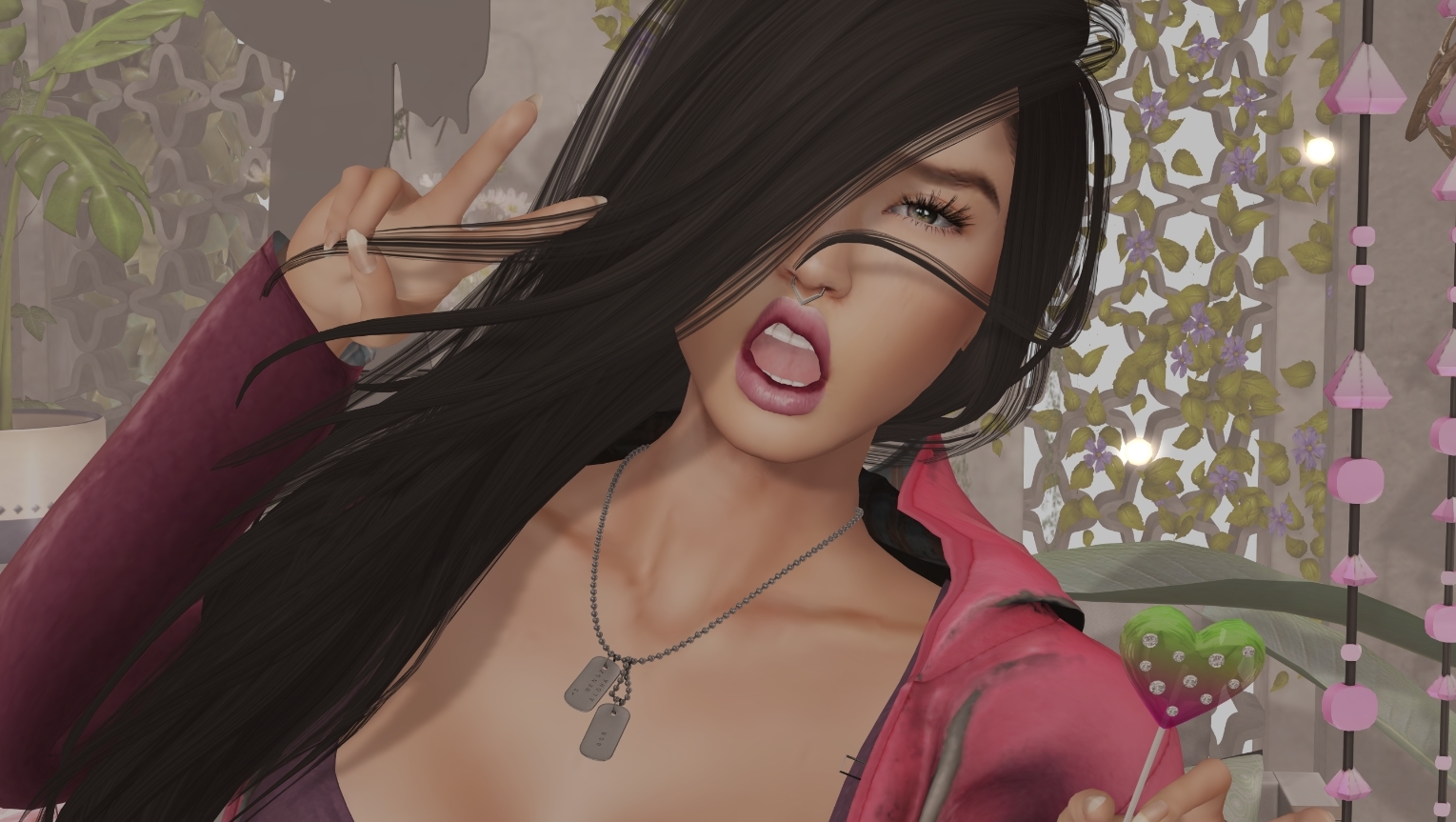 Super cute pose pack from Kirin's poses (Bento enabled) for Kustom9 and it even let me hold my e.marie blingy treat too! +1000 points!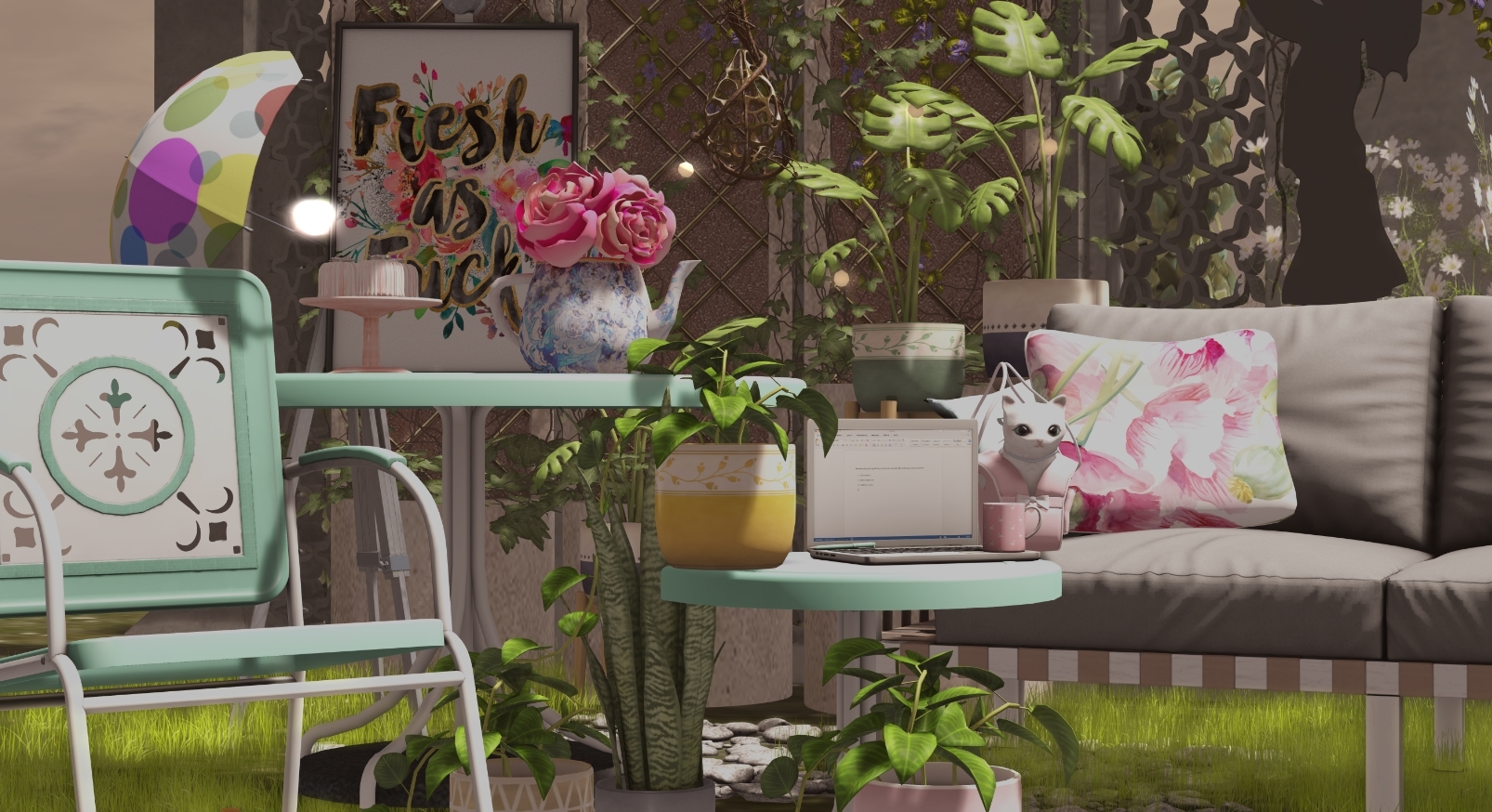 Also, What Next will be releasing another House Plant series for Fifty Linden Friday tomorrow, with even more pattern and solid options for your pottery.. +2000 points, because we are plant fiends amirite?!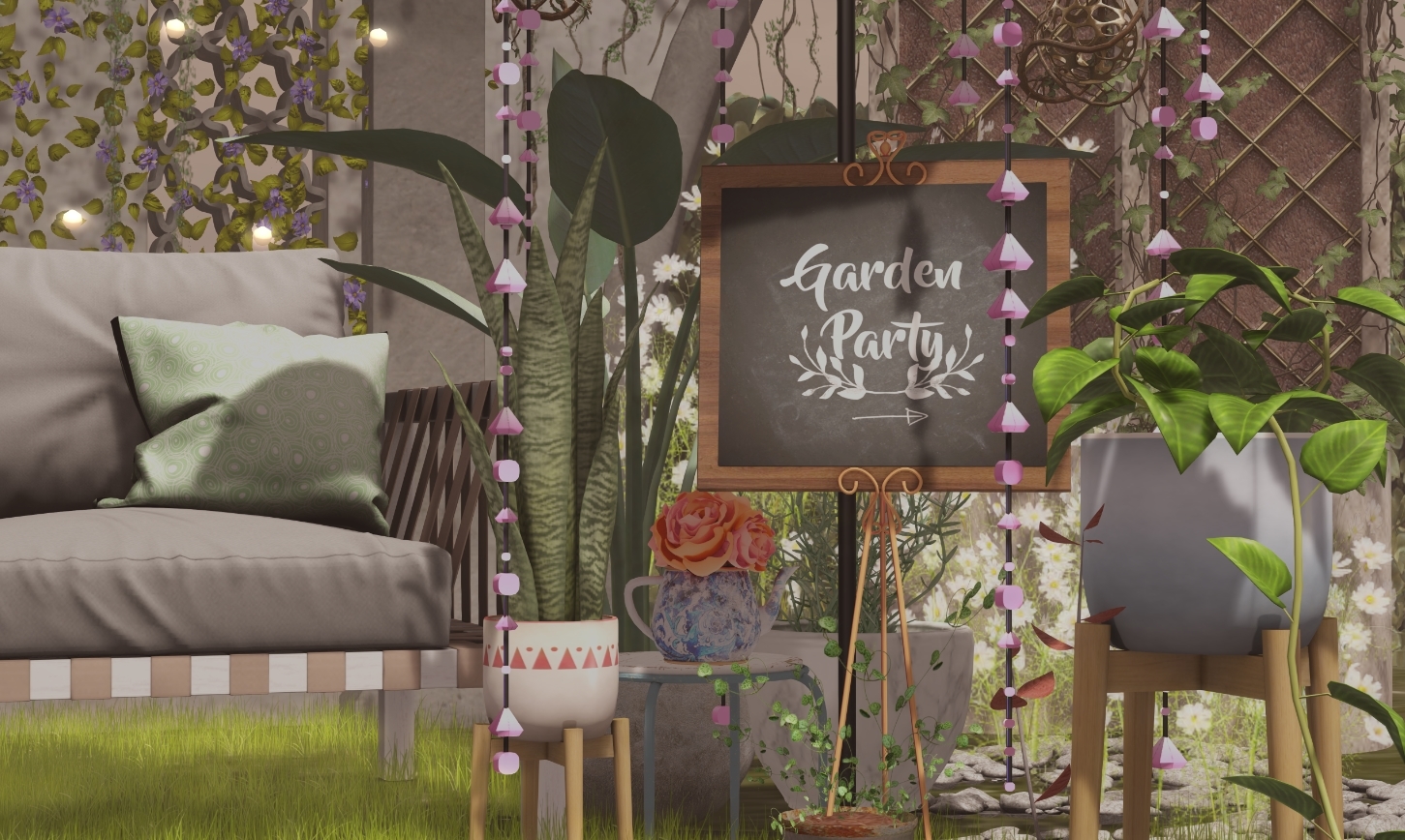 And if you haven't checked out Prism Event's Bloom Pop Up Spring Market, there's still a good amount of time before the gates close!
I had a burst of energy late last night, hence the double posting today. There's just soooo many good things I've missed out on, so let me inundate you with all the THINGS, too!
Until the next ride, aloha fellow lurkers!
---
*Cheeky Pea :CP: Natalie Patio Sofa (PG) | Past Uber
*CONVAIR Metal Patio Umbrella Table – aqua   | Liaison Collaborative
*CONVAIR Metal Patio Side Table – aqua | Liaison Collaborative
*CONVAIR Metal Patio Rocker – aqua | Liaison Collaborative
*.Birch Jupiter Reignz Pink/Black | Liaison Collaborative
*.:Bee Designs:. Rainy Days Gacha 2 RARE | Liaison Collaborative
*Noche [NC] – Dew Ivy Planter – 1 | Liaison Collaborative
*Noche [NC] – Rain Drop Ivy – Gold Light Brown | Liaison Collaborative
*22769 – Umbrella Lamp – Circles | Liaison Collaborative
*Ariskea[Blush] Chair Pillow [Sweety Bloom] | Bloom
*Ariskea[Blush] Sign Garden Party | Bloom
*Ariskea[Blush] Teapot Peonie [Orange] | Bloom
*Ariskea[Blush] Teapot Peonie [Fushia] | Bloom
*Can't Even – Be Fresh as Fuck | Bloom
*DISORDERLY&CURELESS / Petit Blooms / Drizzle Cakes / Peonies | | Bloom
*ARIA – Anemone Potted Strelitzia Reginae  | April Uber
*unKindness uK – Stone Garden End  | Bloom
*unKindness uK – Stone Garden Arch  | Bloom
*unKindness uK – Stone Garden Wall double |  | Bloom
Concept} 07. ALQUER. TABLE | Kustom9
*{what next} Pothos Plant (small) | Coming soon to Fifty Linden Friday 4/28
*{what next} Swiss Cheese Plant (stand) | Coming soon to Fifty Linden Friday 4/28 
*{what next} Snake Plant (stand) | Coming soon to Fifty Linden Friday 4/28
*{what next} Pothos Plant (stand) | Coming soon to Fifty Linden Friday 4/28
*{what next} Snake Plant | Coming soon to Fifty Linden Friday 4/28
*{what next} Pothos Plant (small) | Coming soon to Fifty Linden Friday 4/28
---
*.random.Matter. – Dorm Life – Laptop [White]
*+Half-Deer+ First Class Kitty – Carry-On – Snow Pink
Repos-Leaf-1
Repos-ko-2
Frog Garden's ::FG:: white cosmos
Bad Katz Hanging Vines 2
meadowWorks Vinca ~ half moon ~ Groundcover
---
Wearing:
*[ kunst ] – Dog-tags Necklace (F) | Kustom9
*[VALE KOER] LIFTOFF TRAINERS MAITREYA | Kustom9
*e.marie // Lolli – Blinged (add) RARE | Kustom9
*Kirin Poses Cutie Pie Poses | Kustom9
*[ kunst ] – Anuket Septum Ring  | Liaison Collaborative
*Vinyl – Lenka RainJacket – MAITREYA  | Liaison Collaborative
*Vinyl – Colbie Skinny Dress – MAITREYA  | Liaison Collaborative
*Vinyl – Enya Ballet Leggings Maitreya
*Tableau Vivant \\ Hairplay – Side Blow