An abandoned settlement, a corroded compound, and one explosive story that is yours for the making, in today's scene of the day!
I don't rightly have one roaring to go (story), but maybe something with a battle against killer clowns and war against raiders, ghouls? That annoying neighbor?!
Soy has released a fantastic collection of abandoned themed pieces that brings that whole 'Fallout' feeling to the surface. In fact, I nagged asked my son to take a peek at my final image for approval, to which dear ole mum got a swift, "Yeah.". I think I saw a smirk or hark, it may have been a smile!
Sixteen year old teenage boys neeevverrr smile for their momsies (unless bribed and/or threatened) soooo this was worth writing about.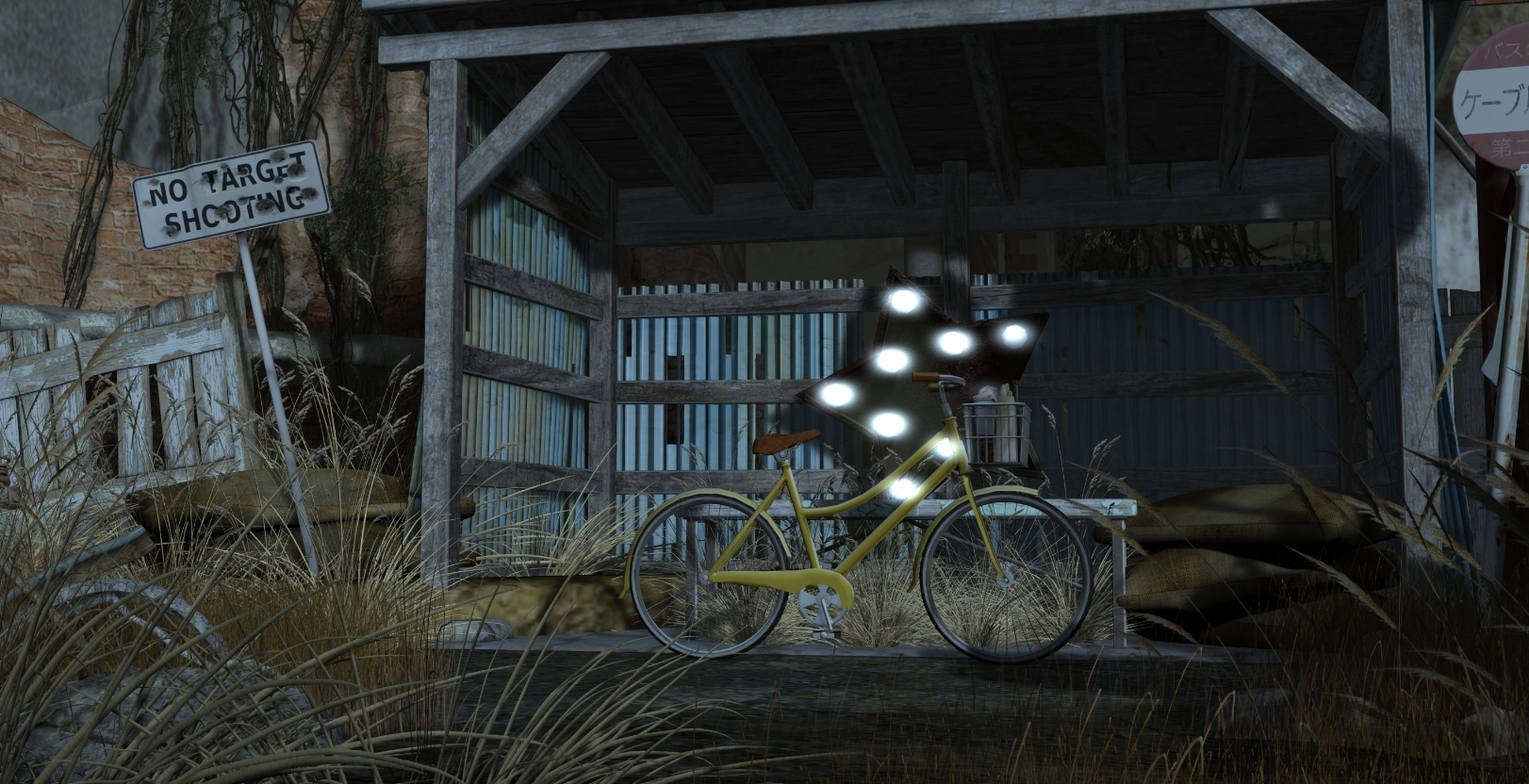 Do peruse ze creditos, and feel free to ping me in world if you have any questions, comments, or cool settlement names.
---
*Soy. Abandoned Memorys – Bus stop | March Arcade
*Soy. Abandoned Memorys – Head | March Arcade
*Soy. Abandoned Memorys – Bus Stop Sign  | March Arcade
*Soy. Abandoned Memorys – Bicycle [Heavy Rust]  | March Arcade
*Soy. Abandoned Memorys – Bus stop | March Arcade
*Soy. Abandoned Memorys – CableCar  | March Arcade
*Soy. Abandoned Memorys – Bench [Green] | March Arcade
*Soy. Abandoned Memorys – Umbrellas | March Arcade
*BUENO- Decay Lockers | March Arcade
*BUENO- Bike -Yella | March Arcade
*N4RS Old Drums | Uber
*N4RS Old Fence | Uber
*Cheeky Pea :CP: Doublers Adirondack Chair Paris Chalky Paint | The Mens Dept
*Anhelo [Ki-43-2 decor] parking / hanging | Creators Collection Box
---
*Soy. A Rock [one]for small use
*Soy. A Rock [three] for large use
*Soy. Shitamachi Alley Garden – Poles
*Soy. Waterline Forts – Wall (Center)
*Soy. Waterline Forts – Wall (Left)
*Soy. Gateway to Waterline Forts [Gate]
*INDUSTRY 7_bang studio_warzone RARE
*INDUSTRY 7_bang studio_bagstack1
*Ten Thousand & Co. 2.Train Rail Stairs
::no13::road sign
22769 ~ [bauwerk] Abandoned Playground Entrance – RARE
22769 ~ [bauwerk] Broken Star
22769 ~ [bauwerk] Rotten Kissing Booth – COMMON
22769 ~ [bauwerk] Abandoned Popcorn Cart – COMMON
22769 ~ [bauwerk] Broken Slide – COMMON