Its the convenience of conveniences , a corner that is kitty corner, take the right at the light, left at the bridge and down the path to open the gates that is your, midnight snack.
Or daytime snack for that matter. I've divvy'd up the guacamole and replenished the relish as we continue with Madpea's International Food Fair. Hopefully you've all had a chance to experience some of the live music, DJ's and other activities going on at this event, but more so have had a chance to participate by collecting some of the great exclusives available for donation!
Here are more screenshots of today's scene of the day, interior POVs and the like. I've set this place up in world so if you'd like to come have a looksee, ping away! Enjoy your midweek blogscroll and stay tuned for more from the Food Fair!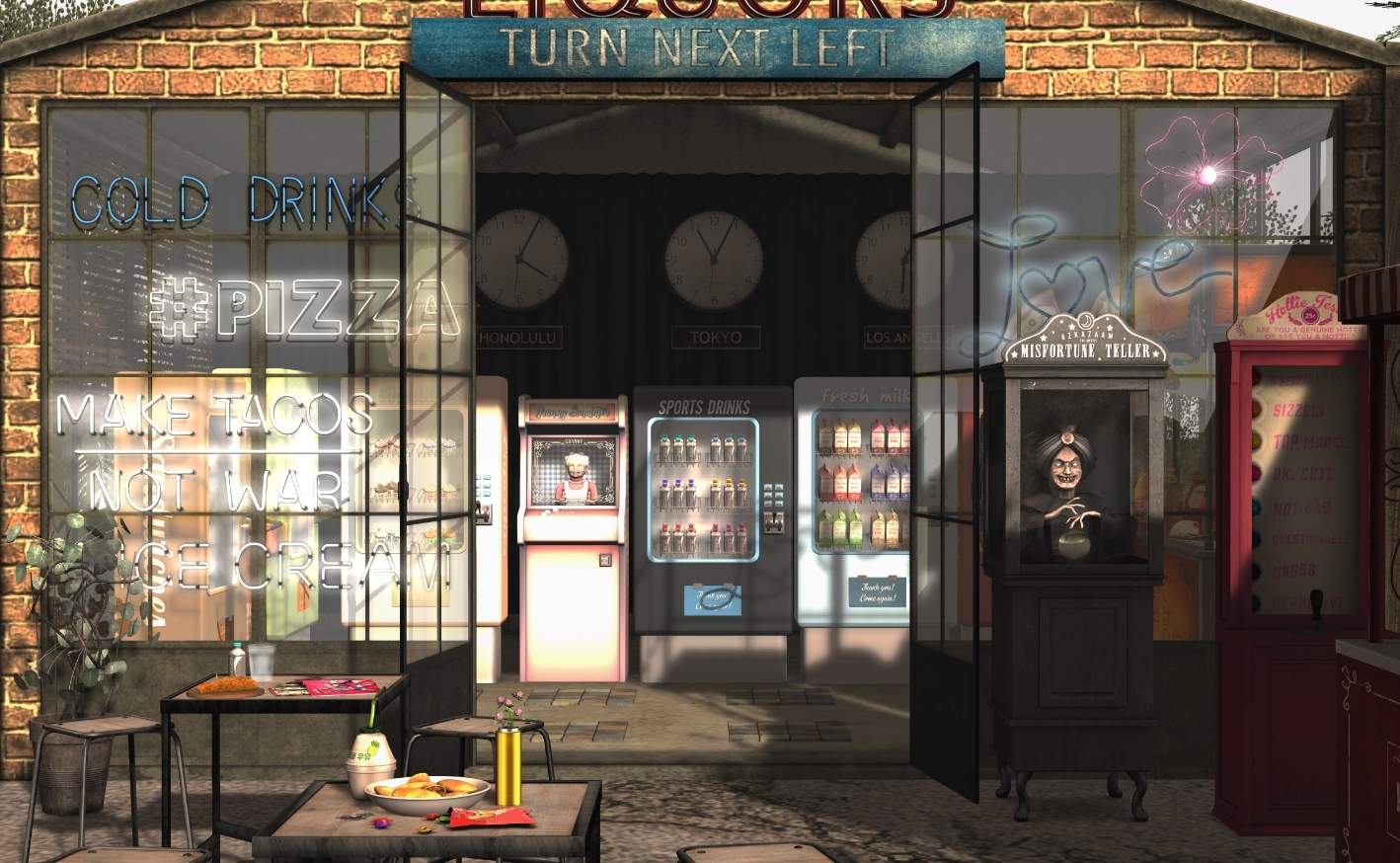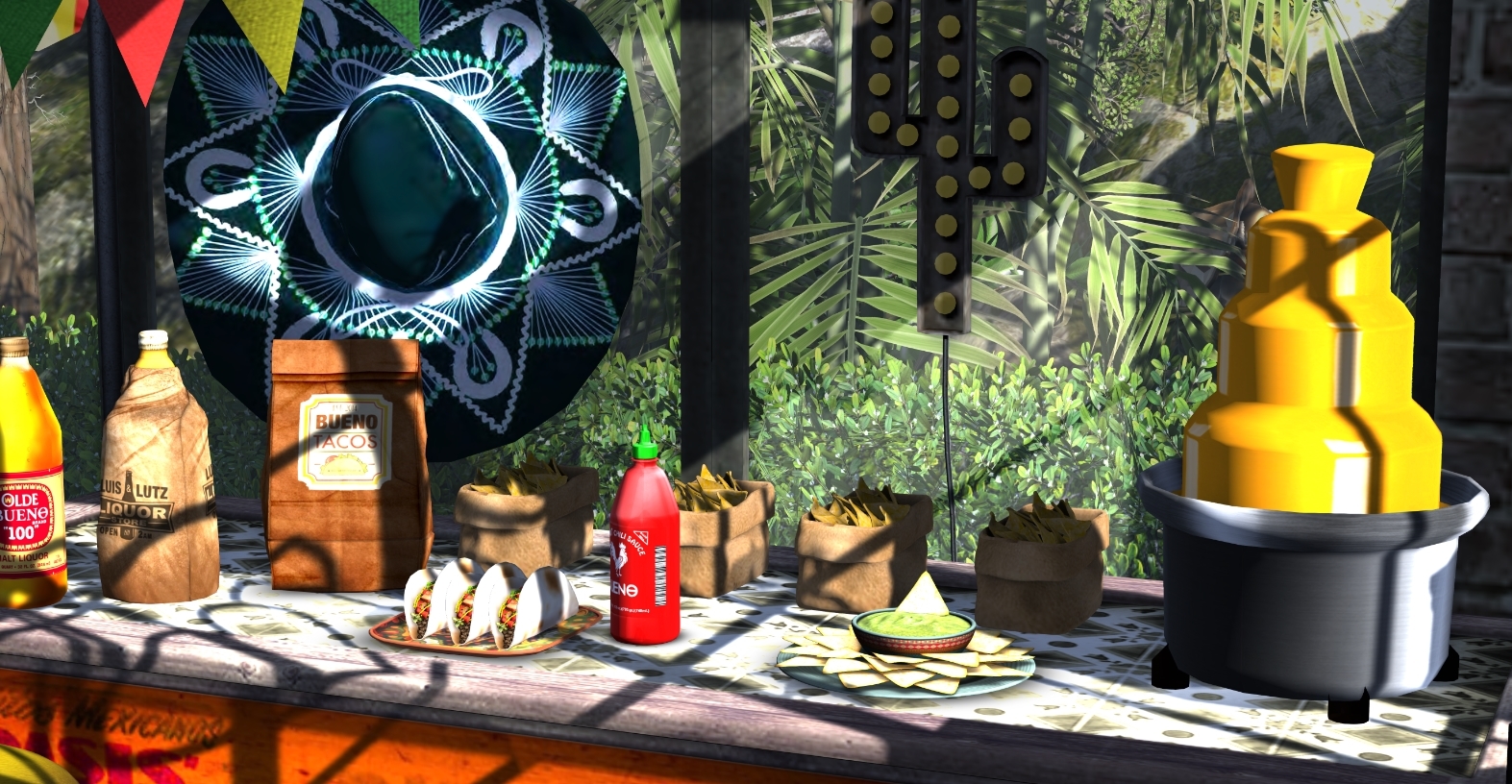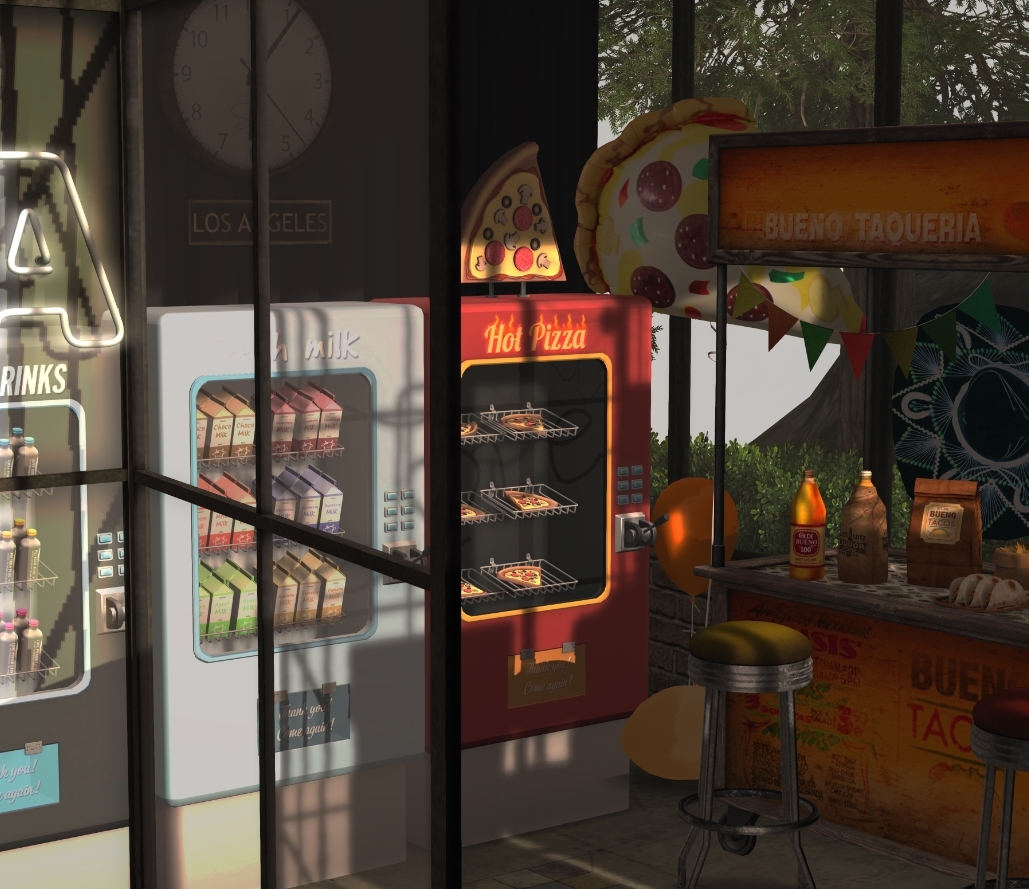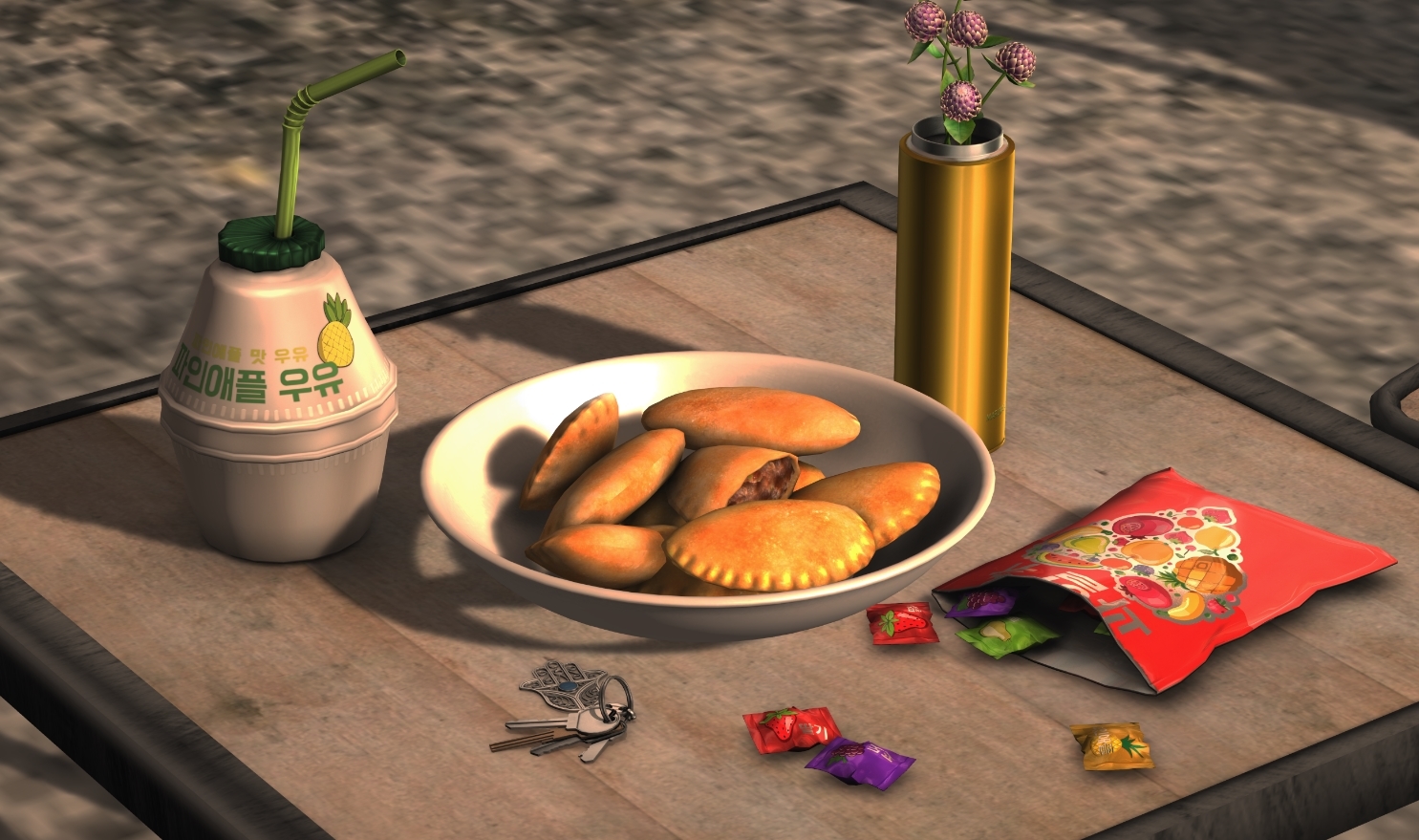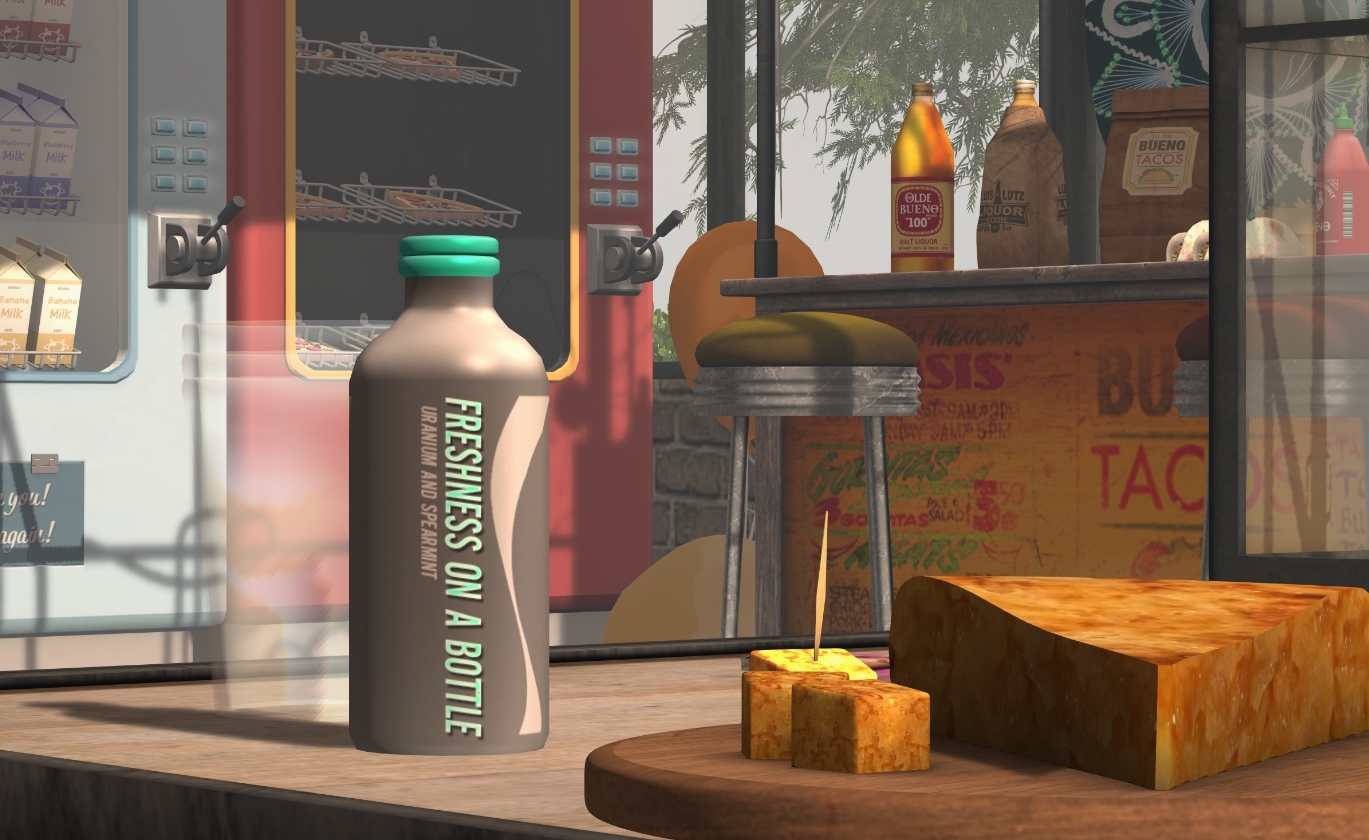 ---
*NOMAD // Cupcake Vendor | MadPea Intl Food Fair
*NOMAD // Sport Drinks Vendor | MadPea Intl Food Fair
*NOMAD // Milk Vendor | MadPea Intl Food Fair
*NOMAD // Hot Pizza Vendor | MadPea Intl Food Fair
*[high v.] balloons bunch pizza (rez) | MadPea Intl Food Fair
*[high v.] nacho fountain | MadPea Intl Food Fair
*[high v.] chips row | MadPea Intl Food Fair
*MadPea Hot Dog Cart | MadPea Intl Food Fair
*MadPea Mad Meals Beef Empanadas | MadPea Intl Food Fair
*Serenity Style- Pincho de tortilla | MadPea Intl Food Fair
*unKindness uK – Love Blue | Liaison Collaborative
*unKindness uK – Wall Flower Pink | | Liaison Collaborative
---
*NOMAD // Misfortune Teller RARE
*NOMAD // Granny Simulator
*BUENO-Pack Of Bar Stools – Solids
*BUENO- Taco Cart -Orange
*BUENO -Soft Taco Plate
*BUENO-Chips and Guacamole
*BUENO- Taco Bag Deco
*BUENO-Olde B 100 Deco
*BUENO-Hanging Sombrero
*floorplan. neon III gacha / pizza
*floorplan. neon III gacha / make tacos RARE
*7 – Ice Cream Neon
*7 – Cold Drinks Neon
*Sari-Sari – Cafe Happy – Cafe Table & Stool
*.random.Matter. – SnackAttack! – Candies
*.random.Matter. – SnackAttack! – Pineapple Milk
Apt B // Tiny Flea Market Cactus
7 – The Filmore Factory Clock & Signs
7 – Liquors – Next Left
7 – Ice Machine
Mori. tiles distressed painter
{theosophy} Hottie Tester
Maru Kado {-MK-} My bottle & flower yellow
Build -:HAIKEI: I'm Old Fashioned GACHA / RARE