No muss, and no fussy eaters here. If you've got an adventurous taste-bud, then stop on by! Chopsticks are provided for you and your hair! 
I absolutely love Rogue Falconer's latest set for MadPea's Int'l Food Fair. Disorderly's Sushi Time was so gorgeously textured, I mean even the cucumber slices, looked like honest to goodness cucumber slices and that's a feat in of itself!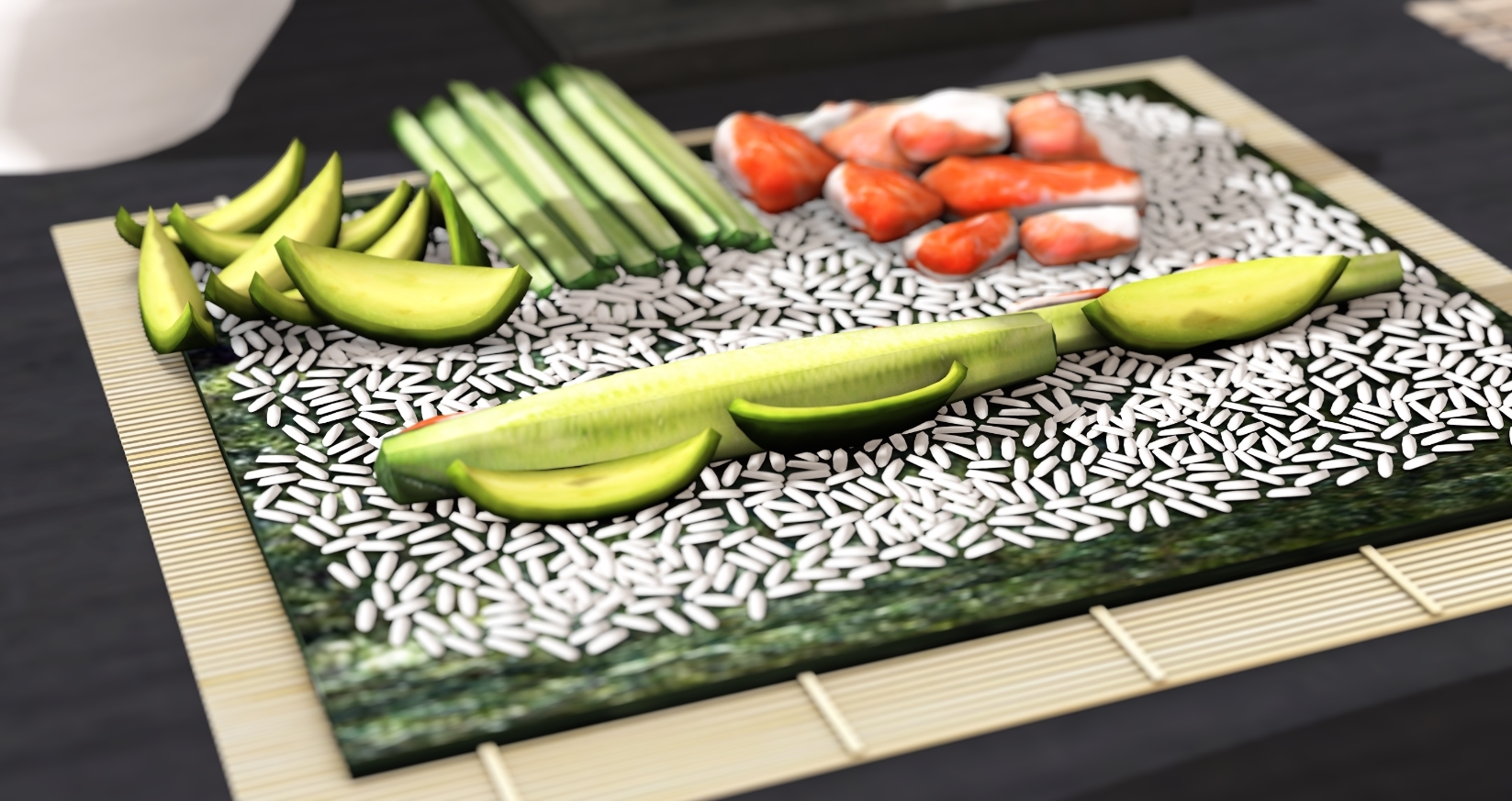 These are for reals, raw snapshots I took using Firestorm with DOP enabled and I simply cannot imagine all the work it took to get every grain of rice looking like that. Wowowowow..just WOW!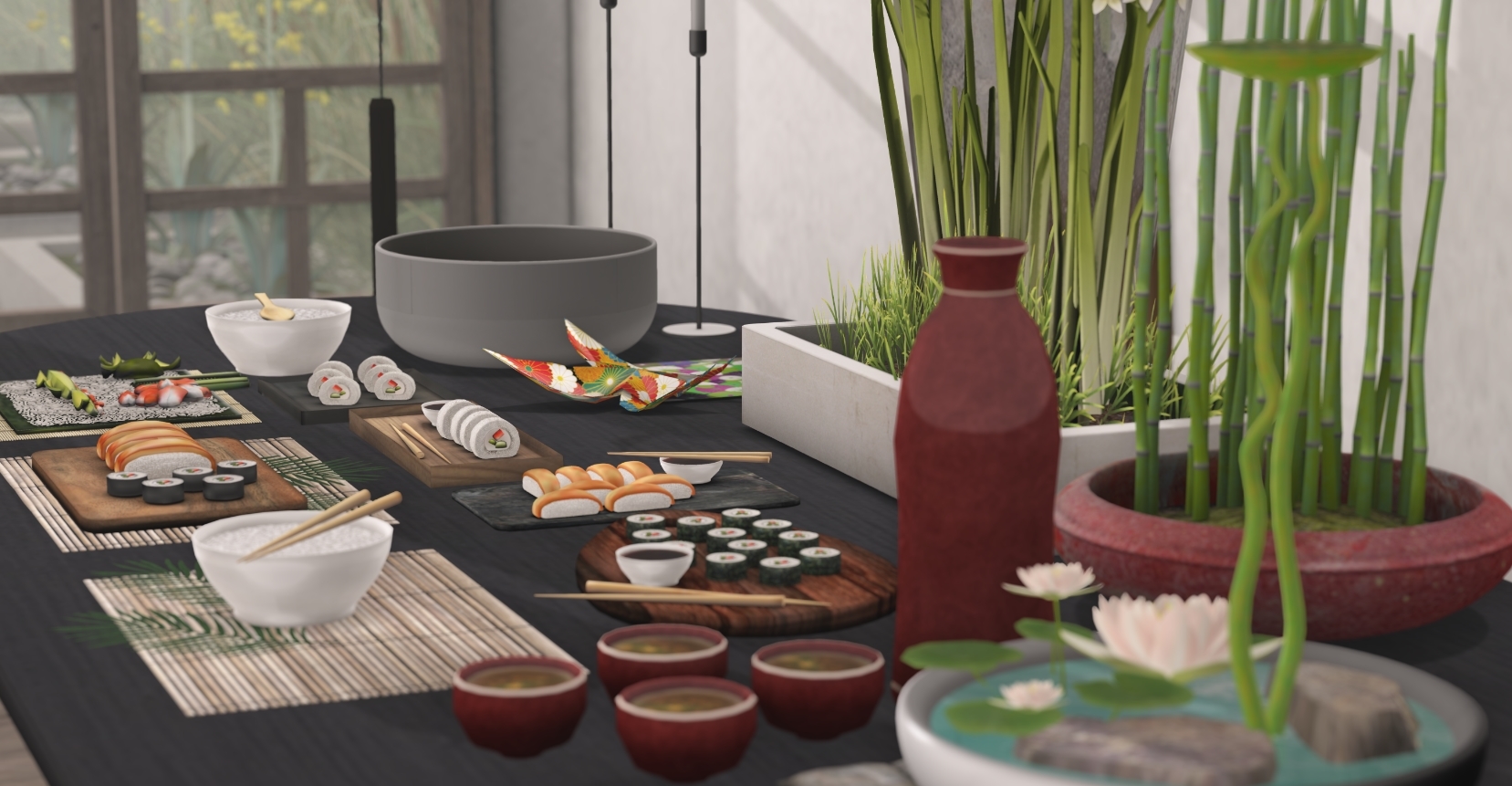 There's about a week left of festivities at the fair so do be sure to stop on by. Credits are below, and please don't hesitate to send me a message in world if you have any questions 🙂
---
*BIGBULLY Soren Dining Table Black | MadPea Int'l Food Fair
*BIGBULLY Soren Dining Chair Black | MadPea Int'l Food Fair
*BIGBULLY Soren Table Decor Black | MadPea Int'l Food Fair
*DISORDERLY. / SUSHI TIME / PALETTE SUSHI | MadPea Int'l Food Fair
*DISORDERLY. / SUSHI TIME / SLATE SUSHI | MadPea Int'l Food Fair
*DISORDERLY. / SUSHI TIME / TRAY SUSHI | MadPea Int'l Food Fair
*DISORDERLY. / SUSHI TIME / SQUARE SUSHI | MadPea Int'l Food Fair
*DISORDERLY. / SUSHI TIME / INGREDIENT / CRAB MEAT | MadPea Int'l Food Fair
*DISORDERLY. / SUSHI TIME / INGREDIENT / RICE | MadPea Int'l Food Fair
*DISORDERLY. / SUSHI TIME / INGREDIENT / CUCUMBERS | MadPea Int'l Food Fair
*DISORDERLY. / SUSHI TIME / INGREDIENT / AVOCADOS | MadPea Int'l Food Fair
*DISORDERLY. / SUSHI TIME / CUTTING BOARD SUSHI | MadPea Int'l Food Fair
*DISORDERLY. / SUSHI TIME / RICE BOWL | MadPea Int'l Food Fair
*Kaerri Varigated Taro Planter | MadPea Int'l Food Fair
*Kaerri Paua Tiki Art Jade | MadPea Int'l Food Fair
---
*Cube Republic CR Cordyline 'Turkish Delight' | FaMESHed
---
*–ANHELO-G01B3-168GA :: shoji
Kaerri Lotus Ikebana
Kaerri Aroha Tiki Art Black
RH Design House [[RH]] -Kuruwa- Decoration -Crane- (Red and White)
RH Design House [[RH]] -Kuruwa- Decoration -Tama-
Jian – Sushi & Sashimi Time (Drinks)
Maru Kado {-MK-} My little plant_Tokusa Red-G
*AF* Paperwhites Wooden Trough (modified)
PLAAKA SKYPLANTER WhiteOrchid
Soy. Glass Fishing Float -hanging-
Soy. Reed Mini Mat
Trompe Loeil – Oceania Paper Globe Lamp
Sway's [Pantai] palm leaf B – fresh
MudHoney Piper Rug Cream
PILOT – Fish Cut-Out [Wood/Blue]
Build: :HAIKEI: lime plaster wall shop gacha {RARE}