Look mah, I dressed up for the weekend! One look says, "Brunch? oh yes please!" and the other says, "Brunch? oh yes please!", hah.
Could not resist a pun with your morning coffee. And look its sugar free and everythaanngggg.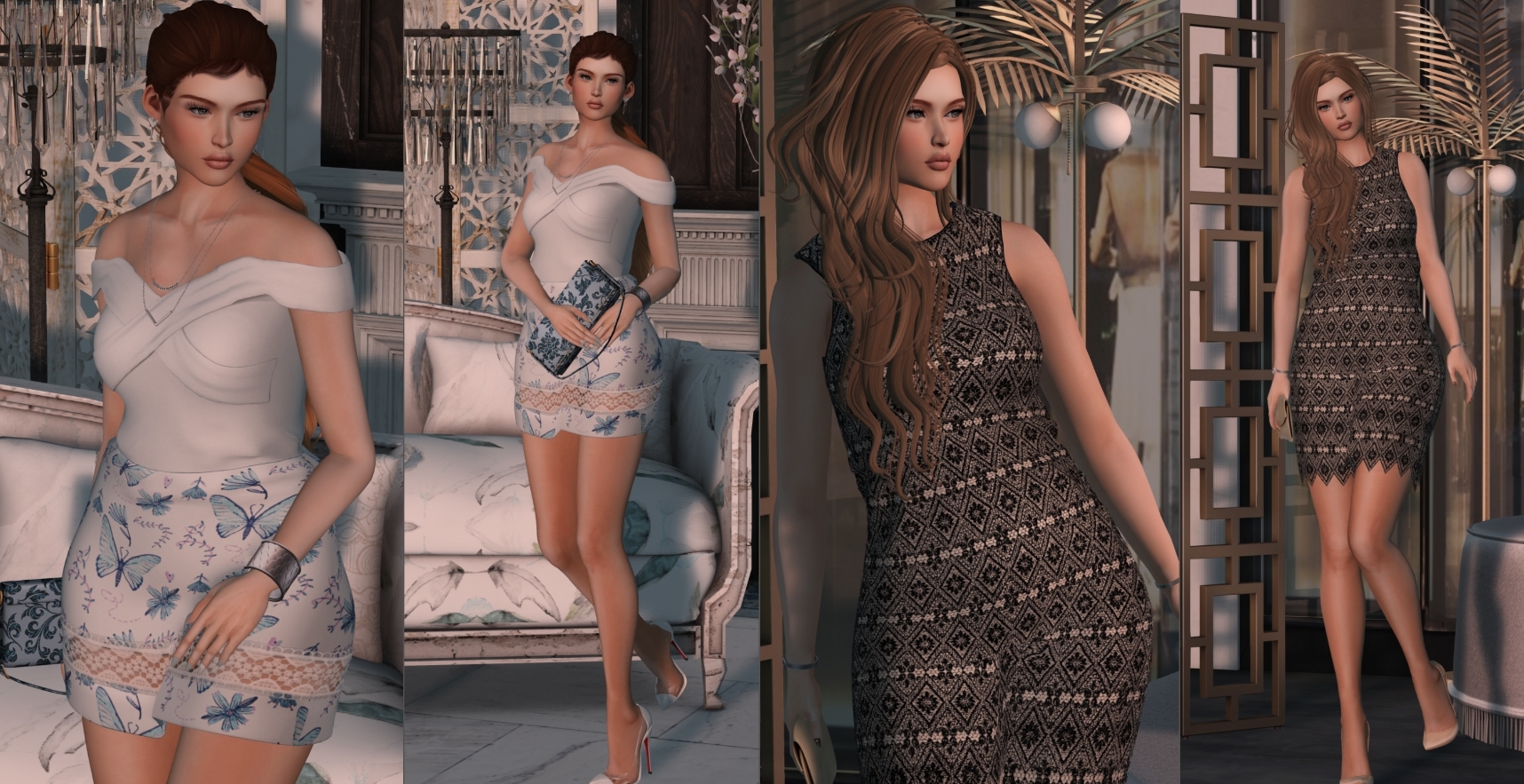 The Liaison Collaborative opens today, January 7th @ 3pmSLT, so that's a neat time frame if you're looking for a cocktaileth dresseth, this one's by Noche. NYU has also released a springy type number (on the left) for FaMESHed and my gorgeous weave (on the left) is from Moon for December's Luxe Box. There's still a full two weeks left before they close the group again so do be sure to sign up for January's Luxe Box (1500L before the 14th)
Hope you all have a decent weekend..and let's make good on our commitment to kindness this year. The world needs it.
---
Look on the Left-
*NYU – Crossover Slim Tee (Maitreya) | FaMESHed
*NYU – Mid Lace Floral Skirt (Maitreya) | FaMESHed
*LaGyo_Melted Heart Earrings | FaMESHed
*Cae :: Thalia :: Necklace | FaMESHed
*Moon. Hair. // The Caterpillar | Luxe Box December
*chocolate atelier ::c.A.:: Ikumi [make-up] (Catwa) | Coming soon to TLC
*an Lar Poses – The Rory Series | Coming soon to TLC
*22769 ~ [accessories] Fishscale Bracelet Silver
*Garbaggio // Lauren Pumps (Maitreya) – White
Baiastice_Lilia clutch-cian
Studio Exposure THE BEST NUDE REFLECT LIPSTICK VERS.10 (Catwa)
e.marie // NAILS accent Amore (Maitreya)
Furnishings-
*RAMA – #selfie_RAMA Museum Fair
*Apple Fall Georgian Gothic Fireplace
*Apple Fall Blossom Wreath
*Apple Fall Joanne Crystal Lamp
*Birdy – Boudoir – Divider Screen
*Scarlet Creative – The Arcade: Venice Sofa Blue
---
Look on the Right-
*NOCHE. Daniella Dress/Baige – Maitreya | Coming soon to TLC
*REIGN.- CARRIE PUMPS (Maitreya-High)
*[ kunst ] – Garthwen bracelet
*[DUE] Yan xi V1 Hair
*alme. Golden Block Dark Nail Applier Maitreya
Belle Epoque { Timeless Class } Clutch Beige
*an Lar Poses – Georgia Series
*Kirin Poses – Keiko
Studio Exposure S.E NO SENSE EYESHADOW VERS.05 MAKEUP (catwa)
Furnishings-
*RAMA – #selfie_RAMA RAMA Display RARE
*NOMAD // 04 // Deco Foyer Settee
*NOMAD // A // Antique Palm Tree Lamp // RARE
*NOMAD // 06 // Gilded Gold Room Divider