Some really neat finds from Anhelo and Unkindess for The Mens' Dept, as well as a great deal from Vinyl for Fifty Linden Friday. Details after the jump!
Today's scene of the day (redundant much??), its catchy tho! Right, so I went and set up a mini, very mini, downtown thing, with moving parts and past releases from Soy as well as Anhelo. Exclusives I've missed sharing and so think of the next month as a Cozey Catch Up.
And not the kind you eat with fries either! (c'mon that was clever!)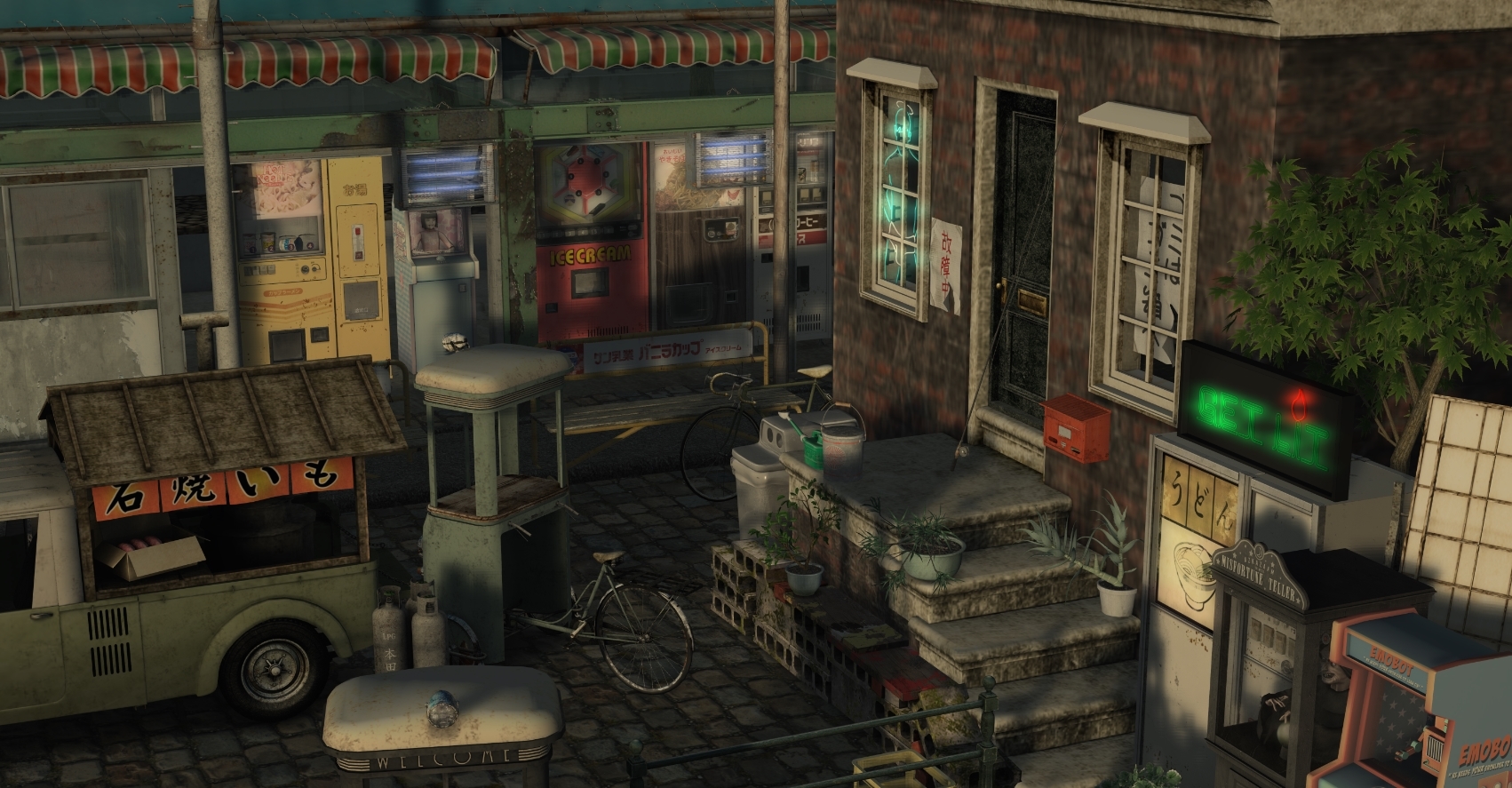 Do read through the credits for items you might have missed, and if you have any questions, about anything.. weather, recipes, those plants, that fence, where is that thing in the store?!.. feel free to leave em in the box below.
---
Wearing:
*Vinyl – Dragon Sharkbite Tee/Maitreya | Fifty Linden Friday
*Vinyl – Oakley Jeans With Belt – Fade- Lara
*Cae :: Thalia :: Necklace | FaMESHed
*/Wasabi Pills/ Isla Mesh Hair | FaMESHed
*[ kunst ] – Infinity cuff
*-David Heather-Heather Headphones
[VALE KOER] HIGH CARDINALS MAITREYA
Remarkable Oblivion – Messenger Bag – Never Surrender Black
---
*–ANHELO-M27AG-171GA :: moving stall (ash gray) | The Mens Dept
*–ANHELO-M27PB-171GA :: moving stall (powder blue) | The Mens Dept
*unKindness uK – Get Lit Sign | The Mens Dept
*unKindness uk – Neon Stud Angel | The Mens Dept
---
Check out Anhelo Online! Exclusives, Past releases and much more can be found at their website..
*–ANHELO-H06B1-16CGA :: brick building I
*–ANHELO-M22FL-16BGA :: railing for street
w/ end pole for M22
*–ANHELO-F02LG-169GA :: vintage road bike (leaf green)
*–ANHELO-G01B1-168GA :: beer case C
*–ANHELO-G01B1-168GA :: beer case B
*–ANHELO-G01B2-168GA :: gas tank
*–ANHELO-G01B5-168GA :: recycling C
*–ANHELO-G01R2-168GA :: post
*–ANHELO-G01B3-168GA :: shoji
*–ANHELO-G01R1-168GA :: yakiimo car Rare
---
Past Arcade Releases | Visit Soy Mainstore for more information
*Soy. CSC – Old prefabricated snack corner Rare
*Soy. CSC – Vending machine [Hot noodle]
*Soy. CSC – Promotional bench
*Soy. CSC – Vending machine [Ice cream]
*Soy. CSC – Vending machine [Yakisoba]
*Soy. CSC – Vending machine [Drink]
*Soy. CSC – Bug killer light copy
*Soy. CSC – Trash box copy
*Soy. CSC – Poster "out of order"
*Soy. CSC – Trash can for ash
*Soy. CSC – Hot noodle [decor]
*Soy. CSC – Vending machine [Udon]
*Soy. CSC – Yakisoba [decor]
*Soy. Shitamachi Alley Garden – Poles
*Soy. Shitamachi Alley Garden – Post
*Soy. Shitamachi Alley Garden – Potted Plant – A,G,L,M,H
*Soy. Shitamachi Alley Garden – Watering Pot
*Soy. Summer Lakeside Retreat : Minnow Bucket
*Soy. Summer Lakeside Retreat : Fishing Rod for Decor
*Soy. Summer Lakeside Retreat : Minnow Bucket-
---
Past Arcade Release | Visit Nomad mainstore for more info
*NOMAD // Dream Date Simulator (Girl)
*NOMAD // Misfortune Teller RARE
*NOMAD // Emobot
*booN-kura concrete block stand