The grand stop before traveling to dreamland, this Cozey and quiet scene I've laid out for you who wish for the beauty in calm. 
And so begins another chapter in the ongoing saga of our most favorite story of all, the one we get to write and experience in our virtual world.
I created this charming little space to accentuate the fleur print over Fancy Decor's new Cavalieri Bed which is out now at FaMESHed. Sometimes it is okay to go with a few colours rather than a rainbow and, well, first of the year, clean slate… you get it.
I don't think its hit quite yet that 2017 is now 3 days old and I'll be seeing my oldest go back to school, in a land far far away 😦 So you can be sure I'll be hiding somewhere with a bottle of something and 12 hours of Netflix to last me, at least till her semester ends hah.
Alright no more rambling, you poor things, I'm so sorry!
Here are a couple of more screenshots of today's scene of the day. They are almost always going to be 99.9999% raw snapshots (using Gyazo), with link backs as you click on each image.
Enjoy, and don't forget to skim through credits and leave questions in the box below ❤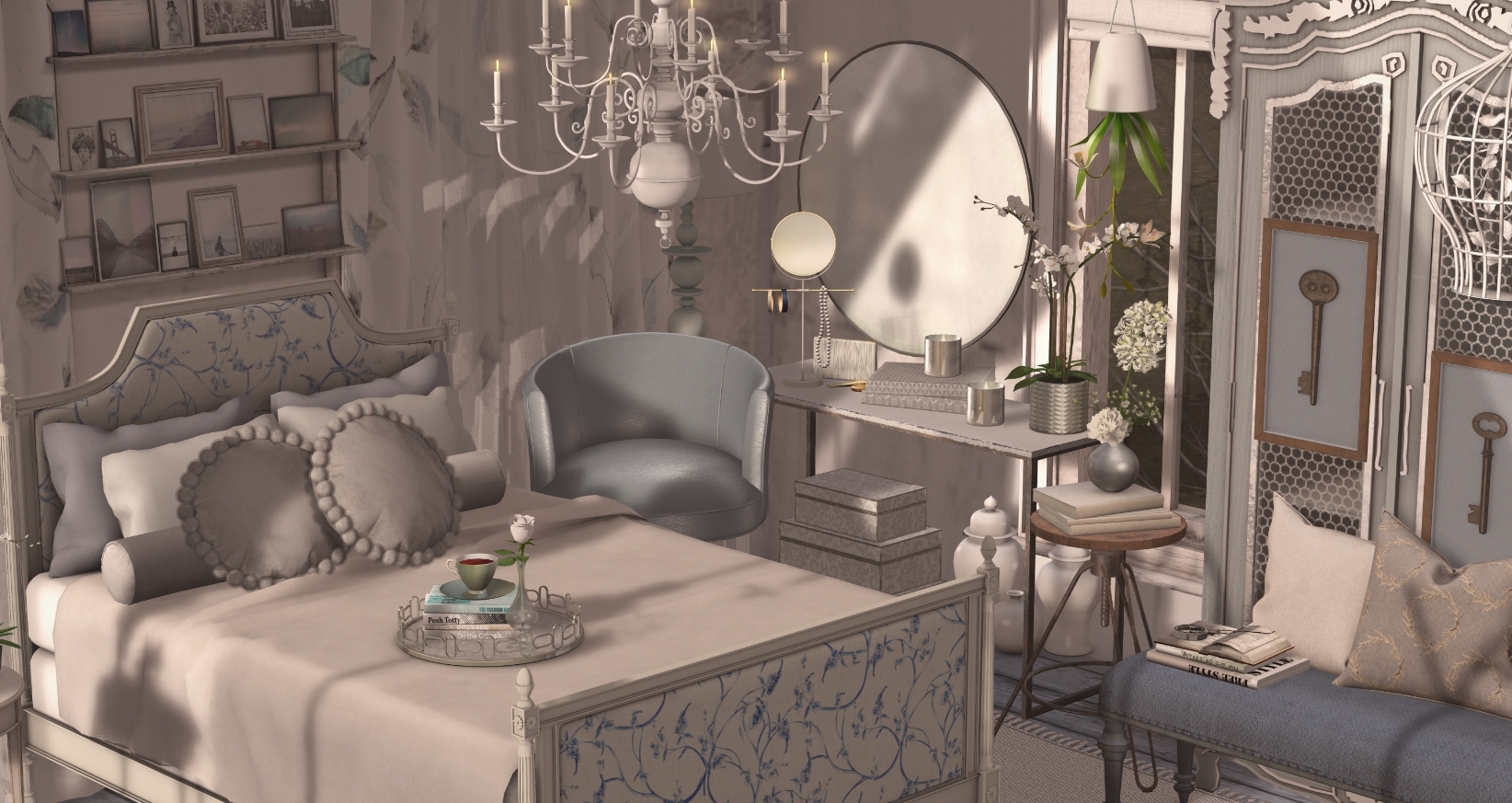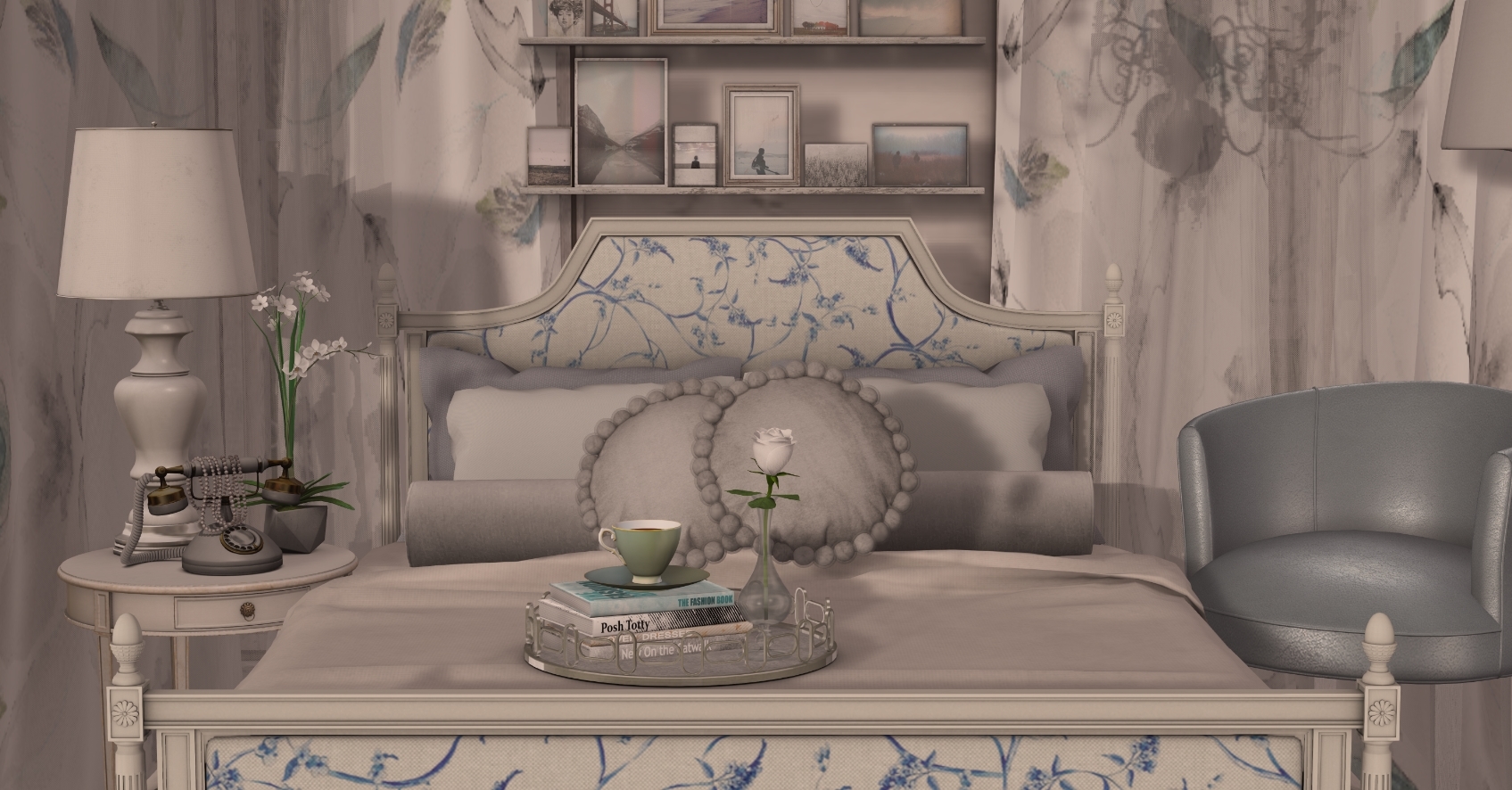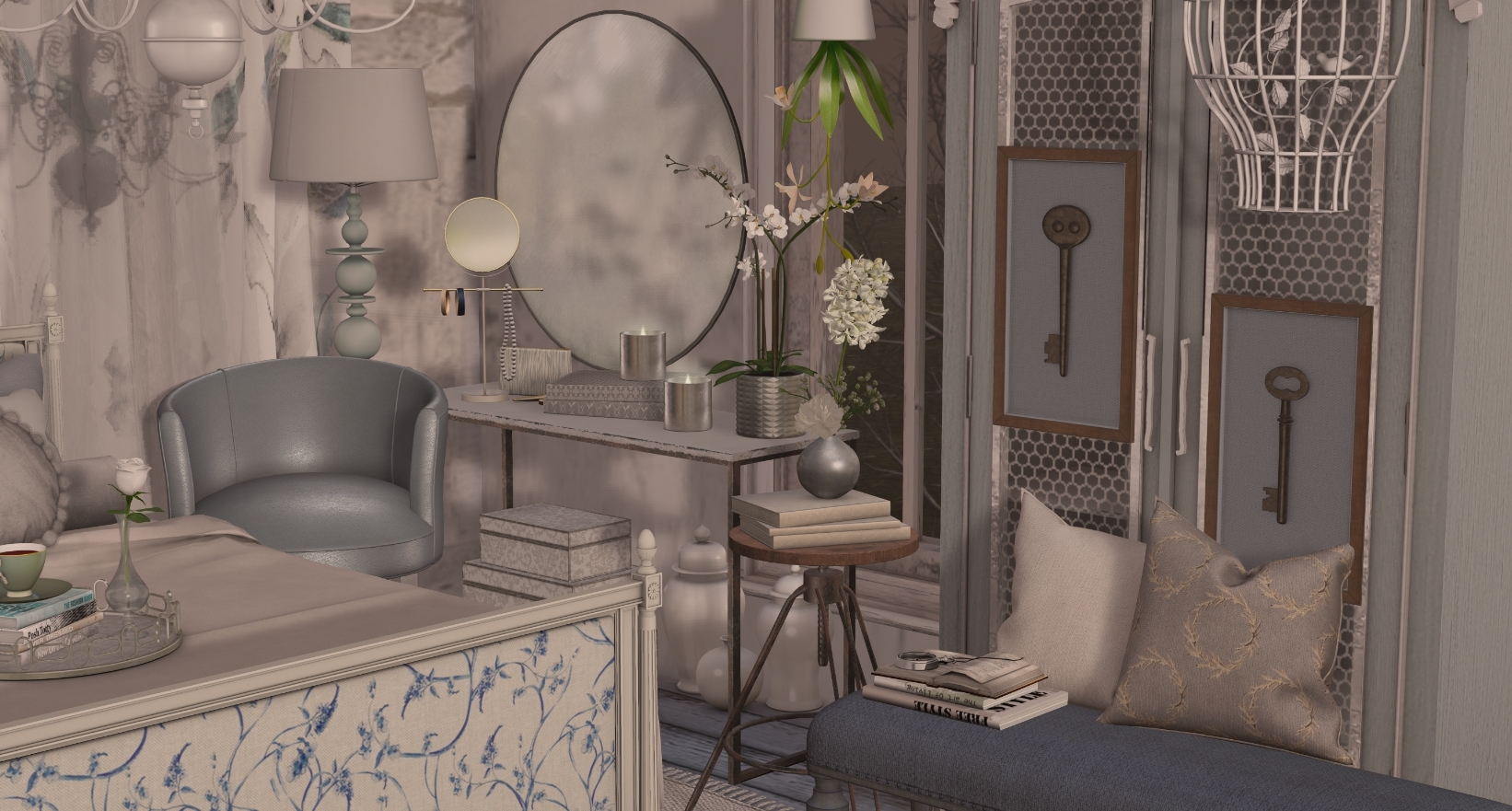 ---
*Fancy Decor: Cavalieri Bed (fl) | FaMESHed
*Fancy Decor: Cavalieri Side Table | FaMESHed
*Fancy Decor: Ceramic Lamp (White/Silver) | FaMESHed

*ARIA – Serena Book Pile | Uber
*ARIA – Serena Candle | Uber
*ARIA – Serena Potted Orchid | Uber
*ARIA – Serena Mirror| Uber
*Scarlet Creative Frost Chapel | Luxe Box December
---
*The Loft – Nolan Pillows | Past FaMESHed
*The Loft – Nolan Entryway Bench (modified) Past FaMESHed
*The Loft – Antique Key Shadow Box E Past FaMESHed
*The Loft– Antique Key Shadow Box A Past FaMESHed
---
*[ARIA] Bella Mirror & Makeup Bag
*[ARIA] Bella Vanity Jewelry Boxes
*[ARIA] Bella Book Pile
*[ARIA] Bella Vase With A Rose
*[ARIA] Bella Teacup
*[ARIA] – Sunday Morning Decorative Stool – RARE
*[ARIA] Savannah Roman Blinds
*[ARIA] Veronica Potted Narcissus Papyraceus
*The Loft & Aria – Lainey Rug
*The Loft & Aria – Lainey Vanity Chair
*Scarlet Creative – The Arcade: Venice Wardrobe Blue
*Scarlet Creative – The Arcade: Venice Curtains Blue
*brocante. bauble lamp / seafoam
*-David Heather-Pearl Phone/Gray
*06 Fancy Decor: Ceramic Jars
Bazar Toronto-Living room books
Bazar Traveler-Book&Clock
Cherry House {{C.H}}-No.11 – Ivory white – cage decoration
PLAAKA SKYPLANTER WhiteOrchid
Fancy Decor: Classic Chandelier (white)
Fancy Decor: Orchidaceae (white)
:HAIKEI: Picture Frames And Shelves -White Wood
The Loft – Linked Tray Silver