Naughty kitten one two three, staring at the Christmas tree? Or the cupcakes, or the shinies, is your curiosity a climbing?
The Hextraordinary Nope Cats.. lets give them a round of applause lol. And you can win your very own at the December Arcade Gacha Event. Also in today's scene of the day, are wares from the current DecoCrate subscription box, a nice hair-did from Moon, which is in the November LuxeBox subscription box. You still have a few hours left to sign up for the December LuxeBox by the way.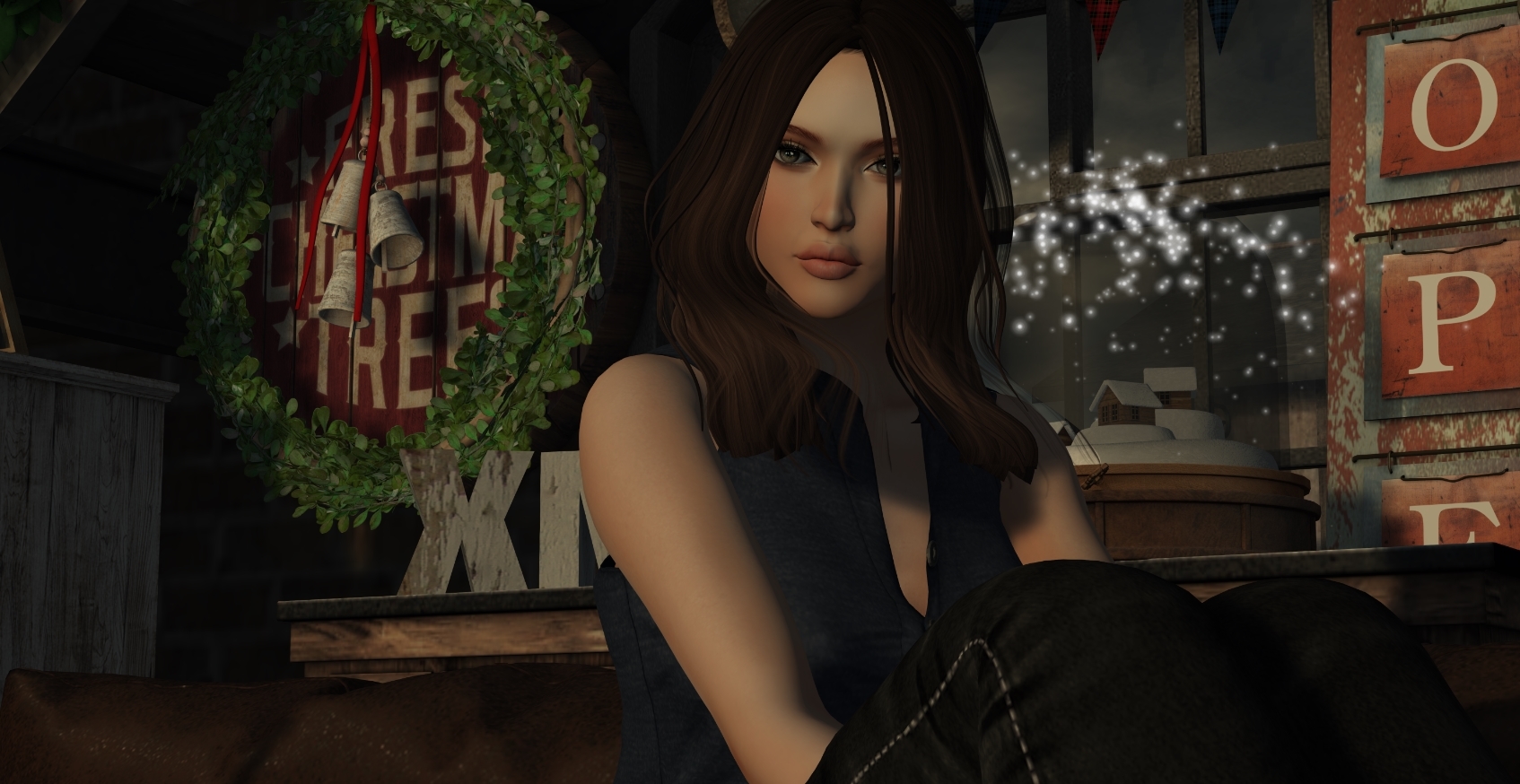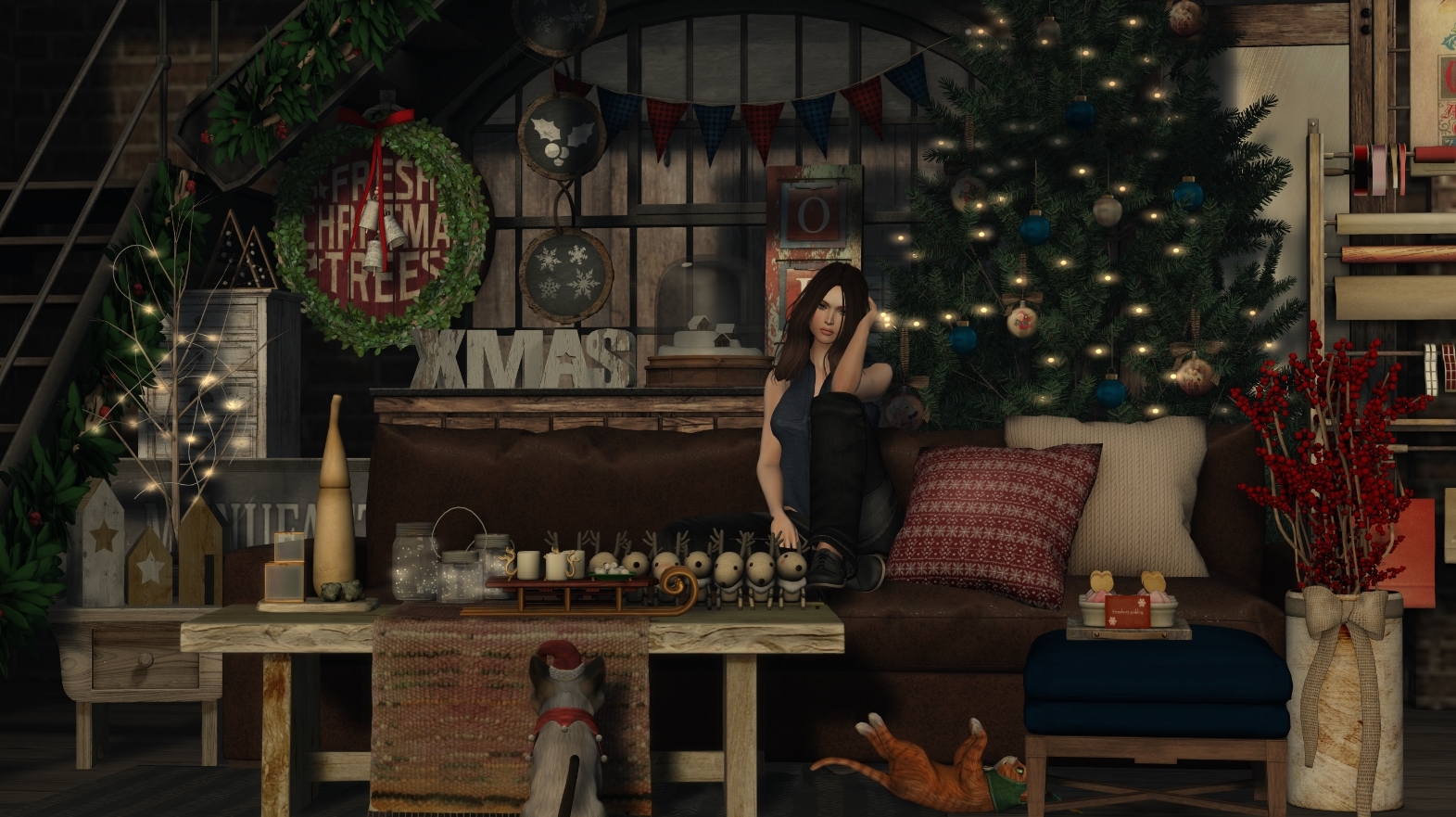 Lots of goodies still around at various events, and we're still early enough to grab some decorating ideas for the season, so do peruse the credits below and if you need a shopping buddy, hit me up in-world!
---
*NOMAD // Workshop | DecoCrate Winter's Nostalgia
*Ariskea {Winter Nostalgia} Mirtille Plant| DecoCrate Winter's Nostalgia
*Ariskea {Winter Nostalgia} Garland | DecoCrate Winter's Nostalgia
*MudHoney Sue Ottoman – Blue | FaMESHed
*22769 ~ [bauwerk] Christmas Houses – COMMON | Liaison Collaborative
*22769 ~ [bauwerk] XMAS Sign – COMMON  | Liaison Collaborative
*22769 ~ [bauwerk] Winter Village – RARE  | Liaison Collaborative
---
*8 – DRD – Winter Wendyland – Holiday Smile – Ornament | Tannenbaum Holiday Market
*6 – DRD – Winter Wendyland – Cute Kiss – Ornament  | Tannenbaum Holiday Market
*12 – DRD – Winter Wendyland – Smell a Cookie – Ornament   | Tannenbaum Holiday Market
*[Fetch] Wooden Ornaments – Mistletoe RARE  | Tannenbaum Holiday Market
*[Fetch] Wooden Ornaments – Snow RARE | Tannenbaum Holiday Market
*Pixel Mode – Victoria's Christmas – Table Top Tree – Lighted  | Tannenbaum Holiday Market
*Ariskea[Winter in Canada] Green Wreath | Arcade December
*Trompe Loeil – Barrel Wall Hanging | Arcade December
*Lost Junction [LJ] Chilly Cheer – Hot Chocolate Tray (Rare) | Arcade December
*11 [[RH]] HOLIDAY CAFE-Reindeers (A) | Arcade December
*18 [[RH]] HOLIDAY CAFE- Holiday Poster (Christmas) | Arcade December
*5 [[RH]] HOLIDAY CAFE-Wrapping paper shelf | Arcade December
*24 [[RH]] HOLIDAY CAFE-Sign (OPEN) | Arcade December
*YS&YS* Xmas 06 Lights Jar C | Arcade December
*YS&YS* Xmas 05 Lights Jar B  | Arcade December
*YS&YS* Xmas 05 Lights Jar A | Arcade December
*YS&YS* Xmas 03 Wooden Drawer | Arcade December
*YS&YS* Xmas 07 Tree Ball grey | Arcade December
*HEXtraordinary* Nope Cat – Cuddle Yule Tree Hat – RARE | Arcade December
*HEXtraordinary* Nope Cat – Companion Santa Hat – RARE | Arcade December
PLAAKA OldWoodWallShelf (C) | Arcade December
PLAAKA LodgeTable | Arcade December
PLAAKA LodgeStool | Arcade December
---
*Cheeky Pea :CP: Herman Mirror
*Cheeky Pea :CP: Herman Apothecary Cabinet
*BALACLAVA!! Conrad Rug – TypeA Coal
Kalopsia – Pillows – Red/Cream
Kalopsia – Little Tree Deco
---
Wearing:
*Moon. Hair. // Shadowplay | LuxeBox November
*Vinyl – Maine Button Up Top Lara | Uber
*Vinyl -Halsey SMOKER Bootcut Jeans Maitreya | Uber
*Ingenue :: Marlene Oxford (Maitreya) :: Ebon
*Sari-Sari Comfy Poses Sit