It's called a changeover. The movie goes on, and nobody in the audience has any idea.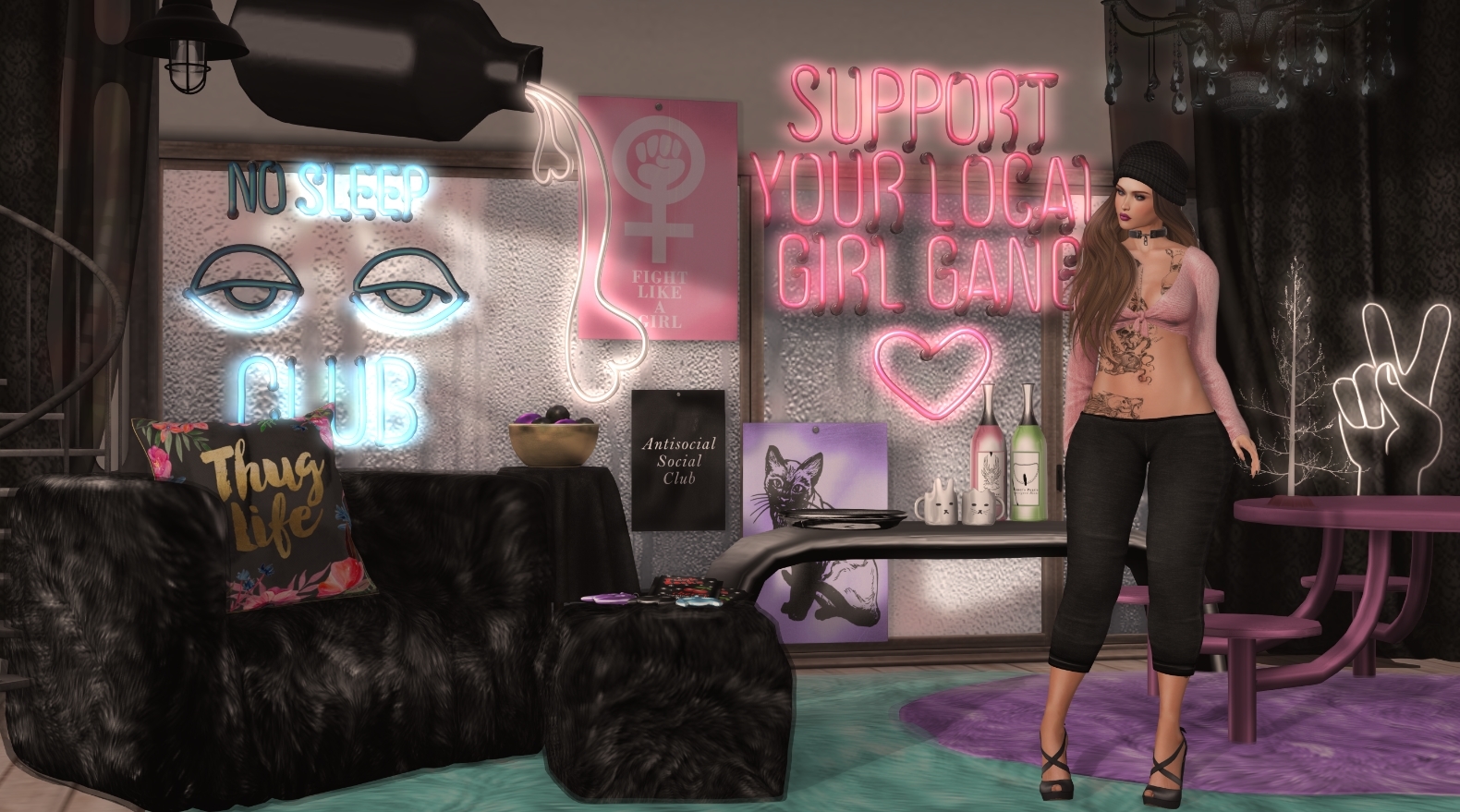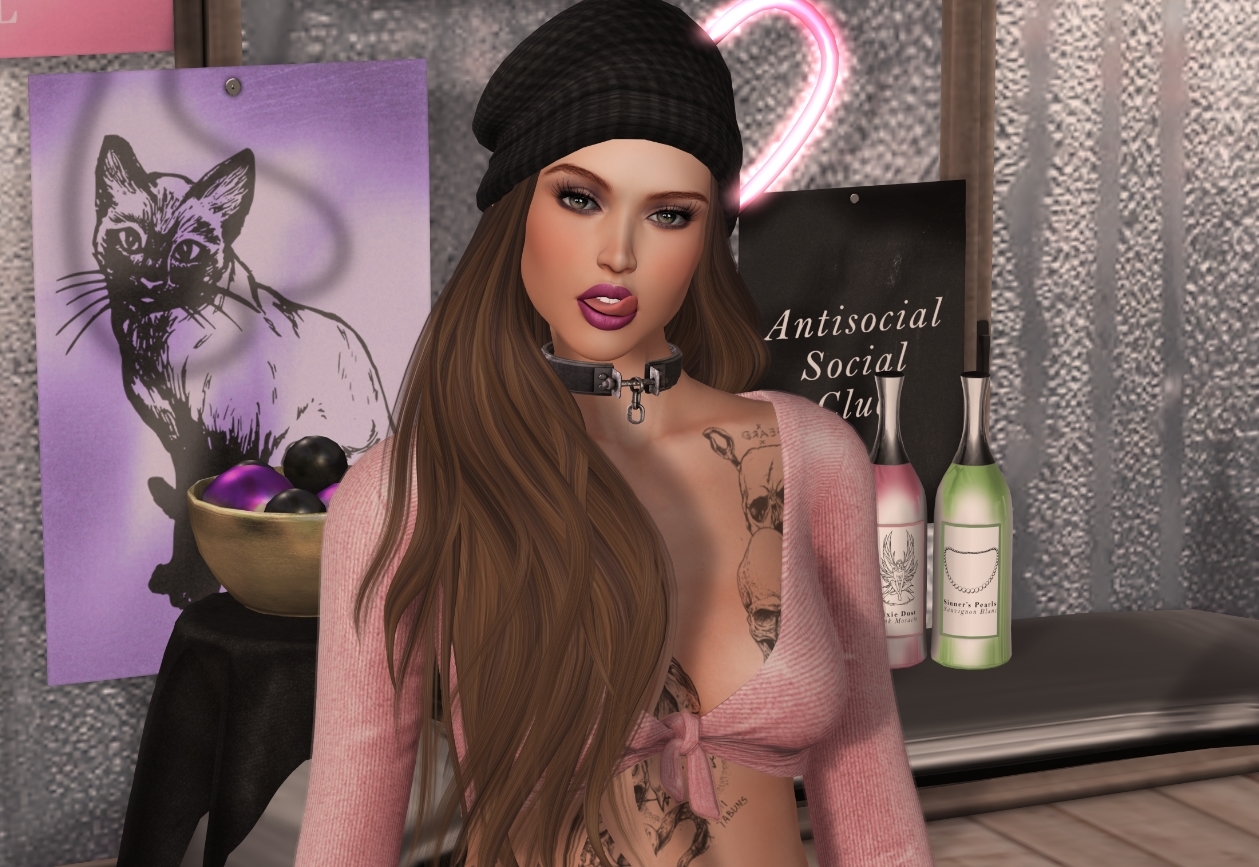 Fashion-y finds across the grid! Including Exile's Snow Fall hair did and Cerberus Xing's Yule Lord Collar, both gacha prizes found at the Arcade December Event. Also new tatts from Nivaro and a cozey lil top from Vinyl, both new releases for the upcoming Once upon a Winter Solstice at the Liaison Collaborative.
The decor is a super cute set from The Horror! which is also available as gacha prizes at the Arcade. Alright so its not a typical holiday scene, but we're all about innovation in Second Life eh?
Thank you very very muchly for continuing to drop by this ole corner of the metaverse! Questions, comments, feel free to ping me in world or message in the box below ❤
---
Wearing-
*Exile:: Snow Fall Hair | Arcade December
*Cerberus Xing [CX] Yule Lord Collar – (Silver) | Arcade December
*Ingenue :: Natala Heels (Maitreya) :: Coal | Arcade December
*Vinyl – Holly Fuzzy Sweater Lara | TLC December Coming soon
*-Nivaro- 'SkullsN'Mischief' Tattoo Omega Applier |   | TLC December Coming soon
*Vinyl – North Capri Leggings Lara
*Pose – an lar [poses] The Illa Series | TLC December Coming soon
– an lar [poses] The Ava Series
Studio Exposure S.E FOLK EYESHADOW applier (Catwa)
Studio Exposure S.E KYLIE LIPS MATTE (Catwa)
(Click here for Avatar Basics)
---
Decor –
*Cheeky Pea :CP: Alexandria Loft Conversion Skybox (modified) | DecoCrate
*Stockholm&Lima: Community Table (DanceEdition) | Draftsman
*[evoLove] – Mini Tree – Silver/Cranberry – 06| TLC December Coming soon
*[BDKX] -//- Merry Bowl 03. | Tannenbaum Holiday Market
*[BDKX] -//- Dressed Table 03.| Tannenbaum Holiday Market
*The Horror!~ Grrl Club – Fur Seat | Arcade December
*The Horror!~ Grrl Club – Fur Stool | Arcade December
*The Horror!~ Grrl Club – Fur Rug | Arcade December
*The Horror!~ Grrl Club – Peace Sign | Arcade December
*The Horror!~ Grrl Club – Girl Gang Sign | Arcade December
*The Horror!~ Grrl Club – Fight Poster | Arcade December
*The Horror!~ Grrl Club – Kitty Poster | Arcade December
*The Horror!~ Grrl Club -Antisocial Poster | Arcade December
*The Horror!~ Grrl Club – Wine | Arcade December
*The Horror!~ Grrl Club – Pizza Platter | Arcade December
*The Horror!~ Grrl Club – BB Mugs | Arcade December
*The Horror!~ Grrl Club – Bottled Love REWARD | Arcade December
*The Horror!~ Grrl Club – No Sleep Sign | Arcade December
*The Horror!~ Grrl Club – Punk Rockz Candy | Arcade December
*The Horror!~ Grrl Club – Self Defense Keychains | Arcade December
---
*05 Fancy Decor: Thug Life Pillow
[Tia] Jewelled Chandelier
[Tia] Drape Room Dividers