What a glorious day, callooh callay, we'll shop away..We're cabbages and Queens!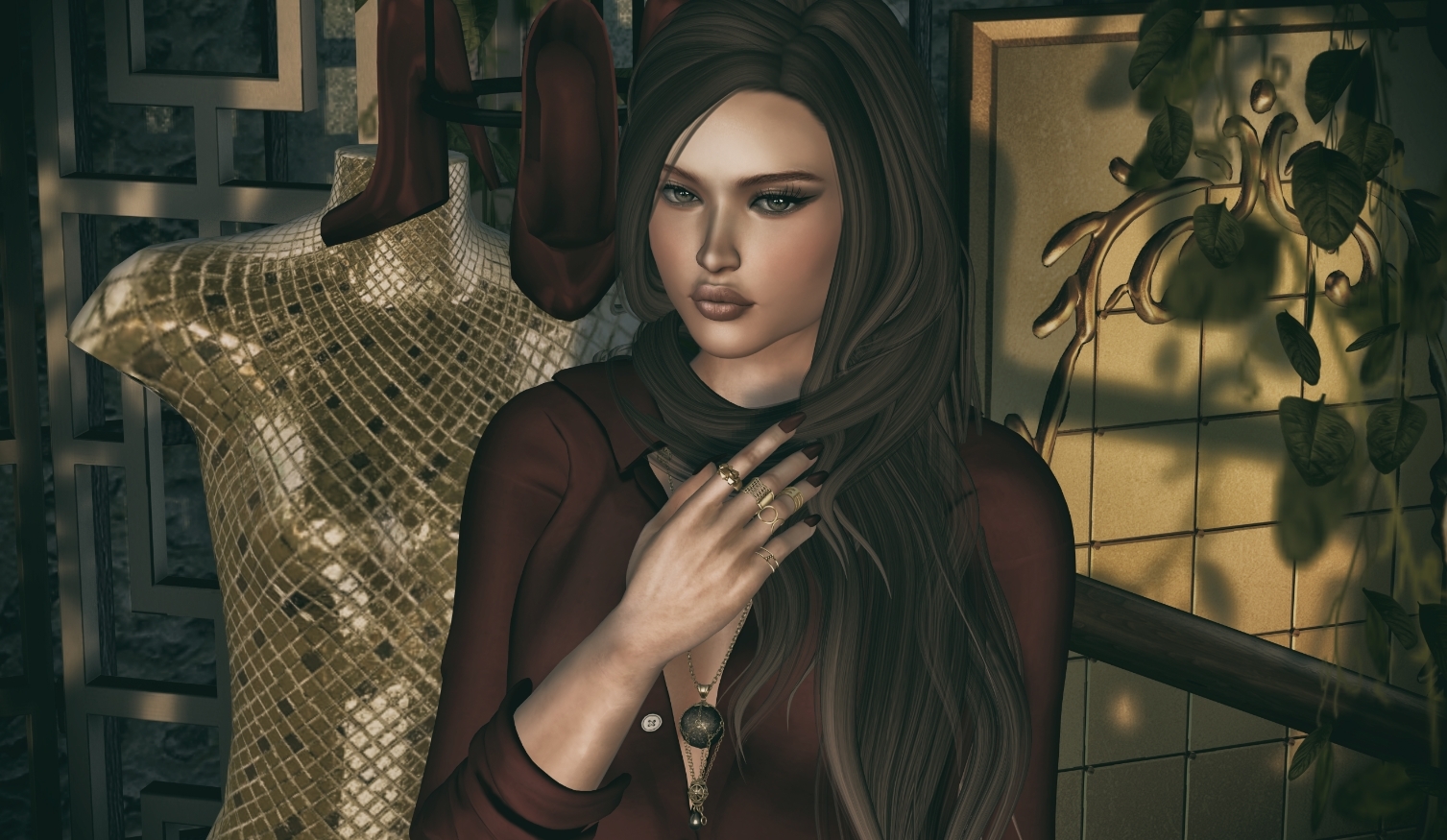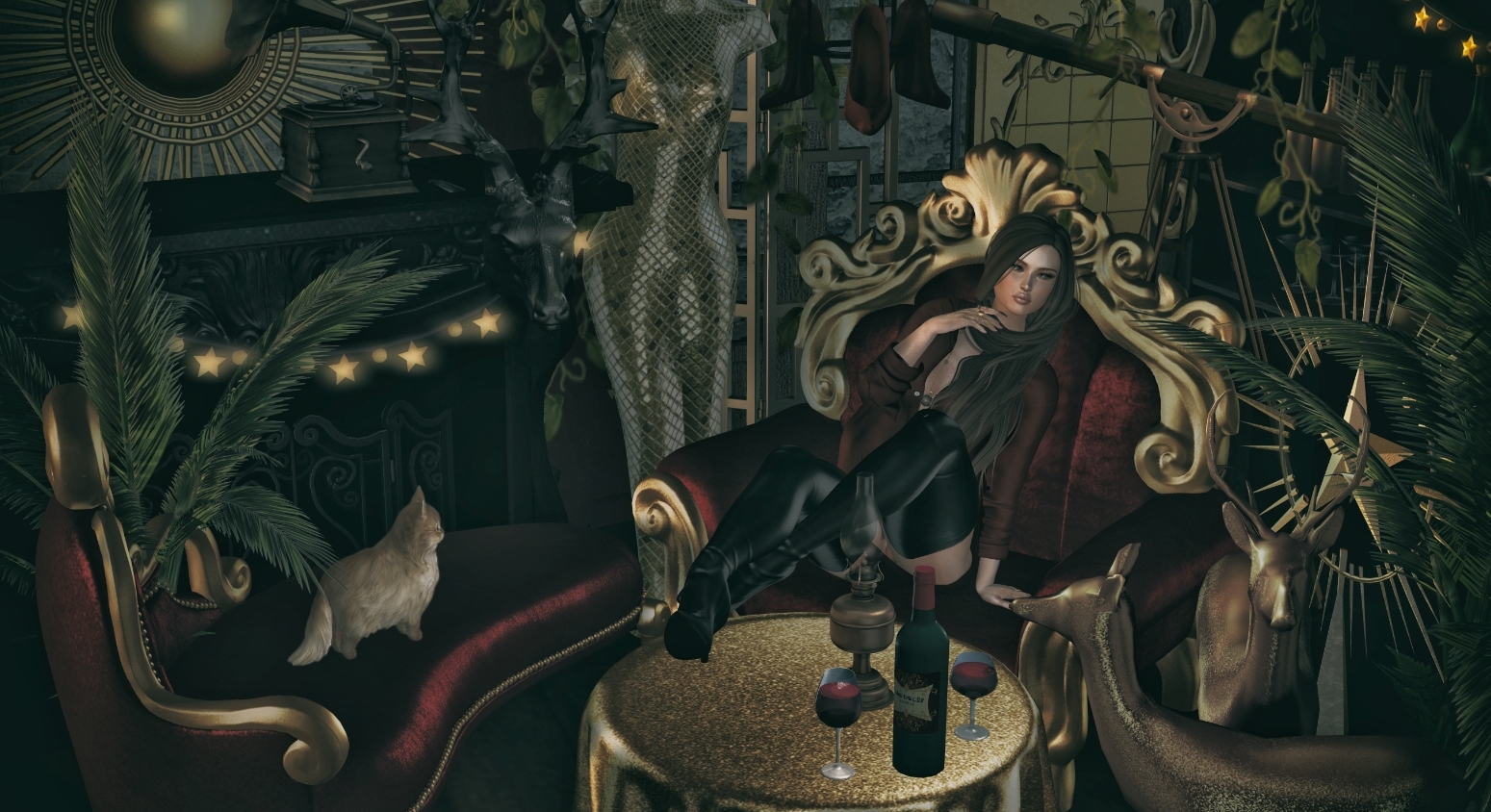 No otherwordly idea where that came from, except that I've been hell bent on listening to Lewis Carroll anything on audio lately. So you're welcome. Or else I'm really, really sorry lol.
We've made it to Sunday hear ye, hear ye. Lots more prizes to share from the Arcade and Tannenbaum, including honest to goodness fashion. And a hair-did too. On a roll here people, nothing like letting go of unnecessary baggage to free up some me time ❤
Thanks for stopping by, and I shall be in your corner cheering you on as you fight the wall of shoppers as well. Stay hydrated you sexy consumer you!
---
*NYU – My Boyfriend's Shirt | FaMESHed
*Empyrian Forge EF: Levity Necklace | Tannenbaum
*Moon. Hair. // Smother | Arcade December
*Kibitz – Mental Ring set (left & right) Rare| Arcade December
*Birdy. Cabaret – Boots -Maitreya | Arcade December
e.marie Nails Matte Red (Maitreya 20)
Studio Exposure Kylie Lips Matte (Catwa)
Studio Exposure S.E OBSESSION EYESHADOW VERS.07
Mai Bilavio Natural 1 Lash (Catwa)
---
*Warm Animations Twilight – Romantic Telescope | Draftsman
*Onedecor.::Red Wine Bottle Decor | Draftsman
---
These prizes can be won at The Arcade Gacha Event, Dec. 1st-31st!
Teleports-  Arcade Main | Arcade II | Galley Off-Sim
*Birdy. Cabaret – Loft Skybox – RARE
*Birdy. Cabaret – Corset Chair – Red Gold
*Birdy. Cabaret – Chaise Lounge – Red Gold
*Birdy. Cabaret – Gold Table
*Birdy. Cabaret – Bar RARE
*Birdy. Cabaret – Bar Decor RARE
*Birdy. Cabaret – Mirror
*Birdy. Cabaret- Princess Puss – Ginger
*Birdy. Cabaret – Fireplace –
*Birdy. Cabaret – Star string light – Gift ❤
*Birdy. Cabaret – Sun Decor
*22769 ~ [bauwerk] Porcellain Deer Head Walldecoration – black
*22769 ~ [bauwerk] Tree Topper Gold RARE
*-David Heather-Stiletto Chandelier/Red
*-David Heather-Mosaic Mannequin/Gold
*.random.Matter. – Lost & Forgotten – Oil Lamp [Copper]
*.random.Matter. – Lost & Forgotten – Gramophone – RARE
*Mon Cheri #15 MC.Holidays / Deer Figurine / Bronze
---
Other items-
Apple Fall Huge Fan Palm
*NOMAD // 06 // Gilded Gold Room Divider