There is no place too far, no pit too deep, no shadow so dark, where the pure light of love cannot reach you. One only has to receive it.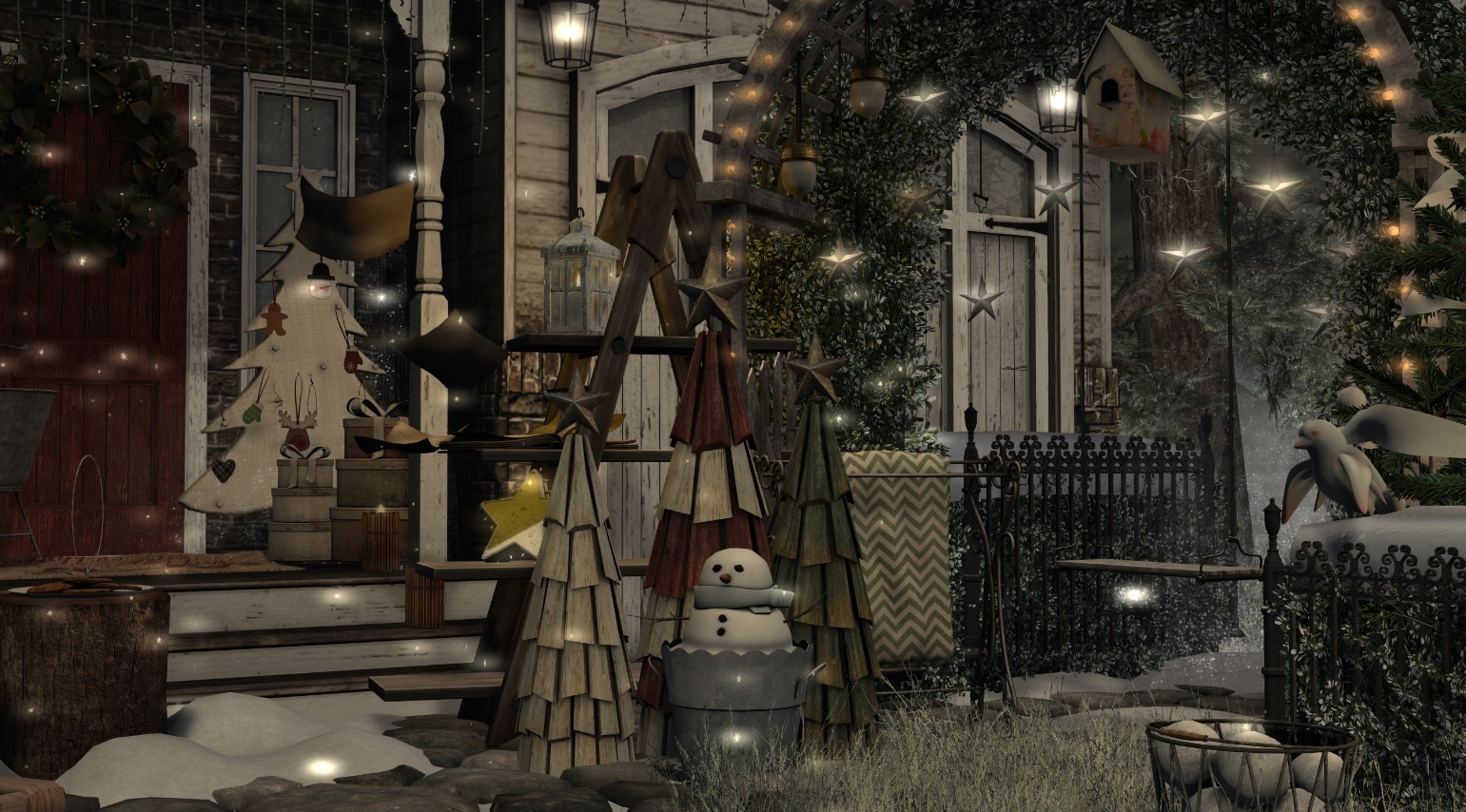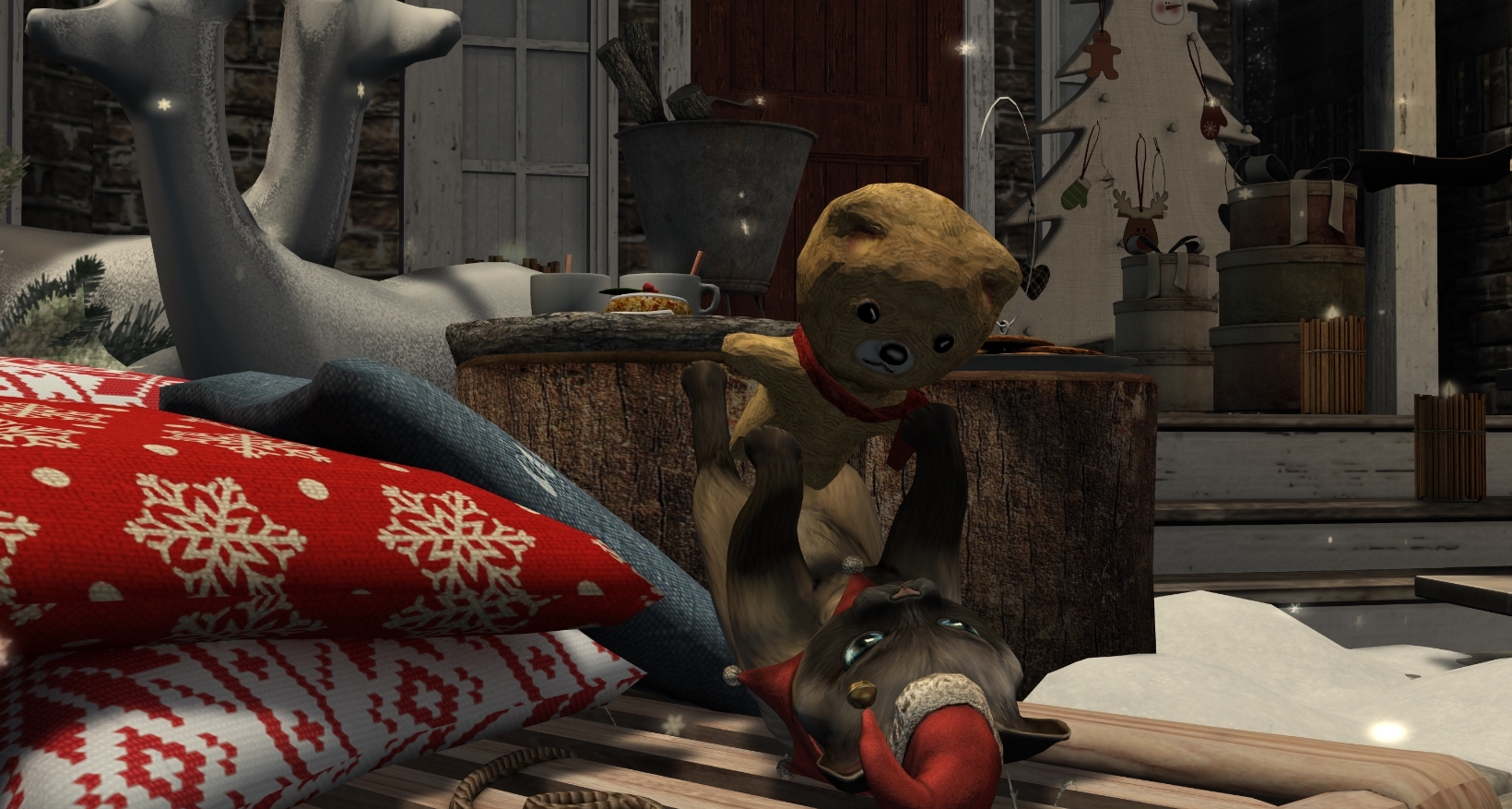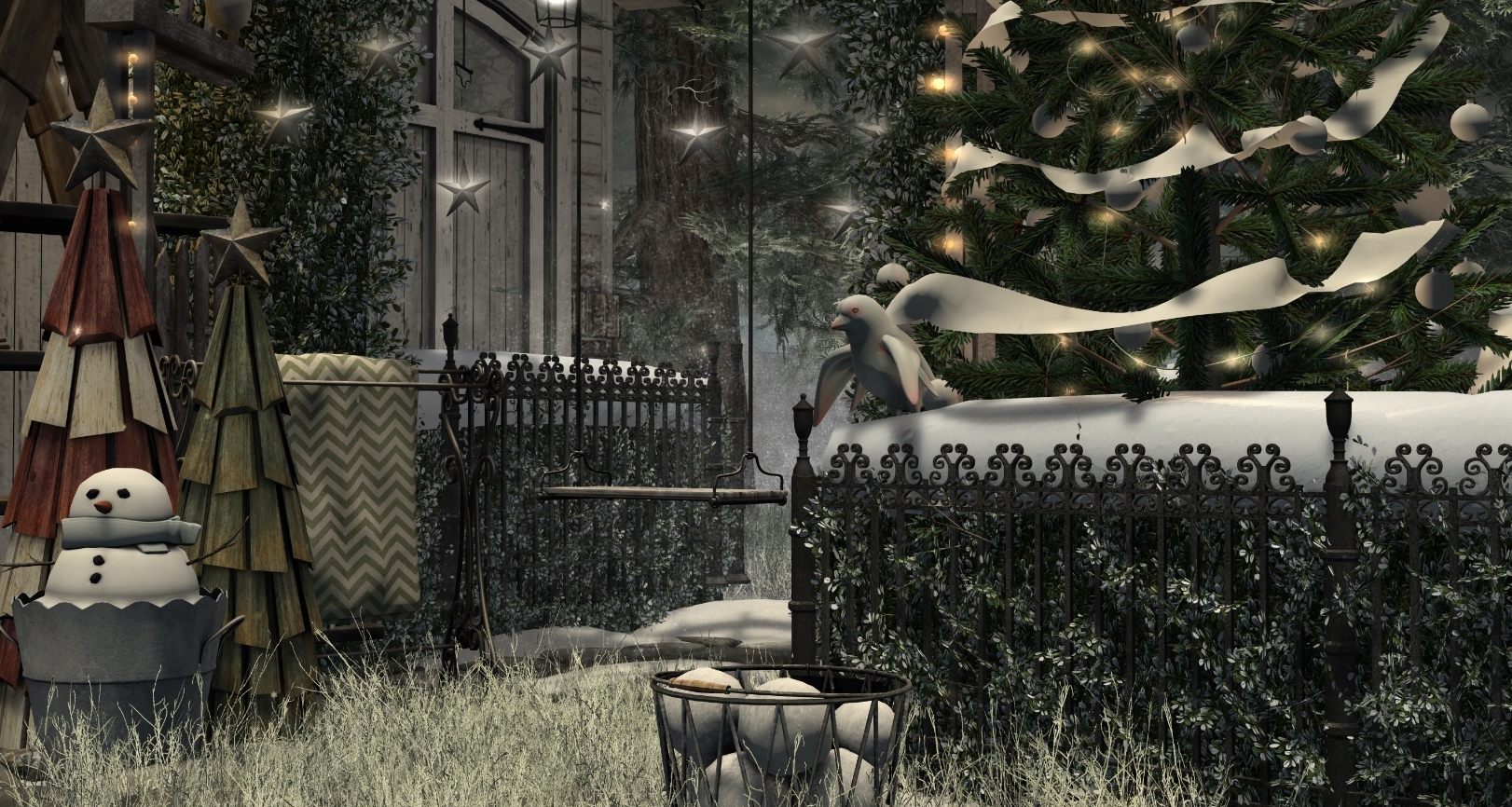 Just one quick note, Zerkalo will be participating in the Crossroads event which opens tomorrow, Dec. 3rd. There are lovely Vintage Ornaments, a holdable teddy bear and a previously released Christmas Tree that will be available, so do be sure to stop by their booth when you have a chance.
Lots of decor going around from the Arcade and Tannenbaum Holiday Market, naturally. Also Cheeky Pea has been busy with a few releases for N21 and Uber, so do peruse ye ole credits for the deetz.
We're closing in on the first weekend of Christmas (didn't know there was such a thing huh?) are ya'll excited? Let me know if you have any questions or ping me in world ❤
---
*Cheeky Pea :CP: Snowy Arbour | N21
*Cheeky Pea :CP: Snowy Arbour Swing| N21
*Cheeky Pea :CP: Hugge Shelves | Uber
*.random.Matter. – Book of Sorrows | DecoCrate
*[ zerkalo ] Vintage Teddybear | Crossroads Opening Dec. 3rd
*[ zerkalo ] Shiny Shabby Christmas Tree (old release) | Crossroads Opening Dec. 3rd
---
These prizes can be won at The Arcade Gacha Event, Dec. 1st-31st!
Teleports-  Arcade Main | Arcade II | Galley Off-Sim
*hive // hanging lights | Arcade
*hive // wooden christmas tree [white]
*hive // wooden christmas tree [striped]
*hive // wooden christmas tree [green]
*hive // holiday quilt rack [chevron]
*hive // snowman pail
*hive // holly's hat boxes [festive]
*hive // holly's hat boxes [neutral]
*hive // cinnamon stick candle
*hive // wall planter
*hive // holly's home RARE
*Ariskea[Winter in Canada] Tobogan Pillow | Arcade
*Ariskea[Winter in Canada] Exterior Light
*Ariskea[Winter in Canada] Cappucino & Fruitcake
*Ariskea{Winter in Canada} Tree Stump
*Ariskea[Winter in Canada] Shining Stars
*Ariskea[Winter in Canada] Northern Lantern
*DISORDERLY. / XMAS TREATS / COOKIE PLATE / CHOCO CHIP
*Fawny – Metamorphosis.Bird – Standing Decor – Pure
**HEXtraordinary* Nope Cat – Cuddle Santa Hat – RARE
*Kalopsia – Gabriel's Snowballs Basket
*Kalopsia – Gabriel's Wreath
*Mon Cheri #14 MC.Holidays / Deer Figurine / Silver
*Pixel Mode – Victoria's Christmas – Tall Tree – Lighted
*Pixel Mode – Victoria's Christmas – Acorn
*Pixel Mode – Victoria's Christmas – Bird House
---
These items can be found at the Tannenbaum Holiday Market, Nov. 25-Dec 25
Teleport – http://maps.secondlife.com/secondlife/Tannenbaum/93/86/21
*{anc} snow flake field // animated
*MudHoney Wood Peg Tree
*MudHoney Wood Reindeer Ornament
*MudHoney Wood Mitten Orn – Red
*MudHoney Wood Gingerbread Orn
*MudHoney Wood Mitten Orn – Green
*MudHoney Fabric Heart Orn – 2
*MudHoney Fabric Heart Orn – 3
*MudHoney Wood Snowman Orn
---
Other Items
*Apple Fall Magnolia Leaf Wreath
*[PM]Pixel Mode – Outdoor Lights
*unKindness uK – Wrought Iron Fence Pole Black
*unKindness uK – Wrought Iron Fence Straight Black
Kalopsia – Welcome Mat – Happy Holidays
Landscaping:
*DIGS – Unadorned Christmas Tree
Botanical – Boxwood Hedges
Studio Skye Snow Formations
Stormwood ~ Cobblestone Floor
*Cube Republic Douglas Fir