"If you carry joy in your heart, you can heal any moment."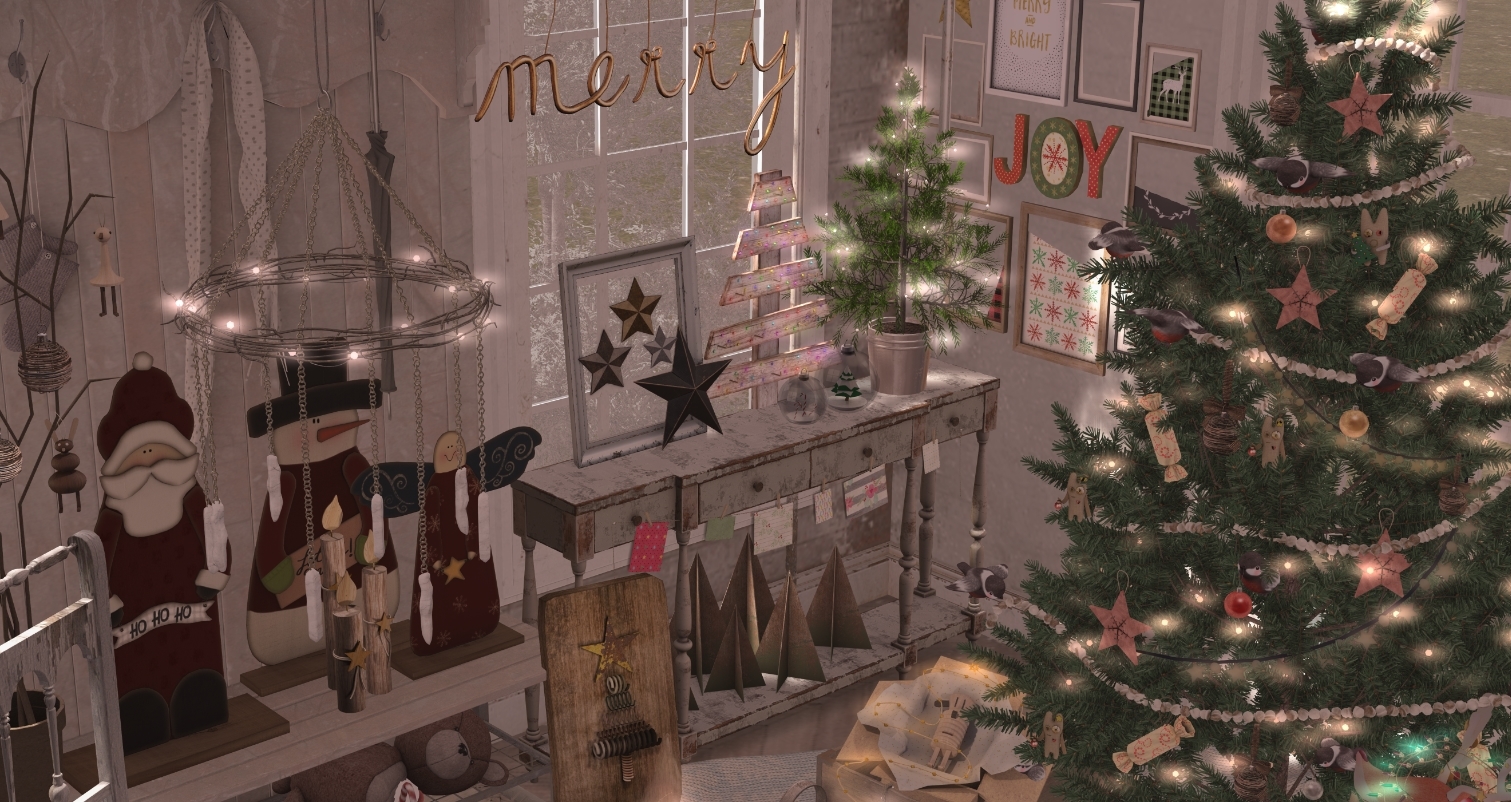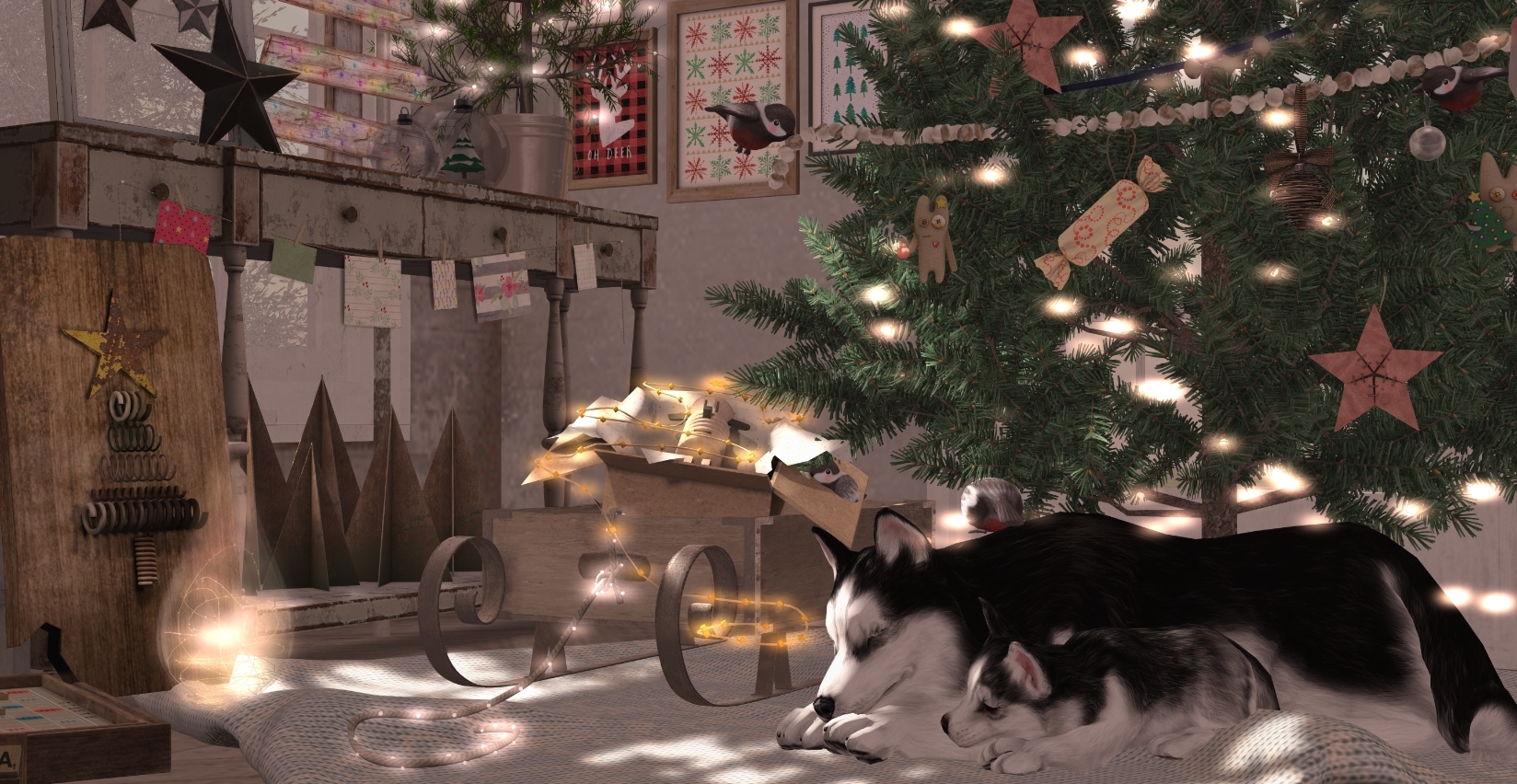 Hoorah for the shower of blessed prims! How exciting! And historic, wow. Now if I could just contain the joy in a fair amount of decor news lol.
Arcade's December round is upon us, and I've included several prizes and rares from Tarte, Jian, YS&YS, 22769 Bauwerk and more. Also don't forget to check under the Arcade Christmas Tree for the GIFTS!
Tannenbaum is also rounding up its first week and so you'll see great vintage and rustic decor and ornaments from Kalopsia, Schadenfreude, 7mad;Ravens, vespertine and more.
DecoCrate's Winter Nostalgia Box is also set to release very soon. Do check the credits for helpful links and locations of where you can subscribe.
Hope you've all been good!
---
*[Schultz Bros.] Rustic Entryway – Rainy Day | DecoCrate November
*{anc} in the rain drop lamp / ground 1Li {gold} | DecoCrate November

---
*tarte. upcycled terrace (pearl) | Collabor88
---
*7mad;Ravens Rustic Christmas Tree Board | Tannenbaum Holiday Market
*7mad;Ravens Rustic Candle Logs  | Tannenbaum Holiday Market
*22769 ~ [bauwerk] Porcellain Deer Head Walldecoration – white  | Tannenbaum Holiday Market
*22769 ~ [bauwerk] Landhaus Chair Distressed White  | Tannenbaum Holiday Market
*22769 ~ [bauwerk] Winter Tree Globe Common  | Tannenbaum Holiday Market
*22769 ~ [bauwerk] Candy Cane Globe Common  | Tannenbaum Holiday Market
*22769 ~ [bauwerk] Babble Game  | Tannenbaum Holiday Market
*ARIA -Nicola Console Table  | Tannenbaum Holiday Market
*ARIA -Nicola Decorative Star And Frame  | Tannenbaum Holiday Market
*ARIA -Nicola Plywood Trees  | Tannenbaum Holiday Market
*Concept} 03.WoodenToys. Elephant  | Tannenbaum Holiday Market
*Concept} 04.WoodenToys. Rabit  | Tannenbaum Holiday Market
*Concept} 05.WoodenToys. Duck  | Tannenbaum Holiday Market
*Concept} 06.WoodenToys. Bird  | Tannenbaum Holiday Market
*Concept} 08.WoodenToys. Christmas box – RARE  | Tannenbaum Holiday Market
*D-LAB reindeer3 (No Animation)  | Tannenbaum Holiday Market
*Kalopsia – Carol's Candy Long – White  | Tannenbaum Holiday Market
*Kalopsia – Carol's Star – Red  | Tannenbaum Holiday Market
*MudHoney Wood Santa Stand  | Tannenbaum Holiday Market
*MudHoney Wood Snowman Stand  | Tannenbaum Holiday Market
*MudHoney Wood Angel Stand  | Tannenbaum Holiday Market
*tarte. crate sled – natural w lights  | Tannenbaum Holiday Market
*Schadenfreude Popcorn Garland Decorating Birdies RARE | Tannenbaum Holiday Market
*Schadenfreude Flying Copper Ornament Decorating Birdie | Tannenbaum Holiday Market
*Schadenfreude Perched Red Ornament Decorating Birdie | Tannenbaum Holiday Market
*Schadenfreude Flying Silver Ornament Decorating Birdie | Tannenbaum Holiday Market
*Toiz. Noel jar lamp | Tannenbaum Holiday Market
*{what next} Christmas Wall Collage 2 | Tannenbaum Holiday Market
*{vespertine}- gilded door sign / merry /gold | Tannenbaum Holiday Market
*Botanical – Douglas Fir Christmas Tree for Tannenbaum | Tannenbaum Holiday Market
*1 – DRD – Winter Wendyland – Twiggy Bow – Ornament | Tannenbaum Holiday Market
*2 – DRD – Winter Wendyland – Twiggy Ball – Ornament   | Tannenbaum Holiday Market
---
*Birdy. Cabaret – Star string light – GIFT | Coming soon to Arcade Dec. 1
*[Atomic] Christmas Crown – White Lights GIFT | Coming soon to Arcade Dec. 1
*22769 ~ [bauwerk] No Place Like Home – Season of Giving GIFT | Coming soon to Arcade Dec. 1
*<:*BoOgErS*:> Poor Abandoned Bear GIFT | Coming soon to Arcade Dec. 1
*:::ChicChica::: Garland Necklace GIFT | Coming soon to Arcade Dec. 1
*JIAN Sleeping Husky GIFT | Coming soon to Arcade Dec. 1
*Pixel Mode – Victoria's Christmas – Love Birds RARE | Coming soon to Arcade Dec. 1
*Pixel Mode – Victoria's Christmas – Presents | Coming soon to Arcade Dec. 1
*YS&YS* Xmas 01 Wooden Tree RARE | Coming soon to Arcade Dec. 1
*YS&YS* Xmas 09 Holdy | Coming soon to Arcade Dec. 1
*YS&YS* Xmas 12 Hoptree | Coming soon to Arcade Dec. 1
*tarte. tiny tree (brass) | Coming soon to Arcade Dec. 1
*tarte. polished stone light (gold) | Coming soon to Arcade Dec. 1
*tarte. worn nightstand | Coming soon to Arcade Dec. 1
*tarte. holiday card garland | Coming soon to Arcade Dec. 1
*tarte. knit rug | Coming soon to Arcade Dec. 1
*tarte. ivory bed bench | Coming soon to Arcade Dec. 1
*tarte. winter cottage RARE | Coming soon to Arcade Dec. 1
---
Apt B // A Cozy Place To Sit – Branches
Apt B // Country Living Stars
*[PM]Pixel Mode – Landscape Lights – Holiday Tree