To celebrate all things ghoulish and gory, we've decided to add a little fun to our blogging story! A Halloween Give-Away for the ones who dare enter, to answer a riddle and win thereafter!
Did I pique your interest? Ya know, that whole two lines took me an hour and glass of chardonnay, to come up with, but this, oh blogger buddy, oh faithful lurker, is why we do, what we do, when we do, because we're due.
Before I scratch out the details for the give-away, here are more up-closers of today's scene in the nud, errrr raw. Credits and links are listed below, so do scour with used toothbrushes if you dare.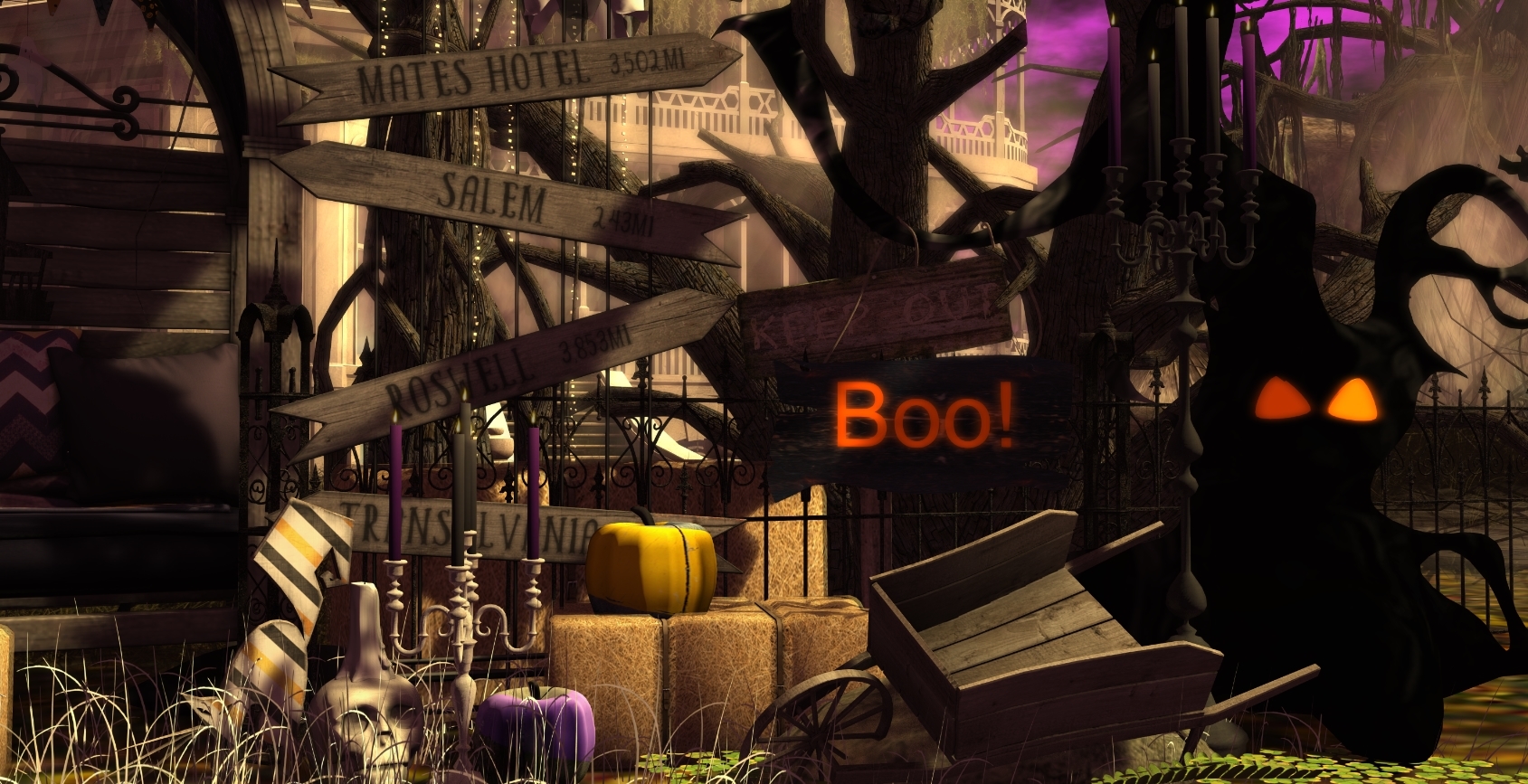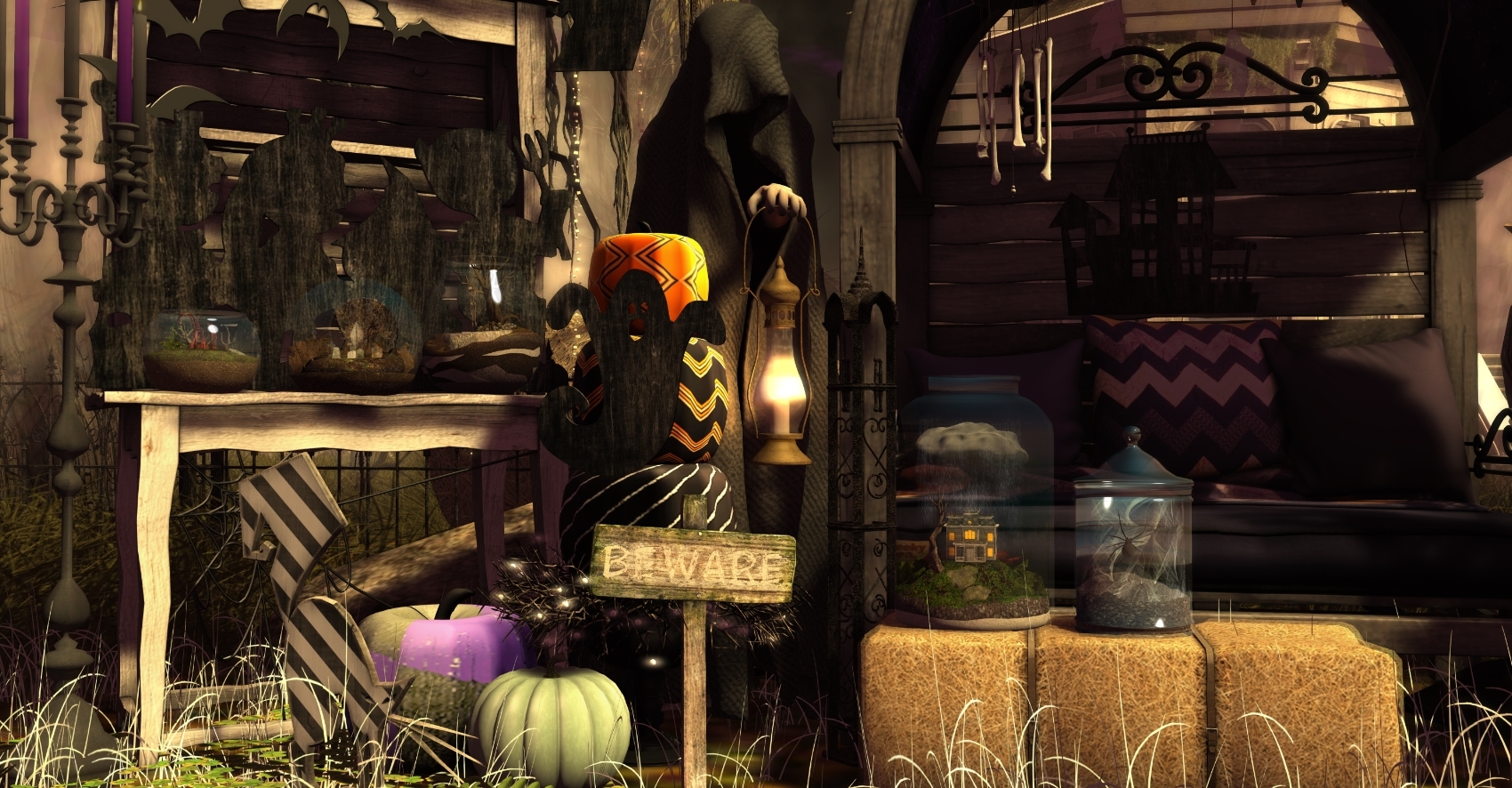 If you have ever been to Cheeky Pea around this time of the year, you'll find that there are dozens of themed sets that are fun to mix and match, for any seasonal decor. This particular set is available at the current round of Uber, and so I thought it'd be fun to have a small give-away.
I have 2 Cheeky Pea Gift-Cards that are worth 1000L$ and 500L$. Two lucky winners will win these and an additional MYSTERY Prize worth 5000L$.
To enter, all you have to do is drop a few lines in the comment section of this post, telling me what is your favorite set from Cheeky Pea. It can be a singular item, or the name of an entire series, as long as it is still available to purchase.
On Wednesday, October 12th, I'll be entering your names in a Random Selector and will announce the winners on the Cozey Facebook Page as well as that day's blog post. Don't forget to jot down your SL Name so I can find you!
Questions? Comments? Yes to the comments, hah. Here are some links to check out should you need them:
Cheeky Pea Website – http://cheekypeasl.com/
Cheeky Pea Facebook – https://www.facebook.com/cheekypeasl/
Cheeky Pea Flickr – https://www.flickr.com/photos/cheekypea/
Cheeky Pea Main Store – http://maps.secondlife.com/secondlife/Cheeky%20Pea/27/133/21
Good Luck everyone!
---
*Cheeky Pea :CP: Samhuinn Arched Seat (PG) | Uber
*Cheeky Pea :CP: Samhuinn Road Marker | Uber
*Cheeky Pea :CP: Samhuinn Skully McMulder | Uber
*Cheeky Pea :CP: Samhuinn Wooden Pumpkin Orange | Uber
*Cheeky Pea :CP: Samhuinn Wooden Pumpkin Purple | Uber
*Cheeky Pea :CP: Samhuinn Wooden Kitty Stripe | Uber
*Cheeky Pea :CP: Samhuinn Wooden Kitty Mono | Uber
*Cheeky Pea :CP: Samhuinn Ghost Fire | Uber
*Cheeky Pea :CP: Samhuinn Ghost Dark | Uber
*Cheeky Pea :CP: Samhuinn Potting Bench | Uber
*Cheeky Pea :CP: Samhuinn Pumpkin Urn | Uber
*Cheeky Pea :CP: Samhuinn Bunting | Uber
*unKindness uK – Wall Creepers Hanged Man | Salem Event
*unKindness uK – Wall Creepers TrickorTreat RARE  | Salem Event
*unKindness uK – Wall Creepers Haunted House  | Salem Event
*unKindness uK – Wall Creepers Ghost   | Salem Event
*hive // bone wind chime  | Salem Event
*hive // keep out sign  | Salem Event
*hive // beware sign  | Salem Event
BALACLAVA!! Ghost Servant (Lantern)  | Salem Event
*Sway's [Eris] table candelabra . silver | The Liaison Collaborative
*Sway's [Eris] floor candelabra . black | The Liaison Collaborative
*Botanical – Scrolled Wrought Iron Post (Ornamented) | The Liaison Collaborative
*Botanical – Scrolled Wrought Iron Fence Long | The Liaison Collaborative
*Little Branch LB_Spookytree4 | The Liaison Collaborative
*Little Branch LB_creepyspooky1 | The Liaison Collaborative

*Fancy Decor: Belted Hay | Available @ Fancy Decor Pumpkin Patch
*Fancy Decor: Pumpkin B (Sage) | Available @ Fancy Decor Pumpkin Patch
*Fancy Decor: Harvest Cart | Available @ Fancy Decor Pumpkin Patch
*Newchurch :: N :: TERRORium – Arachnophobia | On9
*Newchurch :: N :: TERRORium – Spooky House RARE | On9
*Newchurch :: N :: TERRORium – Tree of Sorrow | On9
*Newchurch :: N :: TERRORium – Field of Screams | On9
*Newchurch :: N :: TERRORium – It Rises | On9
*1.Le Coq D'or – Boo! – Halloween Tree RARE | On9

---
*28.DRD Mystery mansion 2 pt2 RARE
*Cube Republic CR Stone & Plank Bridge
*Cube Republic CR Pond Plants – Duckweed & Salvinia
Stormwood: Timber Tiptoe Path