The gods of the metaverse have granted me a spare minute to indulge in playing virtual house, with these virtual goods n wares from some new kids on the decor block!
Okay new on my block, that is! This skybox loft includes a suspended staircase to the bedroom area, and as you can see, I set up camp downstairs where a living room should be. Excellent execution by the designer imo. Dubu has also teamed up with Mike Denneny (The Den) to create a variety of mesh bedroom furnishings for FaMESHed. I've included links in the credits should you need them.
And because I have a bad 'gyazo' habit, here are a couple of raw snaps from this scene. Feel free to ping me in world or comment below if you have any questions.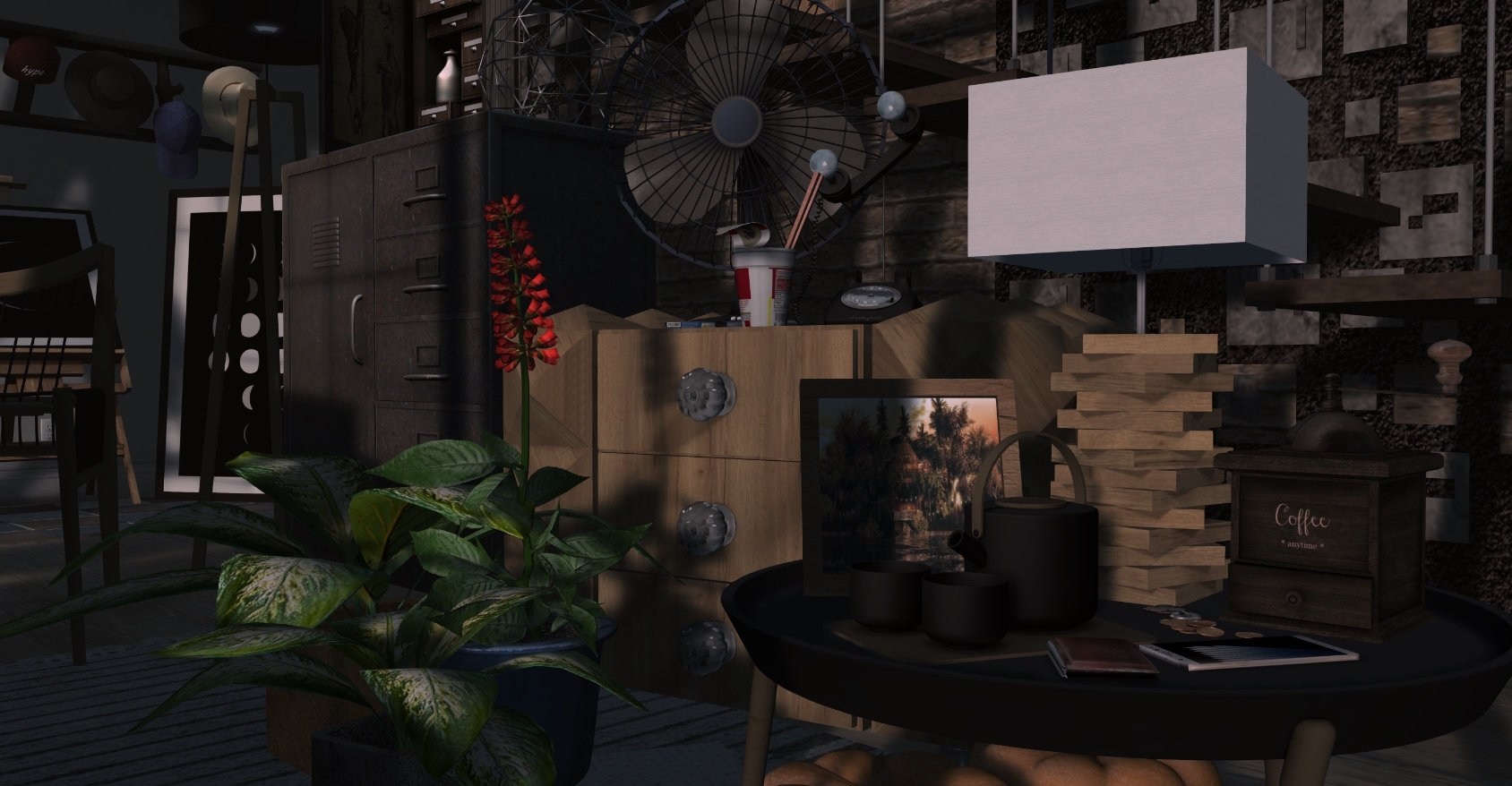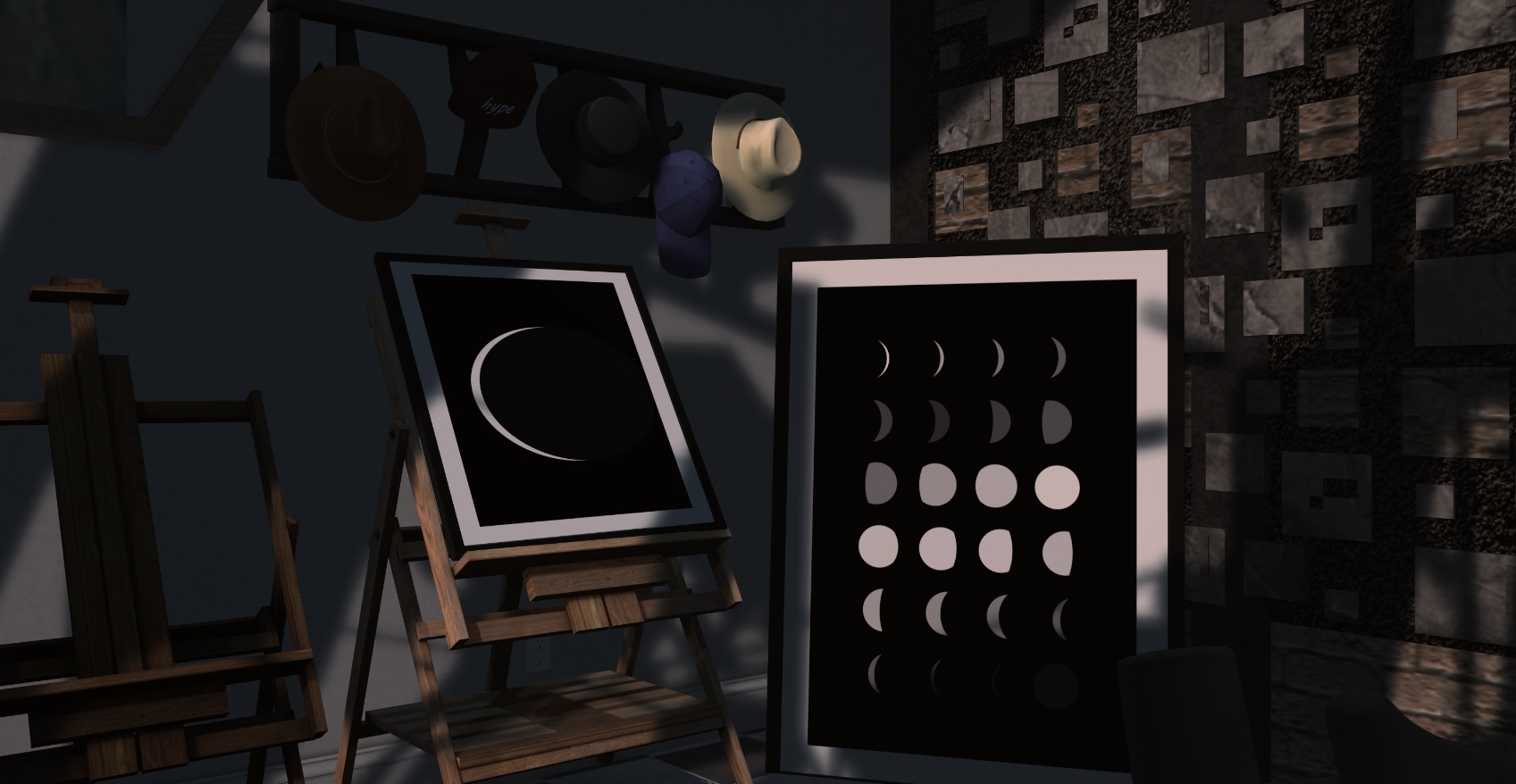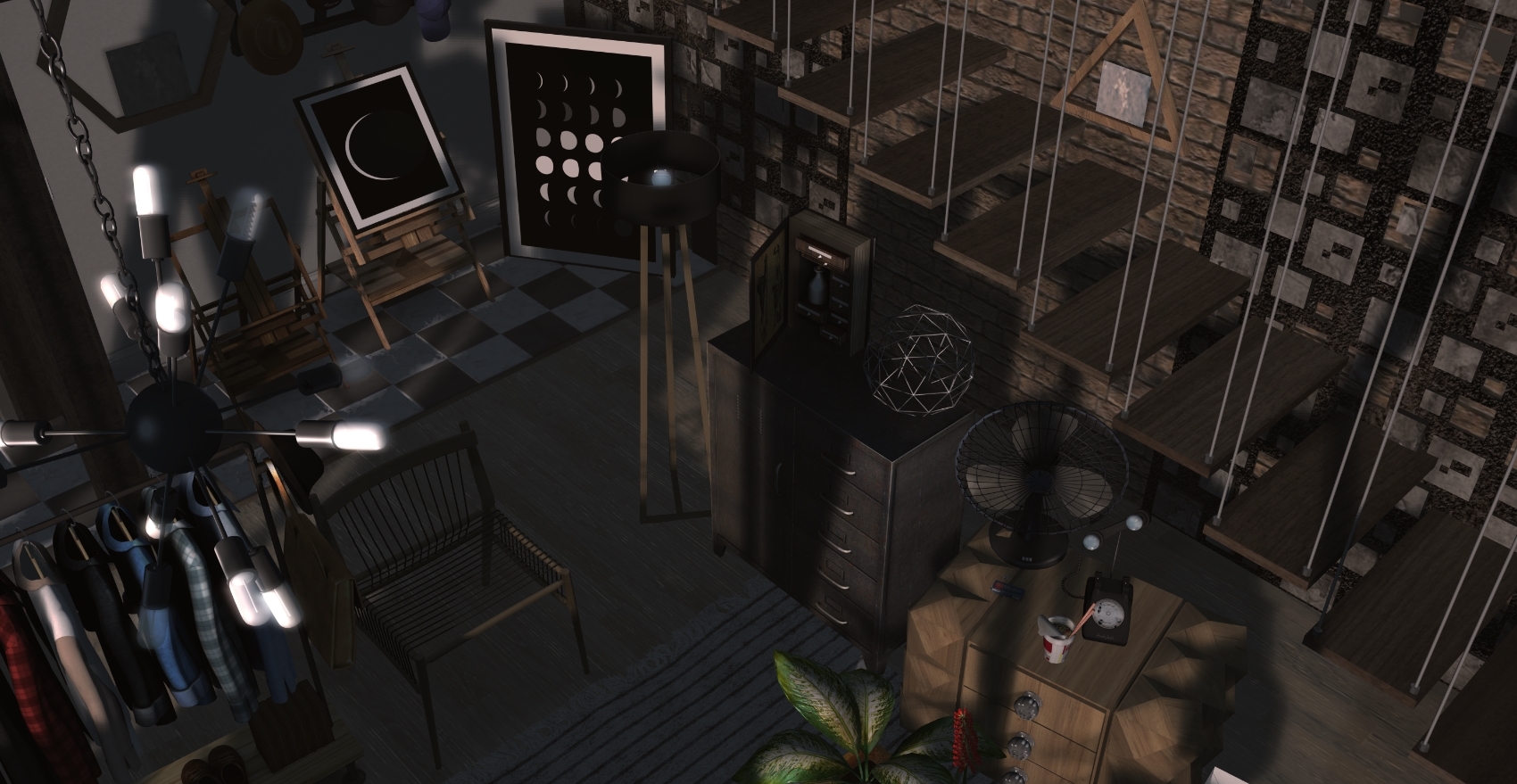 Stay dry out there!
---
*dubu. – Loft///Skybox by Tofu Asukai | SaNaRae Sept. 25-Oct. 18th
– Size: 15 x 9, Prims: 38, 100% original mesh, copy/mod (See it here)
*dubu. and THE DEN. – Enkel///Bed | FaMESHed
*dubu. and THE DEN. – Enkel///Dresser | FaMESHed
*dubu. and THE DEN. – Enkel///Square Frame | FaMESHed
*dubu. and THE DEN. – Enkel///Lamp | FaMESHed
*dubu. and THE DEN. – Enkel///Hexagon Frame  | FaMESHed
*dubu. and THE DEN. – Enkel///Triangle Frame | FaMESHed
*dubu. and THE DEN. – Enkel///Dresser Clutter/// Phone | FaMESHed
*dubu. and THE DEN. – Enkel///Dresser Clutter///Geometric Ball | FaMESHed
*dubu. and THE DEN. – Enkel///Dresser Clutter///Pumpkin | FaMESHed
*BIGBULLY Lunar Prints – Crescent | The Moon Festival, ends Oct. 14th (info here)
*BIGBULLY Lunar Prints – Cycle  | The Moon Festival, ends Oct. 14th
*BIGBULLY Clive Tea Set | Crossroads
*BIGBULLY Clive Floor Lamp | | Crossroads
*BIGBULLY Clive Chair | Crossroads
*[ dynasty ] – Black Apothecary Book | Salem Event
[ dynasty ] – Industrial Cabinet – Rustic | SaNaRae Sept. 25-Oct. 18th
*Chic Buildings [Cb] Cubed Planter and Foliage Black | On9 Oct. 9th@12pmSLT
*Chic Buildings [Cb] Cubed Planter and Foliage Rust   | On9 Oct. 9th@12pmSLT
*[Cb] Wall Cubes – Black  | On9 Oct. 9th@12pmSLT
*DIGS – Ullswater Easel – Light | Past FLF
*DIGS – Ullswater Easel – Dark | Past FLF
---
*Cheeky Pea :CP: Retro Talk Light Noir
*Serenity Style- Neva's Inspiration Coffee Grinder Linked
*Shutter Field [sf] guitar & pillows prop – grey
*Le Primitif LeP – Review Rack For Him – RARE
*Le Primitif LeP – A Metal Fan..
*Le Primitif LeP – Hat_Storage Rack
* SORGO – Noodle Soup RARE
* SORGO – Leather Wallet
* SORGO – Badges and coins
* SORGO – Pain Killers
*Sari-Sari – Of Cozy – Rug (grey stripes)
*Sari-Sari – Of Cozy – Rug (white print)
*Soy. Shitamachi Alley Garden – Potted Plant – K
*tarte. astral hanging light