Because sometimes even the dog needs to feel at home. Nothing too crazy tonight, just some lovely things from Sari-Sari for the Arcade. Check it out!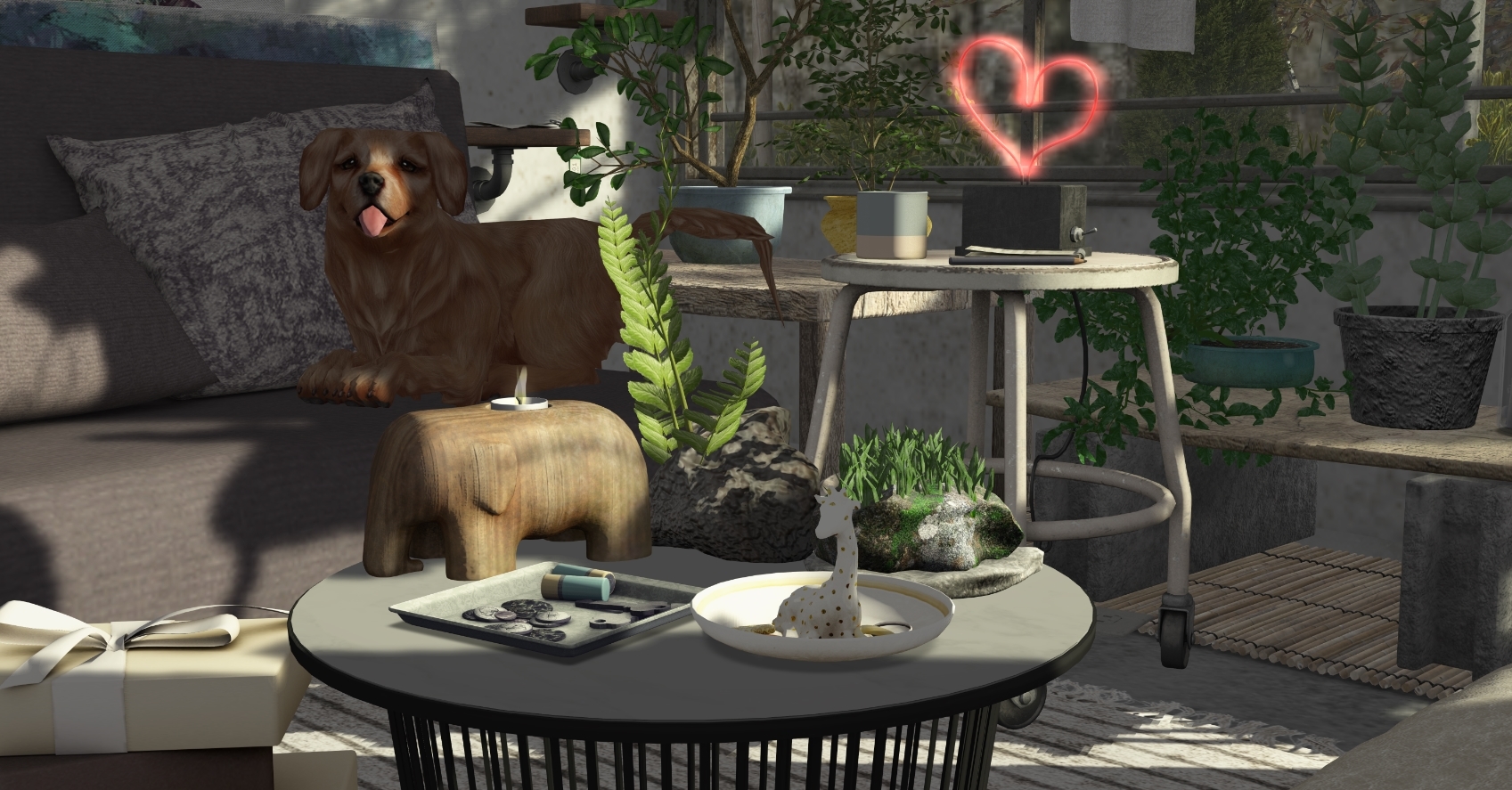 Also included as many of the SOY prizes as well from this round. How about these plants?? Supercoolfunawesome!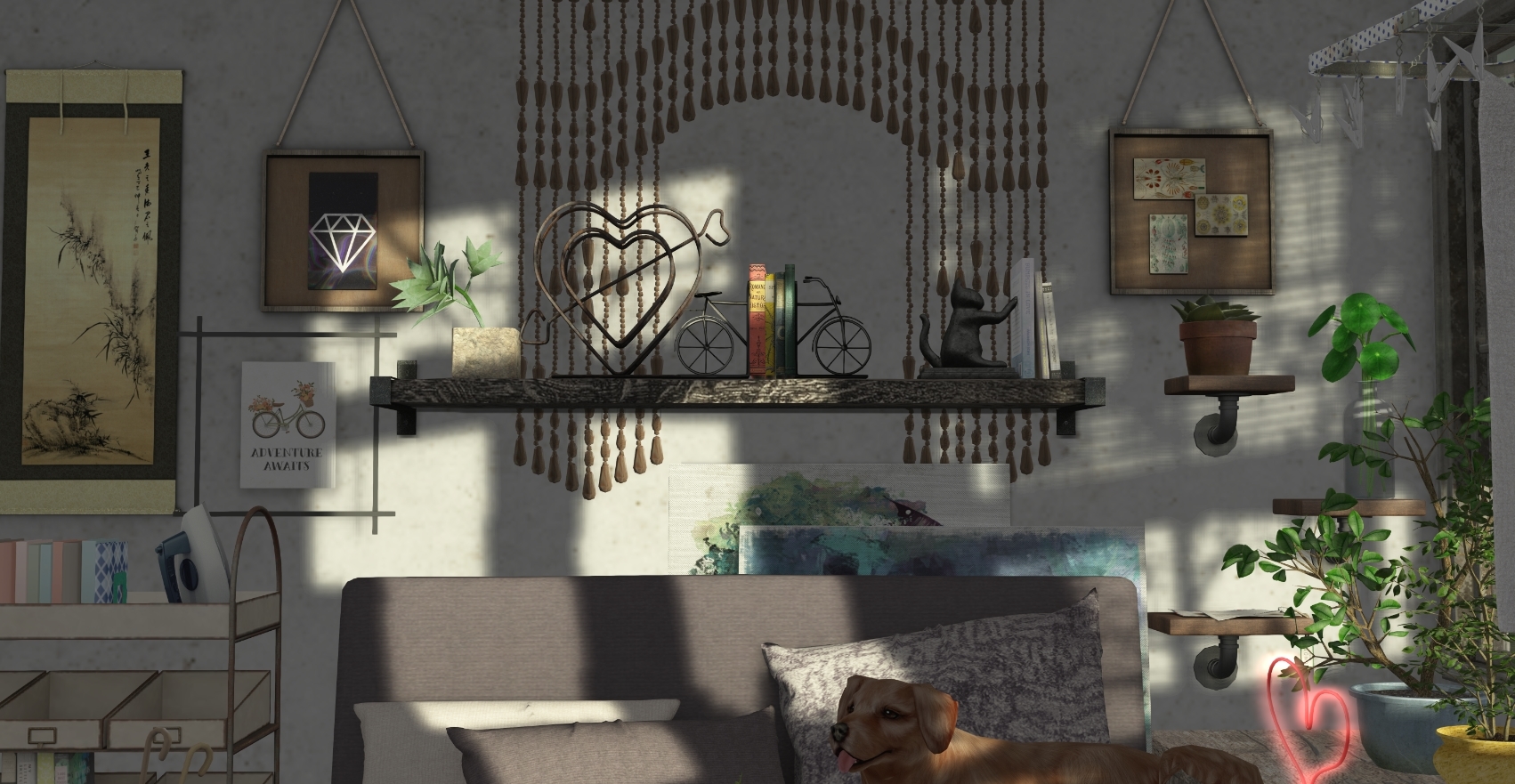 Lots more jotted down in the credits. I hope you all have a lovely weekend, there are only a few days left to shop this current round of the Arcade before the snow flies so do visit the links below.
---
*Sari-Sari – Of Cozy – Loveseat (grey) | Arcade September 2016
*Sari-Sari – Of Cozy – Rug (grey stripes)  | Arcade September 2016
*Sari-Sari – Of Cozy – Steel Pipe Shelf | Arcade September 2016
*Sari-Sari – Of Cozy – Stool Side Table  | Arcade September 2016
*Sari-Sari – Of Cozy – Elephant Candle Holder | Arcade September 2016
*Sari-Sari – Of Cozy – Cat Bookend | Arcade September 2016
*Sari-Sari – Of Cozy – Storage Shelf RARE | Arcade September 2016
*Soy. Shitamachi Alley Garden – A House In Alley | Arcade September 2016
*Soy. Shitamachi Alley Garden – Shabby Stands | Arcade September 2016
*Soy. Shitamachi Alley Garden – Potted Plant – A | Arcade September 2016
*Soy. Shitamachi Alley Garden – [Player Rewards] Plant E | Arcade September 2016
*Soy. Shitamachi Alley Garden [Player Rewards] Plant A | Arcade September 2016
*Soy. Shitamachi Alley Garden – [Player Rewards] Plant F | Arcade September 2016
*Soy. Shitamachi Alley Garden [Player Rewards] Plant B | Arcade September 2016
*Soy. Shitamachi Alley Garden [Player Rewards] Plant C | Arcade September 2016
*Soy. Shitamachi Alley Garden – Laundry Hanger | Arcade September 2016

*PLAAKA HalfFinishedNovel | Arcade September 2016
*PLAAKA 15Books | Arcade September 2016
*[[RH]] Design house 19, [[RH]] -IZAYOI- SLIPPERS RACK | Arcade September 2016
*[[RH]] Design house 20, [[RH]] -IZAYOI- KASATATE (umbrella holder) | Arcade September 2016
*Second Spaces – Laundry Day – clothes pins | Arcade September 2016
*Second Spaces – Laundry Day – pocket stuff | Arcade September 2016
*Second Spaces – Laundry Day – ironing board | Arcade September 2016
*Second Spaces – Laundry Day – old iron | Arcade September 2016
*Second Spaces – Laundry Day – rolling basket | Arcade September 2016
*JIAN Lively Labs :: Buddy Couch RARE | Arcade September 2016
*{vespertine} – poetic autumn / bibliophile bookends 5 | Arcade September 2016
---
*Stockholm&Lima:Body Pillows | ULTRA
---
*Le Primitif LeP – Review_Packages
*BIGBULLY Modern Living Gacha – Marble Coffee Table – COMMON
Apt B // SLB13 Frame 2
Apt B // SLB13 Frame 1
Kalopsia – Cecilia's Heart – Iron
Kalopsia – Emily's Trinket Dish
Kalopsia – Tamsin's Table Plant
tarte. adventure awaits tape frame poster
Soy. Wooden Beaded Curtain v2
Soy. Reed Mini Mat – Light
Soy. Reed Screen [Sudare] Light -Half rolled
junk. abstract canvas. floor.
*YS&YS* Essential Dark Shelf
8f8- serene sanctuary – Hanging Scroll