Oh but for a stroll down one of my favorite television town centers, Grandview! And all of your glorious hidden treasures, and not so glorious.
N-21 reopens for the month of July and there are some crazy good fashion and decor finds this go around. Browse with me, if you will…
I call this collage, 'Pinky with the Pink Keys'. 
This one, I shall call, "Glorious gold in golden glory."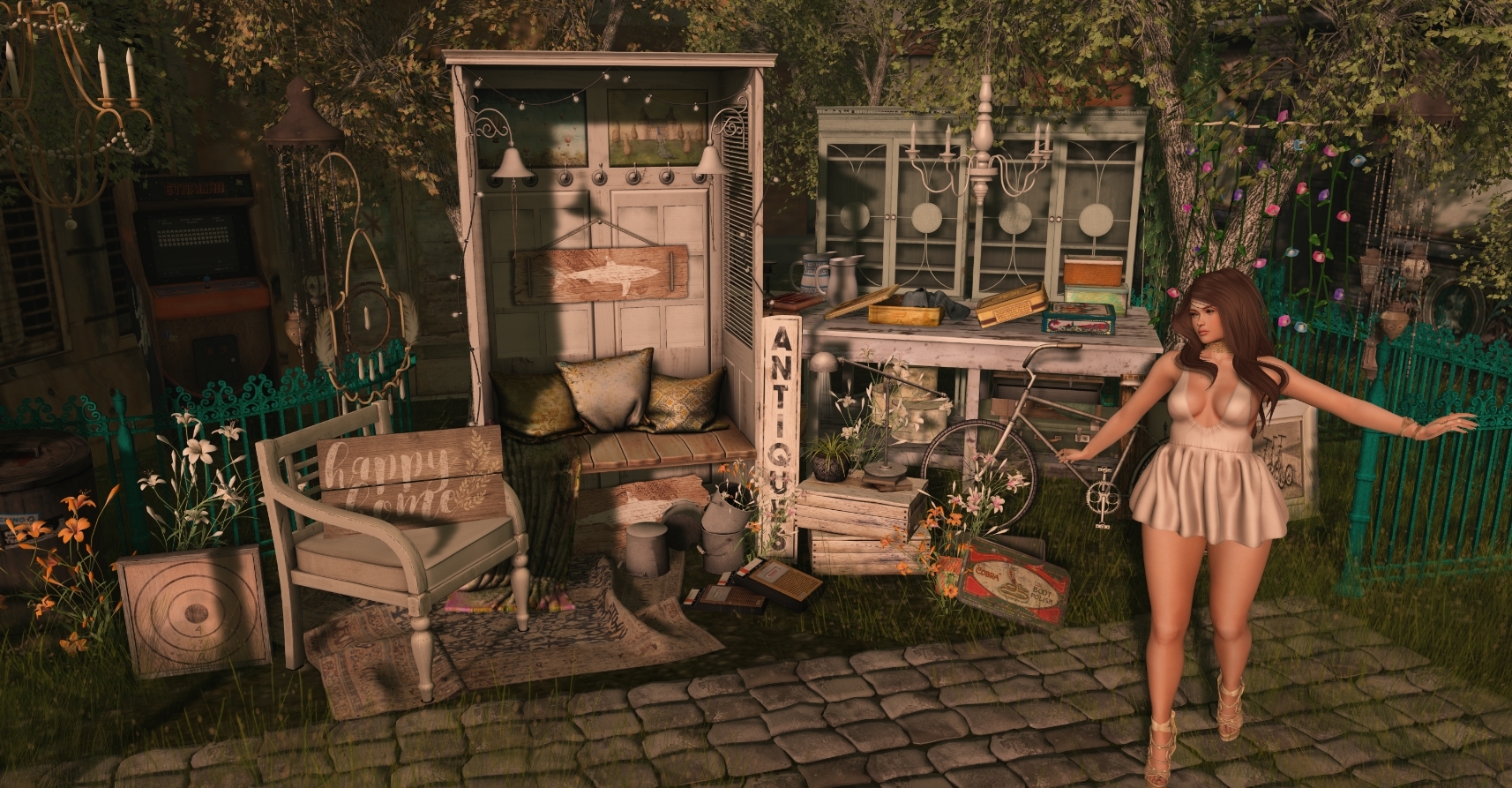 And last but not least, my "Raw de' pesistance"…*cheeky grin*
We have reached the end of the tour ladies and gentlemenfolk, please be seated as the credits are rolling, there will be a quiz and lunch to follow! (not really)
---
*Cheeky Pea :CP: Leanne Door Cosy FairyTale | N21
*Cheeky Pea :CP: Homemade Boho Table | TMD
*[ keke ] wild lilies | The Forest
*hive // extra buckets | Seasons Story
*hive // antiques sign | Seasons Story
*hive // happy home sign | Seasons Story
*hive // old doorbell | Seasons Story
*Kalopsia – Wind Crystals – Raw Crystals| TLC
*DRD Evening Romance Chandelier (modified) | Indie Teepee
*The Little Branch LB_Sassafras.v3{4Seasons} | Shiny Shabby
*Bokeh – Lake Dreamer Rope Sign "Light wood" | Seasons Story
*unKindness – Wrought Iron Fence Straight/Pole Teal | Project 7

*Seven Emporium 7 – Tape Recorder TR9-305 – gold | Crossroads
*Seven Emporium 7 – Tape Recorder TR9-307 – wood | Crossroads
*Seven Emporium 7 – Tape Recorder TR9-305 – stickered | Crossroads
*Seven Emporium 7 – Starman Arcade Machine (animated) | Crossroads
:HAIKEI: Container Plan Gacha / {3} | Kustom9
---
*:HAIKEI: Just lazy Rug
*MudHoney Virginia Cabinet – Mint
*tarte. garden chandelier
*Decor Junction Mesh Flea Market Setup
*unKindness uK – Seelie Vines
*ARIA – Bridal Parlour – Chandelier – Gold
*Seven Emporium 7 – Handpainted Target – Framed
*llorisen // benson patio chair
*Seven Emporium 7 – Tape Recorder TR9-305 – stickered
*Seven Emporium 7 – Starman Arcade Machine (animated)
*Ariskea[Isabelle] Garden Path Stone
-Virtual Decay- BBall trashcan
---
What Wendz is Wearing:
*CandyDoll Hikari Dress (Maitreya) | N21
*Plastik Absole Shield Cuff | N21
*Plastik Absole Chevron Bracelet | N21
*Plastik Absole Rings (Maitreya) | N21
*LUXE. Triple Knot Choker Gold | Indie Teepee
*JamBee Shoes Xiuying Dragon Wedges | On9
*Damselfly Bray Hair | FaMESHed
*Poses:
SariSari Feminine Pose A4
*Kirin Poses Keiko
*Infiniti Poses Catching Bubbles | The Season's Story