May this inspire you to get off your duff, pack your virtual household, bribe your boss and take a trip down the vacation lane!
Every summer for the past fifteen years or so, my relatives have taken to vacationing here on the mainland specifically camping in our beautiful Puget Sound/Cascade mountain ranges.
Like, really, I mean they are from Hawaii. I still scratch my head over that one. This year everyone has decided to stay put for once lol. And it may be due to a 'boat' load of grandkids who've all graduated at the same time, needing that extra pocket money for college.
And so, I have created my own damn camping retreat because #1. It'll be a challenge to take momma with, she's not a woodsy kind of gal. #2 Because I've already de-rezzed this scene and guess what, no packing or repacking, huzzah! #3 Only in SL could I ever hope to get this angle on a camera. Imagine a real life scenario? Would I not be drowning in the wake of the rushing white waters?
Exactly.
But I did take a couple more up closers. I hope you have a great rest of your afternooners, and if you're planning a staycation anytime soon, I'd love to come with!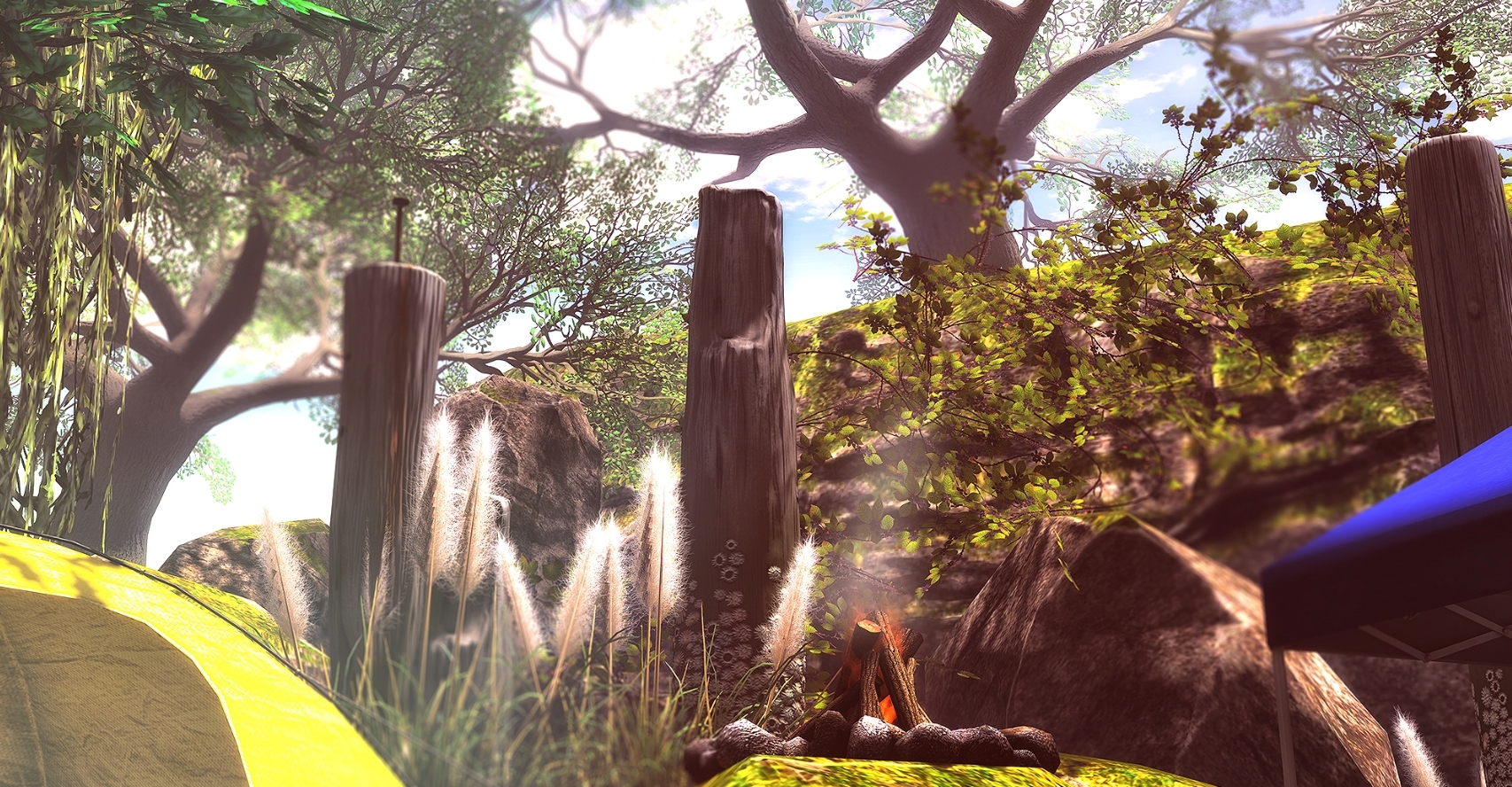 I call that piece "Ode to Brambles and Cliff Sides"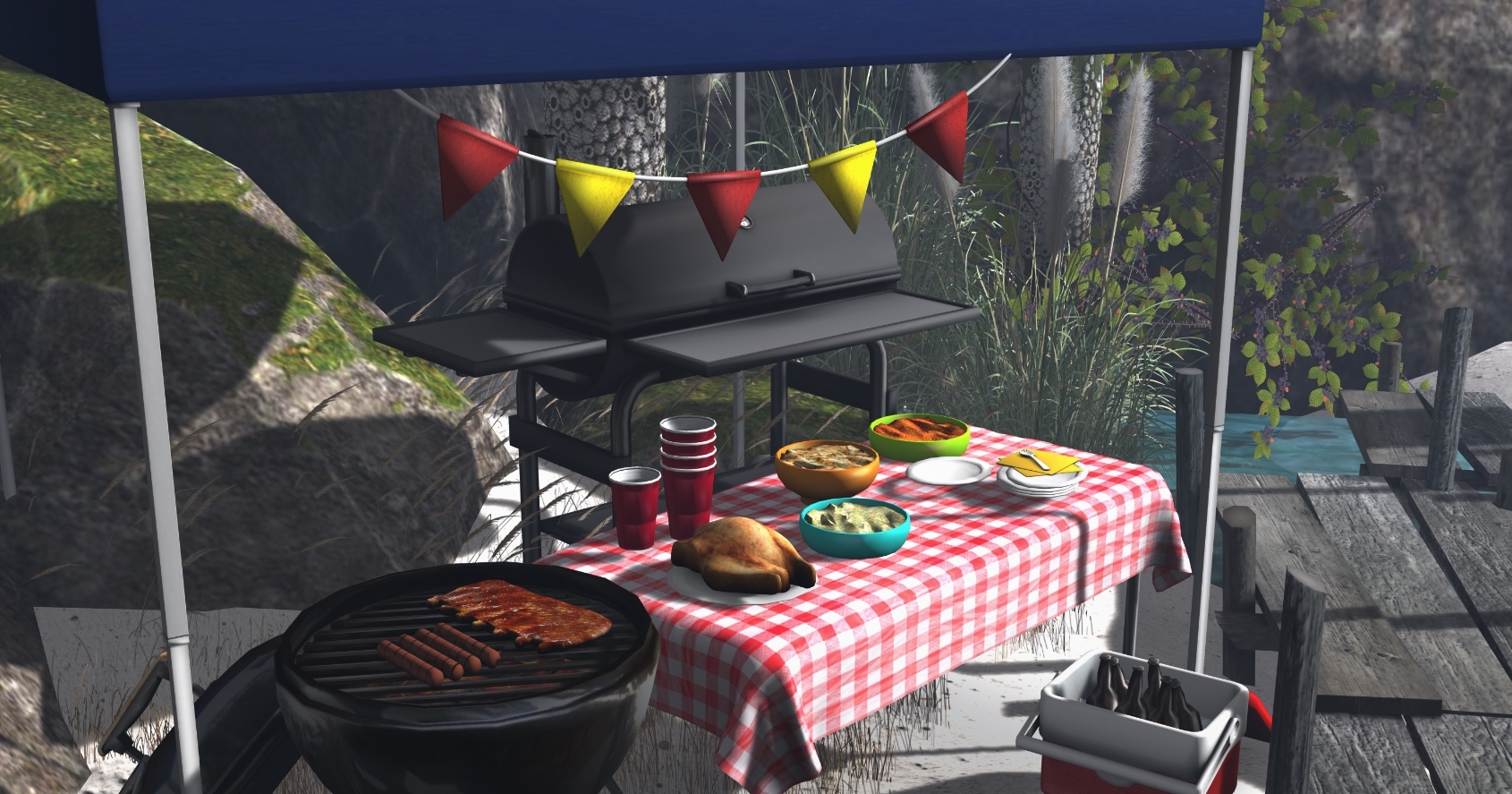 I call this one, "Grub Central". See Tor? Penant colours okay?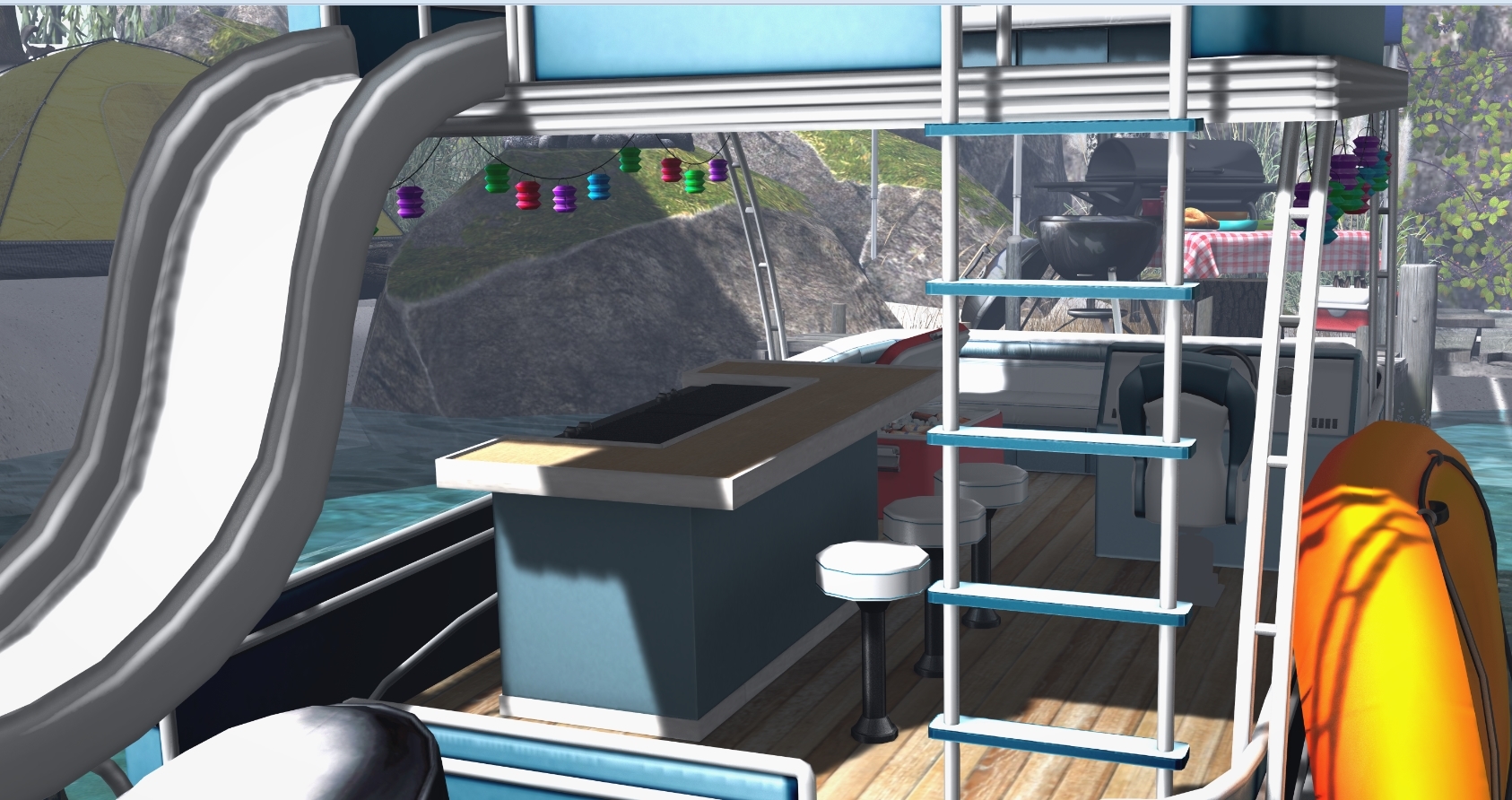 And last but not least, my pièce de résistance.. I call this, "GottaGetThisPartyBoatNow!". 
---
*Stockholm&Lima: Summer Party Boat | FaMESHed
6 Solo Seats (6male, 6female in each)
3 Couples Seats (5 Cuddles, and 14 animations in each one)
4 person dance floor (3-4 animations in each spot)
A Slide (that will launch you out into the water :P)
Bar&Grill + 3 Barstools (13animations each)
Rezzable LifeBoats (8solo and 6 couples animations)
Rezzable InnerTubes (7solo + 3 Friends and 3 couples animations)
*JIAN :: Squirrel Oak Tree | FaMESHed
–was a bit too far to see this tree so here is Jian's full rendering
---
These items can be found at The Gacha Guardian Event

*The Annex – Tailgate Party – Canopy RARE
*The Annex – Tailgate Party – Smoker – GG Prize
*The Annex – Tailgate Party – Smokey Joe RARE
*The Annex – Tailgate Party – Coleslaw
*The Annex – Tailgate Party – Potato Salad
*The Annex – Tailgate Party – Baked Beans
*The Annex – Tailgate Party – Roasted Chicken
*The Annex – Tailgate Party – Paper Plate Stack
*The Annex – Tailgate Party – Hotdogs
*The Annex – Tailgate Party – Ribs
*The Annex – Tailgate Party – Open Cooler
*The Annex – Tailgate Party – Spork
*The Annex – Tailgate Party – Red Cup Stack
*The Annex – Tailgate Party – Team Pennant
Cube Republic CR Pampas Grass | Shiny Shabby
---
Other dealeos:
*Amala – The Camp Fire | Past Arcade
*Amala – Happy Camper Tent – Yellow – RARE
*Amala – Axe and Logs
*Amala – Drinks Cooler – Red 1
*Amala – Stump Seat
*Cube Republic Beach Pilings
*Cube Republic Brambles
*Cube Republic Jetty
*Cube Republic Hecates Oak v4
*The Little Branch Weeping Willow v2