6th Republic is back with a 1st anniversary event that is so exclusive, we've had to cross the pond and back again to bring you awesome finds from SL's best designers! 
Serious ya'll. Some of the work I am seeing is pure cleverness and creativity, and this is what makes this event so unique. We have on one side the hustle and bustle of the Big Apple itself, New York City versus the cobbled chaos that is London. Two very distinct cities with even distincter skylines. (Was that even a word? My autocorrect is busted.)
There will be gachas galore, a few new additions to the line-up and some of your favorites returning with exclusive pieces for your decor needs. Or wants!
Do peruse the credits and bookmark the links,  6th Republic will open May 6th at 12pm SLT and will run through May 20th, 12pmSLT. I will be updating this post with the active landmark as soon as we get word and will spam like a mudder trucker on all social networks as well.
Spam like a mudder, I mean really, Wendz??
Four hours of sleep breeds miles of snarky ineptitude, and its a train wreck with my name on it!
Questions, comments, suggestions, cool memes, feel free to let me know via the box below ❤
---
6th Republic on FLICKR – previews are comin' in!
Coming soon to 6 Republic 1st Anniversary May 6th-20th! UPDATED LM!
http://maps.secondlife.com/secondlife/Transilvania/111/130/29

*FLECHA Camden Clock Store RARE
*FLECHA Camden Tea Store RARE
*FLECHA Camden Tattoo Shop RARE
*FLECHA Camden Records Store RARE
*FLECHA Camden Camden Wall Flag
*FLECHA Camden Records Golden Vinyl
*FLECHA Camden Burguer hoarding
*FLECHA Camden phone booth
*FLECHA Camden Coffee Table
*FLECHA Camden Coffee Chair
*FLECHA Camden England Building flag
*FLECHA Camden UK Building flag
*FLECHA Camden building Clock
*FLECHA Camden foot clock
*FLECHA Camden Tattoo FolderScreen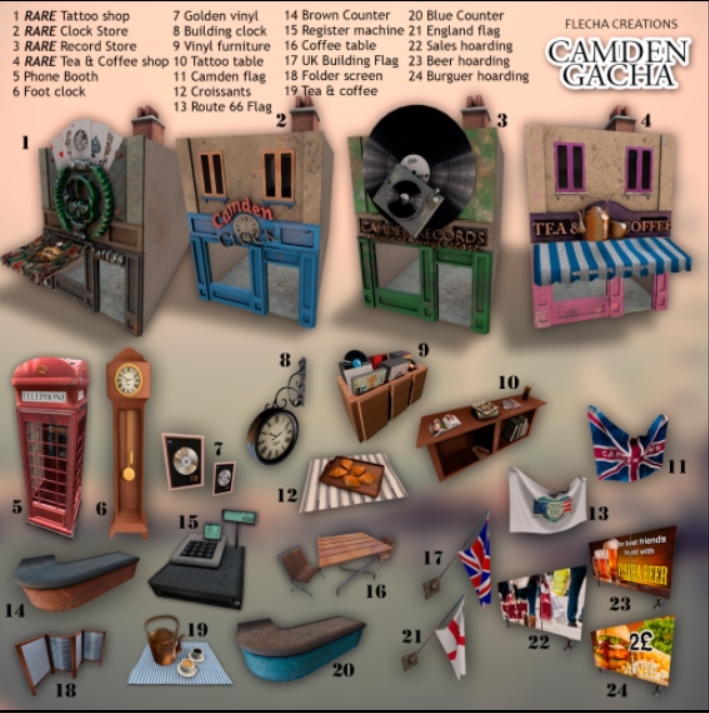 *[IDEZA Furniture] – London Tube Sign
*[IDEZA Furniture] – Vintage Tube Wall Sign
*GOOSE – Lagare London Underground Neon sign
*Toro. BIKER SALLY Arcade Machine
*tanakamura – kagu [tmk] 2tone skoota (gacha)
-2 versions in the gacha deco and ride
See Ad Here
---
*Artisan Fantasy Lemonade Stand Sign | Gacha Garden
*The Little Branch Giant Maple v3
*The Little Branch Sourwood Single
*The Little Branch Conifier v2
*tarte. garden fence w. lights
*..::THOR::.. Old Manicure Sign Stand
*..::THOR::.. Old Poster "Barber Favorite" Soap
*..::THOR::.. Restroom Sign
Apple Fall Juniper Topiary
junk. street sign. electric ave. white. leaning.
[we're CLOSED] party lights