A couple of events are soon come to a close so mark your calendars ladies and gents, all the details can be found after the jump!
The Seasons Story comes into its last week for the Spring season and I am wearing pieces from tomomo's petit couteurier dress which is available as a gacha. Also RealEvil is featuring the Fiona necklace this go around, just a gorgeous set and yay for texture and metal options!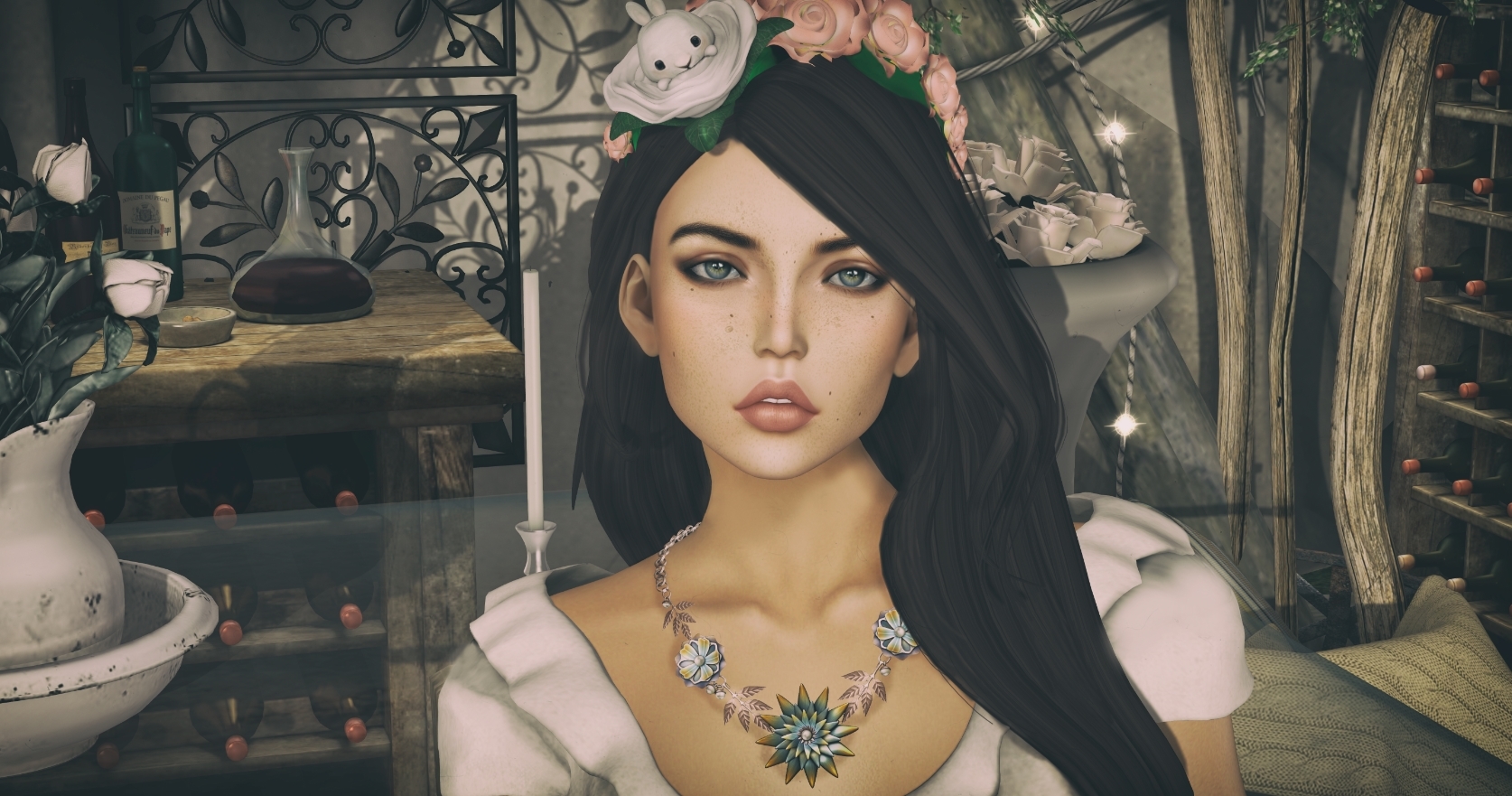 Ex Machina has returned to LTD The Event for this month, and wow time really flew, there is only two days worth of shopping left! Their dining set includes added accessories that are not pictured so do be sure to peruse the credits, I've included the link to their ad.
Thanks for stopping by today and if you have any questions or comments feel free to leave them in the box below.
"Those who have come to be, those who will be: All will go, leaving the body behind. The skillful person, realizing the loss of all, should live the holy life ardently."
---
*Head: Genesis Lab Rina 2.0 | The Seasons Story
*Hair: KoKolores Carlin | The Seasons Story
*Hair Accessory1: RazzBerry Inc. Bunny Blossom | The Seasons Story
*Hair Accessory2: Me Sew Sexy Spring Rose Headdress Pink Rare | On9
*Necklace: RealEvil Fiona Necklace | The Seasons Story
*Outfit: tomoto petit couteurier dress (rare) | The Seasons Story
*Poses: oOo Studio Spring 16 | The Liaison Collaborative
---
*Ex Machina Wood is Forever Dining Table | LTD The Event
*Ex Machina Wood is Forever – Chair | LTD The Event
NOMAD // Garden Rose Urn Creme | Shiny Shabby
Concept} 03. Dunas basket A | Shiny Shabby
Concept} 06. Dunas woods | Shiny Shabby
Concept} 08. Dunas – Roll Carpets | Shiny Shabby
:HAIKEI: Just lazy Rug | Shiny Shabby
---
*[PM}Pixel Mode – Beaded Chandelier – Naturals
*Ex Machina A Good Vintage – WIne Rack
*Ex Machina A Good Vintage – Wine Table
*Ex Machina A Good Vintage – Barrel
*Fancy Decor: Gold Candlesticks
Artisan Fantasy Hacienda Scrollwork
dust bunny . white rose pitcher
Trompe Loeil – Cassia Tent
Kalopsia Wednesday Afternoon Fancy Gazebo Mod
***Hold fast onto Love ❤ ***