I am spending the morning checking out the many spring items that are available through out the grid this month and with only one week left to go, its now or never!
So I call this piece, hashed up potatoes without the creaminess of lace. Yeah I haven't had my coffee yet.
We are entering the last full weekend of the month of April and with it a slew of new (slew of new??)…and with it, our favorite events have come back refreshed and roaring to go.
I was speaking to a buddy blogger of mine the other day about the creative freedom some SL designers give to us in modifiable objects. This is a particularly touchy-ish subject, but I have learned that some if not majority of H&G creators are open and even pleased when their pieces are shown or presented in a different way.
I have used this pergola in a previous feature on Love to Decorate Magazine's January/February issue and it was great just as is. I still wanted to maintain its original 'concept' if you will, and add meshed flagstones and so I switched up a few textures and that was pretty much all I did to it.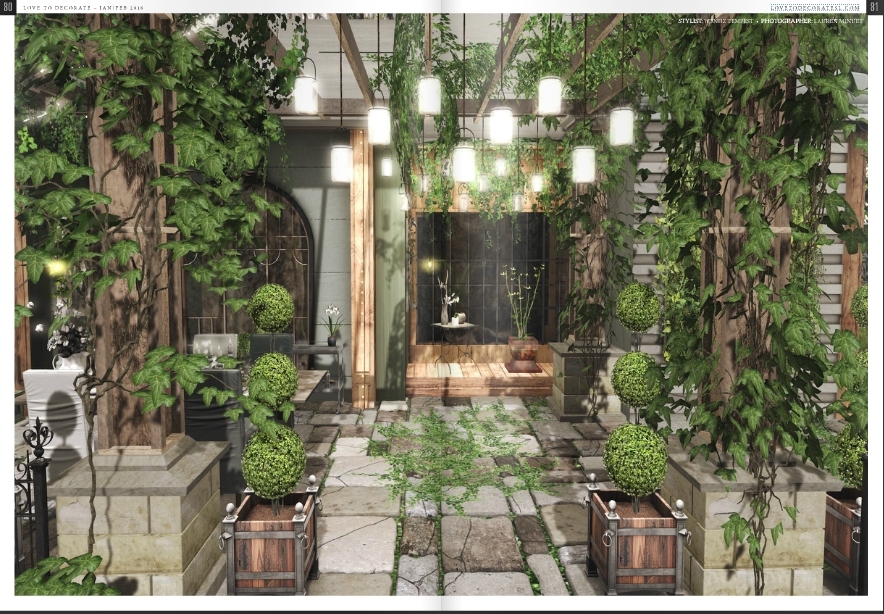 Traditional decor is so prevalent in my own life, that coming to SL and having my own space to make these scenes is a welcome reprieve.  And yes, the dirt and moving factor is a plus, always!
I hope you all get a chance to enjoy your weekend outside and inside the outside of our Virtual Side. If you have a chance, peruse the credits for some neat finds in decor and more.
---
*Floorplan church pew (rustic) | N21
*[Toiz] natural shelf | LTD The Event
*Newchurch Flatiron Potting Table | On9
*DIGS – Trengove Painting Landscape | New @ mainstore
*Serenity Style- Himawari Doll Pink & Teal | Coming soon to SaNaRae
---
These items can be found @ Lost & Found!
*[Toiz] garden table (brown)
*[Toiz] garden chair (brown)
*[ keke ] crocus – pink
*[ keke ] crocus – blue
*[ keke ] crocus – purple
*[ keke ] crocus – white
*Sway's [Pauline] Drawer shadow boxes . Grey with decoration
*Artisan Fantasy Seedlings
---
These items can be found @ Shiny Shabby!
.01 [ kunst ] – Neva's tricycle RARE
.03 [ kunst ] – Vintage jug
.08 [ kunst ] – Watering can
.07 [ kunst ] – Canned plant
.06 [ kunst ] – Potted stick plant
.09 [ kunst ] – Books
.10 [ kunst ] – Magazines
22769 ~ [bauwerk] Tuba Planter
22769 ~ [bauwerk] Drum Planter
22769 ~ [bauwerk] Piano Planter Brown
---
*Serenity Style- Stone Dog
*Serenity Style- Stone Caterpillar
*Dysfunctionality Designs Simple Wooden Chest
*Ariskea[Marielyn] Spring Daisy [White]
*meadowWorks Swans Embrace ULTRA RARE
meadowWorks Fancy Schmancy Fleurs
*Cheeky Pea Boho Glamping Pillow
*Cheeky Pea Boho Glamping String Light
*[IDEZA Furnitures] – Mon petit bistrot Pergola -RARE-
*-Hanaya- On Yasgur's Farm Pergola (modified)
Apple Fall Flagstones
Soy. Herisson with green (full covered)
Soy. Stacked Pots [Herisson option]
{what next} Marlow Planter
Consignment Playbill Easel
{yumyum} Vertical Garden (Iron)
[ keke ] wall flower – lily