For the love of blossoms, bunnies and bountiful blessings!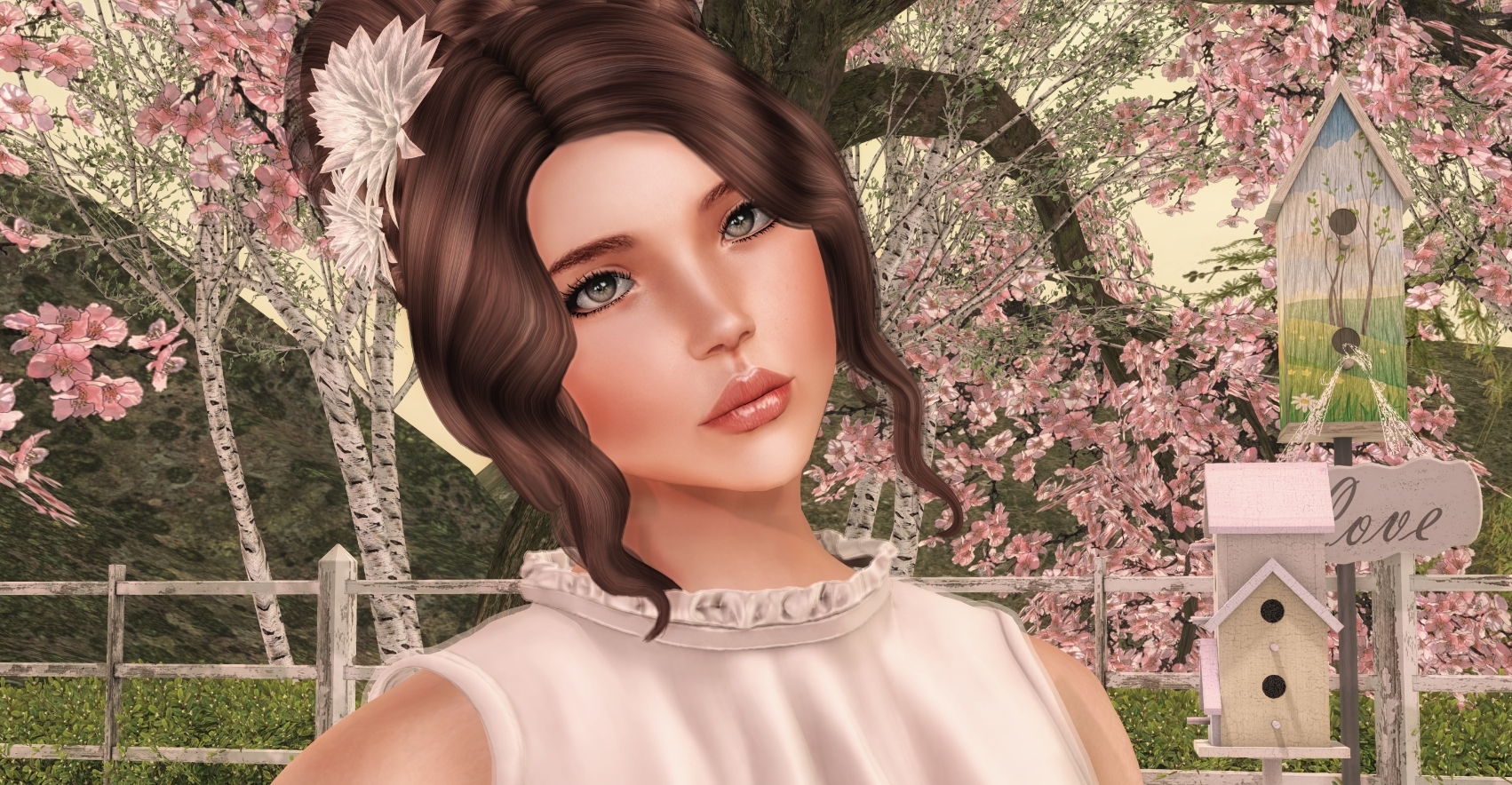 I had forgotten how pretty Visage' Becky mesh head could be with the right applier. No that's not a subtle jab, I still am a fan of this parteeecular one. Usually when I want to start putting together an outfit, the skin aspect is the least of my worries, but today I wanted to be able to convey the freshness of a springtime portrait…I think!
As I peer through my picture windows in my rl home, I can see the skies have cleared up to a gorgeous china blue with sun rays filtering through our cherry trees and their fragile blossoms.
It is quite peaceful, minus the neighbors, minus the crows, minus the air traffic. Ahh, if only I could Photoshop those out!
I took my mother outside this morning to have a sat by our bed of tulips and her mood instantly lifted, smiling through her eyes, enjoying the light breeze. Its rather catching! And its rubbed off on me!
Soooo Happy Thursday from my heart to yours and I do hope some of this pastel and spring green will rub off on you too. If not, well, there are the credits to skim through 🙂
---
*Di'Cor Jake's Pallet Swing White | FaMESHed
*Ariskea[Isabelle] Hydrangea botle [White Rosey] | FaMESHed
*Ariskea[Isabelle] Hydrangea Vase [Rosy] | FaMESHed
*[ zerkalo ] Elegant Coffee Table | LTD The Event
*[ zerkalo ] Like a Bird – Food Tray Light | The Seasons Story
*[ zerkalo ] Faded Charm – White Roses | Epiphany
*[ zerkalo ] Faded Charm – Cloche w/Spring Branch | Epiphany
*[ zerkalo ] Faded Charm – Bird Lamp – RARE | Epiphany
*[ zerkalo ] Faded Charm – Love Sign | Epiphany
*JIAN :: Bunny (Static – Sit) | The Seasons Story
*JIAN :: Bunny (Static – Upright) | The Seasons Story
Agapee *agp* Fairy garden-stump road gacha | Dreams Event
NEWCHURCH :: N :: Condo Birdhouse, Pastel | Dreams Event
Clutter – Spring Bird House (Meadow) | Click here for TP
Apple Fall Bluebell Fencing Gate | Spring Sale @ mainstore till 4/15
*The Little Branch WildBirch Cluster
*The Little Branch WhiteFlowers Field
*The Little Branch WildGrass Green
Botanical – Boxwood Hedge
---
Hair: EMO-tions Emma | Shiny Shabby
includes hair ornament and texture HUD
*Dress: =Zenith=Cutout shoulder skirt | FaMESHed
Skin: MUDSKIN Chiaka (Visage Applier)
Eyes: Dead Apples Trunk Mesh Eyes
Head: Slink Visage Becky
Body: Maitreya Lara