I remember my commitment to climb that Photoshop learning curve, but Flaming Pear and I it seems, do not have ample enough time. Details after the jump!
Playing Second Life catch-up is fun is it not? I took a much needed blogging break this past week in hopes of getting in some spring cleaning around my own home.
It worked for a total of three days. And then chaos ensued in the form of high school spring break, with baby teenagers bouncing off of walls, literally. Needless to say that I am quite ready to escape back into virtuality 🙂
I also used this time to tackle Photoshop to really understand the workspace, mostly the shortcuts and how to use plug-ins etc. Here are awesome tutorials from some of our very own SL residents that really put me at ease through the torture, I mean learning:
Flood Plug-In by Flaming Pear (that water thing): Strawberry Singh
Tutorial: Creating fire glow and other glow effects with photoshop: Daeberethwen Arbenlow

And of course my before screenshot in all its horridity: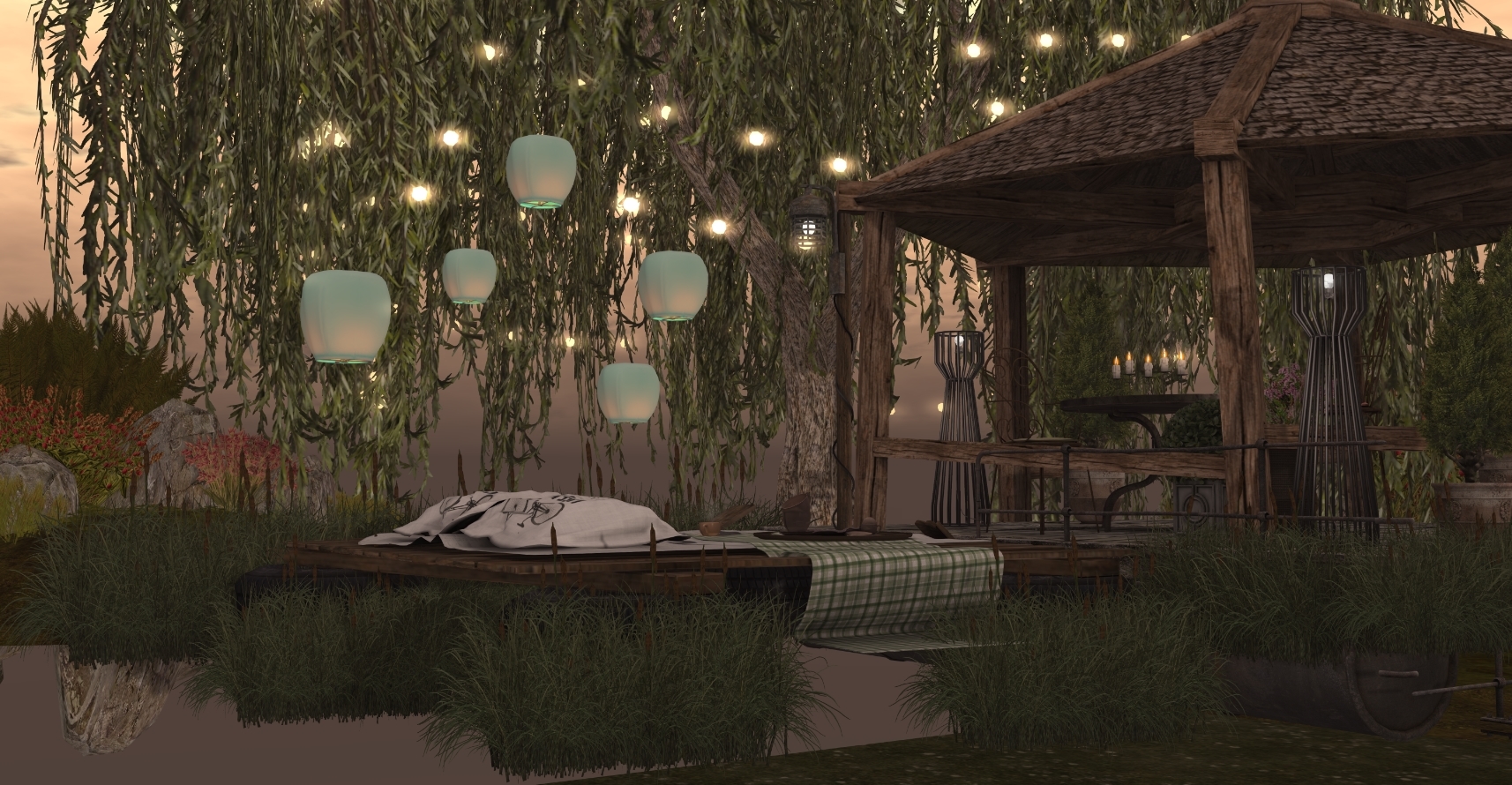 I may not likely use the water thing again for posts here on CozeySL but I have to admit, its a really neat feature if you are into that kind of photography. I also recently started using the Nik Collection by Google as it is now free to download. I could not find a tutorial by any SL resident for this plug in collection yet but there are loads of them from other youtubers if you need them.
Thank you fair reader for coming by on your midweek blogscroll. Do peruse the credits and if you have any questions feel free to ping me here or inworld ❤
---
*Di'Cor Di'Cor Spatial Lamp Black | Click here for TP
The Little Branch Weeping Willow v2 | Shiny Shabby
*Di'Cor Slumber Dock Brown (Adult version)
*[IDEZA Furnitures] – Mon petit bistrot Table
*[IDEZA Furnitures] – Mon petit bistrot Chair Green
*[IDEZA Furnitures] – Mon petit bistrot flower Pot
*[IDEZA Furnitures] – Mon petit bistrot My Mocca
*[IDEZA Furnitures] – Mon petit bistrot Plateau
*Dysfunctional Designs Moorside Gazebo
*Dysfunctional Designs Spring Floating Lantern (blue)
*[PM]Pixel Mode – Landscape Lights – Soft Sqaure
*Apple Fall Floating Pontoon
Apple Fall Bistro Planter
Apple Fall Juniper Topiary
The Little Branch CatTail Cluster
Trompe Loeil – Haldis Candleholder
3D Trees Rockery