"The earth has music for those who listen."
Several things happening around the grid today as far as shopping events of the spending kind. And some of that spending may just be donating as well hmm?
The Home and Garden Expo will be ending later this evening. Usually the regions are open to the public long after the last musical event, so really folks, if you haven't stopped by yet this is your chance as it is a great opportunity to show your support.
I finally had time to sit still for once and enjoy the Lantern Release which is a wonderful way to remember why we Relay. Here's a small clip I made yesterday:
It has been a fulfilling week for me personally and having the freedom time-wise to attend several talks and at least one Lantern Release, gave me the motivation I've been looking for since the beginning of this year. It's been a rough one so far and I have lost a lot recently. The one thing I never want to lose in either worlds however, is that spark of creativity and the desire to see it through.
So I am equally thankful for the designers, event managers, big bosses and fellow bloggers who continue to amaze me with kind words of support and mutual admiration. It may just be Second Life, but the feelings, emotions, experiences, all of that is real.
Today's scene is brought to you by the letter K for Kaerri, Keke and Circa. Alright so that wasn't a K ooohhkay. Kaerri Rae very kindly and generously passed me a copy of her latest project, a series of Limited edition flowers and garden decor that are absolutely Coozzzeeyy! I wanted to get these up and featured right away as there are only 50 copies of each available.
Here is a snapshot of the Paris milkcans which are sold as a set of 4: (I only have 2 in my scene)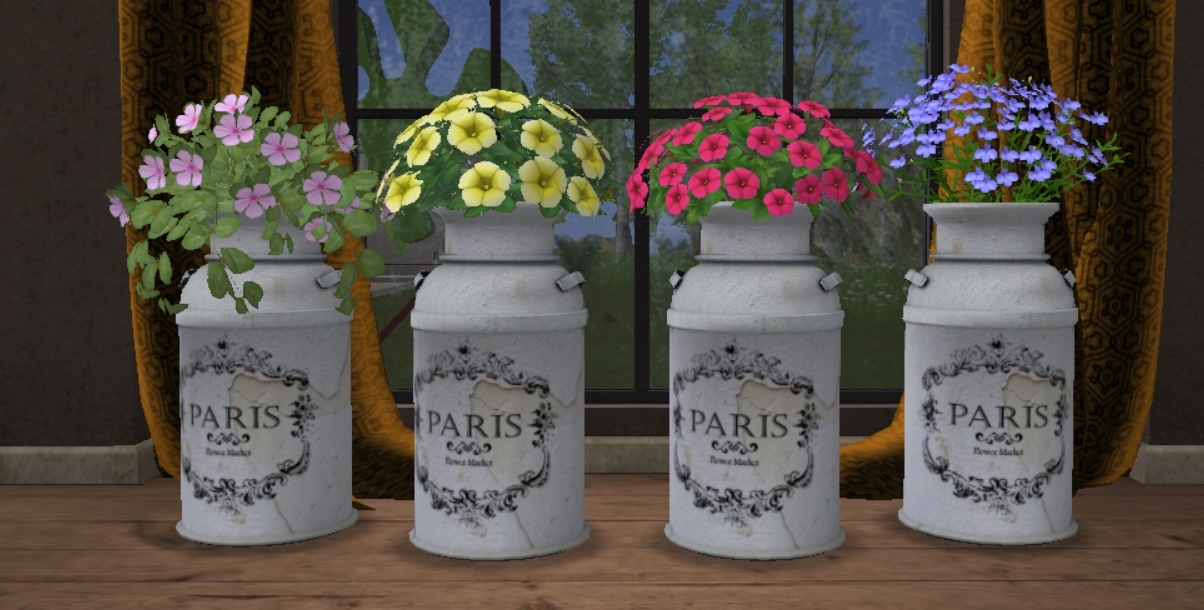 And just to give you an idea of how limited these blooms are: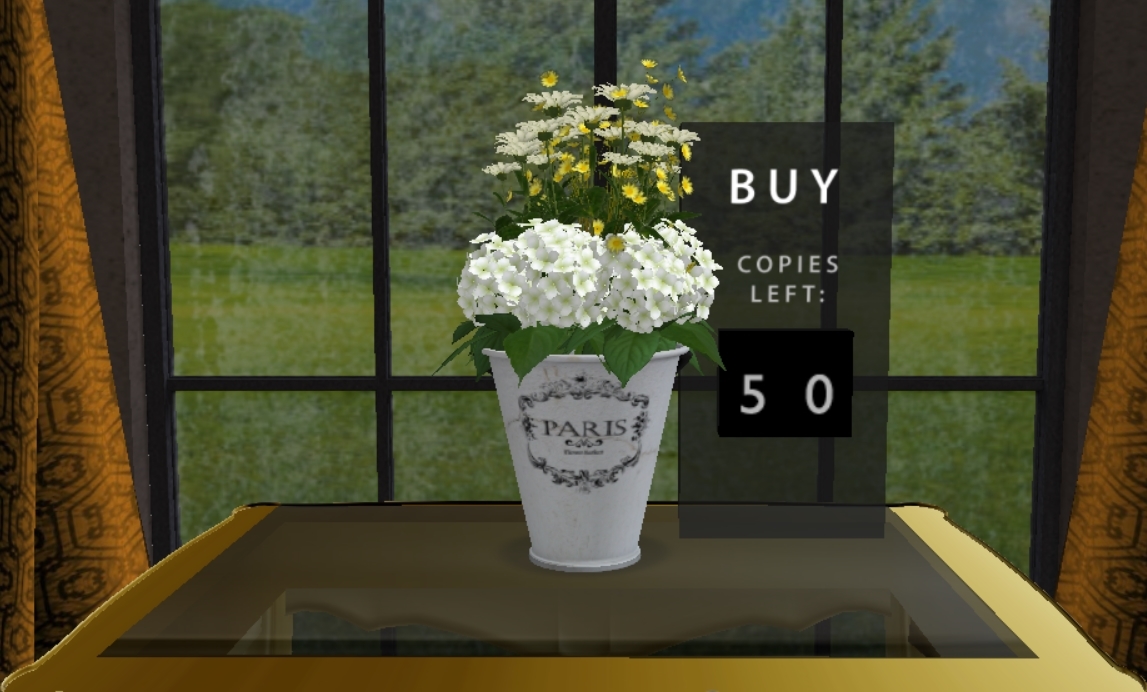 If you are in the market for a gorgeous centerpiece, do stop by Kaerri's to see them up close and personal like. The flower vases and decor are located in their own building here.
Elsewhere on the grid, The Liaison Collaborative will be celebrating its 3rd Anniversary starting March 7th, and I've included Keke's featured items in today's image, a set of 'hard to find' water glasses, glass water bottles and some pretty bokeh glitter for TLC's Birthday gift. You do not have to join anything to receive the pressies, just click and be awestruck.
Thank you for stopping by on your Sunday blogscroll, if you have any questions, comments, suggestions, please feel free to leave them in the box below.
---
*[CIRCA] – "Sunshine Walk" Birdhouse Bench – Teal/ Cream | The Home Expo Ends Today!
*[CIRCA] – "Bon Vivant" Cafe Chair w/ menus – Foil-C  | The Home Expo Ends Today!
*[CIRCA] – "Bon Vivant" Cafe Table & Flowers w/ menus – Colours  | The Home Expo Ends Today!
Cloverleaf by Galland Homes | The Home Expo Ends Today!
-Special Expo price of 995 good through March 7
-113li w/o kitchen
-25m wide x 31m deep
-2048 sqm
---
These limited copy items can be found at Kaerri
-only 50 of each are to be sold!
Crocus Teacup Purple
Crocus Teacup Pink
Crocus Teacup Yellow
Triple Orange Gerberas
Orange Rose Arrangement
Test tube Vases
Red Roses & Babys Breath
Bluebird Spring Arrangement
Orchid Ikebana
Butterfly Poppies
Daisy Bucket
Floral Orb
Crated Lobelias
Paris Flower Market Yellow
Paris Flower Market Blue
---
These items can be found at The Liaison Collaborative starting March 7th
*[ keke ] bottle of water
*[ keke ] bottle of spring water
*[ keke ] milk bottle flower
*[ keke ] hard to find – glass of water
---
Other Credits:
=EliBaily= Ivy 01
meadowWorks Calico ~ half moon ~ Groundcover
The Little Branch Wildgrass
HPMD* Sweet Garden Grass07
Reid Parkin's Climbing Rose Pink
barnesworth anubis white garden fence
Botanical – Boxwood Hedge
3D Trees Golden Shower Tree (pink)
3D Trees Wisteria
Hayabusa Design Elegant Tree
Plaaka GranitePebbles
Apt B // Shabby Finds Wagon