"You can stand by and let this world steal your resolve to ever let love in or you can step into that senseless emotion that has caused empires to crumble, nations to fall and so that even death itself cannot conquer and man can never contain."
It wasn't enough to share these finds in a mere portrait today, so I've concocted yet another for-profit clip featuring designs from DaD Designs, DiCor and Hanaya, who have all so graciously allowed me to share their content here at Cozey.
Know, that I compiled this in hopes of luring you who have yet to step into the world of Second Life, to try your virtual hand with your own virtual experience.
This is what Second Life is really all about, for me anyway. The culmination of experiences, the people that make up our diverse online community and the magic makers who design such wonderful content for us mere mortals to enjoy.
I've been trying to keep busy with small residential projects and have been posting a few room flips on Facebook. So here is what this space looked like before I added all the pretty things: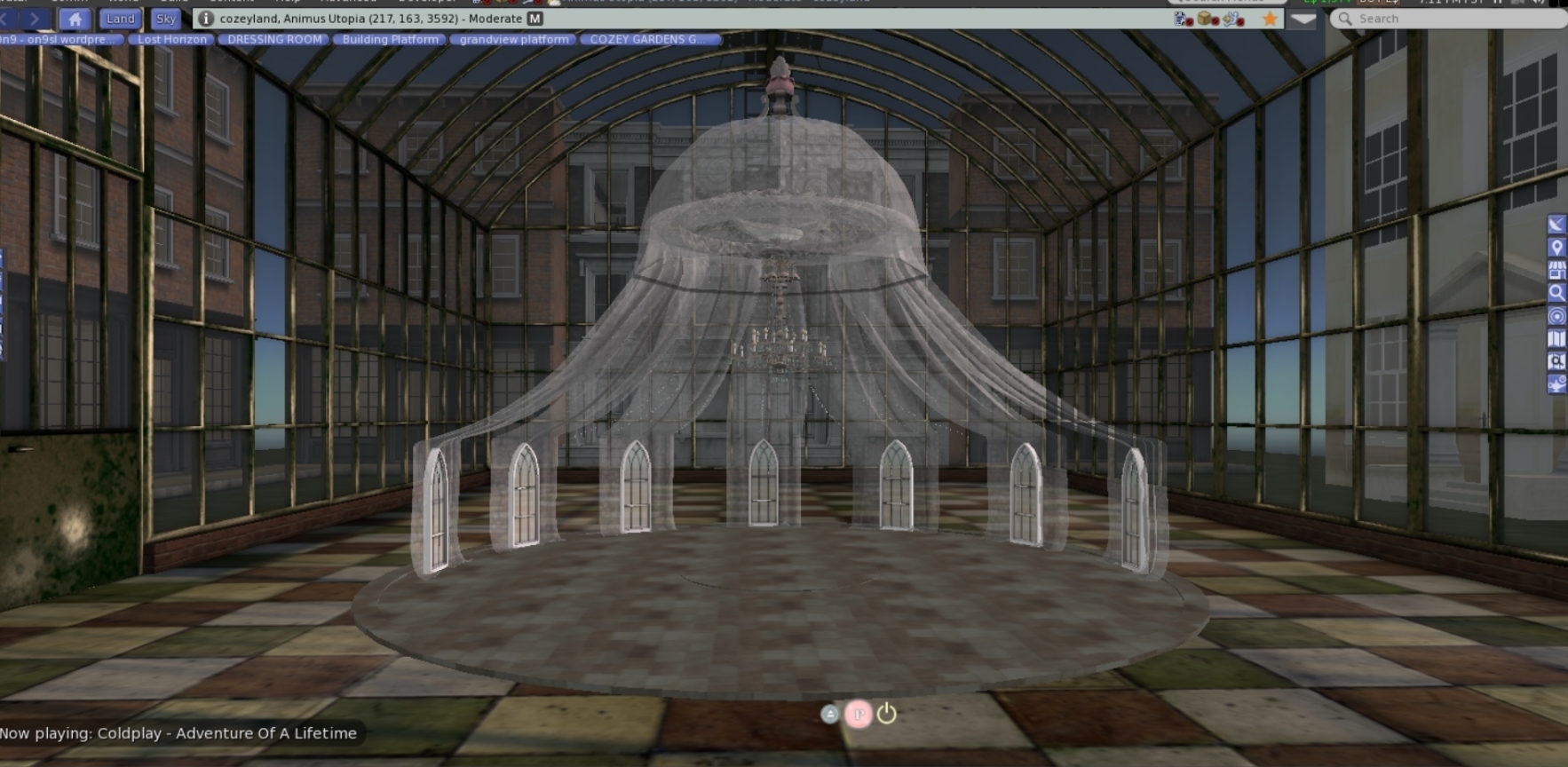 Every once in a while I have ideas that work! Be sure to peruse the credits for all the information and if you have any questions, please leave them in the box below and thank you for stopping by on your midweek bloggerscrollerderby.
---
*DaD DESIGN " Antique Greenhouse with ladder" | Whimsical till March 3rd
– Footage: 22,0x 11,00 mt
(can be re-sized)
– with ladder (l.i. 101)
– without ladder (l.i. 97)
– Texture floor 4 type by touch
– Windows can be opened by touch
– copy/modify yes (script are not mod)
– no transfer
---
*Hanaya Love at First Sight Proposal Venue | New Release @ The Home Expo till March 6th
-Hanaya- Love at First Sight Proposal Venue [mesh] WHITE MARBLE
-Hanaya- Love at First Sight Proposal Venue [mesh] HARDWOOD
-Hanaya- Love at First Sight Proposal Venue [mesh] SPRING WHITE
-Hanaya- Love at First Sight Proposal Venue [mesh] SPRING PINK
These are rezzed by clicking the floor and choosing which you wish to use. Can use all or any combination.
-Hanaya- Animations for Proposal Prop Set – 2 li
-Hanaya- Hearts + Balloons Prop Set – 10 li
-Hanaya- Hydrangea Prop Set – 32 li
-Hanaya- Lilac Branches Prop Set – 11 li
-Hanaya- Fairy Lights Prop Set 28 li
>>>There are 6 seamless couple animations, each about 30 seconds long, which are looped<<<
*-Hanaya- Forest Clearing Gazebo | The Home Expo till March 6th
-New release for The Expo
---
*Di'Cor Marilyn Vanity Stool [White] | Tres Chic
see the set here:
https://www.flickr.com/groups/2795525@N25/pool/
---
*[PM]Pixel Mode – Landscape Lights
*tarte. hot air balloon tealights
*-Hanaya- Victorian Fountain
*The Little Branch Sourwood V2
*The Little Branch GiantMaple.v1
The Little Branch BanyanTree-v1
*paper moon* *pm* Visage: Stone – Statue 04
*paper moon* *pm* Visage: Stone – Statue 06
meadowWorks Calico ~ half moon ~ Groundcover
meadowWorks Vinca ~ half moon ~ Groundcover
Heart – Potted Plants – Lilac Aubretia
Botanical – Mesh Mediterranean Cypress
Botanical – Boxwood Hedge
[ keke ] star glitter
HPMD* (Happy Mood) Sweet Garden Grass06
HPMD* (Happy Mood) Sunlight(2014)