Chances are, you've come across this very popular style recently on Flickr and elsewhere on the grid due to a few shopping events that we'll talk about after the jump.
There are several reasons why I think this style of modern meets retro is more than welcomed in today's ever changing palette. It is timeless, very easy to spot and makes its own bold statement, unapologetic, unabashed and iconic. You'll either find this style very boring, or very chic in its simplicity and elegance.
Mid-Century is all about clean lines, straight/boxy edges and supposedly clutter free. But this is CozeySL, and we're sort of into clutter. The good kind at least.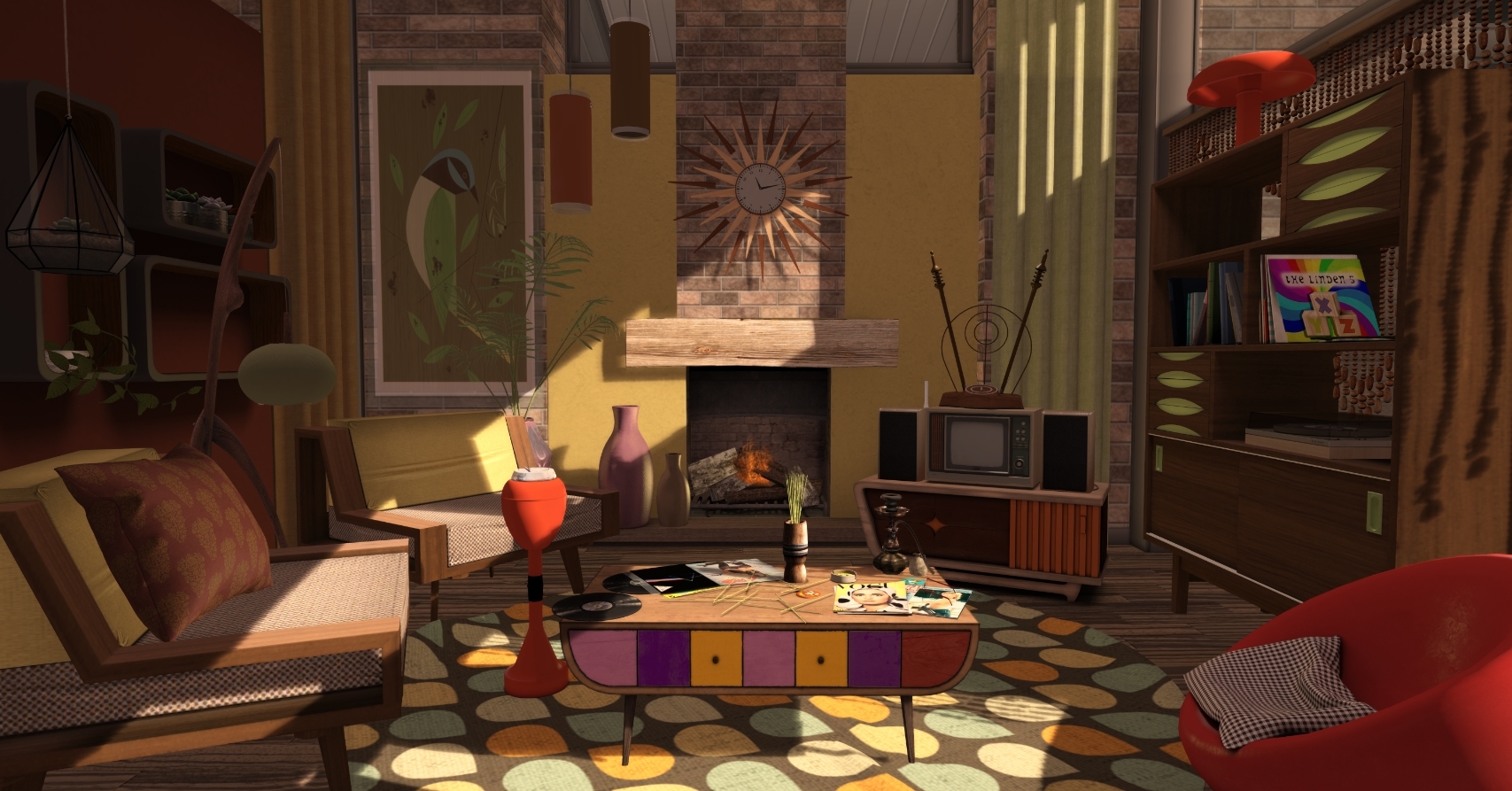 The main pieces including the chairs, larger shelf, television, speakers, clock, and midsized deco are a part of USB's Retro living set for The Home and Garden Expo, where you can see this set in its entirety. They are no modify accept for the curtains and shelf where you can switch up the accent colours. Do be sure to take the direct TP at the end of the post.
Also, Lost and Found has just opened and there are SO MANY goodies, and only ONE week to go and get them. Ideza's "Let's Get Retro" Gacha is one of those machines where you'll want to mayybbeee use that week up. These pieces are so incredibly made and perfect for mixing it up should you dare.
And that's another reason why going Mid-Century could give your decorating an interesting twist. Because many pieces tend to be simpler, with the clean lines etc, they're much easier to mix and match with say, like Art Deco or Contemporary. (I did my homework!)
I hope you all have had a chance to tour The Home and Garden Expo this year, it is one of their best ones yet. Every day at 4pmSLT during the Expo there is the traditional Lantern release…
"to celebrate and commemorate those close to us and maybe send thoughts to those who no longer can be with us."
On March 3rd at 2pmSLT, Prim Perfect Talks will be having a special event with Project Sansar being the topic at hand, what will it mean to designers, etc. I am making my plans to be there, and hopefully you will too! You can find all of the Expo's events on their official calendar here.
Thanks for dropping by on your Terribly, uh, Terrific Tuesday! Any questions or comments, feel free to leave them below ❤
---
*Ideza Let's get Retro Gacha | Lost & Found Now Open!
[IDEZA Furnitures] – Vintage Buffet
[IDEZA Furniture] – Vintage Table
[IDEZA Furnitures] – Vintage Rug
[IDEZA Furnitures] – Round Seat RED
[IDEZA Furnitures] – The vintage Antenna – RARE
[IDEZA Furnitures] – Vintage Ash tray
[IDEZA Furnitures] – Vintage Shelves
[IDEZA Furnitures] – Vintage Light
[IDEZA Furntiures] – Vintage Magazines Set
[IDEZA Furnitures] – Vintage Records
see full set here
---
These Items can be found @ The Home Expo Feb. 14th-March 6th
TP Direct: http://maps.secondlife.com/secondlife/Hope%201/148/88/23
*[USB] – Retro Clock (DONATION ITEM)
*[USB] – Retro Shelf Unit
*[USB] – Retro Speakers
*[USB] – Retro TV
*[USB] – Retro Records
*[USB]- Retro Turntable
*[USB]- Retro Chair
*[USB] – Coasters
*[USB] – Straight Curtain Set (modified)
see full set here
---
*llorisen // vase | LTD The Event till 2/26
*:CP: Moderna Leaning Small Books
*N4RS Mantis Lamp
*[ARIA] Hayden Potted succulents
DIGS – Almut Hanging Terrarium – Succulent
Retro Radar Charley Harper Print (See here for details)
Essentials ™ – Davis Pendant Cylinder Light
LISP – Mid Century Fire
Soy. Beaded curtain (dark wood)
TA Noor Hookah
TA Tantra Aromatic Sticks
junk. oversized floor cushion. orange pattern.
Bazar Memories Plant Decor
Barnesworth Anubis Atherwood Home (modified)