Write a letter to the personality trait you like least, convincing it to shape up or ship out. Be as threatening, theatrical, or thoroughly charming as is necessary to get the job done.

In Second Life, we have the ability to be as creative as our imaginations will let us. And so, I can imagine Glinda, my little, stomping her foot at the thought of turning yet another chapter in our Second Life story.
This prompt from the Daily post reminds me of earlier stories I used to write here at Cozey, where it was fun to bring out my alts and imagine their personalities, how they wove in and out of the topic of the day.
I think it is great that we can explore this part of our psyche in Second Life. My alts are now used primarily for photography purposes. Lately however, Glinda, has been popping up in the most importune of times.
She is the most turbulent of all the egos, one that refuses to grow up, one that connives, that manipulates and computes. On the flip side, she wears her heart on her sleeve and retreats into the shadows faster than you can offer a cookie.
Glinda represents my darkest fears and my brightest hopes and dreams. The need to keep the wonder and innocence in a world gone mad, versus the innate fervor to destroy ourselves. She has no excuse for her poor behavior and so all children must grow up and mature.
If we can be anything we wish to be in Second Life, than today, I wish for a new story to write, and Glinda? She'll follow suit, eventually.
Isn't that right, Buttercup?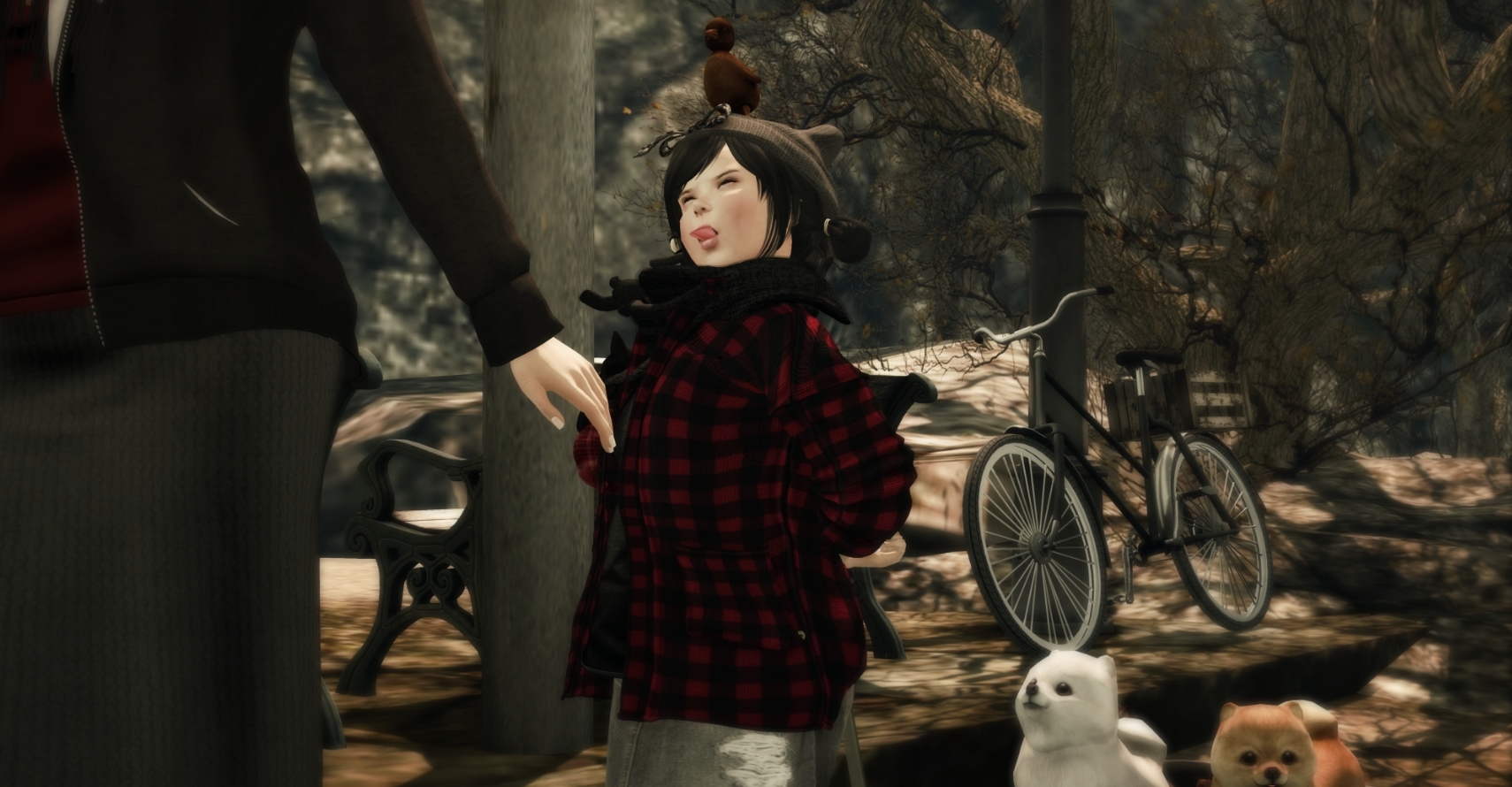 ---
*Jacket: Asia Rae Night Women Hoodie | On9
*Skirt: Axix Poppy Skirt | The Liaison Collaborative
*Septum: RealEvil Keal nose chains (with show/hide option)
Hair: Entwined Alexis | Shiny Shabby
Glasses: Flite Cofax Shades
Shawl: Zaara Pashmina Shawl
On Glinda:
Coat: Amitomo Plaid Half Coat
Skirt: Amiable Denim Skirt
Hair: Elikatira Other
Accessories:
Birdy Pocket Pet
2PM Bandana Beanie
*N*MUFF with Bunny
Birdy/Alchemy Spring Babes Ducky
JIAN Puff Pups Wagon Express Rare
Location: Saint Petes